07-20-2023, 11:33 PM
Petrol Jeep Avenger confirmed for UK sale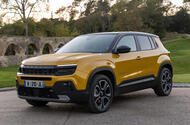 The move reverses Jeep's decision to sell the Avenger in the UK as solely an EV
Jeep will still focus on the EV but said a combustion variant will help fulfil customer wishes
Petrol versions of the Jeep Avenger will be sold in the UK in small numbers, the Stellantis-owned car maker has confirmed. 
The move reverses the firm's decision to sell the compact crossover in the UK with only an electric powertrain.
Jeep told Autocar it will predominantly be pushing the electric Avenger, but said an internal-combustion variant would help to fulfil the desires of its consumers. Some 80% of Jeep's sales are combustion-powered.
The petrol Avenger was previously earmarked for sale in Italy and Spain. So far, the Avenger models arriving in the UK have an electric powertrain, but petrol versions will trickle into the UK later this year. 
They will be powered by a turbocharged three-cylinder 1.2-litre PureTech engine, which is used by many of its Stellantis stablemates such as the Vauxhall Corsa, the Peugeot 308 and Citroën C3 Aircross. 
Pricing has not yet been confirmed, but the petrol Avenger is likely to significantly undercut the all-electric version, which is on sale in the UK for £35,700. 
The electric Avenger features a 54kWh battery with 154bhp and 192lb ft of torque. It has a 0-62mph time of 9.0sec and a range of around 254 miles. 
Jeep's decision to sell a petrol Avenger in the UK follows fellow Stellantis brand Citroën's U-turn on its earlier decision to sell the C4 X with solely electric power in the UK. 
The C4 X will now be offered with a choice of petrol and diesel powertrains, joining the Citroën Berlingo, which had its ICE variants axed in 2020 and then reinstated in March this year due to high customer demand. 
https://www.autocar.co.uk/car-news/new-c...ed-uk-sale