01-11-2023, 08:50 PM
Peugeot 308 SW 2023 long-term test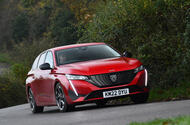 In with the new year comes a new long-term test car: an estate – remember those?
Why we're running it: To see if an electrified estate like the Peugeot 308 SW has a place in a world of crossover competitors

Life with a Peugeot 308 SW: Month 1
Welcoming the 308 SW to the fleet - 4 January 2022
Such is the ever-growing number of SUVs on UK roads that an estate is no longer a conventional choice. But given all the inherent qualities of an estate, it's hard to see why this should be.
Estates are sleek, spacious and hugely practical, and they usually offer vastly better driving dynamics than their crossover or SUV counterparts. 
These are just some of the reasons why I'm excited for the next few months with the Autocar fleet's latest addition, a new Peugeot 308 SW. 
Based on the third-generation 308 family hatchback, which was launched last May, the 308 SW (for station wagon) measures 4635mm long and 1475mm tall. That's 270mm longer and 10mm taller than the hatchback, but it has the same line-up of powertrain choices: petrol, diesel and plug-in hybrid. 
Our car pairs a 147bhp 1.6-litre four-pot with a 108bhp electric motor and a 12.4kWh battery. Maximum power stands at 177bhp when using the engine and motor in tandem, which enables a punchy 0-62mph time of 7.7sec, and the top speed is 139mph.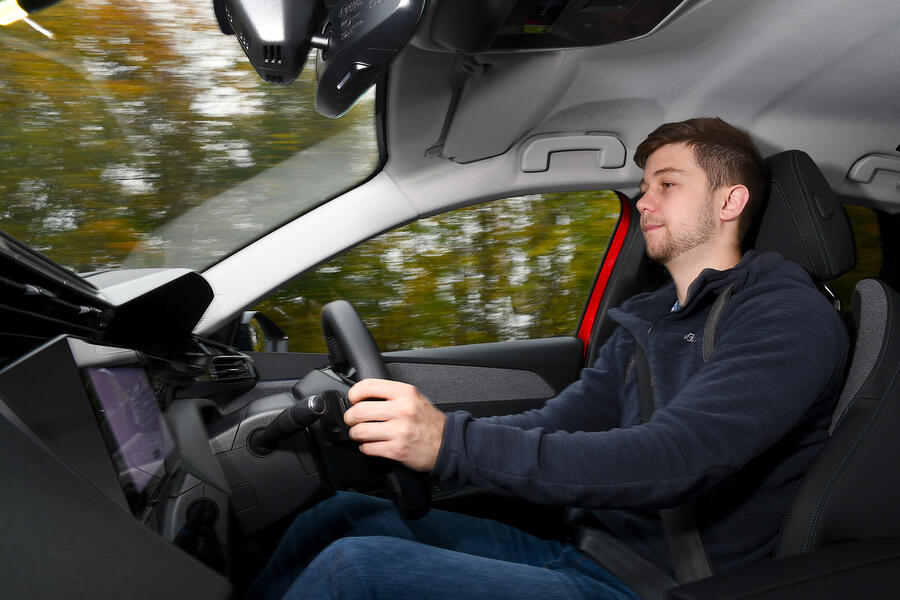 Its electric range is officially 37 miles (more on that later) while fuel consumption is rated at between 213.7mpg and 281mpg. The charging port, meanwhile, is located on just above the left rear wheel, a mirrored placement of the petrol filler.
Charging takes about three and a half hours using a 7.4kWh home wall box, or nearly double that time if you use a domestic three-pin socket. 
So far, the 308 hasn't achieved anywhere near that official 37-mile figure when in EV mode. After a full night's charge, I'm getting only around 18 miles out of the battery, which seems rather poor.
Our car comes in Allure Premium trim, which sits just below the range-topping GT, and it's clear to see that Peugeot is aiming to position the 308 SW against some of the segment's higher-end products. 
It's priced from £35,650 with our PHEV engine choice - around £3000 more than the Volkswagen Golf Estate 1.5 eTSI (a mild hybrid) in R-Line trim, but £3000 below the considerably larger Skoda Superb Estate 1.4 TSI iV (also a PHEV) in Sportline Plus guise.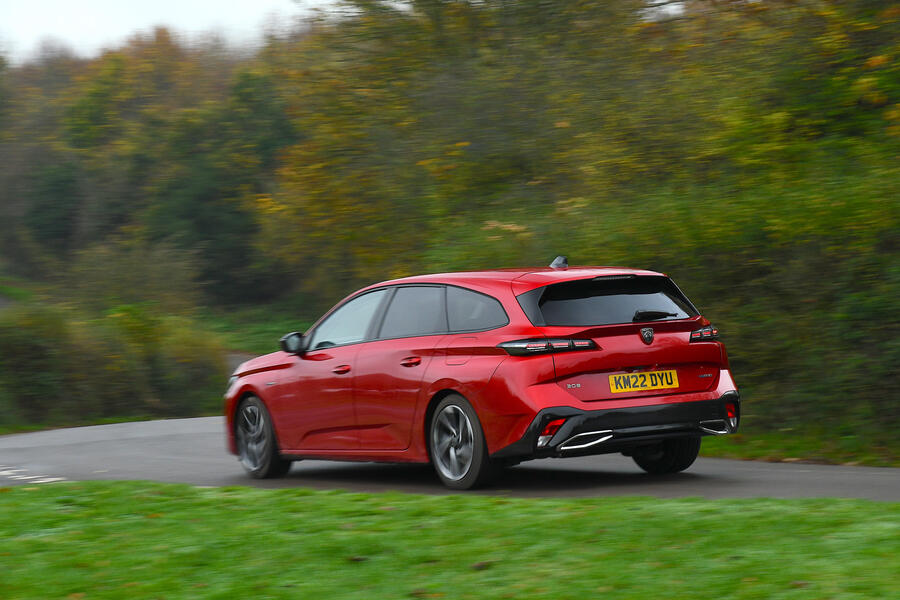 There's plenty of kit as standard, including LED headlights, keyless entry, front and rear parking sensors and a reversing camera. A notable omission for me given the time of year, though, is seat heating, which is available on GT trim only. Boo.
The cabin is a nice place to sit, if slightly tight for someone of my height (6ft 1in). The squared-off steering wheel is a bit different but I think I like it, and it's really good to have some buttons again after the touchpads of my previous long-termer, a Volkswagen ID 4 GTX. 
However, I'm encountering a problem that's well-documented in reviews of the 308: the steering wheel cuts off the bottom of the digital dial display. I can't lower it any further because then it makes contact with my legs. 
For me, the main attraction of this quirky i-Cockpit layout is the pairing of that digital dial display with a 10.0in infotainment touchscreen. I'm told it's a 'love it or hate it' sort of system, so it will be interesting to see how I cope given my patience tends to wear thin pretty quickly. 
Wireless Apple CarPlay and Android Auto are also included, or you can make use of the in-built sat-nav. Among my favourite parts of the interior are the iToggles, which are an example of touchpads done right. They're big, responsive and customisable, and have so far proved handy.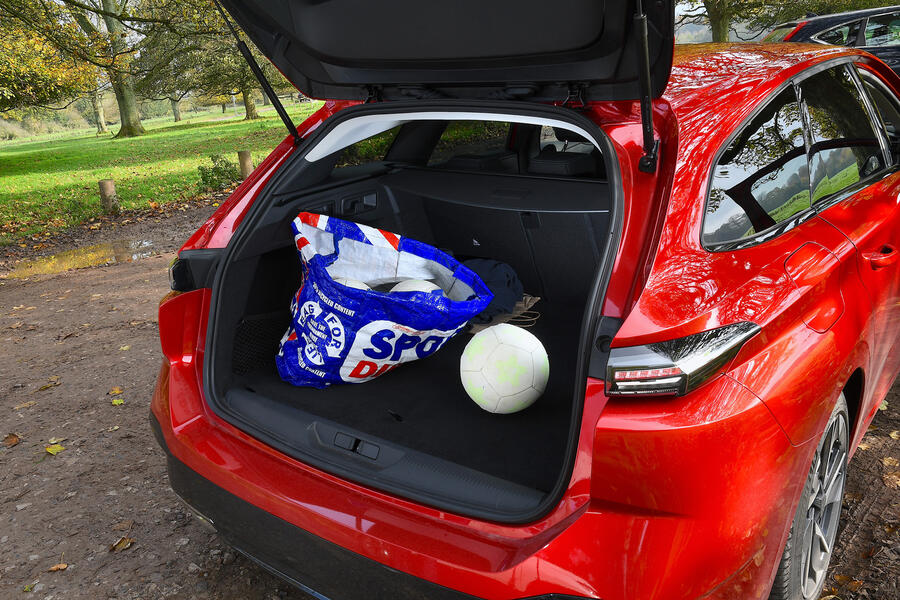 Elsewhere, the Drive Assist Pack (usually optional but standard on pricier trims) bolsters safety with adaptive cruise control, lane-keeping assistance, blindspot monitoring and automatic emergency braking. 
Like its hatchback sibling, this estate certainly looks the part, continuing Peugeot's run of eye-catching and stylish designs, plus it has been given a differentiated look at the rear, with a redesigned bumper and a larger windscreen.  
All in all it's one of the best-looking estates and certainly far more attractive than most of the cookie-cutter SUVs and crossovers many Brits are clamouring for. And the optional Elixer Red pearlescent paint is the icing on the cake. 
With a stretched body comes improved practicality, and indeed the 308's boot space is enhanced to 548 litres here (or to 608 litres in a non-PHEV model) increasing to 1574 litres if you fold down the 40/20/40 split rear seats.
It's not quite as capacious as the estate versions of the Volkswagen Golf (611 litres) or the Ford Focus (575 litres), but it's still a decent increase over the 412 litres offered by the 309 hatchback - and it was more than enough for our annual Christmas getaway. 
On that note, thanks Santa for this generous gift. I'm looking forward to the next few months. 
Second Opinion
The 308 makes a funny sort of estate. Its stretched wheelbase promises more rear space but not enough to make this a selling point over rivals, while boot space is usefully large but not class-leading. To me, it's a bit like the old Alfa Romeo 156 Sportwagon: the prettiest version of a pretty car. 
Matt Saunders
#Back">Back to the top
Peugeot 308 SW specification
Specs: Price New £35,650 Price as tested £36,345 Options Elixer Red pearlescent paint, £695
Test Data: Engine 1.6-litre 4 cyl turbocharged petrol with electric motor Power 147bhp at 6000rpm Torque 184lb ft at 1750rpm Kerb weight 1659kg Top speed 139mph 0-62mph 7.7sec Fuel economy 213.7mpg - 281mpg CO2 25g/km Faults None Expenses None
#Back">Back to the top
https://www.autocar.co.uk/car-review/peu...-term-test