08-16-2023, 02:47 AM
Peugeot Inception is 671bhp super-GT to preview new EVs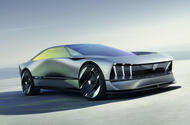 Sharp edges and unconventional proportions will influence new production cars
Stunning concept ushers in ground-up design rethink, advanced new platform and revolutionary interior
The extraordinary new Inception concept "heralds a new era" for future Peugeot electric cars, which will make dramatic technological leaps from and feature radically different designs to the company's current offerings.
Revealed at CES in Las Vegas (unusually for Peugeot, which left the US market in 1991), the Inception is the first concept from recently appointed design boss Matthias Hossann.
It provides a mission of intent for the French brand's future production vehicles, which will be conceived according to three key principles: allure, emotion and excellence. It will launch five new EVs in the next two years and go all-electric in Europe by 2030.
Hossann told Autocar recently that upcoming Peugeot cars will take the lead from the new Peugeot 408 saloon-SUV in "challenging conventional silhouettes", and certainly the Inception bears no obvious relation to anything in the current Peugeot stable.
Sitting low to the ground (its roof stands just 1340mm tall) and having a sharp, fastback-style silhouette, it's closest in form to the Peugeot 508 saloon, but it's substantially larger, measuring 5000mm long by 2100mm wide.
Its "generous" footprint, Peugeot said, highlights the flexibility of the new-era architecture that will underpin future production cars: the new STLA modular platform being rolled out to Peugeot and its Stellantis sibling brands from the middle of this decade.
The Inception rides on the Large version of this platform (there will also be Small, Medium and Frame variants to suit different segments), which in practice will be used for the biggest, fastest and most luxurious passenger cars in the Stellantis portfolio.
Here it houses a 100kWh battery that's claimed to be capable of 4.97 miles per kWh for a total range of 500 miles - far greater than any current Stellantis production EV.
Plus, being equipped with 800V charging hardware, it can top up at a rate of nearly 19 miles per minute, or more than 90 miles in five minutes. Notably, Peugeot claims it can do this using induction technology, negating the need for a cable - although this is a feature not yet confirmed for production cars.
Power – all 671bhp of it (making the Inception almost twice as powerful as the firm's most potent production car) – is served up by a motor at each end for four-wheel drive and a sub-3.0sec 0-62mph time.
This hints at Peugeot's plans to put engaging performance at the top of the priorities list for its flagship EVs in the future. Indeed, a big part of the brand's reinvention is to offer "unrivalled driving sensations", hence the concept's lofty performance figures.
"Customers have high expectations of the electric car," said product boss Jérôme Micheron. "Thanks to the new generation of our 'BEV-by-design' platforms dedicated to electric vehicles, we will meet their expectations."
Together with the technical reinvention, the new platform also allowed for a rethink of Peugeot's conventional design cues, and so the Inception does away with the traditional long-bonnet, three-box silhouette associated with saloons.
Styled to suit "the digital world" with sharp, crisp body lines and striking LED lighting, the Inception's design embodies a dual focus on athleticism and cabin space.
The expansive greenhouse stretches almost end to end, leaving room for just a small 'bonnet' ahead of the front axle, and falls away sharply at the rear for a shooting brake-style profile. This, together with the removal of all physical controls and a traditional dashboard, maximises interior space for a grand tourer experience with optimal leg room and forward visibility.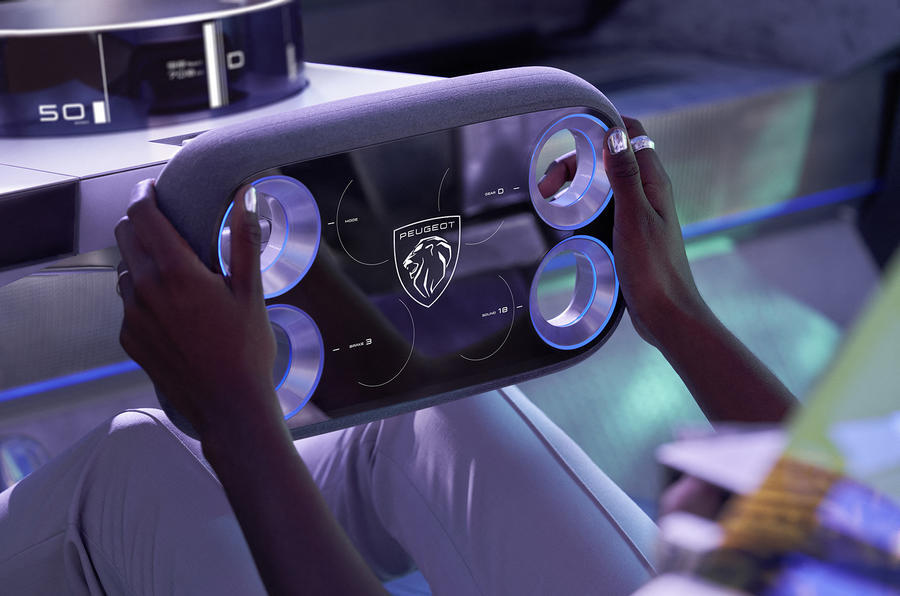 Notably, the steering column has also been removed, to be replaced by an innovative 'steer-by-wire' electronic system like that offered on new EVs from Toyota and Lexus. Peugeot said this was developed prior to the Inception concept itself and notes that "most" of the innovations on display are destined for production, suggesting future models could get a similar steering set-up.
The Inception is controlled using a revamped version of Peugeot's trademark i-Cockpit layout, which majors on touch-sensitive controls and behaves "like a video game in real life".
The distinctive new 'wheel' is aptly called the Hypersquare and is claimed to offer a safer and simpler driving experience. It hosts an array of touch-sensitive buttons for control over the car's main functions, which behave much like a smartphone to promote familiarity with drivers, and a larger central screen for entertainment and comfort controls.
The Hypersquare can fold away entirely when the Inception is configured to run in Level 4 autonomous mode, which will be possible with the new STLA Autodrive software integrated within this platform, to be replaced by a full-width display screen for passenger entertainment.
Peugeot plans to introduce the Hypersquare on a production car before 2030.
Elsewhere, the cabin is an embodiment of Peugeot's goal to halve its carbon footprint by 2030 in Europe and become net-carbon-zero by 2038. New moulded textiles, formed from unneeded scraps of polyester and said to be "extremely hard and durable", are used throughout (as both load-bearing and trim elements) and left visible. The steel seat structures and centre console are also left uncovered to minimise the number of components used, while the seats and carpets are upholstered in 100% recycled polyester.
In terms of future-looking technology, Peugeot is keen to tout the opportunities afforded by Stellantis's new STLA Brain artificial intelligence functionality. The car is able to recognise an approaching passenger or driver and adjust their seat and comfort settings accordingly and can display appropriate messages to them via a digital strip on the doors, which also houses various sensors for autonomous driving.
https://www.autocar.co.uk/car-news/new-c...ew-new-evs