01-10-2023, 07:54 PM
Peugeot to add five new electric cars to existing model lines by 2025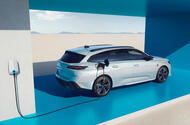 New Peugeot 308 is the latest model to gain an all-electric variant
Stellantis-owned firm will offer EV variants of all existing models, including an electric Peugeot 408
Peugeot will launch five new electric versions of existing models in the next two years before introducing a new family of 'BEV-native' cars from 2025.
The brand has already launched or revealed electric versions of the Peugeot 208, Peugeot 2008, Peugeot 308 and Peugeot Rifter and it plans to offer an electric variant of all its models by the middle of the decade.
An electric version of the new Peugeot 408 coupé-SUV is already confirmed to be in the works, but this latest announcement from the brand strongly suggests new electric versions of the popular 3008 and 5008 SUVs could also be on the cards, as well as potentially updated versions of current EVs, including the e-208, e-2008 and e-Rifter MPV.
The upcoming electric e-308 hatchback will launch in the coming months and is likely to remain on sale in its current form into 2025, and the 508 is unlikely to receive a pure-electric version in its current form, given its age.
"The five new models coming in the next two years are inevitably going to be off the current models that we've got, to a certain extent," said Peugeot CEO Linda Jackson. "And you will start to see all that we've seen on Inception from 2025/2026 onwards."
The new Inception concept is a bold statement of intent for future Peugeot EVs based on parent company Stellantis's new STLA architecture. Revealed at the CES show in Las Vegas, it gives the first clues to a ground-up rethink of Peugeot's approach to exterior design, interior layout and performance capabilities. The first Inception-inspired production car is likely to be revealed in 2025 and launched in 2026.
New electric Peugeot models launched before that time will continue to be based on either the CMP or EMP2 modular platforms, which underpin the brand's current range of passenger cars. Recent spy images supplied to Autocar suggest the 3008 crossover is in line to be remodelled as a rakish-roofed coupé-SUV in the next couple of years, and an electric version of this new model (or variant) would count as one of those five new models.
Peugeot has yet to officially confirm plans for a new crossover. However, if it launches electric versions of its 3008 and 5008 crossovers, it will be well placed to rival some of the best-selling EVs in Europe, including the Kia Niro EV, Hyundai Kona Electric, Tesla Model Y and Volkswagen ID 4.
Before the new family of STLA models arrives from 2025, Peugeot EVs are expected to be broadly similar, technically, to the current cars. The most powerful motor option currently produces 156bhp, while the largest battery available – a 51kWh item – gives a range of around 250 miles in the e-308.
Any e-3008 and e-5008 models could receive a power and battery capacity boost to account for their added size, weight and long-distance billing, but Peugeot remains tight-lipped about improvements it could make to its current-generation EV hardware.
https://www.autocar.co.uk/car-news/new-c...lines-2025