02-08-2023, 11:10 PM
Plug-in hybrid company cars: your guide to Kia's range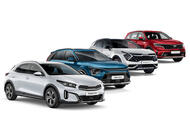 Kia's plug-in hybrid line-up includes the new Kia XCeed, the Kia Niro, the Kia Sportage and the Kia Sorento.
Need a cost-effective versatile company car? Looking to make your first electric steps? We're here to help you pick your ideal model from Kia's PHEV line-up
Whether you're a fleet manager or a user-chooser, there are plenty of great reasons to electrify your next company car. But 'going electric' doesn't always mean that 'going full electric' straight away is the right option for you.
That's where a plug-in hybrid (or PHEV) comes in: delivering the low running costs of electric drive for short journeys, the flexibility and convenience of a traditional petrol engine for long journeys, and the improved fuel-efficiency and significantly reduced CO2 emissions of a petrol-electric hybrid mix for everything in between.
Take Kia's plug-in hybrid line-up, which includes the new Kia XCeed, the all-new Kia Niro, the Kia Sportage and the seven-seat Kia Sorento. By blending a petrol engine with a potent electric motor and battery, they all boast the perfect balance of electric power and range to do most short, local everyday journeys – typically between 10 and 30 miles for the average UK driver – on predominantly electric drive.
When you arrive home from work, simply plug your Kia PHEV in for a convenient home charge: giving yourself a full battery and maximum range for the next day, while also using the most cost-effective off-peak overnight rates of electricity to keep your running costs ultra-low.
When you do need to travel further for work (or want to head off on a long weekend away with family and friends) a plug-in hybrid's electric motor and petrol engine work together to deliver improved long-range fuel efficiency, quick easy petrol refills and significantly reduced CO2 emissions. The result: you save time and money on every trip, while lowering the impact of all your journeys.
With a wealth of other money-saving benefits – including BIK rates as low as 8%, and ULEZ ultra-low-emission zone exemption that help to keep your monthly running costs low – as well as seven years of high-tech Kia Connect In-Car Services, and Kia's confidence-inspiring seven-year, 100,000-mile warranty to boot, there are plenty of business-savvy reasons to pick a Kia PHEV as your next company car.
But which one is right for you? That's where we're here to help: simplifying all of the key features and benefits of each model to help you make the right choice.
Learn more about Kia's plug-in hybrid company car line-up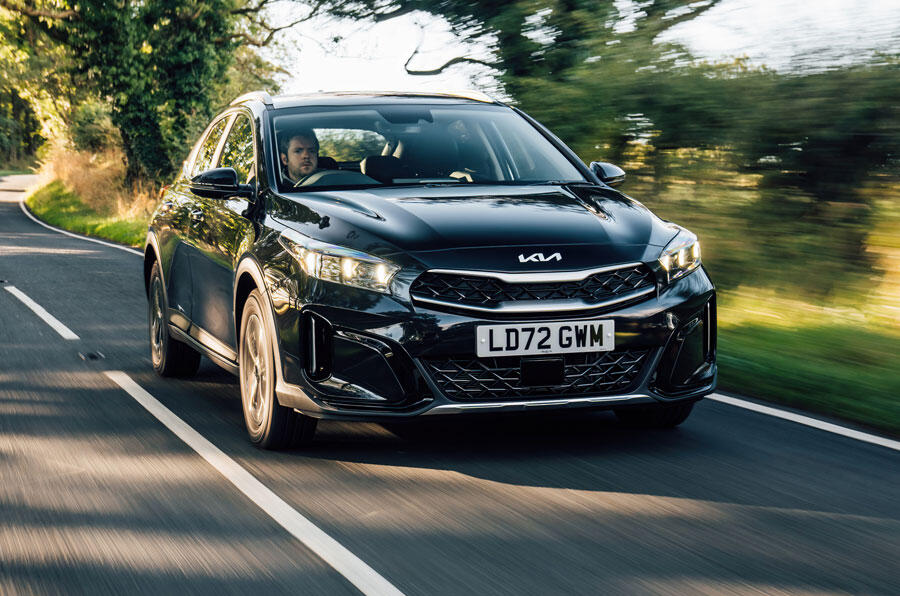 New Kia XCeed Plug-In Hybrid
Kia's plug-in hybrid line-up starts with the freshly facelifted Kia XCeed Plug-In Hybrid crossover. Its striking looks may be a conversation starter, but its supreme day-to-day practicality and functionality cut straight to the point.
Kia's flexible 1.6 GDi petrol engine is mated to an electric motor and 8.9kWh lithium-ion battery pack, which together produce a combined 139bhp for effortless performance and an electric range of 29.8 miles (WLTP) – easily enough to do most work commutes and weekly family tasks without waking up the engine.
With a starting price of £32,995, a 20% taxpayer can expect to make BIK payments of a little as £66 per month, while a 40% taxpayer can expect to pay just £132 a month. And you get a lot of tech and space for your money.
The New Kia XCeed Plug-In Hybrid is available with a vibrant 10.25in touchscreen infotainment system that delivers real-time traffic information, speed cameras and danger zone alerts, as well as Passengers travelling in the rear can top up their devices using the rear-seat USB-C charging ports.
Speaking of the rear, the new Kia XCeed Plug-In Hybrid makes the most of its extended overhang to provide up to 291 litres of boot space with the rear seats in place.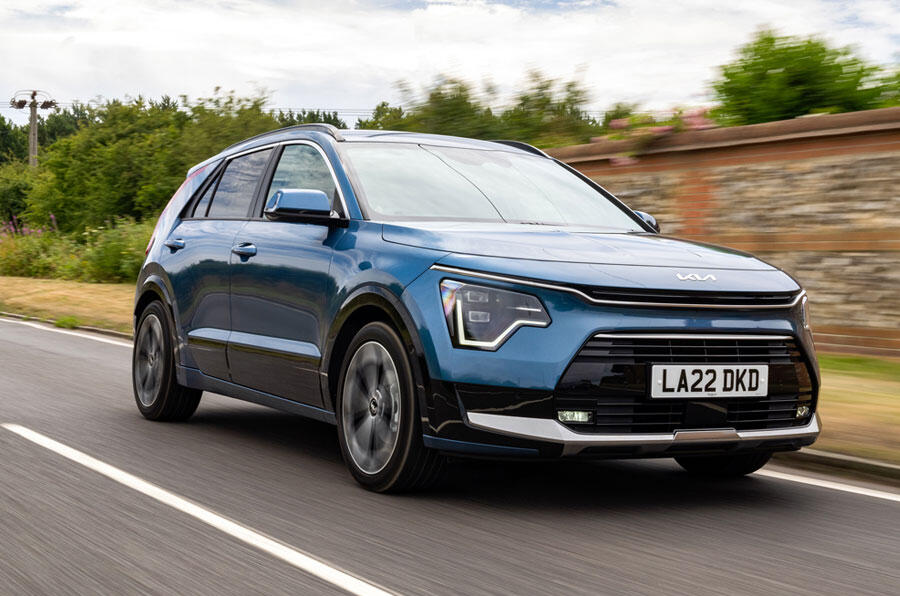 All-new Kia Niro Plug-In Hybrid
Compact proportions, powerful performance, and a fresh new design: Kia's latest Niro Plug-In Hybrid is your future-facing answer to the everyday, bringing next-gen technology and smart safety features to the crossover class.
At the heart of the new Kia Niro Plug-In Hybrid is a 1.6 litre GDi petrol engine, partnered with a potent 83kW electric motor and 11.1 kWh battery pack. As a result, it produces 180bhp and delivers up to 40 miles of electric range (WLTP). With a list price starting from £34,075, 20% taxpayers can expect to pay from as little as £45 per month, while a 40% taxpayer will pay as little as £90 per month.
As one of the newest models in Kia's range, the All-new Kia Niro Plug-In Hybrid offers the latest in-car connectivity. Its dual 10.25in panoramic screen (8in infotainment display on '2' grade) puts everything in front of you, integrating the instrument cluster and infotainment in one seamless system. Below, the multi-mode control panel places key functions at your fingertips, letting you toggle between climate settings, infotainment, and your navigation.
The all-new Kia Niro has grown significantly over its precursor in both size and package. A clever flat floor in the rear means three full-sized colleagues can come along for the ride, and even more space for your growing family to spread out. Up to 348 litres of expandable boot space (1342 litres with the rear seats folded flat), ensures you'll have loads of room for luggage. All Kia Niro trims offer 60/40 split folding rear seats but the '4' trim goes a step further offering up a reclining function.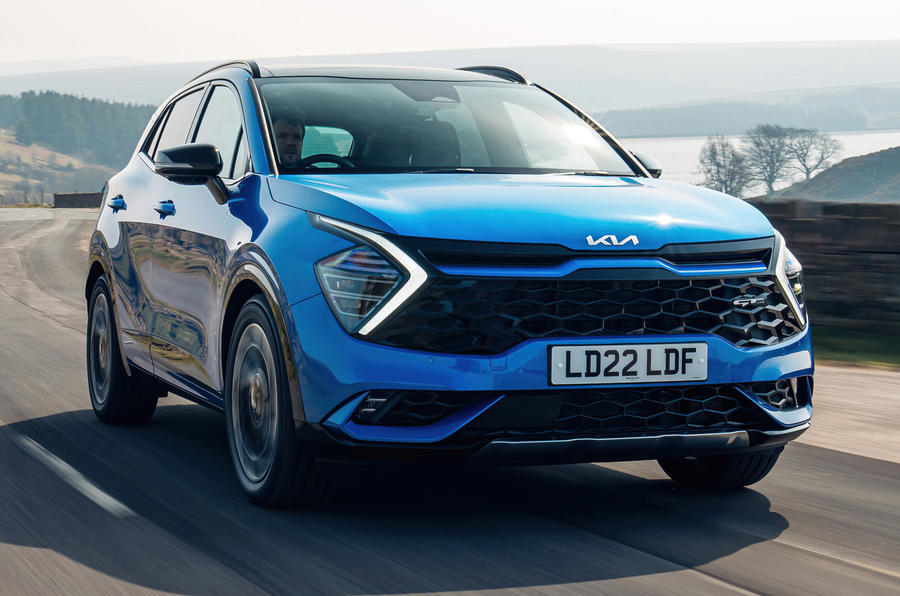 Kia Sportage Plug-In Hybrid
Now for the heart of Kia's plug-in hybrid line-up. Kia's fifth-generation Sportage is a comprehensive redesign of Kia's most popular SUV. That means rugged yet refined styling, lots of space for a full house, and in-car technology designed to make every journey easier, safer, and more enjoyable. And now, for the first time, the Sportage is available as a compelling plug-in hybrid.
Combining Kia's award-wining 1.6-litre T-GDi turbo petrol engine with a 66.9kW/ 90bhp electric motor and a 13.8kWh lithium-ion battery, the Kia Sportage Plug-In Hybrid provides up to 43 miles (WLTP) of zero-emission electric-only range. That figure increases to 48 miles if you spend your time travelling at steadier city speeds.
Work or weekends taking you further? The engine and electric motors work together, providing a punchy 261bhp and 350Nm of torque. With fuel-efficiency of up to 252mpg and CO2 emissions as low as 25g/km, you needn't compromise on the efficiency and performance of your next company car.
Speaking of efficiency, that hybrid system works as hard for your pay packet as it does the environment. The Kia Sportage Plug-in Hybrid boasts a benefit-in-kind (BIK) rate of just 8%. As a result, BIK contributions for a 20% tax payer would be just over £53 per month, while a 40% tax payer would still pay just over £106 per month.
You have three trims to choose from: the 'GT-Line', '3' and at the top of the range, Kia's Sportage 'GT-Line S '. Pick the latter, and you'll have your wish-list of top-tier options as standard. That's everything from suede upholstery and 19in alloy wheels, to Kia's Smart Power Tailgate, Blind-spot Collision Avoidance Assist and Harman Kardon Premium Sound System. You'll even get a Driver Memory Seat to save vital minutes in the morning.
Hop inside and you'll find premium levels of style and comfort alongside advanced technology designed to help you stay connected to the things that matter most. A sculpted digital display creates a cockpit around the driver blending a 12.3in instrument cluster (4.2in driver display on 'GT-Line') and an additional 12.3in multimedia touchscreen for all your infotainment and navigation needs.
Whether you use Apple CarPlay™ or Android Auto™, the Kia Sportage Plug-In Hybrid keeps you connected and topped up at all times: the perfectly placed wireless smartphone charger ('GT-Line S' trim only) your solution to a cordless commute, while the sophisticated voice control function keeps you connected hands-free.
Up to 540 litres of boot space as standard provides ample opportunity for work and weekend chores, while up to 1,715 litres of space (with the 40:20:40-split rear seats folded down) the answer to your families' summer road-trip, without limits.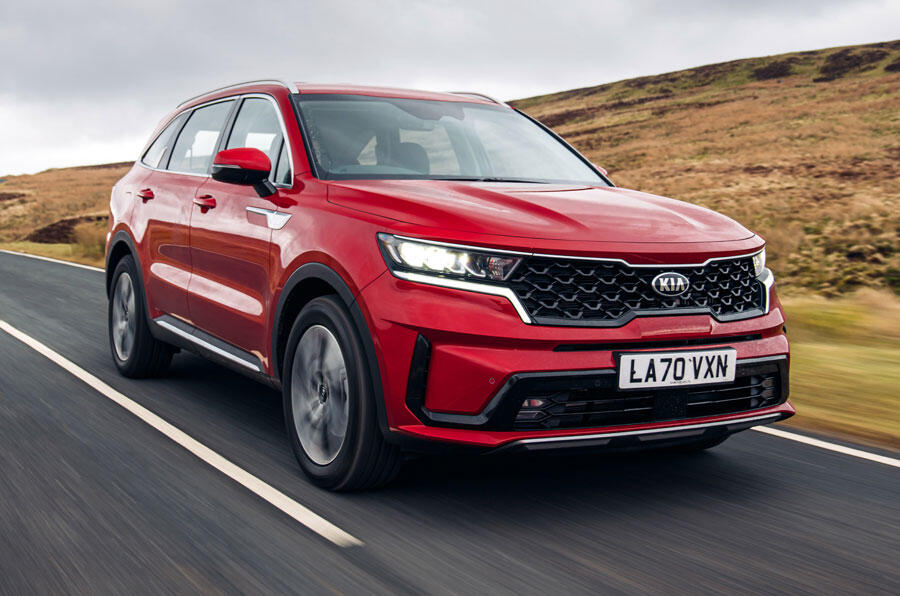 Kia Sorento Plug-In Hybrid[1]
Versatility is the name of the game in the Kia Sorento Plug-In Hybrid: a large family-friendly seven-seat SUV that has picked up a plethora of coveted industry awards – ranging from What Car?'s 2021 Best Large SUV trophy to 2021 Tow Car Awards Champion. And the best gets even better with hybrid power on its side.
The Kia Sorento's 1.6 T-GDi turbocharged petrol engine is paired with a 13.8kWh battery pack, delivering a healthy 261bhp and up to 35 miles of electric range (WLTP). With a starting price of £56,995, a 20% taxpayer can expect BIK payments of a little as £114 per month, while a 40% taxpayer, just £228.
A busy work and home life leaves little time to waste, which is why the Kia Sorento keeps things simple. One trim, simply called 'Edition' is all business class. A 10-way adjustable driver's seat and fully configurable instrument cluster keep you in control, while the latest safety tech including remote parking assist, blind-spot collision avoidance assist, and a 360 degree camera keep you and your occupants safe.
A large SUV needs an even larger set of speakers, which is the why the Bose Premium Sound system comes as standard with 12 speakers ensuring everyone (including those in the third row) hear your favourite podcast.
And speaking of the seven-seat party piece, the height of the roof line and width of the Sorento provides loads of space for everyone however long the trip. And it's easier than ever to get the kids in and out – simply press the 'walk-in-and-slide seat button' to effortlessly access the third row.
Open the hands-free height-adjustable Smart Power Tailgate and you'll be treated to a capacious boot, beyond your wildest dreams. To put its size in perspective, What Car?'s rigorous road testers were able to comfortably fit 10 carry-on suitcases below the parcel shelf. That's before you consider the 1,988 litres of luggage space with the five rear seats flattened.
So, whether it's cost-saving, efficiency, practicality, or all of the above, Kia's latest line of plug-in hybrids provide the answer to all of your company car questions, and then some.
https://www.autocar.co.uk/car-news/adver...kias-range