10-14-2021, 09:50 PM
Pocket rockets: What makes Hot Wheels so collectible?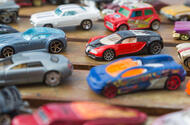 Kids big and small have been collecting Hot Wheels for decades – and the next must-have model could be tucked away in your garage
Having photos of your treasured modified classic car, kit car or racing car is fine as far as it goes, but imagine if 1:64-scale die-cast models were made of it that the whole world could collect and marvel at.
That was the idea behind Hot Wheels Legends, a global competition recently launched by toy company Mattel, which owns Hot Wheels, to find the garage-build car that most embodies the brand's values of performance, authenticity and 'garage spirit'. The UK winner, who will be announced on 14 October, will go head to head with others from around the globe before the overall winner's wheels are released in Hot Wheels' 2022 range.
"From an imposing stance, full of presence, vivid colours and an impression of speed, Hot Wheels captures a creative freedom that inspires the rebel spirit in a car designer," says former Jaguar design director Ian Callum, who sits on the panel of judges. "Hot Wheels takes me back to a misspent youth when I wondered why real cars couldn't be this way. Well, now I know they can and are. They inspire an excitement that we all need in our lives."
So there you are: the hook to this story and just the excuse I need to scrabble around in the loft for the two boxes of Hot Wheels cars my sons collected yonks ago. They got a car most times we went to the supermarket. Today, some 15 years later and despite being jumbled up in their branded carry case, the cars look remarkably bright; exquisite, even.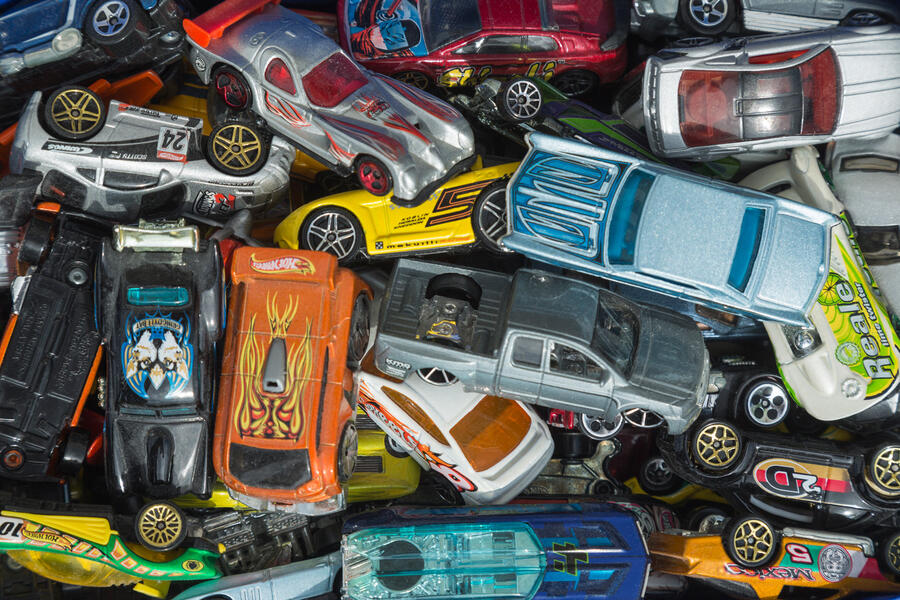 First, though, I call Mattel marketing manager Amy Cashmore to find out more about Hot Wheels. "Elliot Handler, the creator of Hot Wheels, wanted to make super-cool model cars and the first 16 he produced with Jack Ryan, a fellow engineer, in 1968 are called The Sweet 16," she tells me. "Today, Hot Wheels cars are designed in El Segundo, near Los Angeles, and around 400 new models are released each year. The UK market has increased by 18% year on year while Mattel's share of it is up 39%.
Hot rods and SUVs are our big sellers but we're also developing a new range of EV-inspired models. More adults are buying the cars and last year accounted for 25% of sales."
What's that: adults buy Hot Wheels? What for: to push them around the carpet? There's only one way to find out. Chris Pollitt is an adult who has more than 2500 Hot Wheels cars and counting. He must have a lot of carpet, I think, but when he opens the wardrobe he stashes them in, I realise they're all still in their blister packs. "To take them out would only bring me a tiny moment of joy, so I don't," he says. "In any case, I'm 38, so too old to push them around the carpet." Why, then, does he buy them? In fact, Pollitt's reasons are rooted in a difficult period in his childhood when the family lostmost of their possessions. Collecting Hot Wheels in later life began as a way of regaining lost treasures, but now he just likes collecting them.
"I try not to buy any when I go to the supermarket, but then I see a new line and can't help myself," says Pollitt. 
There are three price points in the Hot Wheels range: £1.85 (entry level), £3.25 (mid-price) and £6.99 (Premium). The level of detail and finish increases with each until at Premium level the cars feature things like rubber tyres, more metal and doors and bonnets that open. Naturally, interest in the Premium range is growing fast among adult collectors, but not for Pollitt. Instead, he shops at the £1.85 level. Now I really am confused. He buys the cheapest cars only to leave them in their blister packs – why?
"Because even though they're the cheapest, they're still very collectable," he says before introducing me to the devilish ways Mattel makes them so. "Treasure Hunt cars are very rare, entry-level models with one or two Premium- range features. For example, I have a regular GT40 with plastic wheels that's worth pennies and an otherwise identical T-Hunt version with rubber tyres that's worth around £100. The fun is in chancing across a T-Hunt car on the display rack since they're not advertised or packaged differently." In addition to the T-Hunt cars are Super Treasure Hunt cars with even more features from the Premium range.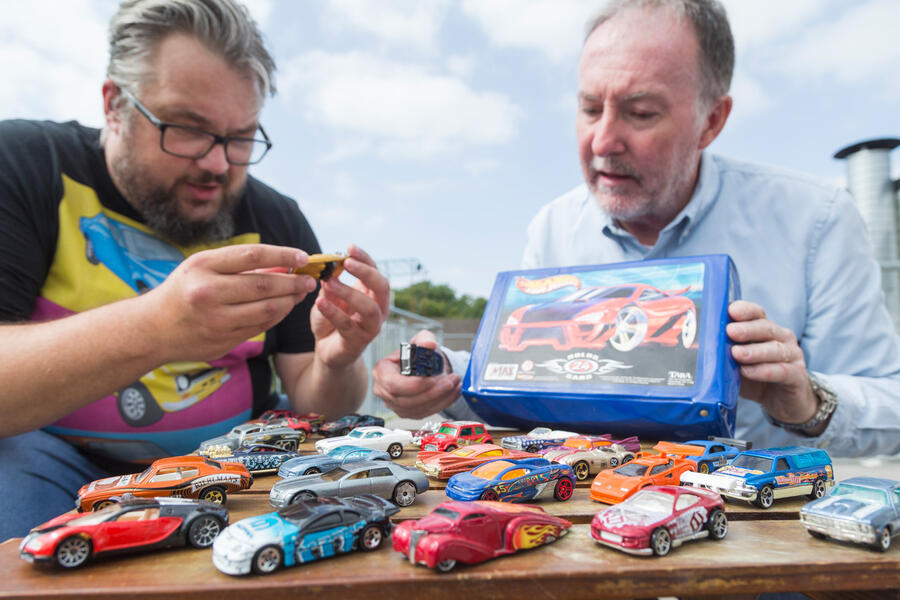 And then there are the Error cars. These are rare cars that, either by accident or design, have manufacturing defects such as mismatched wheels and incorrect or badly applied transfers. In some instances, the car may be fine but the packaging is wrong. Other features that can boost a car's valueto collectors are metal rather than plastic chassis and the size of the blister card, with long cards being harder to find in mint condition so more valuable. Most valuable of all are early cars from the 1960s and '70s. Keen collectors have a well-thumbed copy of Warman's Hot Wheels Field Guide by Michael Zarnock (priced £45), to help steer them through this confusing world.
Pollitt has his own copy but stops short of describing himself as a collector. With 2500 Hot Wheels in his wardrobe – the number swelled by him having multiple examples of the same cars but in different colours – I beg to disagree, but instead invite him to peruse my sons' Hot Wheels collections. Will he find a T-Hunt? "This Stars and Stripes car with its opening bonnet and metal chassis could be one, while the 1963 Thunderbird with metal chassis is definitely collectable," says Pollitt.
If his wardrobe was burning down, which of his 2500 Hot Wheels would he save, I ask. "The Mk2 Ford Focus RS. It cost me 99p from Halfords," replies Pollitt. "It's not a T-Hunt car but, being in very rare green, it's worth around £100. To me, though, it's priceless."
Toy cars from £1.85 to over £100k
Hot Wheels says it is motivated by the 'challenger' spirit that its founder, Elliot Handler, embodied when he created Hot Wheels. The original design team included a car designer and a rocket scientist. They had a brief to create a toy car that was cooler and performed better than the competition. Hot Wheels die-cast cars are the best-selling toy in the world, with 16.5 of them sold every second. To date, more than seven billion Hot Wheels have been sold.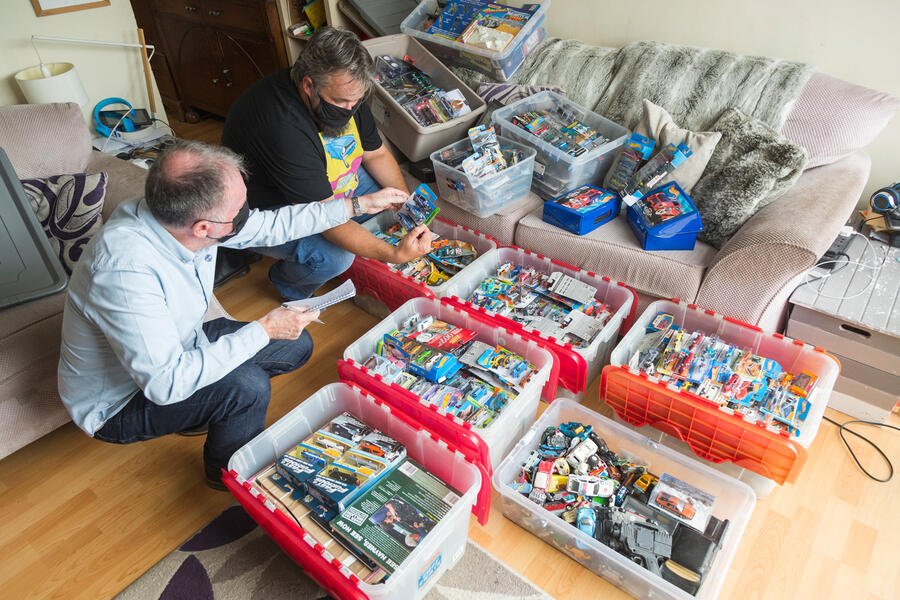 The inaugural Sweet 16 set is highly coveted and features custom cars and hot rods. The most valuable Hot Wheels car is said to be the 'Beach Bomb' Volkswagen bus, in pink. Never released to the public, its value has been estimated at £109,000. So-called 'Redline' Hot Wheels feature red wall tyres and were a feature for the first 10 years.
https://www.autocar.co.uk/car-news/new-c...ollectible