04-08-2022, 04:55 PM
Polestar 2 2022 long-term review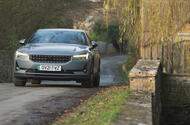 Our Scandi-cool EV is already turning heads. Will we be shaking ours before we part?
Why we're running it: To see if an electric car fits into a high-mileage life
#Month 3">Month 3 - #Month 2">Month 2 - #Month 1">Month 1 - #Specs">Specs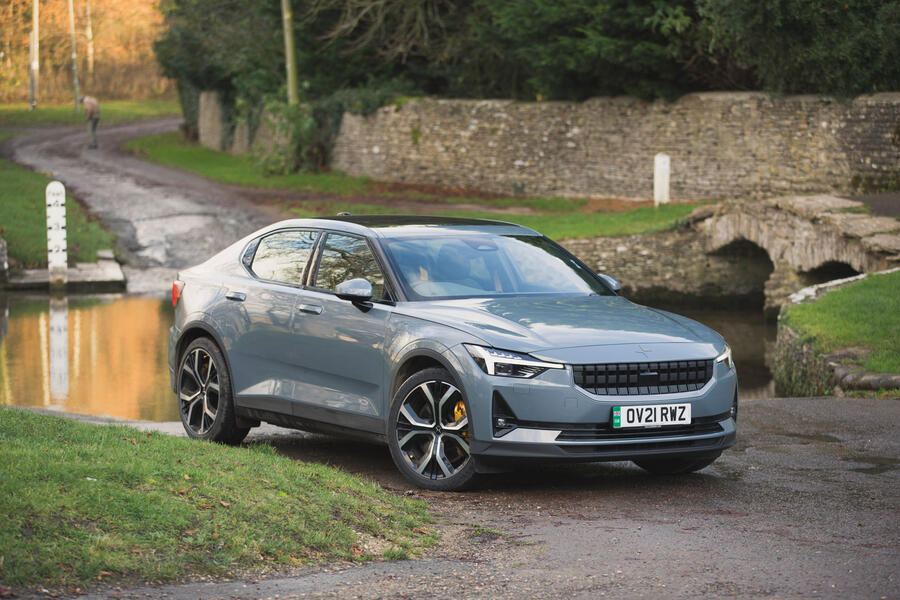 Life with a Polestar 2: Month 3
Sat-nav mishap - 6 April 2022
Unhelpfully, the day before I drove the Prodrive Hunter in London, the photography support car's sat-nav wouldn't work. It constantly thought it was in Milton Keynes, where it had first gone down. Online forums and Polestar support suggested various off-and-on-again reboots. None worked, until it started working again of its own accord.
Mileage: 11,610
#Back">Back to the top
Unwanted tyre change - 16 March 2022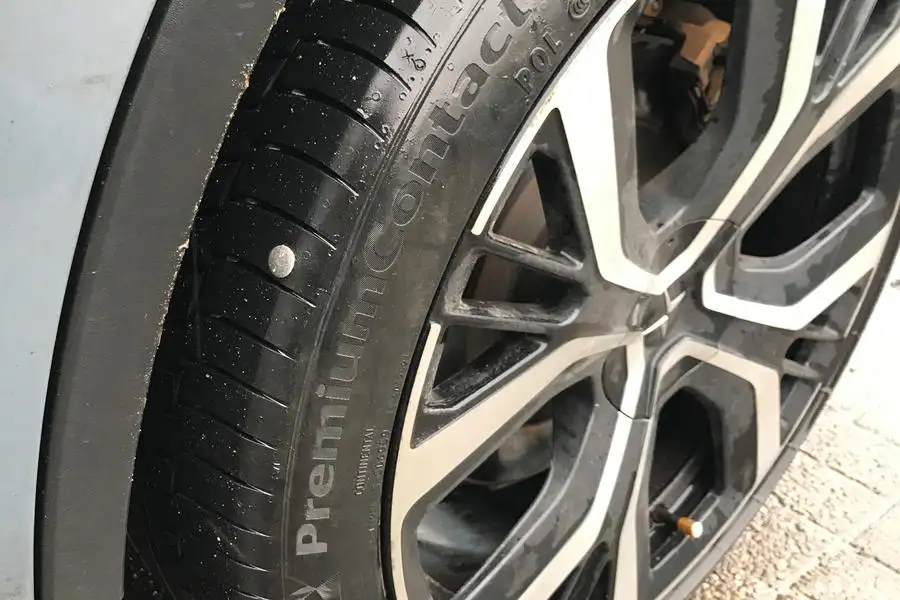 Gah. I got a nail/tack in the tyre, too close to the sidewall to be repaired. 
I called Brackley Tyre Warehouse late afternoon and by 11am the next morning they had sourced and fitted a new Polestar-specific Continental Premium Contact 6 (245/40 R20). Pressures are a relatively high 45psi at the front, 41psi at the rear. Miles have just clicked past 10,000.
Mileage: 10,027
#Back">Back to the top
Are some over-the-air updates in fact a bit of a swizz? - 9 March 2022
I still haven't tried softening the dampers on the Polestar 2. Sorry. I promise I will. It's just that every time I think about jacking up the car and lying beneath it several times on a tarpaulin on the cold, damp winter ground until I hit upon a good damping set-up for UK roads, a deadline (or nice a cup of tea) looms more importantly.
So the 2 has instead covered 4000 firm (but very well-controlled) miles in my hands in the standard UK damper setting for its adjustable Öhlins shock absorbers. Which puts motordom in the curious position where it's easier today to increase the power output of this car than it is to adjust its suspension.
Late last year, Polestar announced a performance software upgrade for this version of the 2. It lifts power by 67bhp from 403bhp to 470bhp, and torque by 15lb ft from 487lb ft to 502lb ft. It costs £1000 and takes effect via an over-the-air software update. Polestar asked if I'd like to try it. As I write, I'm waiting for it to download, but I've had some correspondence already. Does it show a bit of nerve, is the general theme, to charge you four figures for equipment and capability the car has clearly already got?
I admit I have reservations about the idea, even though I'd happily accept two differently powered diesel engines are the same but for some lines of code yet cost different amounts. And yet I would also get uppity about having to 'subscribe' to, say, heated seats. More correspondence gratefully received. I have had two unrelated software downloads, which need the car to be locked for 90 minutes and the battery at more than a 40% charge state to install.
The latest – the excitingly named v1.9 – is arriving as I speak. It will include a 'ready to drive' notification if the adaptive cruise control sees somebody pull away from a standstill ahead of me in traffic while I'm daydreaming; improve 'steering support' for the lane keeping aid (slightly worryingly, because I don't like that); and improved object tracking and sensitivity for the automatic reverse braking.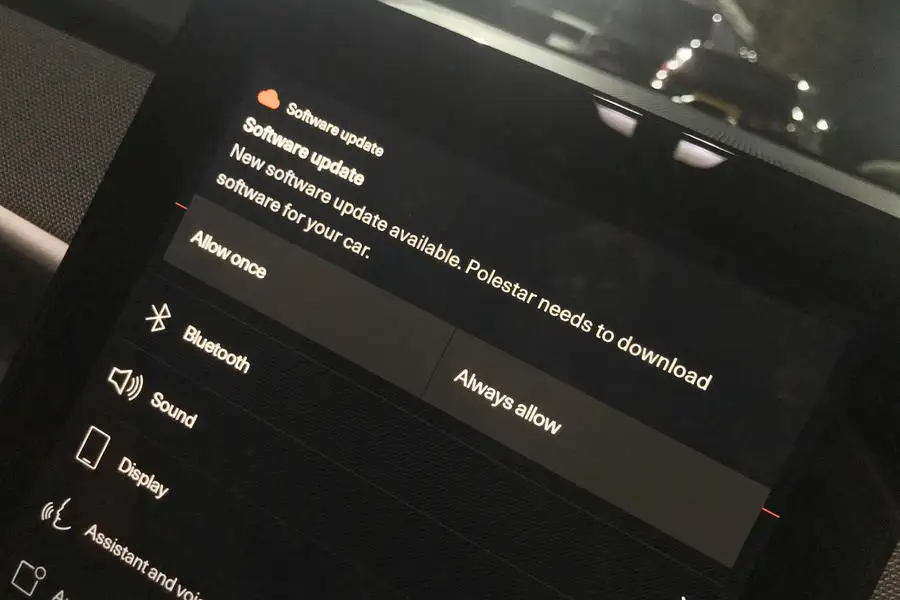 That last aspect does need some work: it will slam on the anchors if it spots somebody walking several metres away but also if I'm still a good foot or two from a static object. And if you like skulking to the edge of a parking bay to reduce the chances of damage from someone's door or trolley, the all-round cameras are very good but the sensors are loud and the braking is premature.
Alongside all of that, everyday Polestar life is still grand. Quite commuter-ish recently, including motorway trips, where it's secure and stable in high winds. I parked at Heathrow during three very stormy days and cold nights, and the battery, showing 68% when I left it, showed the same when I got back in. (I've known EVs where that wouldn't necessarily be the case.) It also – because it doesn't require combustion heat – warms up and demists really quickly.
A quality foible, though. The mute/ pause button sits above a deck that also houses the hazard warning switch. If I push the mute button hard and on its edge, it presses on and sets off the hazard lights. Easily avoided with some thought, but shouldn't really happen.
Love it:
Easy charging Type 2 cables really do slot in easily, don't they? And one push of a soft rubber button very quickly releases the lock on it when I'm done.
Loathe it:
Cold case I'd like the 2 to be 'on' while I'm not in it so I could clear the windows or load up while it's heating up (if, say, I haven't set a conditioning timer).
Mileage: 9714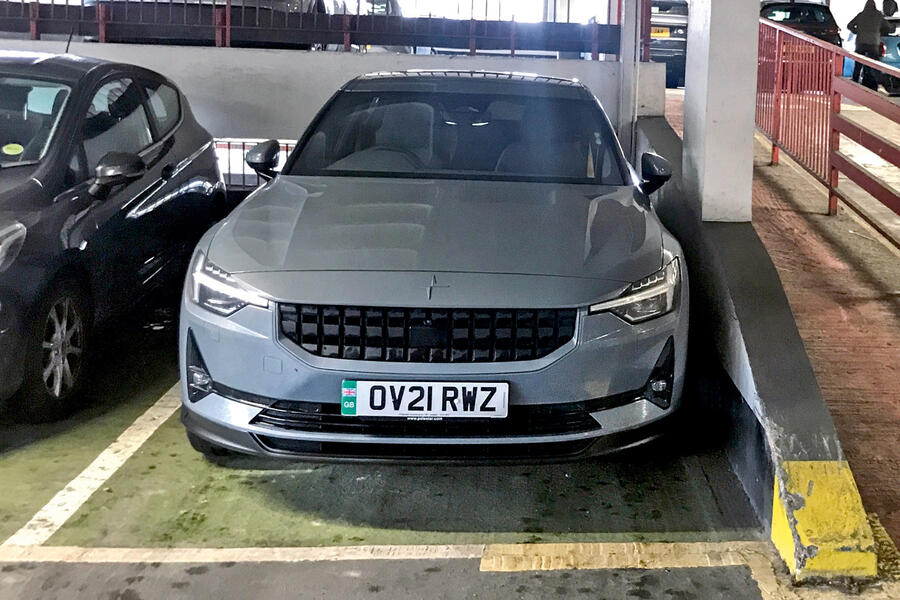 #Back">Back to the top
Life with a Polestar 2: Month 2
Polestar's impressive tech means no more dirty hands - 2 March
The 2 has a physical boot release, a rubber button hidden from view above the numberplate. It gets dirty, unlike the inside of a normal handle would. Polestar puts aesthetics over practicality in places. But there are also buttons in the cabin and on the keyfob, or you can shake your foot beneath the rear bumper (standard on the 2) to keep fingers clean.
Mileage: 9402
Parking is more difficult than it needs to be, but a reversing camera saves the day - 9 February
The 2's all-round camera system is very effective at helping you line up square to a parking bay, which is handy, because the mirrors and rear window are small and there's no rear wiper. It also has rear automatic emergency braking, which would be great if it didn't slam on the anchors because it has spotted somebody miles away across a car park.
Mileage: 8601
#Back">Back to the top
Motorway top-ups could be a thing of the past for our EV - 2 February
Maths and paperwork. Yikes. That is what's occupying my Polestar time when I'm not driving the car at the minute. It's new and an EV, so there are a few things still to sort out. One of them is ensuring I get a £350 grant under the Electric Vehicle Homecharge Scheme, which until April this year allows new EV buyers to part-fund a domestic EV charger. From April, it will apply only to flats or rental properties, so if you own a house, you're on your own, squire.
The grant made the charger cost slightly more palatable: a high-three-figure bill (£930), rather than a four-figure one. I called a local company with decent reviews: they then recommended, and I agreed to, having them install a British-made unit from Hypervolt.
To comply with the grant regulations, it needs to be a smart charger in range of one's wi-fi; apparently it will be pinged a few times a year by the grant giver. Not sure how you will comply with those regs from the sixth floor of a block of flats you don't own, but there you go.
A smart charger like this allows owners to schedule cheaper off-peak charging, but the advantage for a high-mile work driver like me, who usually needs juicing to start as soon as I plug the car in, is that I know how many kW and pounds sterling I have deposited into the Polestar, so I can work out my expenses. (HMRC alternatively allows a rate of 4p per mile to cover business miles, which doesn't really cover it.)
Which brings me to maths part two: working out precisely what the Polestar's efficiency is, and how long public chargers take, by way of a spreadsheet and some head-scratching. For internally combusting long-term test cars, we just have a card sheet on which we scribble the mileage, litres and cost of each fill. EVs are necessarily more complex. I'm still working on it, because there are lots of things we, as a number of editorial teams, could calculate from the data, down to rating the average speed and reliability of charging networks.
Anyway, what I can tell you is that having a solid 7kW charger athomeistransformativefor heavy EV users (you will be absolutely unsurprised to learn).
Recent trips include the shortish hop to my younger child's new university digs. For all of the Polestar's high window line, rakish rear screen angle and narrow glass area, it's worth remembering that it kind of comes from the people who bring you Volvos. So the rear seats fold to lift the luggage volume from 405 litres to 1095 litres and the frontmost cupholder is perfectly sized to take a small Japanese peace lily, almost like they planned it.
Longer trips include visiting my folks in Hampshire, a round trip approaching 200 miles that, at this time of year, is borderline making- it-without-stopping territory if you cruise relatively quickly. 
Will it be faster to give a quick squirt of juice at the Instavolt chargers in West Meon while I'm looking at some motorbikes? Or should I just back off to a slower cruise to get home with a comfortable few per cent to spare? I suspect the latter would usually be true and is more efficient and cheaper. But more answers next time.
Love it: Discreet cabling:
A small luggage compartment in the front is big enough for charging cables, which keeps them in place and means you can't hear them even if they do rattle around.
Loathe it: Indiscreet labelling: 
Stickers on the door telling you what variety of 2 you have is a bit technical, a bit weird and a bit like you would see on a prototype.
Mileage: 8313
#Back">Back to the top
Life with a Polestar 2: Month 1
Quirks take some learning - 19 January 2022
I'm still getting used to the Polestar's various range estimates. The one in the instrument panel is optimistic, while the 'range assistant', which is meant to be more realistic, I find is too pessimistic. I've taken to just looking at the remaining charge percentage and doubling it for miles, which seems pretty accurate, depending on how fast I go.
Mileage: 8189
#Back">Back to the top
Welcoming the Polestar 2 to the fleet - 12 January 2022
There's a tendency among car makers, especially makers of posh cars, to complicate things. To throw at them technology and features – some of which you will never use – to wow you. This, the Polestar 2, from a company part-owned by Volvo, is refreshingly simpler than that.
The 2, Polestar's second car after the wild plug-in hybrid Polestar 1, is a pure EV. This one is with us as my daily wheels until the middle of the year. It's 4.6m long and 1.8m wide across the body, with a five-seat interior and a 78kWh (usable) battery pack beneath it. There's four-wheel drive, from two powerful permanent-magnet synchronous motors, each making the same output. There's one at either axle, so it makes a total of 402bhp and 487lb ft.
At that size and pace, I suppose you would call it a sporting family hatch or a quick compact executive car, with a 4.7sec 0-62mph time. The top speed is 'only' 127mph, but I don't suppose I will ever trouble that.
The 2's base price is £49,900, but this one has a couple of options: metallic paint, which doesn't look overly metallised but which I do rather like, at £900; and the £5000 Performance Pack. That adds 20in rather than 19in wheels, larger front brake discs with four-piston calipers, Öhlins manually adjustable dampers and gold-painted brake calipers and valve caps.
This being the 2020s, though, the options don't end when the car gets to you. Polestar recently announced a £1000 over-the-air update that can bring an additional 67bhp, raise the torque to 502lb ft and drop the 0-60mph time to 4.2sec. Polestar has agreed to send it over, so as I write I'm waiting for the car to ping me a message to say it's ready to download.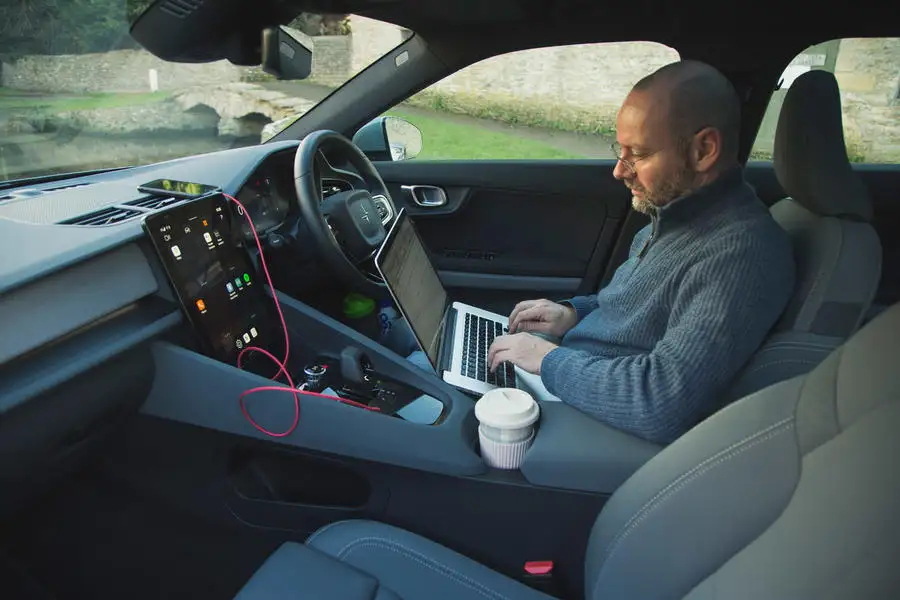 I think the 2 is a rather handsome thing, too. Polestar's gaffer is Thomas Ingenlath, a designer, so he probably gets to choose who wins all of the 'engineer versus designer' arguments we're told happen in car companies.
The 2 has a high beltline with a narrow window area, thick pillars and a small back window. I think it looks great from the outside. But, yes, that makes it harder to see out of. It's a compromise that I'm prepared to accept, right up until I lose sight of another car behind the A-pillar.
Inside is where you find more of the simplicity I opened with. The driving position is straight and easy, with a round wheel with normal buttons on it. There's a big, upright touchscreen using an Android Automotive and Google system, rather than a car maker's own bespoke software. And while I would rather the heater controls stayed on physical buttons, every icon is large and clear and it's very intuitive, plus not over-burdened with features that I couldn't use while driving anyway.
The (Google) map is quick and comprehensive and, for once, this is a car whose voice control actually understands me. It will sync with an iPhone but won't use CarPlay, which brings some limitations (it will receive audio but not allow app controls via the car's screen), but it's generally as good and straightforward as car systems get.
The 2's 78kWh battery gives an official WLTP range of 292 miles, but I'm not getting near that. At full charge, the car usually estimates range at 250 miles, but a secondary 'range assistant' is more accurate, pessimistic and, at this time of year, tends to predict 200 miles fully juiced. My fag-packet calculations suggest a return of 2.6 miles per kWh on a typical journey, which puts 200 miles at the edge of its limit.
The car suggests you don't charge to more than 90% to preserve battery life; and it's a brave soul who goes deep into single-figure percentages if they're holding out for a public charger. So the usable range is even less than that, and while the battery can apparently charge at rates of up to 150kW, it tends not to. In short, it's not really good enough.
During my first few weeks with the car, I couldn't charge it at home, which made life a bit tiresome, but I always have something to write so didn't feel like I had wasted much time charging. More on all of that in another report, though, once I've accrued more time/consumption records. Meanwhile, I'm £930 lighter but now have an AC charger screwed to a wall of my house, which means the 2 is fully juiced every morning and I'm only occasionally topping it up on the road.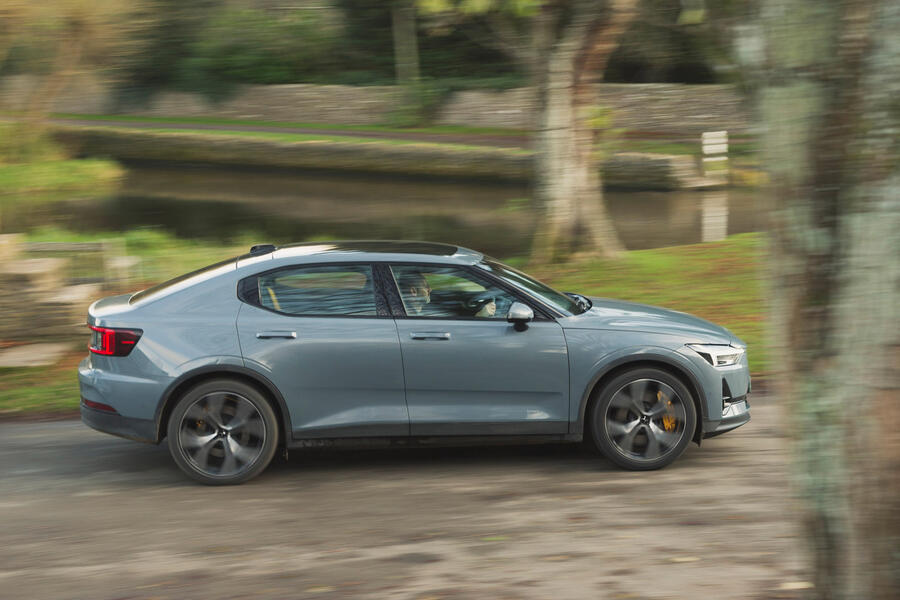 I'm enjoying the 2 to drive. It has an easy one-pedal mode if you want, but its retardation and low-speed creep level can be adjusted. The steering has a few weightings, but the handling is always sure-footed and confident, if a bit firm around town.
To adjust those optional Öhlins dampers, though, requires sticking the car on a ramp. Bonkers. I can't imagine many owners doing it, but it's a project for some downtime I've got coming up. Maybe I'm weird, but that's the kind of complexity I'm on board with.
Second Opinion
I tested the Long Range Single Motor version of the 2 recently without the Performance Pack, and it made me wonder how much more an owner could really need from the car. I will be interested to find out if Matt's long-termer can offer a meaningful reason to spend more.
Matt Saunders
#Back">Back to the top
Polestar 2 Long Range Dual Motor specification
Specs: Price New £49,900 Price as tested £55,800 Options Metallic paint £900, Performance Pack £5000
Test Data: Motor Dual AC synchronous Power 402bhp Torque 487lb ft Battery 78kWh Kerb weight 2048kg Top speed 127mph 0-62mph 4.7sec Energy efficiency 3.21mpkWh CO2 0g/km Range 292 miles (claimed) Faults None Expenses None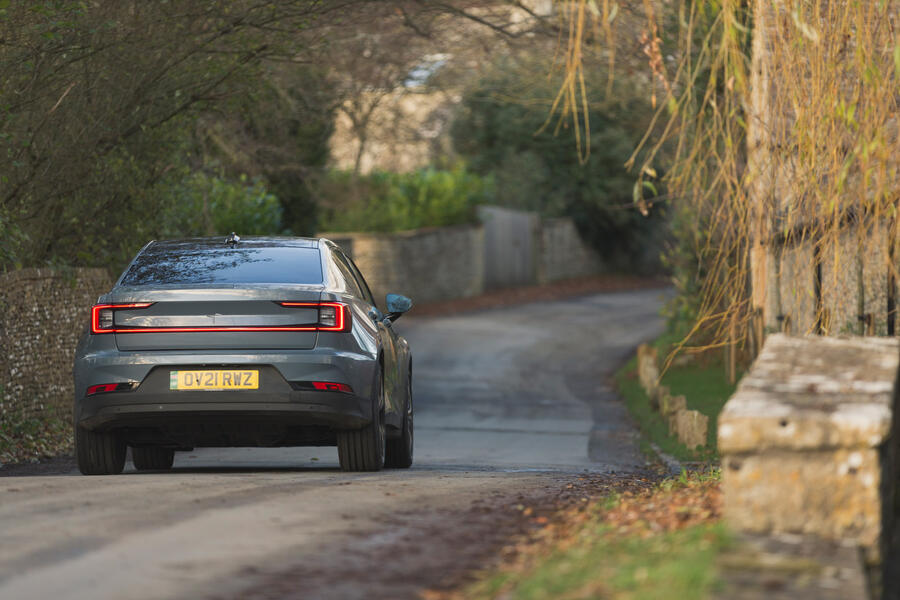 #Back">Back to the top
https://www.autocar.co.uk/car-review/pol...erm-review