11-17-2023, 06:54 PM
Polestar 3 first ride: Early taste of 510bhp sports SUV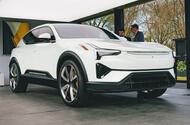 The Polestar 3 is the first SUV from the Swedish brand
First blank-sheet design by Polestar is an SUV that looks to take on the BMW iX and Jaguar I-Pace
The new Polestar 3 will launch in the second quarter of next year as the firm's first SUV, touting a rakish design, luxury touches and advanced new technology.
Offering up to 510bhp in twin-motor guise, it gains a host of advanced safety features and makes extensive use of sustainable materials. The firm claims this makes the SUV "more relevant and responsible".
The 3 made its UK debut on the Polestar stand at Salon Privé earlier this year, shown in Long Range Dual Motor guise sporting 'Snow' white paintwork and 22in four-spoke forged alloys.
Pitted as a direct rival to the BMW iX and Jaguar I-Pace, it is the second series-production model from the Volvo spin-off brand after the Polestar 2 electric saloon.
Based on the advanced new SPA2 platform, it's effectively twinned with the forthcoming Volvo EX90, using much of the same underpinning technology and systems. But while the Polestar 1 and 2 were based on Volvo concept cars, the 3 is the first car designed from conception as a Polestar.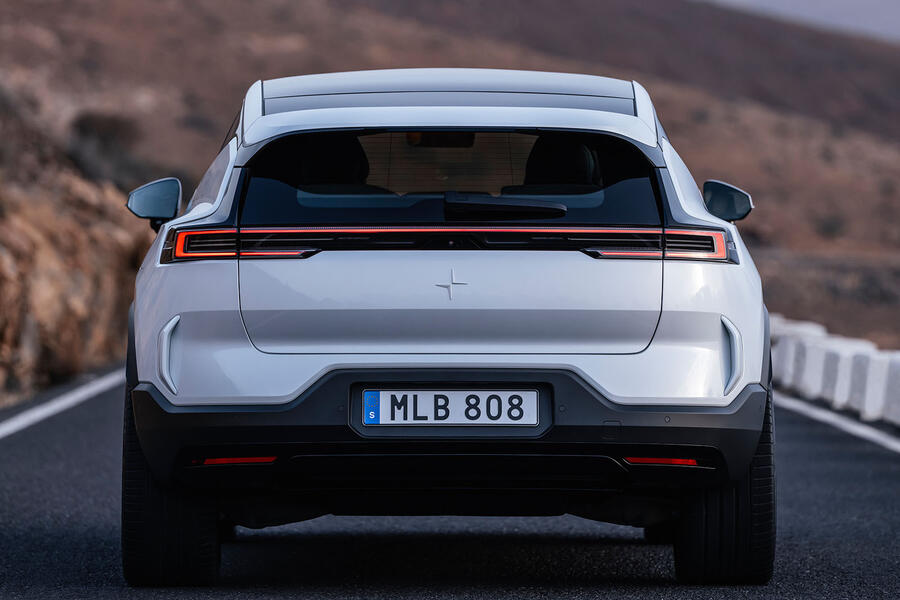 Although it's a large SUV, its rakish design shows a clear focus on aerodynamic efficiency, with a relatively sleek silhouette and a number of aero-channeling additions. 
It features design features first seen on the Polestar Precept concept, including dual-blade headlights, a rear spoiler with a built-in wing and a front aero wing, below which is a 'Smartzone' panel containing various sensors. Polestar boss Thomas Ingenlath said these would become "defining characteristics" of the brand.
In keeping with Polestar's performance focus, the 3 will launch with a rear-biased dual-motor powertrain, which in standard form produces 483bhp and 618lb ft of torque. That's enough to power the 2584kg-plus machine from 0-62mph in 5.0sec and on to a top speed of 130mph.
An optional Performance Pack adds an extra 27bhp and 51lb ft, shaving 0.3sec off the 0-62mph sprint.
To ensure that a large SUV can offer what chief chassis engineer Joakim Rydholm called "the performance and precision that define all Polestar cars", the 3 features dual-chamber adaptive air suspension, which can be electronically adjusted every two milliseconds. There are also 400mm Brembo four-piston brakes on the front.
There's a torque-vectoring dual-clutch function on the rear axle, too, while the rear motor can automatically be decoupled, so the car will run on the front motor only in certain circumstances to save energy. There's also an adjustable one-pedal driving option.
The 3 will be launched in Long Range specification, drawing power from a 111kWh lithium ion battery that features a prismatic cell design. It has an official range of up to 379 miles and a peak charging rate of 250kW. The car is capable of bidirectional vehicle-to-grid charging and features a heat pump as standard.
The 3 is underpinned by plenty of new infotainment and safety tech. It uses a new Nvidia Drive core computer that serves as an 'AI brain' to process data from the raft of sensors mounted to the car. There are five radar modules, five external cameras and 12 external ultrasonic sensors, which use Volvo's latest safety software.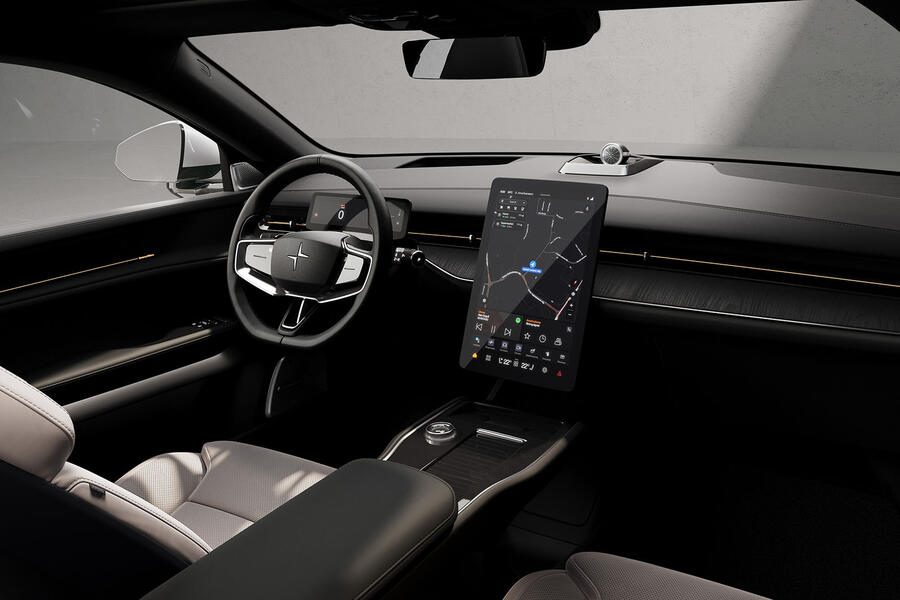 An optional Pilot Pack with lidar will be offered next year and will add an additional Nvidia control unit, three cameras and four ultrasonic sensors and will enable enhanced 3D-scanning of the car's surroundings to offer more accurate real-time data.
And the sensors don't just monitor outside the car: Polestar claims Volvo's interior radar tech can detect sub-millimetre movements in the interior to warn against leaving children or pets inside; and links to the climate control to prevent heat stroke or hypothermia. There are also two closed-loop driver-monitoring cameras that can give audio warnings or even automatically stop the car if they detect the driver becoming distracted or drowsy.
Polestar said materials for the interior were selected based on their sustainability credentials and include animal-welfare-certified leather and fully traceable wool upholstery.
As it did with the 2, Polestar says it has committed to producing a complete life-cycle assessment of the 3 when production begins, showing how much CO2 is produced in the car's build and use, and said it's committed to investigating ways to reduce its carbon footprint.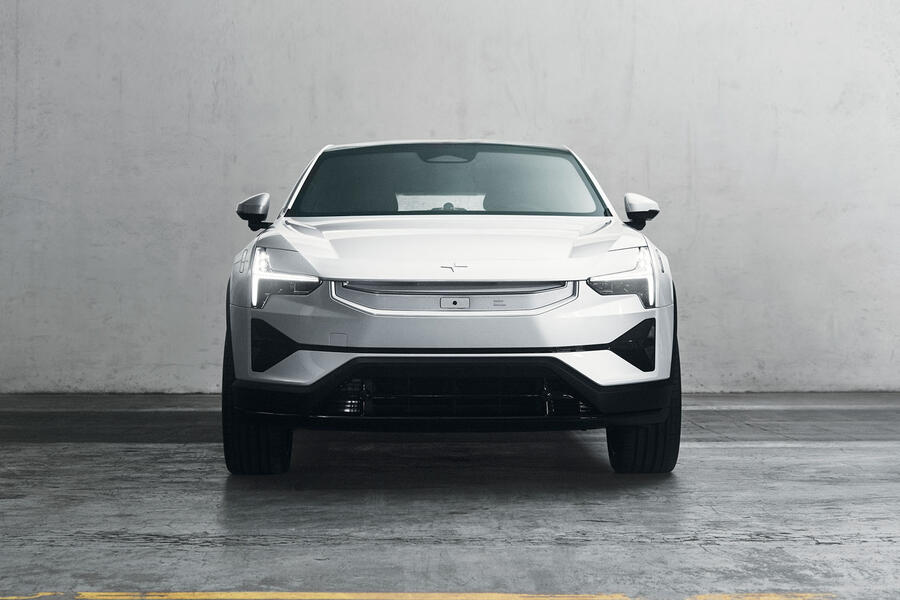 The 3's infotainment system is powered by the new Snapdragon Cockpit Platform. There's a 14.5in central touchscreen that runs a development of Polestar's Android-based operating system, which was co-developed with Google and allows for over-the-air updates.
All versions of the 3 feature 21in alloy wheels, a panoramic glass roof, LED lighting and retractable door handles. The Plus Pack and Pilot Pack (including features such as a 25-speaker audio system, a head-up display and parking assistance) will be included on all models sold in the first year of production.
The 3 is available to order now, with prices starting at £79,900 and production set to begin early next year.
The Performance Pack, which also includes performance-based tweaks to the air suspension and unique 22in alloys, costs an additional £5600.
The 3 will be the first Polestar model built at a Volvo factory in Chengdu, China. From 2024, it will also be built at Volvo's factory in South Carolina, the US.
The model will feature bi-directional charging, to allow for vehicle-to-grid functionality. This will enable the 3 to discharge energy from its battery back into a home or the electricity grid.
Polestar has joined a project in Gothenburg, Sweden, looking at vehicle-to-grid (V2G) and is committing a fleet of 3s to the project with a goal of "finding true business potential models for V2G and trial tangible use cases that can be scalable and applicable across regions". The project will start in the first half of 2024 and run for two years. 
The firm has also joined a pre-study in California looking at vehicle-to-grid possibilities in the US state. 
First ride: New 2023 Polestar 3
The Polestar 3 breaks new ground for the company in not being created as a model with a performance focus and positioning at its core. Sibling to the Volvo EX90, the 3 is a large SUV that is still styled in a way that gives it a sleek profile in the metal and it looks far less hefty and slab sided than others in the class. 
We ride in the back on our short loop around a residential area of Santa Monica and straight away you're impressed by how much space there is in the back. There's plenty of leg room and head room, even with a large panoramic roof that in other cars might eat into the latter.
There's a real sense of airiness, heightened by pleasing, light material choices that feel modern and good quality to the touch. You don't feel as though you're in a Volvo either thanks to the different choice of materials, even if the dual screens in the front are also common to its Swedish sibling. 
You also quickly notice how firm the ride is, a Polestar trait that has been carried over from the 2. It's not as harsh as the smaller car's but still firmer than you might expect. Air suspension is standard on the car.
Our test driver Sophia delights in showing us the sub-5.0sec 0-62mph performance (4.9sec is the official time), which is as fast as you'd ever want a large SUV to go and not conducive to a blast around the block after lunch… It feels brisk, the 3 getting dual motors for four-wheel drive. There is also an electronic clutch for the rear motor for torque vectoring, though our test route didn't allow for a demonstration of that. 
Development of the 3 is nearly complete, with the hardware sorted and the software now being tuned ahead of its mid-2024 launch.
https://www.autocar.co.uk/car-news/new-cars/polestar-3