09-13-2021, 08:37 PM
Porsche 718 Boxster GTS 4.0 2021 long-term review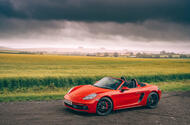 Newly arrived, potent roadster faces great expectations. Will it live up to the hype?
Why we're running it: To find out if this hot rod Boxster can sustain its appeal with day-to-day use
Life with a Boxster GTS 4.0: Month 1
The big 10K - 25 August 2021
The GTS ticked over 10,000 miles this week, and because this is an ex-member of Porsche GB's press fleet, those will have been very hard miles. A bit like dog years, one 'journo' mile equates to two or three 'owner' miles. In light of this, the cabin is looking especially fresh – brand new, basically. This generation of Porsche interior really seems built to last.
Mileage: 10,045
#Back">Back to the top
Welcoming the Boxster to the fleet - 11 August 2021
Most cars join our longterm fleet with more to gain than lose. The scope of the models we test is so very broad, and the vast majority of them aren't about instant thrills (or, indeed, any kind of thrills); we simply don't live in that kind of world.
Homogeneous modern cars often need time to put across what subtle charms they have and give us something to grow fond of. The Skoda Octavia vRS Rachel Burgess is running is a classic example: it's not the most enchanting thing on first acquaintance, but it has an ability to burrow beneath your skin with months-long exposure.
The Porsche 718 Boxster GTS is a different kettle of fish and arrives with an almost crippling level of expectation from the get-go. The mechanical recipe – three pedals, six naturally aspirated cylinders, rear-wheel drive – is about as juicy as it gets in 2021, and having tasted the car at launch last summer, we know how good it can make you feel when you're chucked the keys for an hour or three.
But day-to-day usability is the Achilles heel of so many sports cars, especially mid-engined ones. So having received that initial gushing praise, the hot rod of the Boxster range (the others make do with a downsized turbo flat four) is an anomaly here in that it likely has more to lose than gain while under longterm scrutiny. So, first and foremost, fair play just for showing up.
Its tenure also begins in just about the cruellest circumstances imaginable. When I collect our new GTS – which, having been used for Porsche GB press duties for the past 8000 miles, isn't actually that 'new' – I do so having spent all day in the new 911 GT3, in manual form and with the Touring pack. Bring on the impromptu twin test.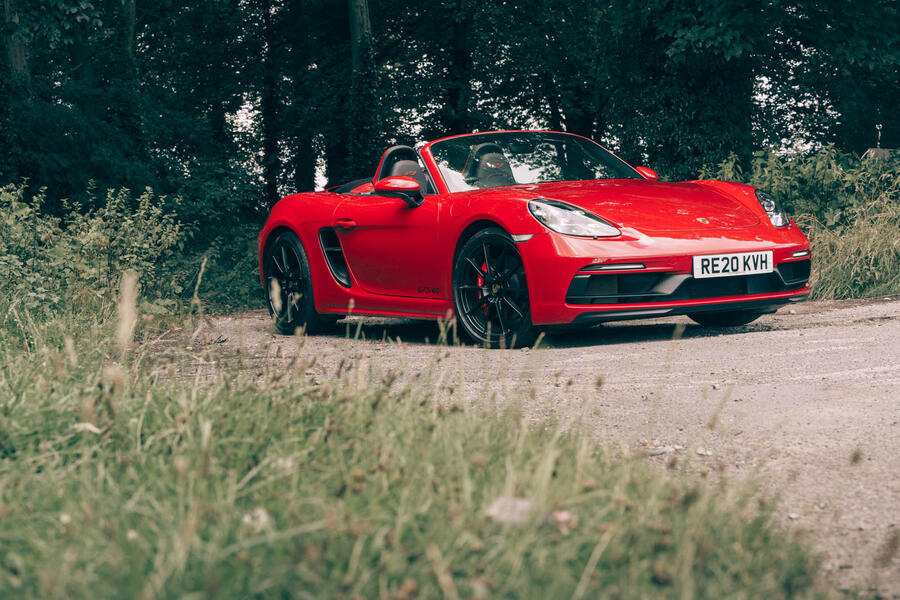 Regular readers will know that never has there been a more finely responsive 911 than the 992-vintage GT3. And, no doubt, prior exposure to such a car makes those first 10 enlightening minutes behind the wheel of the Boxster an almost disheartening experience. Despite weighing 13kg less than the GT3, it feels heavier, as well as softer on its suspension. Its longer wheelbase can be felt, too. After the 911's superbly deep carbonfibre-shelled bucket seats, the 'Sports Seats Plus' in our Boxster GTS are high-set and lacking in support, while the steering response is a touch – and I can't quite believe I'm writing this – treacly. At the two-mile mark my mind tries to fathom how this can be the same car I would have sold a kidney to own when I drove it last year.
It doesn't last. A few more miles and, as my synapses shed the recent memory of the GT3, the Boxster GTS comes into its own. Its relative deficit of width is the most obvious benefit; after the 911, the mid-engined Boxster feels like a Mazda MX-5, and that is to its credit almost everywhere you go. The ride quality, which felt borderline gloopy at first, is in truth sensationally well judged on British roads. Tighter suspension control might give a more thrilling sense of immediacy, but as the prickly GT3 demonstrates, that added tautness would wear thin in pretty short order.
This GTS set-up – which sets the body some 20mm lower than that of the regular Boxster – is an excellent compromise, and the car oh-so easily achieves a sense of flow and finesse. Interestingly, the gearshift also has a more enjoyable heft than that of the GT3 and – whoa – the cabin is quiet on the move by comparison, even with its canvas top.
Engine note? Alas, for sheer excitement, it's true: there's no contest. The musicality of the 911 GT3 motor's ascent to its 9000rpm redline is unmatched by anything other than a Ferrari V12 or Lamborghini V10.
Yet the GTS, whose engine is also found in the 718 Cayman GT4 and Boxster Spyder models, isn't horribly outclassed. This 395bhp 4.0-litre flat six may 'only' be a de-turboed, bored and stroked version of the 3.0-litre unit in the regular 911, and it may not be crammed with titanium components or have trick throttle bodies, but it has oodles of character and is clearly special in its own right. The bassy, broad gurgle at idle grows throughout the first half of the rev range, and the way this engine gathers speed, the intake bellowing as the needle passes first 5000rpm then 6000rpm, is just so creamy and forceful. With 311lb ft it's only 36lb ft short of the GT3's total, and it delivers that peak 1100rpm earlier.
It'll be interesting to get to better know what is, for a smallish car, an unusually large engine, not least because it's possibly the finest motor on sale for a sub-six-figure sum. Early impressions suggest it really does return the Boxster to 'junior supercar' territory.
On top of its £66,340 base price, RE20 KVH totes roughly £10,000 worth of options, notably an Alcantara interior and the Carmine Red paint. Some people will baulk at the idea of a £75,000 Boxster, but in the context of a marketplace where a base 911 Carrera costs £85,000 before options and the next closest rival – probably the Audi R8 Spyder, when you think about it – costs more than £120,000, that asking price is fair cop, making this a compelling package. But a perfect package? Not quite. Next time, we're going to talk about gearing.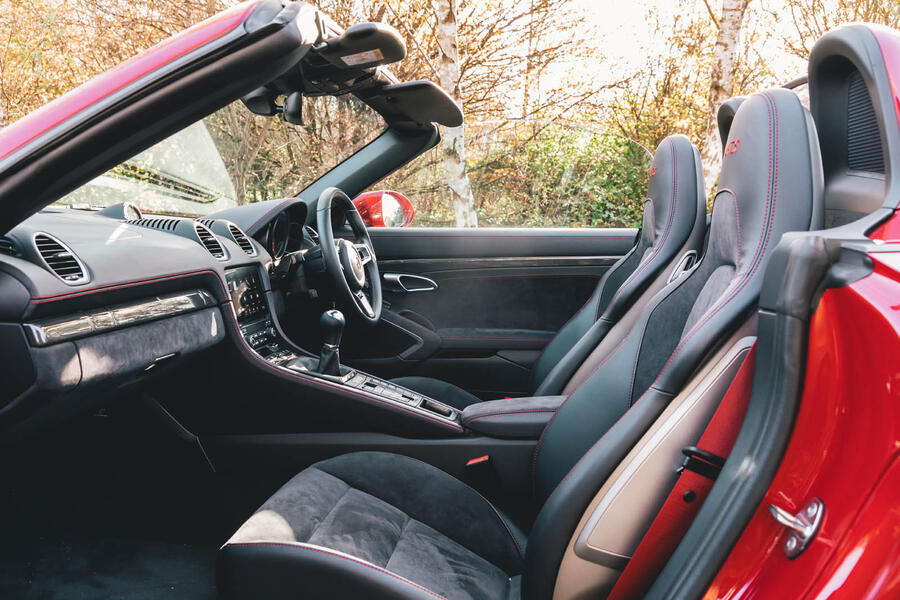 #Back">Back to the top
Porsche 718 Boxster GTS 4.0 specification
Specs: Price New £66,340 Price as tested £75,860 Options GTS interior package £2096, Carmine Red paint £1658, Porsche Dynamic Light System £1397, Alcantara package with GTS interior package £1242, Park Assist with reversing camera £1086, two-zone climate control £539, roll-over bars in exterior colour £357, auto-dimming mirrors with rain sensors £345, speed-limit indicator £236, cruise control £228, electric folding mirrors £210, Isofix passenger seat £126
Test Data: Engine 6 cyls, 3995cc, petrol Power 395bhp at 7000rpm Torque 317lb ft at 5000-6000rpm Kerb weight 1435kg Top speed 179mph 0-62mph 4.0sec Fuel economy 28.0mpg CO2 230g/km Faults None Expenses None
#Back">Back to the top
https://www.autocar.co.uk/car-review/por...-long-term