02-04-2023, 11:02 PM
Porsche 911 Dakar first drive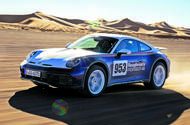 Safari 911s have long been cult favourites. Now at last Porsche has made one you can buy. With 473bhp and 4WD, is it the ultimate desert racer?
What is the new Porsche 911 Dakar? That's a question as simple to ask as it is complex to answer, for this car is so very many things.
A consumer journalist might consider it a shrewd investment, because production is limited to 2500 units, all sold save China's allocation, and those only because the order book hasn't yet opened there. A staffer from Practical Off-Roader or some other made-up title might regard it as a brilliant new twist to the long since hackneyed SUV theme, while one from The Engineer might wonder how both front and rear suspension lifts were installed and how it was discovered that the car would be safe while fully extended at 110mph on sand.
But probably most judgements will come from passers-by who may not be aware that the Roughroads livery that fully 70% of 911 Dakars will carry pays homage to the fact that in 1984, Rene Metge won the Paris-Dakar Rally in the very first four-wheel-drive 911 – which wasn't actually called a 911 at all but a 953 – hence the roundels on the sides. And I fear their reactions may not be as universally warm as an owner may be expecting as they cruise the King's Road in their jacked-up, war-painted Porsche 911 that cost twice as much as a Porsche 911 Carrera.
Me? I've never had much time for cultivating my image, concerningly comfortable as I am with the slightly shambolic, superannuated hack motif that appears to pass for my natural oeuvre these days. It helps, really, because it allows me to assess properties such as this for what they are, without tying both you and me in knots trying to second-guess what image an owner may think it projects of them and assessing the size of the reality gap between that and what onlookers may really be thinking. But I'm guessing that it's considerable.
So, and at its simplest, what you're looking at is a 911 Carrera 4 GTS to which a great deal has been added, probably none more than in the area of pricing. From an already steep-sounding £120,800, it rockets all the way up to £173,000, or just £5500 less than for a 911 GT3 RS. That seems a lot to make a fashion statement and buy a degree of off-road ability that you will in almost all likelihood never use, doesn't it?
What can't be claimed, however, is that the Dakar is some kind of smoke-and-mirrors job, a cosmetic titivation with no real attempt made to deliver on the promise of its appearance. It delivers in spades – which coincidentally count among the very many extras Porsche will sell you to help accessorise your car. Sand ladders, jerry cans, water canteens and a roof tent are some of the others.
But back to the car itself. Its shell, engine and transmission are standard Carrera 4 GTS, save the regrettable absence of a manual gearbox option. The most obvious change is the 50mm lift in the ride height, which can be raised to 80mm once you've beached on a Saharan dune and need to walk away on stilts.
Then there's the rubber. All-terrain tyres aren't exactly known commodities on sports cars, so Porsche got Pirelli to design a brand-new one specifically for the Dakar. It has a double carcass and is so puncture-resistant that even after many days in an often very rocky desert, Porsche had had to replace just two, both with cuts in their sidewalls, not actual punctures.
By modern standards, these Pirelli Scorpions have quite a lot of sidewall, enough to make Porsche drop the wheel size by an inch at both ends, one consequence of which is that the GTS brakes no longer fit, nor do the usually optional carbon-ceramic discs. The smaller items from the Carrera S are used instead, and because the Dakar has an again tyre-limited on-road top speed of 149mph, they're more than up to the job.
To stop it sliding around off road, or indeed to make it do so even more if that's what you want, two new driving modes have been added. Off-Road defaults to a near-50:50 front-to-rear torque split to maximise traction, although it of course remains still infinitely variable. I found Rallye rather more to my taste, needing a great deal of persuading not to direct most of the torque through the rear wheels.
Porsche has also plundered the parts bin to see which bits can be seconded to the Dakar's new role. The answer is the carbonfibre-reinforced plastic (CFRP) bonnet from the 911 GT3, as well as its engine mounts, rear-seat removal, lightweight battery and thinner glass. The active anti-roll bars have been moved from the options to the standard equipment list, as has, crucially, rear-wheel steering.
Things you won't find on any other 911 at any price include full underbody protection, a bespoke CFRP rear wing and a centre radiator deleted to improve approach angles. Porsche at least appears to be taking this car very seriously indeed, even if some customers may not.
So what's it actually like? Despite the fact that Porsche claims to have halved the Dakar's spring rate to take into account its off-roading role and, I'm sure, offset some of the stiffness in the sidewalls of those Scorpions, it certainly didn't feel that way as we bumped our way south through Morocco to close to the Algerian border, where vast ranges of dunes rose up to meet us. It's firm, not uncomfortable, but definitely firm, although no noisier than a winter tyre. What it may be like on the bespoke summer and winter tyres that Pirelli has also developed, I couldn't say.
Otherwise, it's what you may expect from a Carrera 4 GTS with sports seats but otherwise all the usual refinements.
Porsche is rightly proud of the fact that, despite the added weight of the rear steering, active anti-roll bars, lift system, tyres, underbody protection and so on, enough has also been shed or lightened for its kerb weight relative to said GTS to have risen by just 10kg.
Certainly it feels normal enough to make turning hard left off the highway and into a desert the same size as the US feel, well, pretty bloody abnormal. Briefly something in your head doesn't compute. But almost immediately you realise that you're going to enjoy off-roading in a way that you never have in any other production road car.
On gravel, there's no need to raise the body. The stones make a frightful racket pinging off the protective items that you can see (the wings and sills) and those that you can't (under the car). But unless you were stupid enough to drive on the tailpipes of another Dakar and thereby be pebbledashed, no harm appears to be done.
What you can do in Rallye mode is wrench the rear tyres loose with some of the 473bhp at your disposal and then proceed from place to place in a series of drifts as extravagant or otherwise as you wish. The steering and software seem to sense the point at which you may be in danger of enjoying yourself a bit too much and so pour some more torque into the front axle to see you straight again – or at least straighter.
It does the same sort of thing in Off-Road mode, but at a far lower threshold, presuming that you've made that selection because you want to actually make progress rather than go stupidly sideways.
So far, so very good. But it's when you see a mountain of sand rising up before you that this 911 becomes something else again. Think about the assets: a kerb weight half a tonne lighter than many off-roaders and a full tonne lighter than some. A belly-crawling centre of gravity compared with all of them, a power-to-weight ratio they could scarcely imagine and a set of tyres designed specifically for the car and the job. All it asks of you is that you commit.
Out here, more than in any other environment you may encounter, momentum is all. So don't be shy. Don't tentatively aim it up that treacherous hill of constantly shifting sand but gather as much speed as you can, trust that the car can take it and hurl at the wall. Select manual mode, keep your foot in and, if that means the twin-turbocharged 3.0-litre flat six spends some time bouncing off its limiter, sand spraying in every direction and dimension, let it get on with it.
If you have to traverse a dune (usually something done with extreme caution in SUVs through fear of tumbling side over side to land in a wrecked heap at the bottom), just get on with it. Your nerve will run out long before you reach the Dakar's tipping point.
Drawbacks? It's harder to see over stuff, because you're that much closer to the ground. That's it.
It's a shame, then, that next to no Dakars sold outside Africa and the Middle East will ever be used for the purpose for which they were designed. And initially that made me think it of it as nothing more than a frivolous toy. But then I thought again. I thought of a Dakar stripped of its livery, in a dark, sober colour. One with summer or winter tyres rather than off-road rubber that for almost all will have more drawbacks than advantages.
I thought of people who live down the end of steep, muddy tracks, who get cut off by snow, who enjoy winter sports and many other pursuits for which specialist equipment is usually needed. And then I saw it in a different light: that of the world's most versatile version of what has always been the world's most usable sports car. And having come close to dismissing it as a plaything, I realised that it actually brings an entire new dimension to owning a 911. It's just that, contrary to appearances, it has nothing to do with sand, gravel or the Dakar Rally.
Clever tech goes to another level
The 911 Dakar's lift system is smart for many reasons, not least that it raises both ends of the car equally, leaving its rake angle unchanged, so the aerodynamic instability that makes conventional front-end lifts unwise above about 30mph isn't a factor. Indeed, the only reason Porsche forces it to drop down again at 110mph is the off-road speed limit of the Pirelli Scorpion tyres.
Ground clearance even without the lift is 161mm, rising to 191mm in Off-Road mode or when manually raised. This provides a similar breakover angle to that of the Porsche Cayenne SUV.
To make the lift system sufficiently robust and able to work at both ends, a pressure accumulator was added to regulate the lift pressure at either end and the expansion tank modified to cope with the additional capacity required, while the pressure itself needed to raise the car was increased from 110 bar to 135 bar.
https://www.autocar.co.uk/car-review/por...irst-drive