08-29-2023, 03:53 PM
Porsche Cayenne Turbo E-Hybrid is firm's most powerful ICE car
Range-topping Cayenne is nearly as quick off the mark as the 911 GT3
Plug-in hybrid super-SUV touts 729bhp and a sub-4.0sec 0-62mph time - and we've driven it
The new Porsche Cayenne Turbo E-Hybrid is the most powerful version of the SUV yet, replacing the pure-V8 Turbo GT.
The plug-in hybrid super-SUV is on sale now, priced from £130,200 and with a choice of conventional and coupé bodystyles.
It's marked out from the standard Cayenne by a purposeful makeover comprising larger air intakes at the front, quad-exit exhausts and coloured brake callipers. 
With 591bhp from an "extensively reworked" twin-turbocharged 4.0-litre V8 petrol engine and 174bhp from an electric motor, the range-topper gets a total 729bhp – and a mammoth 700lb ft of torque – to become Porsche's current most powerful ICE car.
The German manufacturer has claimed a 0-62mph time of 3.7sec and a top speed of 183mph. 
Adding the £21,400 GT Package brings a titanium exhaust, a carbonfibre roof, bespoke bodywork and even stronger performance: 0-62mph in 3.6sec and a top speed of 190mph. 
Meanwhile, a 25.9kWh battery beneath the boot gives an electric-only range of 51 miles – significantly more than the 19 miles offered by the previous Cayenne Turbo S E-Hybrid.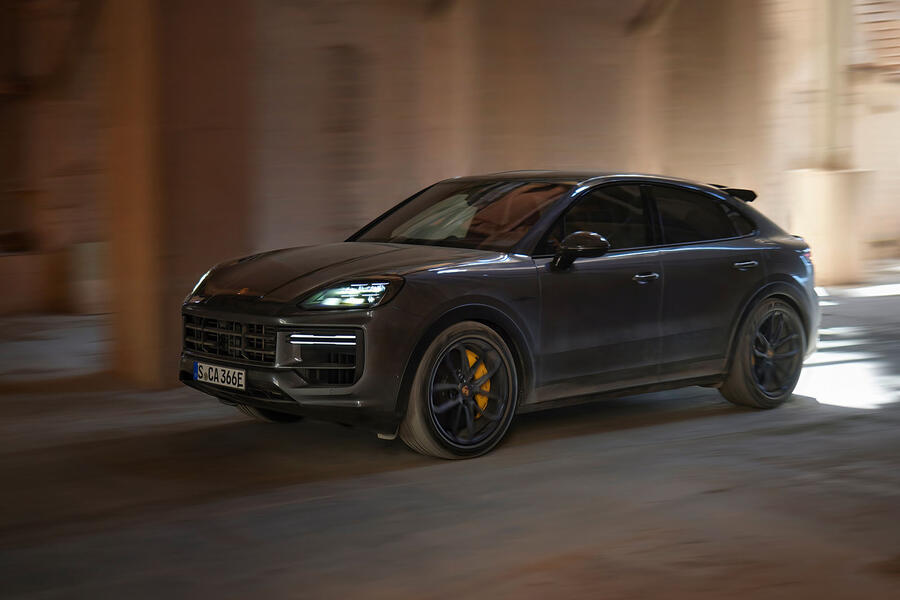 The most potent Cayenne comes equipped as standard with adaptive air suspension and torque vectoring, while Porsche's Dynamic Chassis Control (PDCC) and rear-axle steering systems are available as optional extras.
As with other models from the Zuffenhausen-based GT division, the PHEV's cockpit is adorned with a raft of track-oriented embellishments, including aluminium trim elements, microfibre headlining, a microfibre steering wheel, a driving-mode selector switch and sports seats. 
Read on to find out more in our UK-exclusive review of a near-production prototype of Porsche's new Lamborghini Urus rival. 
2023 Porsche Cayenne Turbo E-Hybrid prototype review
The Porsche Cayenne Turbo GT – the SUV that so badly wanted to be a 911 GT3 – had us all conflicted. A 2.2-tonne SUV shouldn't be so much fun to drive.
The facelifted Cayenne gives us something else to be conflicted about, because while the Turbo GT lives on, emissions regulations prevent it from coming to Europe. Instead, we'll get an extra-sporty version of the range-topping plug-in hybrid.
The new drivetrain, which will also be available in the third-generation Panamera, receives the same electric components as the Cayenne E-Hybrid, including a 174bhp electric motor and a 25.9kWh lithium ion battery. That will enable an electric range of 51 miles, which CEOs picking their next company car will be delighted about.
Providing the meat of the power is the latest version of Porsche's twin-turbocharged 4.0-litre V8 petrol engine, which now runs a mono-scroll turbocharger with an electric wastegate in place of the twin-scroll turbocharger used previously, among other changes.
The wholesale increase in power and torque pitches the most powerful of Porsche's plug-in hybrid-powered Cayenne models into direct competition with the BMW XM Label Red, whose petrol-electric drivetrain kicks out 738bhp and 738lb ft.
We got to drive a prototype of the Cayenne Coupé with the GT package ahead of a planned unveiling at the Munich motor show next week, and performance is nothing short of scintillating.
The new plug-in hybrid drivetrain is hugely muscular, providing rabid step-off and fervent in-gear acceleration. The combination of electric motor and petrol engine power provides absorbing linearity and prodigiously muscular qualities to the delivery. There is great urgency under load in lower gears and effortless cruising on a more relaxed throttle in taller ratios. It is also terrifically vocal, with a deep-throated roar to the titanium exhaust in more sporting driving modes.
It is all handled by an eight-speed torque-converter automatic gearbox, with shift paddles mounted on the steering wheel, and a fully variable four-wheel drive system.
The flagship Cayenne's handling is equally as compelling as its sheer straight-line performance. There is precision and purpose to the heavily weighted steering, which benefits from a 0.45deg increase in the camber of the front wheels and a rear-steer function. The GT package also brings a 10mm reduction in the ride height over standard versions of the new petrol-electric Cayenne.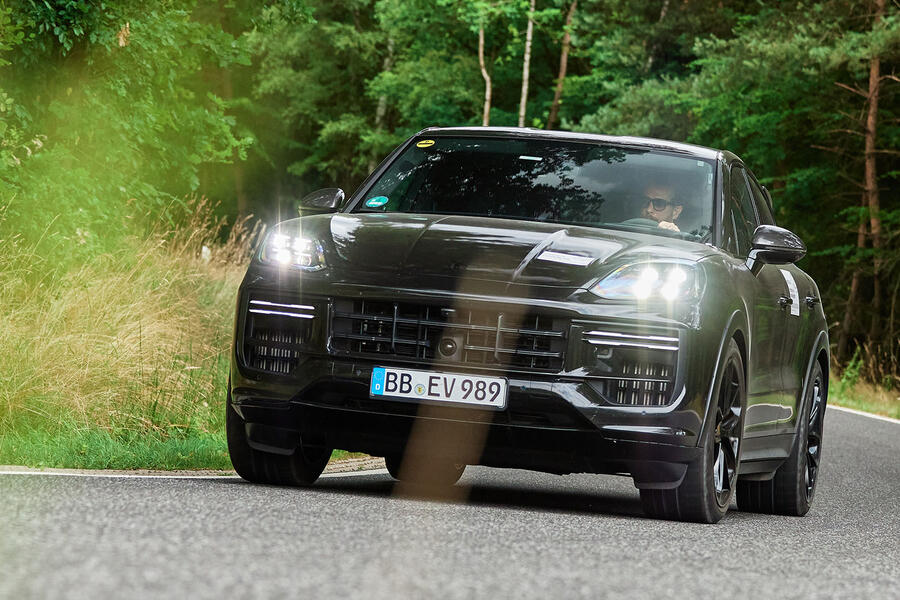 The suspension combines dual-chamber air springs with an electromechanical anti-roll stabilisation system to provide outstanding body control and a great deal of grip. The torque-vectoring rear differential ensures a distinctly rear-biased feel yet momentous drive out of tight corners. It is not subtle, but it is hugely capable, delivering a level of agility and outright dynamic appeal that no 2700kg-plus SUV really has any right to possess.
Relax the driving mode to Comfort, and the most powerful of Porsche's new plug-in hybrid Cayenne models is agreeable enough, given its performance potential. The ride with the GT package is still firm, mind. However, quick-acting variable damping and excellent wheel control provide it with sufficient absorption and compliance to ensure the UK's upcoming alternative to the Turbo GT doesn't get too unruly over nasty ruts and ridges. 
Further features of the GT package include Porsche's carbon-ceramic brakes and a lightweight carbonfibre-reinforced plastic roof panel.
There's no doubting its dynamic ability. It builds on the appeal of the already hugely capable Turbo GT with drivetrain electrification that ramps up the performance, as well as changes to the chassis to ensure it retains similarly captivating handling despite its added weight.
A definitive verdict will come when we get to drive the production version later this year, but based on this early prototype, it's going to be a very fast and rather special kind of SUV indeed.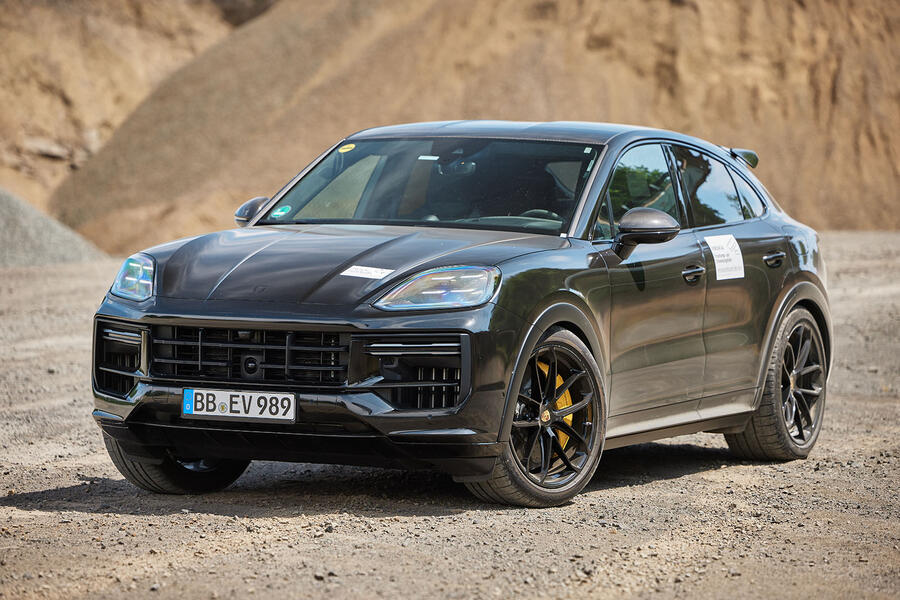 https://www.autocar.co.uk/car-news/new-c...ul-ice-car