11-03-2022, 10:11 PM
Porsche Macan GTS vs Alfa Romeo Stelvio Quadrifoglio | Super SUV shootout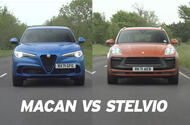 Can Alfa's fast SUV take on the tried and tested Porsche Macan?
Super SUVs are a slightly bizarre concept.
In reality, no one needs a high-riding, two-ton family hauler with enough power to out-drag a supercar, but are they the perfect 'one car to do it all' concept? Porsche has been a stalwart of this sector, from 2002's Cayenne Turbo all the way up to this - the Macan GTS. Porsche's smallest SUV already handles pretty well, so it could be a clear victory for this performance-focused variant.
However, it's got some serious competition from a brand you might not expect - Alfa Romeo. The Stelvio Quadrifoglio brings beautiful looks and incredible noise to the table, all while being powered by an exotic twin-turbo V6.
Can Porsche's predictable-yet-excellent Macan GTS beat this flamboyant Italian in real-world conditions? Join Matt Prior and Illya Verpraet as they find out.
https://www.autocar.co.uk/car-video/pors...v-shootout