05-09-2022, 10:31 PM
Porsche Macan and Audi Q6 EVs: crucial sports SUVs land in 2023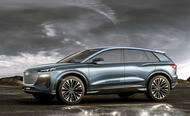 ...and our other render shows how we think the Audi Q6 E-tron will look
All-new SUVs from partnered brands to accelerate move away from petrol power
Luxury firms Porsche and Audi are putting the final touches to a pair of co-developed high-performance electric SUVs, each of which will serve as a spearhead for a new family of premium-orientated and tech-rich electric cars built on an all-new architecture.
The new Porsche Macan EV and Audi Q6 E-tron – each technically unrelated to any existing models in their respective manufacturers' portfolios – represent the next step in the rapid electrification plans laid out by the two German marques.
Each will serve as an electric alternative to their respective most popular combustion-engined models and should rapidly accelerate both Audi's and Porsche's transition to all-out electrification.
Porsche Macan EV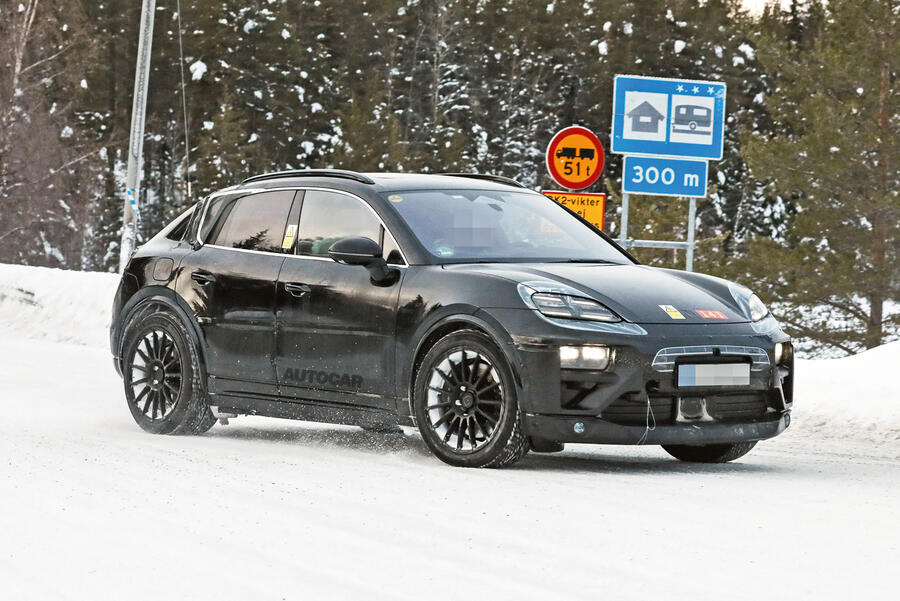 Porsche will look to build on the huge success of its debut EV, the Taycan, with a new electric take on the Macan SUV, which has been its best- selling car globally since 2015.
The Macan EV, due on sale next year, will arrive in dealerships around nine years after the current petrol-engined car, which was heavily updated in 2019, was revealed. But it won't immediately replace its combustion-engined forebear; much like the Porsche Panamera remains on sale alongside the similarly sized and positioned Taycan, Porsche will continue to sell the existing Macan alongside the EV – although it has yet to give a fixed timeline for the model line going purely electric.
The Macan EV will be one of the first production cars to use Porsche and Audi's Premium Platform Electric (PPE) architecture, which combines lements of the J1 architecture – used by the Porsche Taycan and Audi E-tron GT – and the MEB platform used more widely by the Volkswagen Group's more mainstream EVs.
The PPE structure will form the basis of the group's more dynamically focused and upmarket EVs, but so far only Porsche and Audi have confirmed its use for production cars. Lamborghini's first EV is now expected to arrive after the group's SSP platform is introduced and Bentley has lined up the new Artemis platform, currently in development at Audi, for its own first EV.
Porsche, unlike Volkswagen and Audi, decided not to adapt ICE car platforms for its first wave of EVs. Its R&D boss, Michael Steiner, said that "there's always some compromise in weight, package and other dimensions" with a multi-powertrain platform.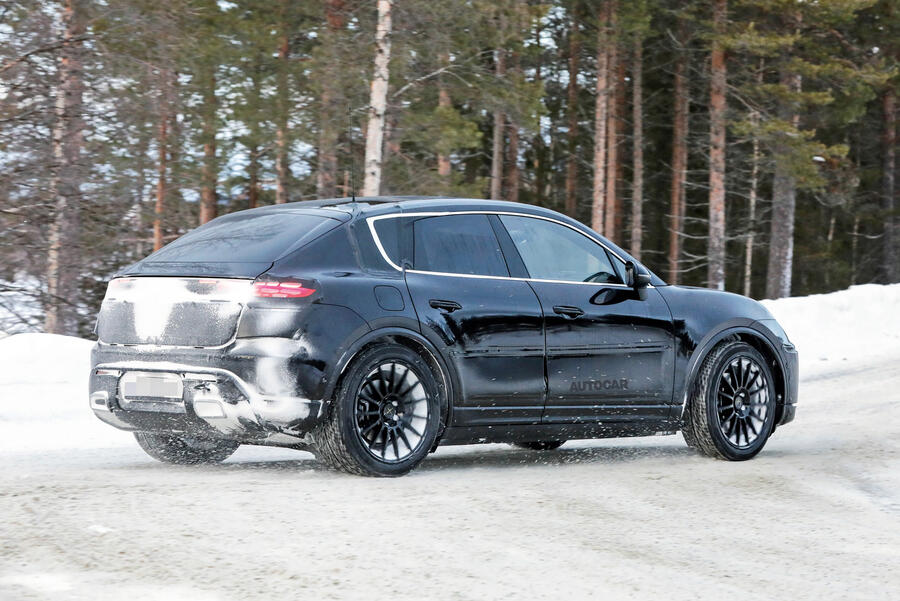 One advantage of a dedicated EV architecture is a more spacious interior, thanks largely to the lack of a transmission tunnel, and improved handling due to a lower centre of gravity and improved weight distribution. 
Following an extensive period of virtual testing, real-world Macan EV prototypes are now testing on the road, laying bare the differences that will set the electric SUV apart from its combustion- engined predecessor.
Porsche fully intends for the Macan EV to be the sportiest model in the segment, and much of the testing programme has centred around its capacity to offer "repeatable best-in- class performance figures", although no details have yet been given of the model's ultimate capability.
The Macan EV will play a key role in taking the firm to a recently announced target of 80% EV sales in 2030, along with several variants of the Taycan and a new electric successor to the Porsche 718 Boxster and Porsche 718 Cayman sports-car duo.
Porsche has yet to confirm plans for an electric take on its largest car, the Cayenne SUV, and has repeatedly stated that the 58-year-old 911 sports car will be its final model to ditch combustion, likely after 2030.
Audi Q6 E-tron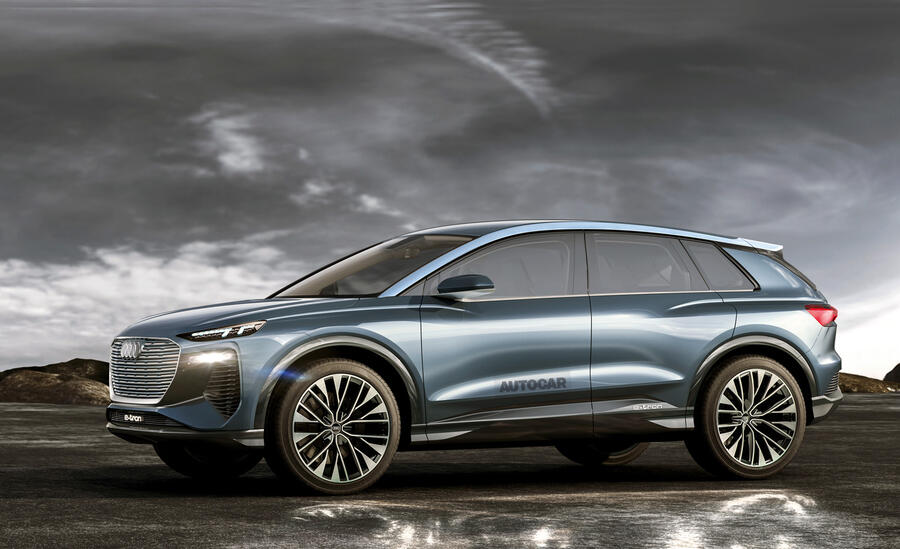 Audi's first car to use the new architecture is tipped to quickly become one of its best-selling EVs, given its similar size and positioning to the conventionally fuelled Audi Q5, which dominated the German firm's sales chart last year.
The brand has so far been tight- lipped about the precise technical specifications and performance details of the Q6 E-tron, but it has given strong clues of what to expect with a pair of PPE-based concepts that closely preview saloon and estate versions of its upcoming Audi A6 E-tron sibling, due in 2024. Each of those concepts is obviously distinguished from Audi's first generation of EVs – the E-tron, E-tron GT and Q4 E-tron – by a radical new styling treatment that puts even greater emphasis on aerodynamic efficiency and dynamism.
Recent spy shots showing a Q6 E-tron prototype with its front end unwrapped confirm that it will largely follow suit, albeit with a raised ride height and a more upright silhouette.
Defining features visible at this stage include an expansive new interpretation of Audi's trademark Singleframe grille (which on future EVs will take the form of a flat, one-piece decorative panel), slimline LED headlights (likely using the advanced digital matrix technology seen on the A6 E-tron concepts) and an array of vents to channel cooling air.
The rear end styling treatment will be a closer match to that of the existing Q4 E-tron. Like that car, the Q6 E-tron is likely to ultimately be offered in rakish-roofed (and slightly more aerodynamic) Sportback guise as well.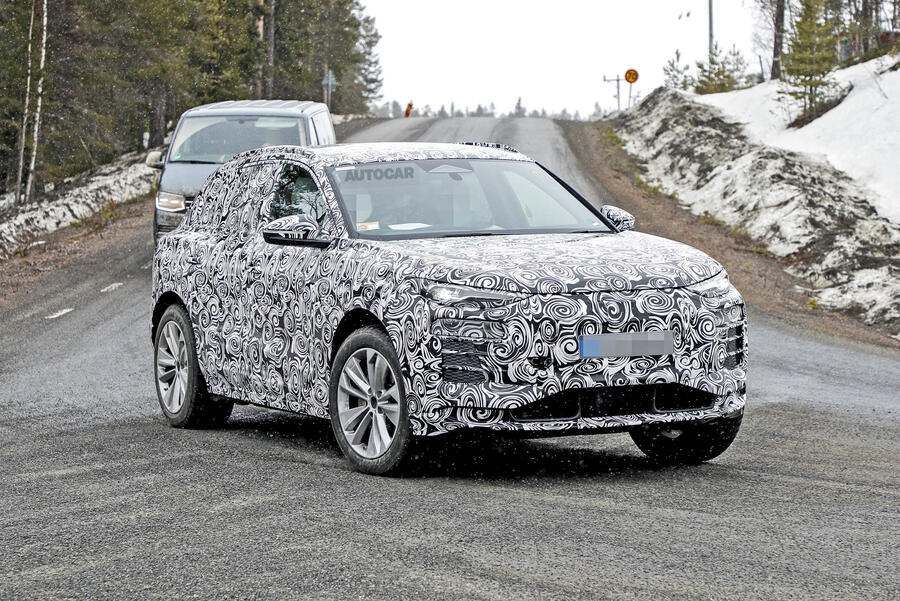 Audi has already given clues to the outright performance potential of models built on the new PPE platform, with the A6 E-tron concept offering a combined 469bhp and 590lb ft from its twin-motor, four-wheel-drive powertrain. That format is expected to be carried over into production, although the brand has confirmed that the PPE platform can also host single, rear-mounted motors in less powerful entry-level models.
In line with plans to future-proof its sports car offerings, Audi is also working on a range of electric RS performance models, with the top-rung version of the E-tron GT setting the tone for the electrification of the Audi Sport division.
The hot version of the Q6 E-tron will be marked out chiefly by more aggressive styling, beefier brakes and a more dynamically focused chassis set-up, but it will also benefit from a notable power boost over the standard car. With an output likely north of 500bhp, it will rival the likes of the Ford Mustang Mach-E GT.
Audi hasn't, however, suggested that any PPE- based cars will be equipped with an asymmetrical tri- motor powertrain, as used by its most powerful current electric SUV, the E-tron S.
PPE: Building on an electric future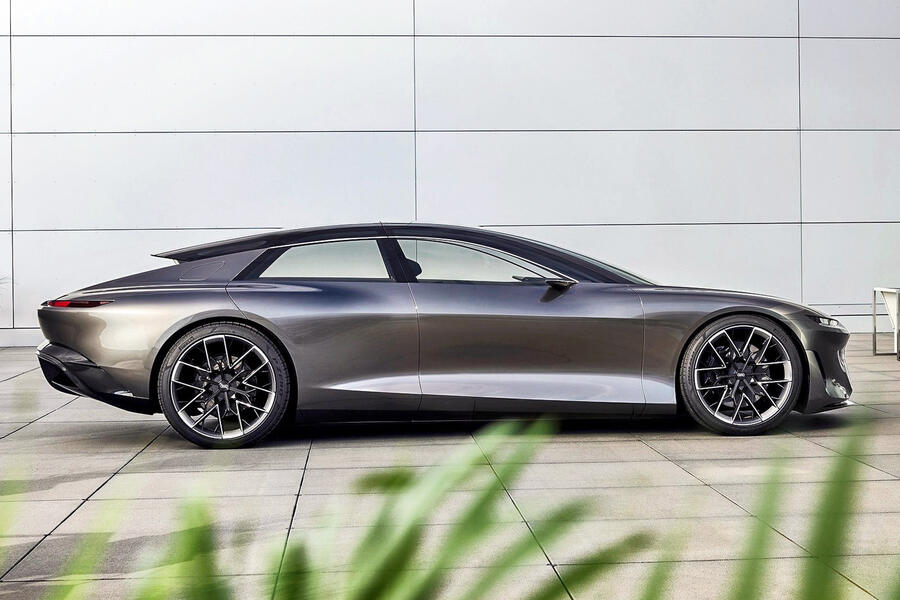 The PPE architecture will underpin a varied range of EVs across different segments, ranging from an electric follow-up to the Audi A4 to the large 'Landjet' limousine that will succeed the Audi A8 and the production version of the 5.5m-long Urbansphere MPV concept.
Initial details released by the brand reveal that PPE allows for ride heights ranging between 152mm and 217mm, a wheelbase of between 2890mm and 3080mm and a track width of 1641mm and 1714mm, giving a high degree of carryover between several core models and in turn cutting development and production costs. Porsche has been less forthcoming about its plans for the new platform, but the details already given by its sibling brand suggest that will be well placed to underpin EVs both underneath and above the Macan EV.
Recent reports suggest that the next-generation Porsche Cayenne will gain an electric version, which is likely to drastically increase the firm's EV sales mix, given that the SUV is currently the marque's second best-selling model.
https://www.autocar.co.uk/car-news/new-c...-land-2023