11-12-2023, 04:42 PM
Porsche reveals TikTok-ready Panamera interior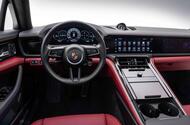 New Panamera is very similar to Cayenne and Taycan inside
Saloon enters third generation with most luxurious model yet – and we've driven a prototype
Interior details of the new Porsche Panamera have been revealed ahead of the luxury car's full debut on 24 November. 
The new Panamera borrows the 'Driver Experience' control concept introduced in the Porsche Taycan, meaning controls for driving are all grouped together, rather than being tucked away behind different menus.
The largest visible differences between old and new are the screens. The new Panamera will come with a 12.6in driver's information display, a 12.3in infotainment touchscreen and an optional 10.9in secondary touchscreen, which will allow the front passenger to set a lap timer or watch streaming services, including YouTube and TikTok.
Porsche has also freed up space by changing the gear selector to a simple toggle and moving it in between the dashboard and infotainment screen.
Porsche's faux turn key starter has also switched to a stop/start button.
There will also be a leather-free interior option for the first time in the Panamera's life.
Additional reporting by Murray Scullion
First drive: 2024 Porsche Panamera prototype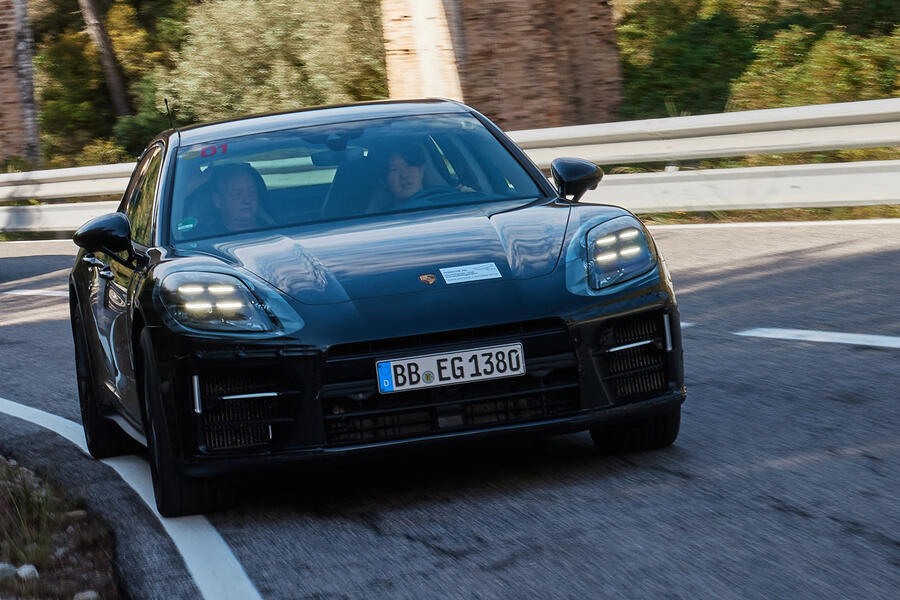 The 2020 arrival of the Porsche Taycan left us scratching our heads about the long-term future of the Panamera. Having two very similar models in the same line-up sounded like a peculiar game plan, even with their distinct power sources – one electric, one internal combustion.
Those musings are now history, as Porsche has confirmed that its ICE luxury saloon is here to stay. Indeed, the new third-generation Panamera should be available in the UK until 2030 at the very least.
Before its unveiling, I was invited to try a prototype off the back of an extensive 3000km validation test by Porsche board members in Spain – one of several durability mules that had accrued various mileages in the run-up to production starting at the Leipzig factory in September.
"There's still some fine-tuning to do before it can be signed off," says product-line vice-president Thomas Freimuth, "but we're well on the way, and all the major developments are now locked in."
My car's disguise can't hide the Panamera's sharp new design. It's clearly sleeker now than at any time in its 14-year history. The stretched proportions, influenced by a probing bonnet, a relatively shallow glasshouse and an angled liftback, remain the domineering element. But there's now greater structuring and tauter surfacing right across the body.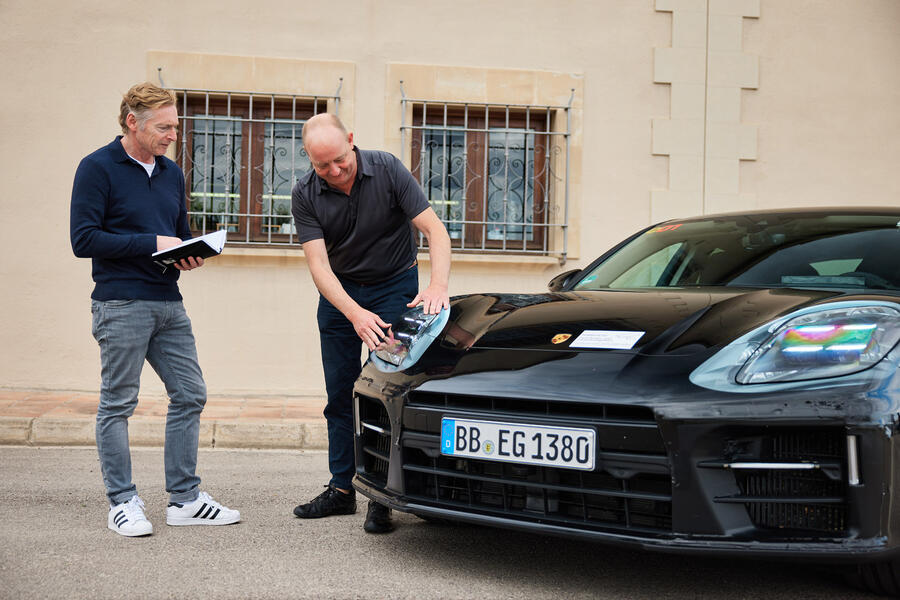 It retains a five-door layout, with a slight increase in the wheelbase giving way to marginally larger rear door apertures and added ease of entry to the rear. Various details, including the lights, front grille and wheels, have also been redesigned to help distinguish it from the second-generation car.
The interior has been heavily redesigned too, with the emphasis on improved digital functionality and added ease of use. We can't show you it yet, but it adopts many of the display and control concepts recently brought to the Cayenne, including new digital instruments, new touchscreens, a new steering wheel with a driving mode toggle and a dash-mounted gear selector.
Porsche will also offer integration of apps and streaming services as part of a more comprehensive connectivity package.
Accommodation has also been improved: although Porsche isn't going into specifics yet, it contends that there's more rear-seat leg room and boot space than previously.
Don't go thinking this is a reskinning and refitting of the incumbent Panamera, as Porsche recently performed on the Cayenne, because there are also "significant modifications to the platform, body structure, drivetrains, chassis and software," Freimuth reveals.
The basis for the Mk3 Panamera is an updated version of the Modular Sport Toolkit platform developed by Porsche and its Volkswagen Group sibling company Bentley.
Porsche claims the car is stiffer and more rigid than before, and part of this can be attributed to new foam-filled steel elements integrated into the front bulkhead in place of the Mk2's aluminium sections. A new frameless tailgate has also enabled the addition of new bracing elements within the rear.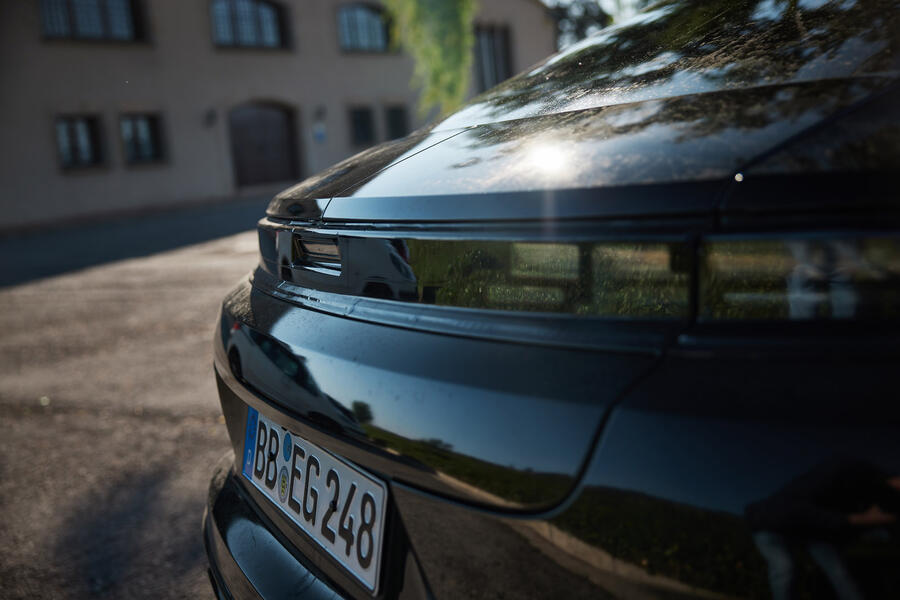 Even bigger news concerns the drivetrains. While buyers will still be able to order the Panamera with a V6 or V8 turbo petrol engine, the Mk3 is planned to offer up to four different petrol-electric plug-in hybrid powertrains, including a new 650bhp-plus system in the new Turbo E-Hybrid variant, which will replace today's Panamera Turbo S E-Hybrid.
It features a heavily reworked 4.0-litre V8 engine, a newly designed electric motor and a 25.9kWh lithium ion battery in place of the 17.9kWh pack used currently, all of which contributes handsomely to a reduction in official CO2 emissions.
Among the changes brought to Porsche's V8 is the adoption of new single-scroll turbochargers (replacing twin-scroll devices) that are said to improve cold-start emissions and reduce fuel consumption under heavy throttle loads; modified crankshafts and pistons, with combustion pressure increased from 120bar to 140bar; and a fuel-injection system that now operates at 350bar instead of 250bar.
The motor, now integrated fully within the dual-clutch automatic gearbox rather than simply flanged onto the bell housing, contributes 54bhp more than the old unit, at 188bhp. It also receives internal oil cooling for added efficiency and recuperation power, which has increased by 35kW to up 80kW.
The new battery, meanwhile, is claimed to yield a 70% improvement in electric-only range, for around 53 miles on the WLTP test cycle, which should put it in the favourable 8% company car tax band. And at 300kg, it's only 22kg heavier than before. It's supported by an 11kW on-board AC charger, enabling significantly faster charging times than with the old 3.6kW unit.
There are four different driving modes (E-Power, Hybrid, Sport and Sport Plus, with the first of those offering the added choice between Hold and Charge for the battery), which give the new PHEV a broad spread of driving characteristics.
The performance in electric-only E-Power mode is quite a bit stronger than with the old Turbo S E-Hybrid. There's also a very low level of mechanical drag, as exemplified by the ability of the car to roll for extended distances as you ease off the throttle.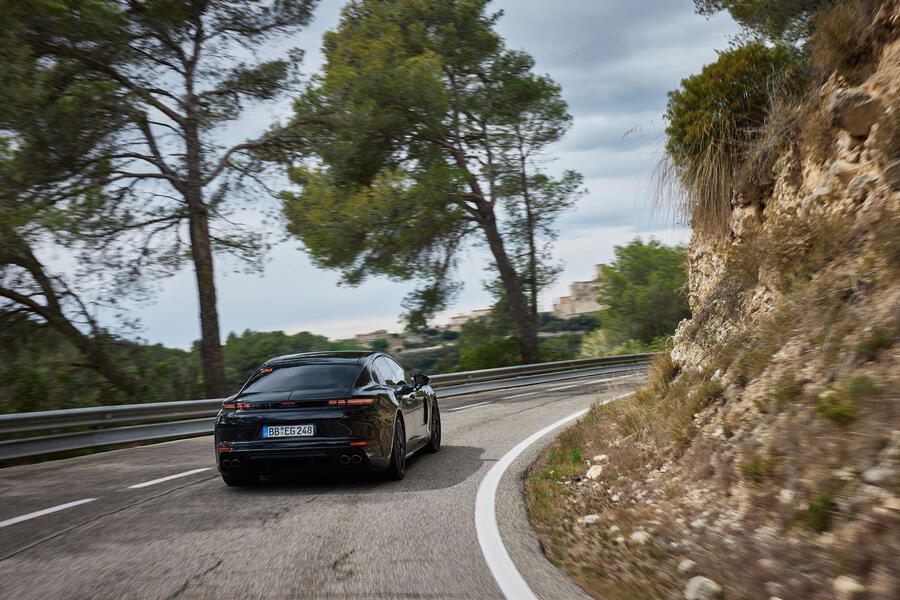 Porsche wants its PHEVs to feel sporting and powerful, and the Turbo E-Hybrid certainly does. It's super-responsive and highly flexible in Hybrid mode, where the combined efforts of its engine and motor provide it with outstanding everyday drivability as well as towering performance potential. There's great urgency from the off, and it rarely if ever requires any stirring with a downshift to maintain decent momentum.
The return to single-scroll turbos might sound like a retrograde step, but the torque from the new motor fills in any troughs in the delivery as boost pressure builds, so there's fabulous linearity and smoothness under load at speed.
And with a fully variable four-wheel drive system and torque vectoring, traction remains strong at all times.
It's also extremely refined. The engine is well isolated from the cabin and you hear no definable whine from the motor, so long journeys would be no bother.
The handling and ride are just as easy to live with. There's an engaging fluidity to the dynamics and an inherent composure to the way the car deals with pockmarked roads that belie its kerb weight of more than 2.3 tonnes.
The new Panamera is set to offer two different air suspension options: a standard dual-chamber arrangement and a single-chamber one similar to that adopted by the Cayenne, both featuring new, faster-reacting twin-stage dampers.
"There's no compromise any more," says Freimuth of those dampers. "We can individually tune the individual compression and rebound strokes for more progressive and smoother action."
The steering is superbly precise, and the car's response and agility are heightened by the inclusion of a rear-wheel steering system.
The generously dimensioned (275/40 front and 315/35 rear) 20in Michelin Pilot Sport tyres worn by our prototype combine with the constantly variable properties of the four-wheel drive system to provide massive purchase too.
There are still some tweaks to be made before the new Panamera can be considered ready for production, but I doubt that many of them will be focused on performance and dynamics, because these are already at a very high level.
This is a hugely likeable car with a feeling of deep-seated engineering, technical thoroughness and, even in prototype form, inherent solidity.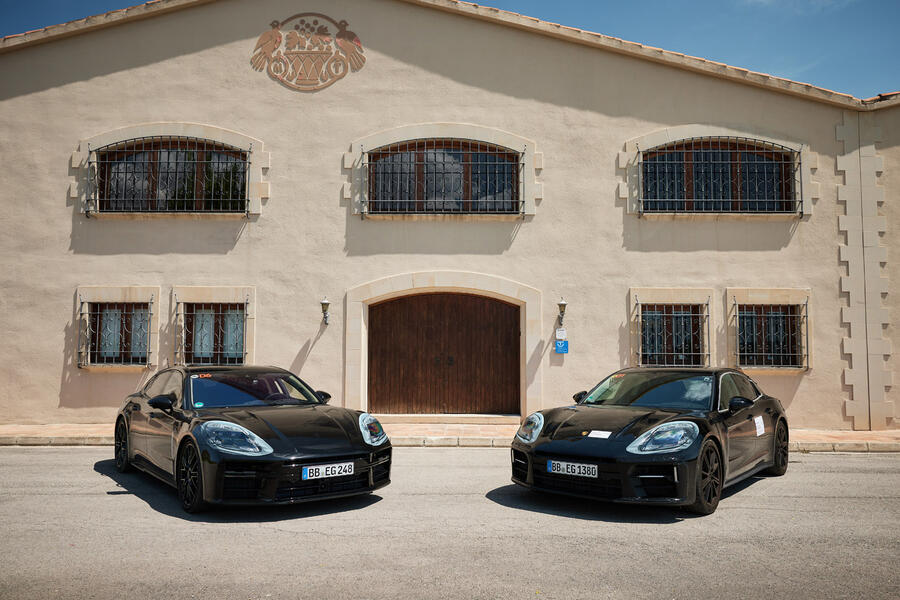 Porsche Panamera Turbo E-Hybrid prototype
New saloon is set to offer scintillating performance, greater electric-only range and outstanding refinement
Price £150,000 (est) Engine V8, 3996cc, twin-turbo, petrol, plus electric motor Power More than 650bhp Torque More than 664lb ft Gearbox 8-spd automatic, 4WD Kerb weight More than 2300kg 0-62mph 3.1sec (est) Top speed 196mph (est) Economy tba CO2, tax band tba Rivals BMW 8 Series Gran Coupé, Mercedes-AMG GT 4-Door Coupé, Audi RS7 Sportback
https://www.autocar.co.uk/car-news/new-c...e-panamera