10-20-2023, 12:31 PM
Power List 100 2023 – Board-level designers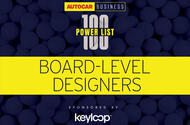 Building on the legacy of a brand is critical against slick newcomers, and these top-level designers are the key to that success
Gone are the days of a designer just… designing. Nowadays, their roles have grown enormously as the overall look of a car and its brand become a key differentiator in a world of shared platforms.
Reflecting that change, companies have promoted designers to the top level of management, knowing the brand itself is a key weapon against slick newcomers such as Tesla.
Those who've taken on this heavy task, and succeeded, have been celebrated by the Power List 100, sponsored by Keyloop.
Gerry McGovern, chief creative officer, JLR
Gerry McGovern is a hugely influential figure at JLR HQ, as a board member and having worked there for 19 years following time at Ford. Responsible for the modern-day reinvention of the Defender, plus regular evolutions of the Range Rover, Range Rover Sport and more, he is now tasked with shaping the future of the JLR stable following radical change, not least the all-important reinvention of Jaguar as a ultra-luxury Bentley rival. JLR will be betting on McGovern's design prowess to succeed.
Simon Humphries, chief branding officer, field general manager, design field, Toyota
As chief branding officer for the biggest carmaker in the world, Simon Humphries clearly has plenty on his plate. The Chester-born design boss has worked at Toyota for almost 30 years and his role has played a significant part in its success over that time. Having recently revealed the new generation of the iconic Land Cruiser - a crucial car for its biggest market, America - Humphries will now be knee-deep in executing the 10 new electric vehicles promised by the Japanese brand in the next three years.
Luc Donckerwolke, president and chief creative officer, Hyundai Motor Group
Luc Donckerwolke can lay claim to designing the Lamborghini Murcielago and Audi A2 during his VW Group years, but it's his work at Hyundai Motor Group which has really cemented his position as a design force in the automotive world. Since joining in 2016, the fortunes of Kia, Hyundai and Genesis have radically improved and there's no doubt his penning of models such as the Hyundai Ioniq 5, Kia EV6 and Genesis GV60 have played a significant role. 
Laurens van den Acker, chief design officer, Renault
Taking over the design helm at Renault way back in 2009, Laurens van den Acker is recognised for revolutionising the French maker's design direction and executing it at top speed. Now, as well as overseeing mainstream brands Renault and Dacia, van den Acker's input into future Alpine electric sports cars and new mobility brand Mobilize will be absolutely crucial to their success. A true influencer in the world of modern car design.
How are the 100 names in Autocar's Power List chosen?
The Power List ranks the world's 100 most influential automotive heads, based on the following criteria: global reach and influence, spending power, share of voice, technological influence, future growth potential and market capitalisation. 
The top 10 are ranked and the remaining 90 names on the list are grouped into categories, including executives from more traditional car makers to the rising powerhouses from China and the latest technology and mobility companies. 
These names were chosen by the editors of Autocar Business, the B2B product from the publisher of Autocar, designed to bring industry readers even closer to the inner workings and key players of the global automotive industry.
The full list is now available to download here.
https://www.autocar.co.uk/car-news/busin...-designers