10-13-2023, 08:50 PM
Power List 100 2023 – Future-tech leaders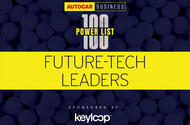 The tech world is having an even greater influence on the automotive world, and it is those at the top that are leading the charge
Technology companies are having an ever-greater influence on the automotive industry, as car makers all push towards full-electric line-ups and autonomous driving.
And it is those leading that tech charge that we celebrate in the Power List 100, sponsored by Keyloop.
These firms range from advanced industries such as smartphones, to gaming and robotics.
And car companies are increasingly shouting about their relationship with these high-tech companies, showing their importance as the industry moves from the analogue era to the digital.
Amnon Shashua, CEO, Mobileye
Israeli billionaire Amnon Shashua is the driving force behind Mobileye - a technology firm dedicated to autonomous driving systems and driver-assistance technology. Shashua founded Mobileye in 1999 and, following partnerships with BMW, Nissan and Volkswagen, is the industry's most important player for ADAS technology. Shashua and Mobileye have most recently partnered with Porsche to supply its premium SuperVision ADAS technology in the German car maker's future models. 
Yu Kai, CEO, Horizon Robotics
Yu Kai is founder and CEO of Horizon Robotics, a leading developer for ADAS systems in its native China. After partnerships with GAC Motor, BYD and Chery, Kai has forged a relationship with Volkswagen and Audi, co-developing automated driving solutions to be shared across the whole Volkswagen Group. Under Kai's leadership, Horizon Robotics is now worth around $5 billion - and his influence is growing.
Andy Jassy, president and CEO, Amazon
Andy Jassy joined Amazon in 1997 as a marketing manager. In 2021 - some 24 years later - he was designated as the replacement for founder Jeff Bezos. Now, Jassy and Amazon are making moves into the automotive industry with own bespoke autonomous driving technology. From next year, the firm will integrate its own software in Stellantis models, powering digital cockpits. 
Peter Bosch, CEO, Cariad
After stints at the Volkswagen brand and Bentley, Peter Bosch became the chief of Volkswagen Group's Cariad software division in May 2023, with ambitions to improve the firm's product effectiveness and strategic partnerships. Bosch will play a huge role in the development of Volkswagen vehicles, leading software development for the firm's next generation of electric vehicles, moving up to level-four autonomous driving by the end of the decade.
'Pony' Ma Huateng, CEO, Tencent
Tencent founder 'Pony' Ma agreed a deal with Chinese car giant Geely last year to "digitalise the automotive product life cycle", and test autonomous drive systems and develop intelligent cockpits. The company's technology has already featured in more than 120 cars from 40 different brands, including the likes of Nio, SAIC and BMW. Ma will be at the forefront of Tencent's efforts to become the world's leading company for in-car technology. 
Tim Cook, Apple, CEO 
Leading the world's most valuable company isn't the simplest task, but Apple CEO Tim Cook has stood at the helm of the firm since 2011. The company's influence on the car industry is more important than you might think, with millions of drivers relying on Apple's CarPlay interface every day. There's more to come, too. If rumours are to be believed that the $2.7 trillion firm is developing its very own electric car, Cook will be the man to lead it into its latest evolutionary period.
Jensen Huang, CEO, NVIDIA
As CEO and founder of graphics giant NVIDIA, Huang's influence on the technology industry is clear to see. Now, he's accelerating the firm's influence in the automotive industry with self-driving car software. NVIDIA is also investing in virtual showroom visualisation, and is partnered with BMW to build an "AI-enabled, simulated digital twin" of the BMW factory to improve logistics.
Cristiano Amon, CEO, Qualcomm
Brazilian businessman Cristiano Amon joined Qualcomm in 1995 as an engineer, before working his way to become CEO in 2021, following a stint as president. The chips giant weathered the storm through the Covid pandemic, and previewed its very own electric car concept in January 2023 to showcase the potential of its next-generation technology, which included cloud data, face recognition, device configuration software and AI.
Mark Liu, CEO, TSMC 
Mark Liu has been at the helm of chip giant TSMC for the past five years. Last year, the Taiwanese company produced 15 million 12in wafer chips, earning revenues of $73.67 billion. TSMC is still the world's largest semiconductor company, and is cementing its position in the motoring industry producing chips for intelligent ADAS systems, 5G connectivity and high-sensitivity lidar applications. 
Young Liu, chairman, Hon Hai Technology Group (Foxconn)
Young Liu is not just one of the most important people in motoring, but also in the world at large, as CEO and chairman of its largest electronics manufacturer. Under Liu, the company has adopted a '3+3' strategy focused on the three major sectors and technologies set to reshape society, with electric vehicles among them. The next year will prove instrumental in the success of that gameplan, with Foxconn seeking to establish brand partnerships and begin building cars.
How are the 100 names in Autocar's Power List chosen?
The Power List ranks the world's 100 most influential automotive heads, based on the following criteria: global reach and influence, spending power, share of voice, technological influence, future growth potential and market capitalisation. 
The top 10 are ranked and the remaining 90 names on the list are grouped into categories, including executives from more traditional car makers to the rising powerhouses from China and the latest technology and mobility companies. 
These names were chosen by the editors of Autocar Business, the B2B product from the publisher of Autocar, designed to bring industry readers even closer to the inner workings and key players of the global automotive industry.
The full list will be available to download from 18 October.
https://www.autocar.co.uk/car-news/busin...ch-leaders