04-14-2022, 03:42 PM
Prodrive Hunter: 600bhp rally weapon to make London debut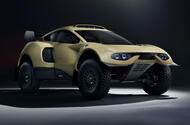 V6-powered rally raider arrives as a road-legal desert weapon with supercar-aping performance
Prodrive will show off the first road-going version of its latest Bahraini-backed Dakar Rally car, the BRX Hunter T1+, at London's Salon Privé next Thursday (21 April).
The first road car, built for Bahrain's Prince Salman bin Hamad Al Khalifa, spearheads a batch of 25 road-going T1s that will be produced at Prodrive's Banbury HQ over the next two years, each priced from £1.25 million before local taxes. The Hunter's Salon Privé debut comes after Autocar took the first completed car for an exclusive test drive around the streets of Central Lonon - which you can read about here. 
Prodrive chairman David Richards has previously described the road-going Hunter T1 as "the Ferrari of the desert" and has created the vehicle to be the fastest cross-country production car in the world. An elaborate Prodrive brochure features the compelling line: "Where we're going we don't need roads."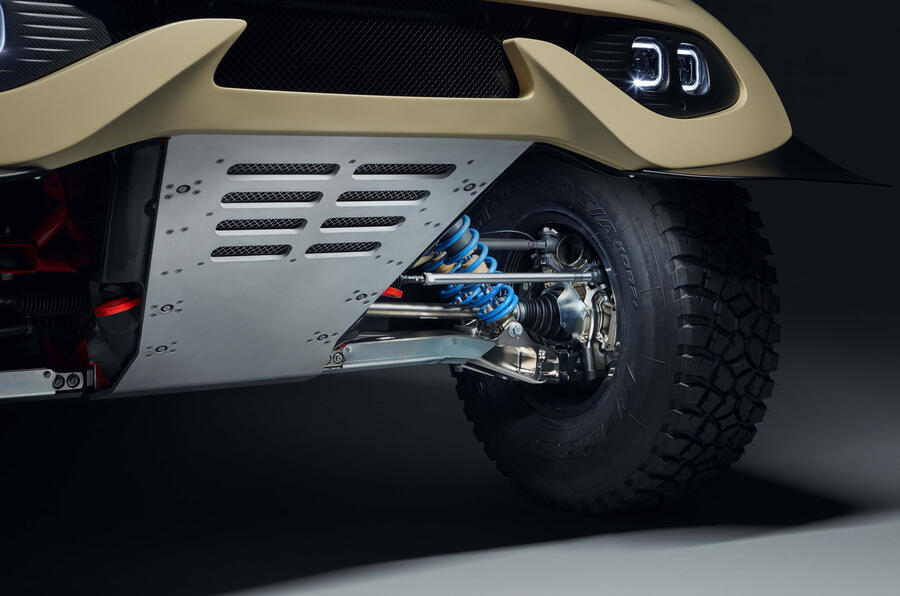 The close relationship between the road and rally models is obvious to the eye, although there are dozens of differences. Both use a body designed by former Jaguar design boss Ian Callum, now based close to Prodrive's Banbury base. The T1 is 4600mm long and 2300mm wide, with an aerodynamically oriented fastback shape and a high wing above the rear window to generate downforce, but at 1850mm tall, the road car stands at least 100mm lower than its rally sibling.
The road car uses the same tubular steel spaceframe chassis as the three team cars competing in this year's Dakar event. The 2022 T1s are clearly related to the promising 2021 models but much modified and the road car follows the latest specification. They have much larger tyres – 38in diameter tyres on a 17in wheel – which should help prevent the dozens of punctures that blighted last year's campaign. There's room for a spare in a sidepod ahead of each rear wheel.
All models have Prodrive-designed, ultra-long-travel twin-shock coil suspension at the front and rear, plus air jacks built in for rapid tyre changing – an essential in desert running, where assistance simply isn't available.
Prodrive engineer Mark Paterson, who is in charge of the road car programme, said that although most of the car's headline specifications mirror those of the rally cars, there are many different details.
The interior has sound deadening wherever possible, the competition seats are replaced by slightly more comfortable designs, the new fascia is configured so the car can be driven by people of varying skills and the massive, 480-litre rear fuel tank can be shrunk to give extra boot space, because "prospective owners are the kind of people who spend weekends driving in the desert", said Paterson. "They may need a little luggage."
The T1's engine is the same dry-sumped 3.5-litre twin-turbocharged Ford V6 used in the competition cars, rebuilt and modified at Prodrive with bespoke engine control systems. 
The T1 is a nominally front-engined design, although the position is so close to centralised that its cover protrudes half a metre into the cockpit. The road car output is quoted at more than 600bhp – around 200bhp more than FIA regulations allow for the pure rally cars – and torque at 516lb ft. Both engines redline at 6500rpm but the rally car's shift lights are set at 5500rpm because torque declines above that. The gearbox is a six-speed paddle shifter and the car has permanent four-wheel drive.
The company predicts a 0-62mph time of less than four seconds and a top speed of nearly 186mph. 
Richards said Prodrive already has "three or four" buyers interested in cars and expects more to get in touch when the car makes its debut. Prodrive will deal directly with customers rather than appointing dealers. "The people who want one of these won't be like ordinary car buyers," said Richards. "They'll know where to find us."
Q&A: David Richards, Prodrive chairman
Why build a road-going Hunter T1+?
"Many people in remote areas, especially the Middle East, do a lot of desert driving for recreation. There's a big off-road culture. It seemed logical to propose such a car – and then the crown prince [of Bahrain] became interested in being our first owner..."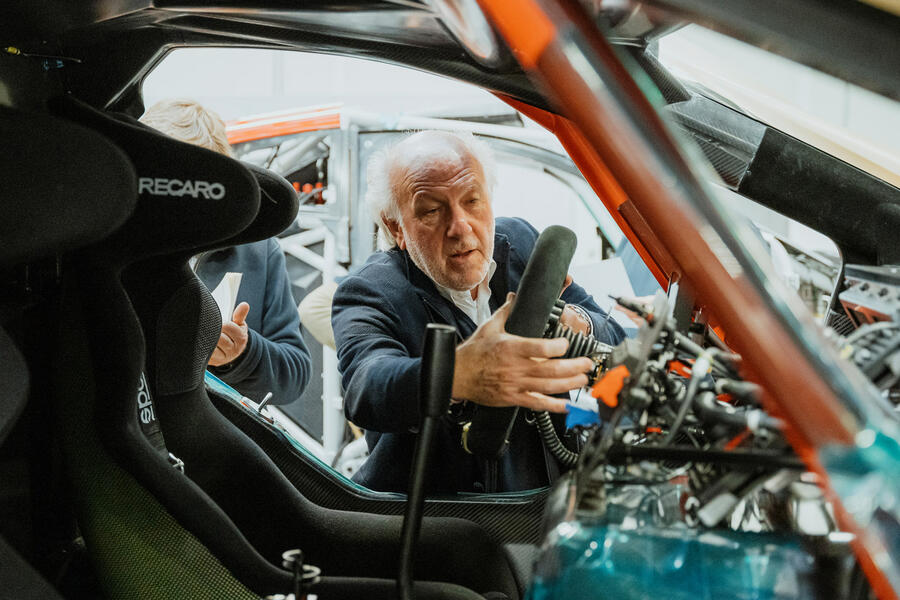 How different is the road-going car from Sébastien Loeb's Dakar racer?
"Not very different, really. It's a bit more comfortable and quieter in the cockpit, and it rides a bit lower. There can be boot space if the owner wants. But it has the same chassis and suspension and very similar tyres. We intend it to be very, very capable in places where there are no roads."
Why have you chosen that sand colour for the first car?
"That's the crown prince's choice and he's the first customer. He thinks the car should suit its environment, and now we've all seen it, we approve. We probably wouldn't have chosen that, but I'd say it works."
Why is the road car more powerful than your competition machinery?
"Mainly because it can be. The Dakar regulations place limits on turbo boost, and the road car doesn't have to have those. Because we build our engines from scratch in Banbury, we know how durable the V6 is, so we've just given it a bit more freedom."
Do you expect to change the T1 gearing for the road?
"It's possible we might like to make them a shade more relaxed when cruising, but we're still deciding. We'll learn a lot from the early cars."
Do you expect to sell road cars in the UK?
"We're not sure yet. But you wouldn't bet against a BRX appearing in London some time, even if it's imported by an owner who lives somewhere else."
Previous Prodrive road cars
2000 Subaru Impreza P1: With experience running Subaru's rally cars, Prodrive was charged with engineering the original Impreza WRX STi for sale in Europe. A bespoke suspension tune, anti-lock brakes and wheels designed by Peter Stevens were the main modifications.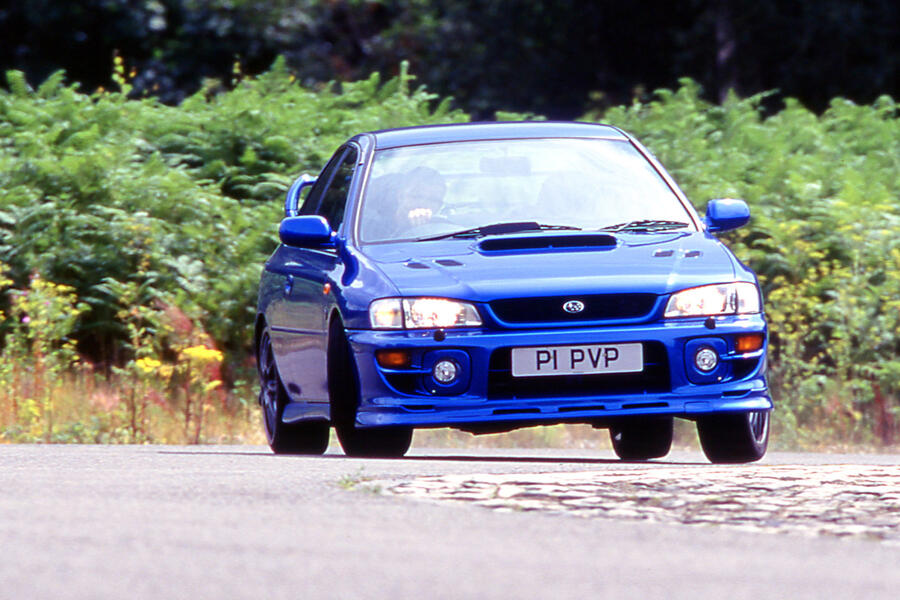 2006 Aston Martin V8 Vantage: First-generation V8 coupé was available with a range of Prodrive-engineered upgrade packs, bringing a small power boost, firmer suspension, uprated aero and wheels inspired by the DBR9 Le Mans racer.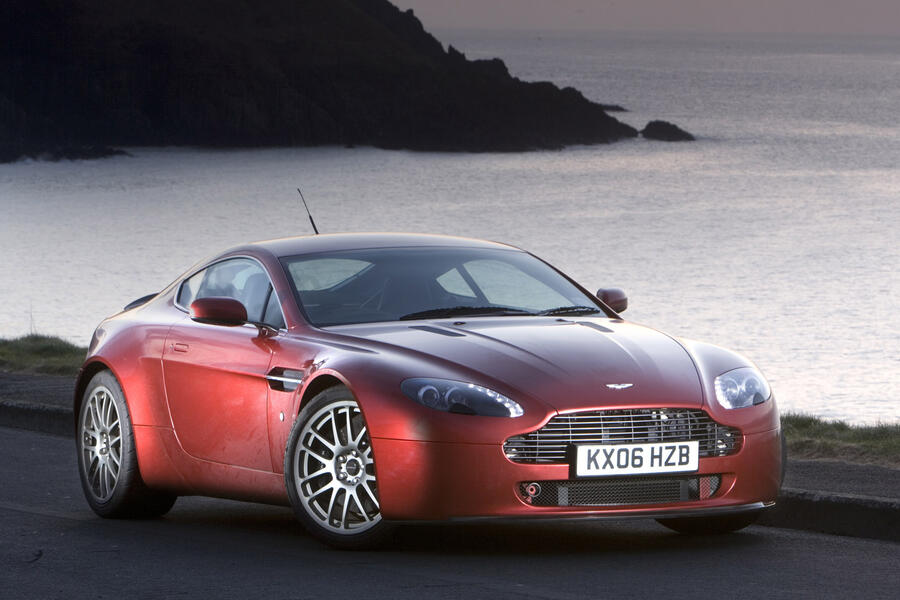 2006 Prodrive P2: Diminutive Impreza- engined two-seater was conceived as a showcase for Prodrive's abilities. Although it had indicators and a theoretical retail price of £40,000, it never made production.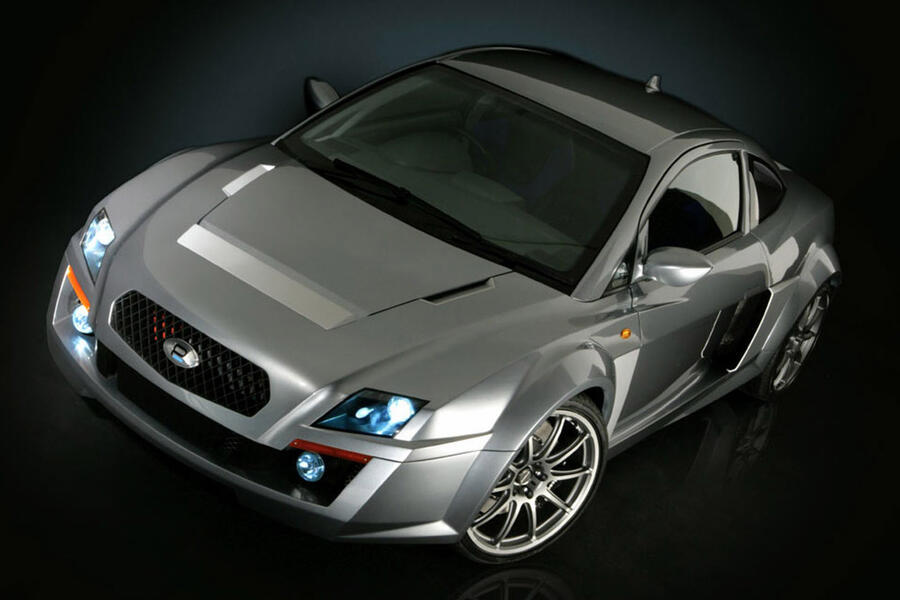 https://www.autocar.co.uk/car-news/new-c...ndon-debut