04-16-2021, 08:04 PM
Promoted | The Audi Q4 e-tron: high-tech space exploration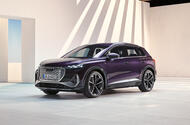 The new Audi Q4 e-tron blends compact SUV dimensions with a spacious premium interior
With innovative premium driver-focused tech and a large luxurious interior that belies its city-friendly dimensions, Audi's all-electric Q4 e-tron re-thinks the rules for compact SUVs
Let's get those sci-fi cliches out of the way. The new fully electric Audi Q4 e-tron feels bigger on the inside than it looks on the outside. It's high-tech driver-focused cabin and touch-sensitive controls have the sheen of an interstellar starship, while its all-electric powertrain offers driving performance that feels warp-speed.
Available at launch with a traditional SUV profile – with a sleek coupé-style Sportback available to order in June – the new Q4 e-tron has been designed to re-imagine what a compact electric SUV can be.
It blends city-friendly dimensions with a cleverly packaged interior that offers space more akin to a full-size SUV. A choice of electric rear-wheel drive powertrains or quattro all-wheel drive provide charged performance, with up to 316 miles of range on the Q4 Sport 40 e-tron and the option of 125kW high-capacity recharging that – in ideal conditions – can get you from 5% to 80% in as little as 38 minutes.
But, where the Audi Q4 e-tron really changes the game is in its driving technology.
To find out more about the Audi Q4 e-tron, head to audi.co.uk/q4-e-tron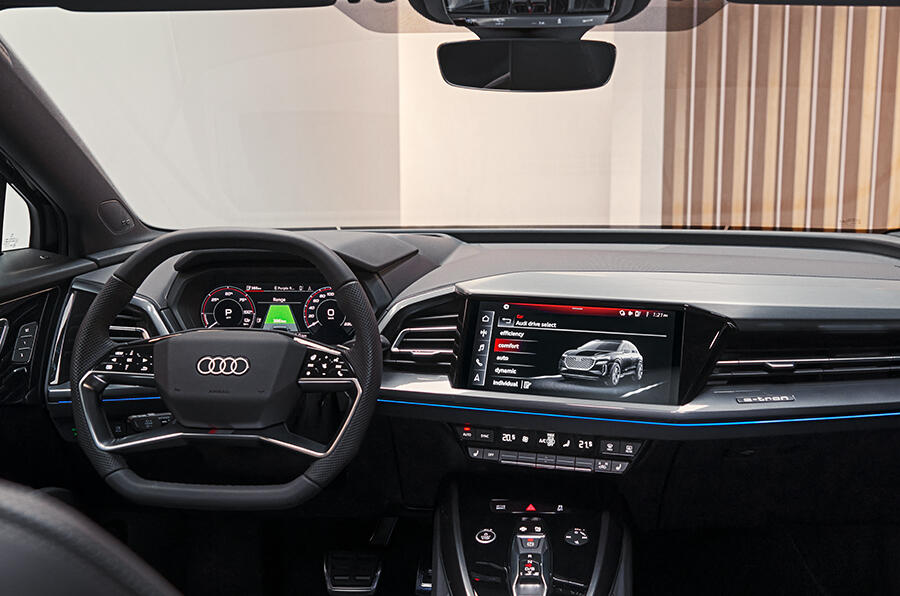 Starship-style driving controls
The Audi Q4 e-tron's new-generation double-spoke steering wheel breaks new ground with smartphone-style backlit controls that let you use touch and list-friendly swipe gestures, while providing gentle haptic feedback. 
Audi's pace-setting premium Virtual Cockpit and large central MMI touchscreen with internet connectivity are standard across the Audi Q4 e-tron line-up – letting you share sat-nav and infotainment information across the two screens, either by intuitive voice control or fingertip command. 
The Audi Q4 e-tron's MMI Navigation Plus and Audi Connect internet connectivity offers high-resolution Google Earth satellite images that deliver a crisper and clearer view of the world around you, as well as an 'e-tron' route planner that calculates your optimum route based on public charging points. 
It even shares data with other Audi vehicles through the cloud to deliver accurate traffic information, while also offering data for on-street parking alongside apps for news, weather and travel updates.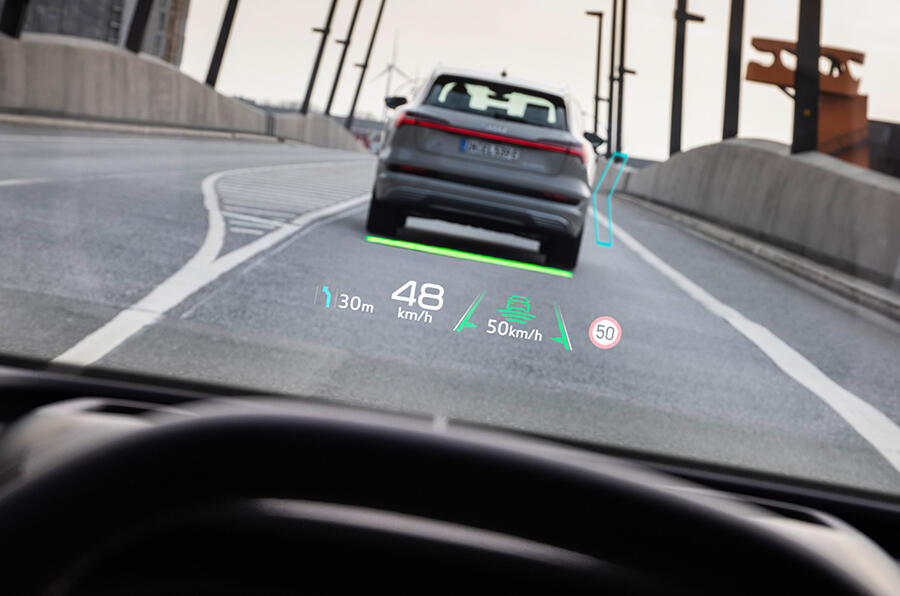 A sci-fi augmented head-up display
Also available on the new Audi Q4 e-tron is an all-new and pioneering augmented reality head-up display that projects key driving data onto the windscreen so that the information feels like it's floating roughly 10m from the driver.
Using dynamic 'drone-style' animated floating arrows for navigation and visual hints for driver assistance functions such as lane assist, it helps the driver focus more keenly on the road ahead – especially in poor visibility conditions – while still putting key information right in the driver's line of sight. 
Powering this system is advanced software driven by 600,000 lines of code – 50% more than in the first Space Shuttle.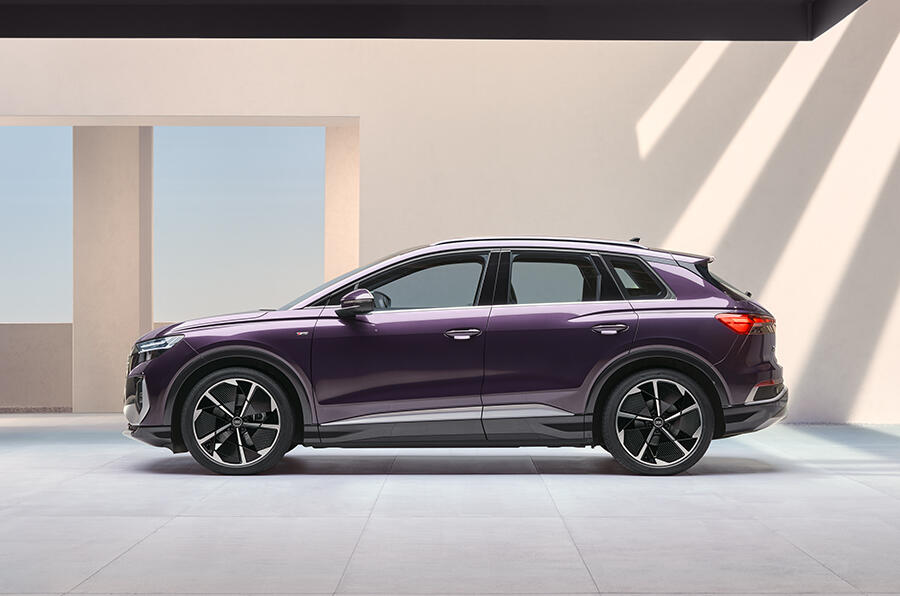 Extending the frontiers of inner space
On the outside, the Audi Q4 e-tron stands out from the normal SUV pack with its striking lines and proportions – particularly the short overhangs and long wheelbase that come as a result of the Q4 e-tron's compact electric powertrain and the low-slung battery, which lies underneath the passenger compartment.
This also enhances interior space, with the extended 2.76m wheelbase (longer than most medium-sized SUVs) resulting in an interior that is 1.83m in length – similar to a large full-size SUV. The absence of a central transmission tunnel means a flat floor and more leg room for rear passengers, while the rear seats have a commanding position 7cm higher than the front seats, while still offering plenty of headroom. 
A choice of quality eco-friendly upholstery materials – alongside artificial leathers and premium Nappa leather – bring a cossetting sense to the Q4 e-tron's cabin that is 'feel-good' in every sense of the phrase. The suede-like Dinamica microfibre and elaborate yarn-like Pulse upholstery are made from 45-50% recycled materials, giving around 26 large 1.5-litre plastic bottles a new purpose in life. 
Talking of large bottles, the interior of the Q4 e-tron features almost 25 litres of storage including the glovebox, with large family-friendly one-litre bottle holders. Equally, there's between 520 litres and 1,490 litres of luggage space in the rear of the Q4 e-tron, or 535 litres to 1,460 litres in the Q4 e-tron Sportback – similar to a mid-size SUV. The perfect fit for big family escapes or sporty weekends.
So, whether you're looking to enjoy a futuristic driving experience that makes you feel like you're in the captain's seat, or just want to explore the limits of all that expansive space, the new fully electric Audi Q4 e-tron really does go beyond the cliches of future-thinking electric driving.
Science-fiction made science fact.
To find out more about the Audi Q4 e-tron, head to audi.co.uk/q4-e-tron
Please note: Certain features are only available on selected trims of the Audi Q4 e-tron and Audi Q4 e-tron Sportback or are only available as factory-fitted options. Please ask your local Audi Centre for more information.
https://www.autocar.co.uk/car-news/adver...xploration