10-13-2023, 09:56 AM
Qatar motor show 2023: can it recreate Geneva in the Gulf?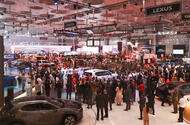 Media day Toyota press conference, Qatar motor show 2023
The long-running Geneva show's spin-off event has attracted plenty of glitz and controversy
The very concept of the Geneva International Motor Show Qatar is outlandish, bordering on absurd. Yet here we are, with a show being staged in a blissfully air-conditioned convention centre in the heart of a gleaming modern city carved out of the desert on a small Arabian peninsula some 3000 miles or so from the foothills of the Alps where Geneva is nestled.
Then again, it probably doesn't sound so outlandish when you consider what Qatar has achieved in recent years, enabled by the vast fortune it has accrued thanks to rich deposits of oil and natural gas. After all, this country with a population of around 2.7 million people (around half-a-million more than Birmingham) last year staged the FIFA World Cup, and now has a 10-year contract to stage a grand prix – which takes place on the same weekend the motor show opened.
Compared to the huge financial outlay required to stage a World Cup in such a small country and to secure a long-term F1 deal, Qatar probably secured the Geneva motor show deal with loose change it found down the back of a sofa.
Now, the name of the show caused much confusion when launched – and continues to do so. This is not, whatever the branding implies, the Geneva motor show. That remains a separate event – albeit one that back in February was cancelled for the fourth consecutive year (organisers insist it will return in 2024). The Geneva Qatar show will be a biennial spin-off, a supplementary event if you will.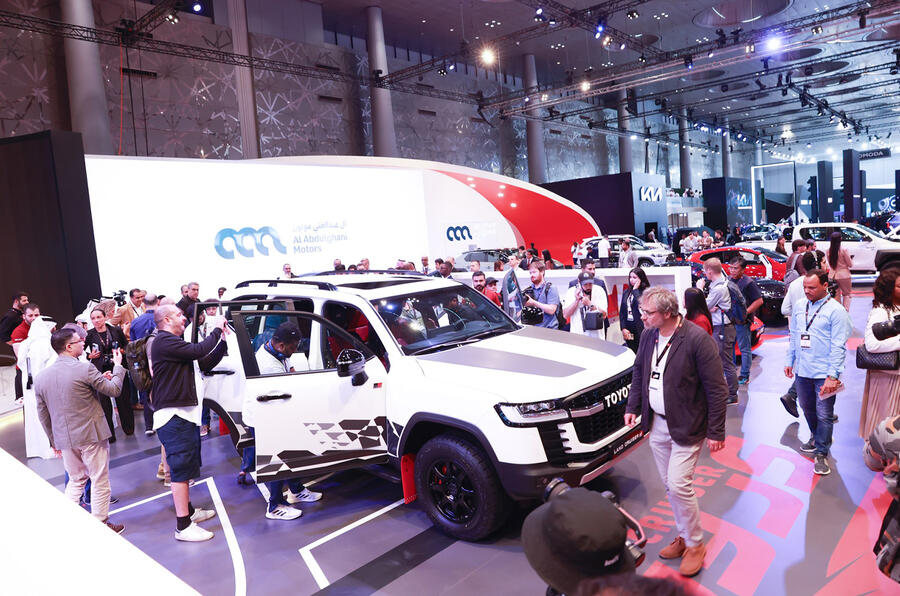 Still, it fits the modus operandi of many Qatar investments: the country's tourist board could easily set up its own motor show – in fact, it has staged one in the past – but it wouldn't have the prestige or perceived international importance that the 118-year-old Geneva motor show 'brand' brings. Qatar is aiming to build itself up as a major tourist destination, and key to that is attracting 'world-class' events. The Geneva branding brings attention. So here we are. 
That, in turn, raises some uncomfortable questions about why we're here – the same ones asked about why the World Cup, Formula 1 and other events of note have been staged here. Is the Qatar motor show the automotive equivalent of 'sportswashing'? Qatar has been criticised by bodies such as Amnesty International for its human rights record and treatment of migrant workers. It also follows strict Muslim laws; there are restrictions on what women are allowed to do, while it is illegal to be in a homosexual relationship.
Those are big issues to consider, especially if you only came here to read about cars. But it's important to consider, in the same way that you can't talk about Chinese cars without consideration of that authoritarian regime. Asked about such concerns, Geneva show boss Sandro Mesquita said: "We don't do politics. We are a motor show. We are bringing here our values, and I'm sure that we are somehow helping the change that is happening. But we don't give lessons to anyone. We are Swiss. We are humble."
Leaving that aside, what about those cars? Well, the Geneva branding might have brought attention – although probably not as much as Qatar World Cup ambassador David Beckham popping in for the opening ceremony – but it didn't bring a flood of world premieres.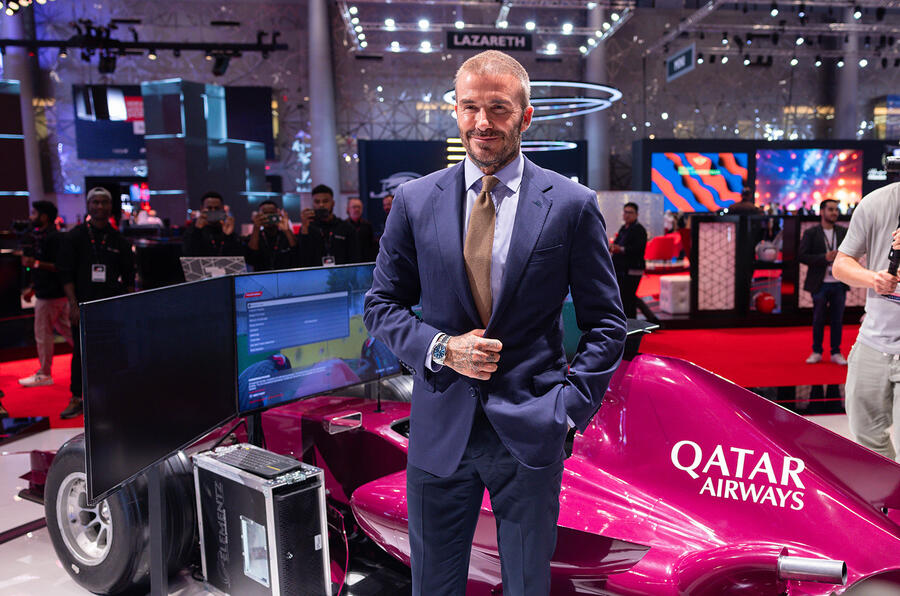 The show was reasonably well-attended: organisers counted around 30 manufacturers, although you'd have to be slightly generous with what you classed as a standalone brand to reach that. With the Qatar Investment Authority holding around a 10% stake in the Volkswagen Group, it was understandably well-represented with Volkswagen, Audi, Porsche and Lamborghini. The BMW Group and Mercedes-Benz were also present, along with the likes of Kia, McLaren, Nissan and Toyota.
While those brands were present, none revealed anything that had more than a regional significance and promises of "ten-plus" world premieres really required some imagination to reach. Toyota showed off a new Land Cruiser Base special edition, effectively a customisable version of what is by far Qatar's best-selling vehicle. This is a desert country: people don't buy SUVs for show here.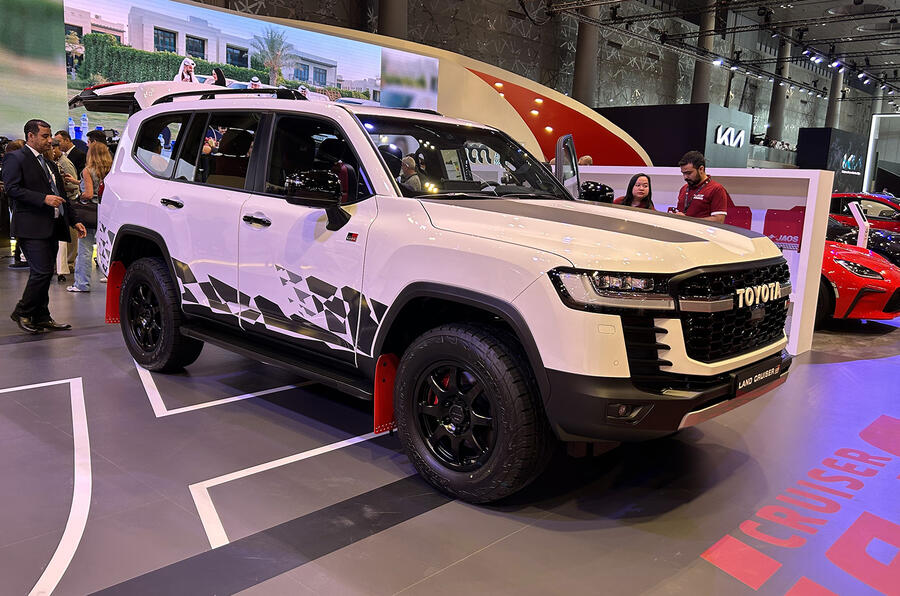 Volkswagen had the regional reveal of three SUVs, with star attraction given not to the new Tiguan or Touareg, but the bigger Terramont (known as the Atlas in North America).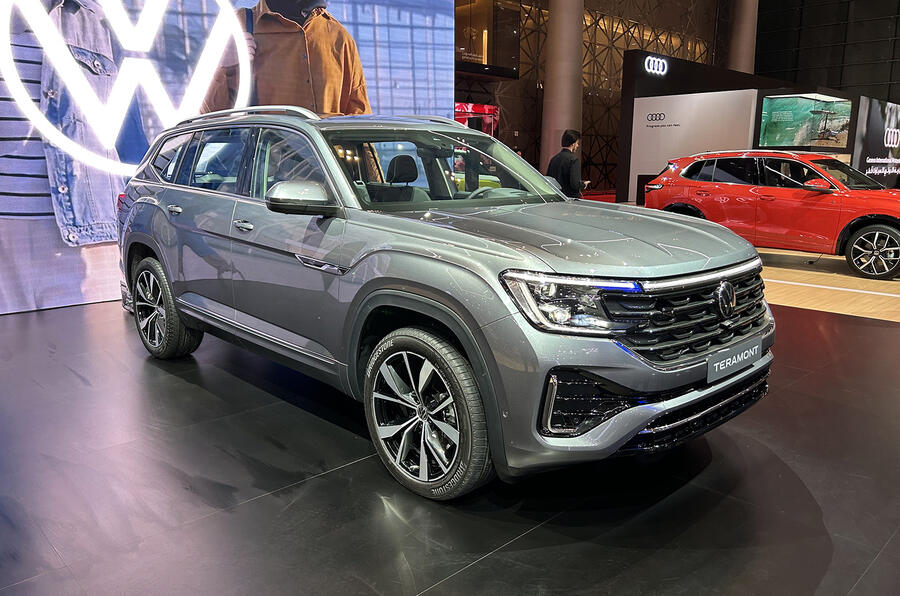 While Porsche showed the stunning Mission X concept and Lamborghini displayed the Revuelto PHEV and sleek Lanzador EV, Audi showcased the new Q8. While that was revealed earlier this month, the Qatar show at least marked its public debut – and in SQ8 form, at that.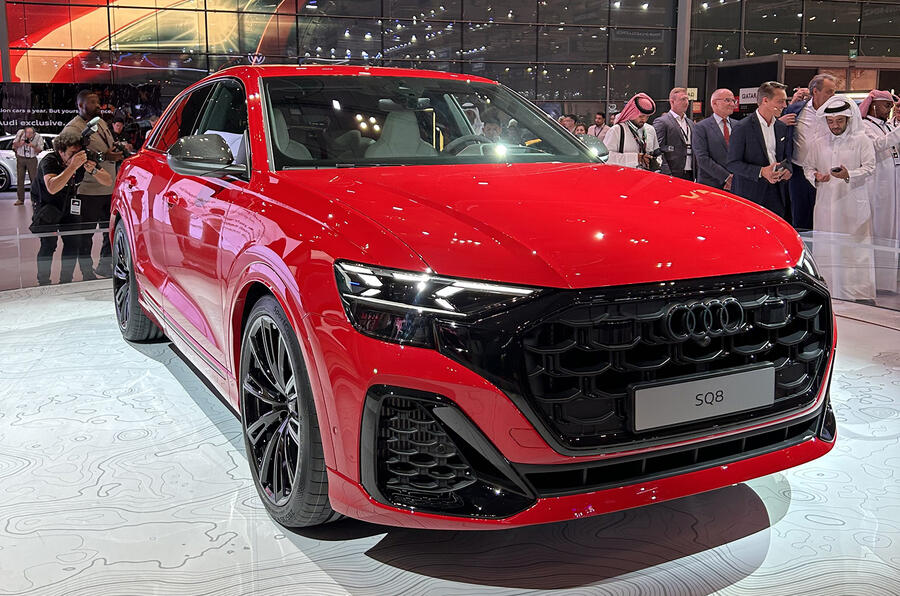 There was nothing new enough to even merit a press conference on the Jaguar Land Rover stand, but it was notable as one of the first showcases for the new 'house of brands' approach. Jaguar, Range Rover and Defender each has their own separately branded sections, with nary a Land Rover badge in sight.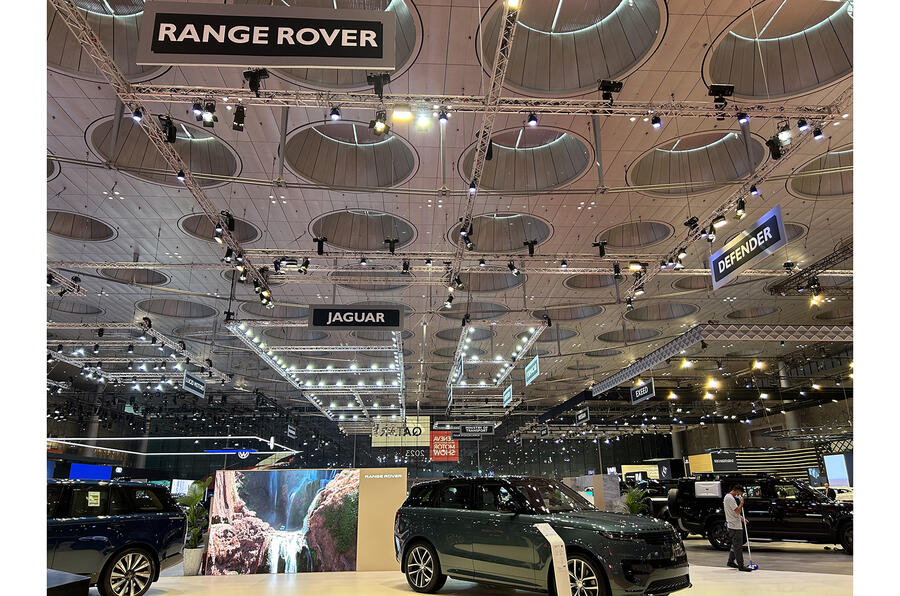 What of the non-European brands then? Well, California-based EV brand Lucid had a sizeable presence – perhaps no big surprise given nearby Saudi Arabia's investment fund owns just over 60% and it is establishing a manufacturing plant in the country.
But much space was taken, perhaps predictably, by the Chinese: Geely's Lynk&Co staged a glitzy regional launch, while Chery had a large presence with its Chery, Exeed (below), Omoda and Jaecoo brands. Notably, unlike most of the Chinese marques heading to Europe, many of those brands offer a range of powertrains – there are electric cars in Qatar and the Middle East, but they're very limited in number. But then high petrol prices are not an issue here.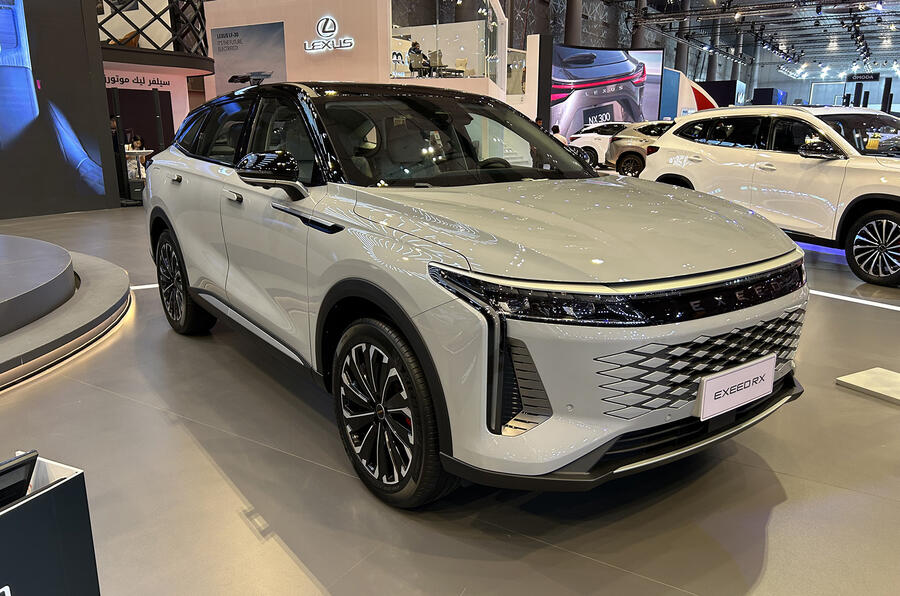 It wasn't a big show, then, and certainly was nothing close to the scale of even the most scaled-back recent Geneva, Paris, Frankfurt or Munich motor show. But it was never going to be: while much in Qatar has been built on a vast scale, the Doha International Convention Centre is comparatively small. But as with many modern motor shows, Qatar is built around a different concept: the displays in the hall are just one part of a series of interconnected events.
The most notable, of course, is the Formula 1 race happening just up the road at the Lusail International Circuit; once Max Verstappen and friends have left town that track will be used for track day events, while nearby Lusail Boulevard will host an event-closing car parade.
There is also a future design forum, run by the curators of the under-construction Qatar Auto Musem, and an 'outdoor adventure hub' in the desert around an hour south of Doha. The idea is that the event becomes more of a festival than a simple show, a destination event intended to bring in tourists.
It's an intriguing concept, one that is not without potential. And on the first public day of the show Formula 1 fans – decked out in team merchandise – were much in evidence in the hall (race goers gained free admission to the event). But it's clear there is some way to go yet. And while the country can buy up football events and high-profile motor races, a Qatar motor show will always have the inherent challenge that the local car market simply isn't that significant on a global scale.
Still, when you glance up at the soaring, glistening, modern skyline of Doha rising out of the desert, it's a reminder Qatar has form in creating something out of seemingly nothing through a combination of heavy investment and sheer force of will. What might prove harder is building the credibility and heritage to make this show really become a key part of the motoring calendar.
https://www.autocar.co.uk/car-news/motor...-show-2023