08-09-2021, 07:21 PM
Racing lines: Annie Wallace writes drag racing history at Santa Pod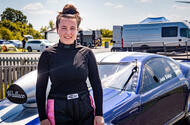 Aged just 22, Wallace join the ranks of the fastest 'door-slammer' class
Women in motorsport? Speak to anyone in drag racing and it's not even a topic for discussion.
That's because the straight-ahead discipline left behind gender preconceptions and prejudice years ago. Female racers thrive on an equal footing in this arena, as a statistic from a recent round of the Motorsport UK British Drag Racing Championship at Santa Pod Raceway proves: one in seven of the entries were driven by women, and indeed it was a standout young woman who stamped her mark on the meeting in historic fashion.
At just 22, Annie Wallace made her Pro Modified class debut at the Pod in a Ford Mustang-based 3000bhp naturally aspirated 14-litre V8 monster boosted with injections of nitrous oxide.
Her performance was notable on a couple of counts. First, even though female participation is common, she was only the second British woman to join the ranks of the fastest 'door-slammer' class in drag racing. Second, she won – in her first race in anything for three years.
Look, no parachute
Drag racing tends to be a family affair, which explains why it's such a friendly and tight-knit community, and Wallace is no exception. She and her sister Bonnie raced junior dragsters as children, before Annie graduated to her brother Bobby's Sportsman Ford Pop as a teenager. She stepped back from driving to help crew Bobby in Pro Mods, testing occasionally in the family's second Mustang-bodied beast – but returned to racing in July with style.
Did Wallace play herself in? Not quite. Her first job was to complete a mandatory observed run to earn her Pro Mod race licence, making a quarter-mile pass in 6.95sec at 200mph – before her car's parachutes failed to deploy. A dusty excursion into the field beyond the track's half-mile shutdown stretch thankfully left no damage to either her or the Mustang. A tad disconcerting? You might think so, but drag racers are a tough breed.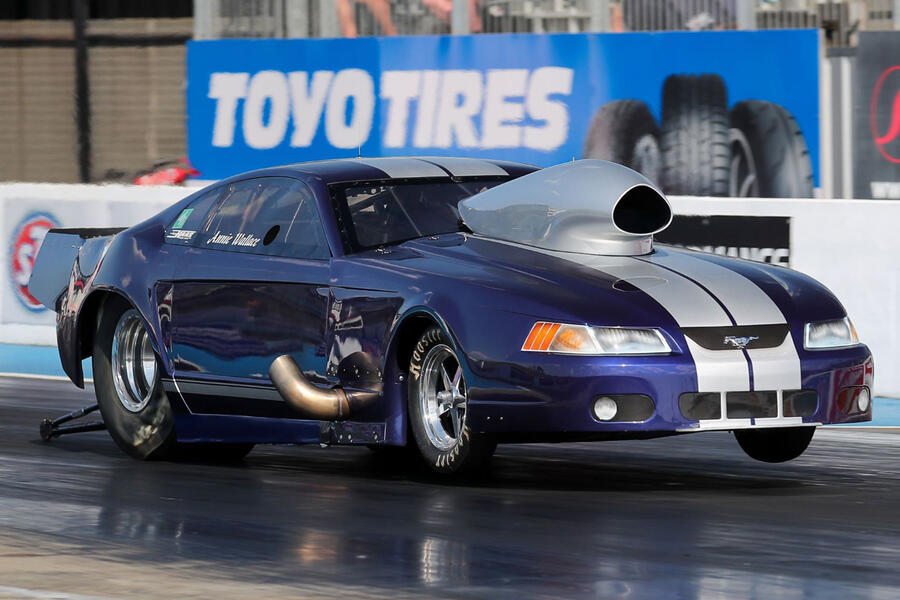 Waiting for no-one
Parachute snafu dismissed, Wallace finished her licence test and then got on with the competition, made up of six consecutive runs. Each time she headed out, she logged another personal best – which itself is unprecedented – qualifying third behind season front-runners Kevin Slyfield and Nick Davies.
The pair then opened the path to her victory by hitting trouble, Slyfield faltering in their semi-final and Davies incurring a broken fuel pump in the final, leaving Wallace to solo to the finish line. But she wasn't about to back off; that's not really in the spirit of what these racers are about. Wallace sealed her victory by clocking 6.133sec at 229.31mph – the fastest pass of her young career.
Santa Pod's indubitable drag racing authority, Robin Jackson, reckons Wallace is the youngest female Pro Mod racer ever, and that includes records from the sport's US heartland. More significantly, no driver – no matter their gender – had ever won a Pro Mod race on their debut. Suitably, Wallace has gone from zero to heady, eardrumsplitting, nitrous-fuelled glory in roughly the time it takes to read this sentence.
There are two more chances to catch the Pro Mods, Top Fuellers, Funny Cars and all the other drag classes at Santa Pod this year, Covid-19 and weather permitting: the premier FIA European Finals on 9-12 September and the National Finals on 25-26 September.
If you've never experienced drag racing in person, head to the former USAAF base in Bedfordshire next month. The shock waves from a Top Fueller leaving the line smacks you in the chest and forces you to recalibrate your understanding of what speed actually means. And whatever you do, don't forget your earplugs.
Le Mans uncertainty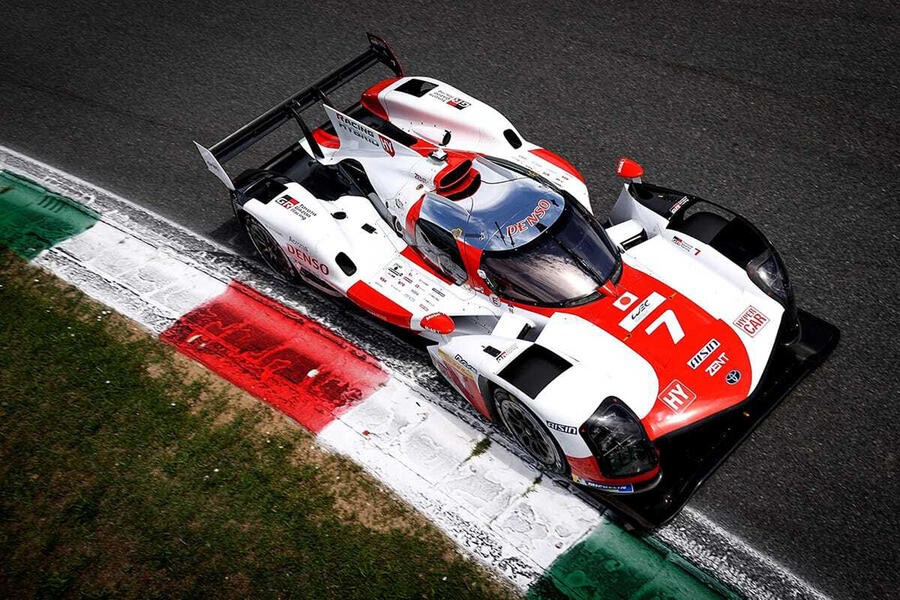 Have you ever taken a holiday in France during August? The whole country appears to shut down, proving once and for all that the French have their priorities in order. But in a certain town in the north-west Sarthe region, summer will be a little busier this time. Yes, it's nearly time for the Le Mans 24 Hours, delayed from its traditional June date to allow a few fans to return following the spooky behind-closed- doors race last September.
Inevitably, Toyota lines up as overwhelming favourite for a fourth successive win in the maiden race run to the Hypercar rules, in what is an underwhelming opening season for the new premier class. Next year promises richer pickings if Peugeot's radical and stunning 9X8 takes its expected bow, while the whole motor-racing world is salivating for 2023 when Audi, BMW, Ferrari, Porsche and probably more will join the scrap to conquer the 100th anniversary edition. Le Mans is about to explode – but perhaps just not yet.
Nevertheless, the race on 21-22 August should not be dismissed as some sort of dead rubber. Toyota's GR010 Hybrid is unbeaten in the three rounds of the World Endurance Championship so far, but it has been far from faultless. For all of Toyota's emphatic endurance testing, could reliability cost it? And might that open the door for the quick-out-of-the-box Scuderia Cameron Glickenhaus SCG 007 LMH?
In truth, it would be little short of a miracle if the American firm doesn't suffer any troubles. So with only the 'grandfathered' LMP1 Alpine A480 joining Toyota and Glickenhaus in the top class, that means the odds of a secondary LMP2-class car taking overall victory are the shortest they're ever likely to be. A podium? That has happened before. But a win?
United Autosports, a clear third overall at Monza, will be sniffing the La Sarthe air if the five top-class entries falter. Team co-owners Zak Brown and Richard Dean would never publicly admit it, but they and their LMP2 rivals have extra motivation this month. Something dramatic can (and usually does) unfold at Le Mans.
READ MORE
Straight and narrow: Autocar goes drag racing
Le Mans 2021: How new hypercar rules are shaking up the grid
https://www.autocar.co.uk/opinion/motors...ng-history