07-20-2022, 03:41 AM
Racing lines: Porsche's Adam Smalley aiming for Le Mans seat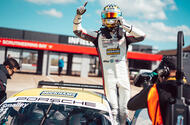 A factory Le Mans drive is the only target for this Porsche Junior
When the wraps were taken off of the Porsche 963 LMDh Le Mans contender at the Goodwood Festival of Speed last month, among the figures in team gear watching on was a young British driver few will have reason to recognise. Yet.
Adam Smalley, 21, is backing himself to change all that in the next couple of years. Give him time and he believes he can be more than just a hopeful onlooker when Porsche launches its future Le Mans campaigns.
Smalley was wearing Porsche team gear because he's the current Carrera Cup GB Junior, a status coveted among the highest honours for young British racing drivers. As the Junior for this year and next, Smalley is already technically a factory driver. Now he just needs to convince Porsche to keep him on the books, first by winning the Carrera Cup and then by progressing through the international GT ranks. It's worked for others: among the six works 963 drivers are Frenchman Mathieu Jaminet and Australian Matt Campbell, both of whom have graduated from Porsche Junior status. They are the hard proof it can be done.
Faith in the system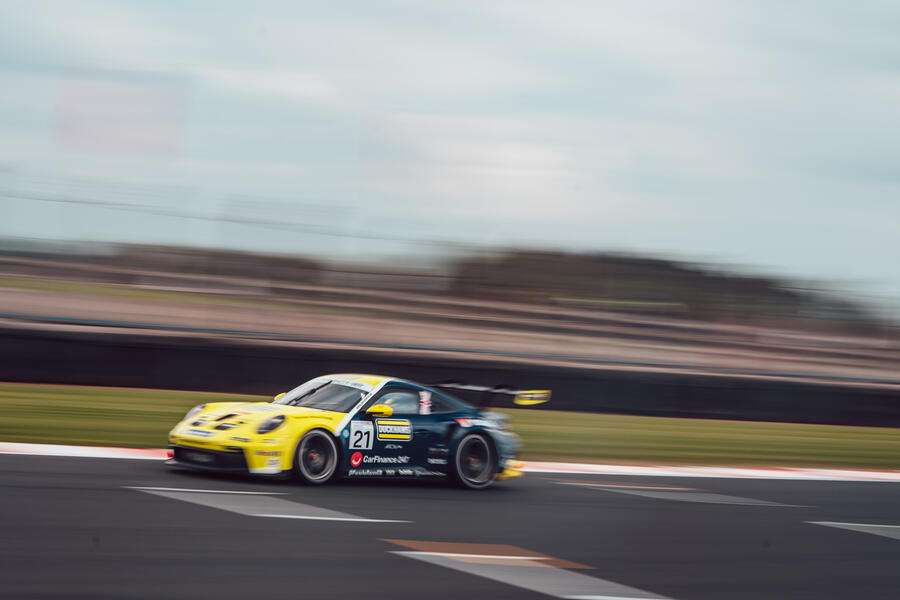 In the past, Formula 1 superstars were called on to boost the sophisticated Porsche 919 hybrid LMP1 campaign. Nico Hulkenberg made a Le Mans-winning cameo in 2015, the same year Mark Webber became a World Endurance Champion. But this time F1 star names are conspicuous by their absence. "Nothing against F1 drivers, we decided to go down this route because we believe this will give us the success we want," explained Porsche motor sport chief Thomas Laudenbach. Home-grown talent over 'Galacticos' is the refreshing theme. When Fernando Alonso twice won Le Mans, naturally he hogged the headlines over the Toyota team he drove for. If Porsche scores its 20th Le Mans win next year, that won't happen if the wider public don't recognise the names of the racing drivers.
The trouble for Adam Smalley is there's a long line of talent ahead of him bidding for the same future, including his Junior predecessor Harry King who is now racing in the Porsche Supercup F1 support series. Smalley needs an edge, but can point to how he has risen from humble roots as evidence that he already has it.
The dad-and-lad tale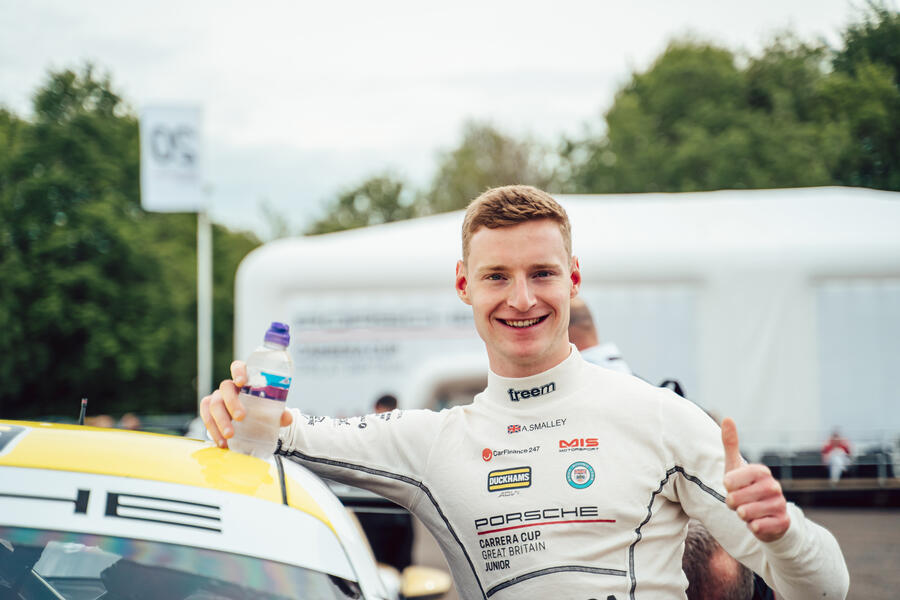 Smalley's story, admittedly, has been told countless times before, but still it's a heartening one. He is from a family of "normal working people" in Poulton-le-Fylde, near Blackpool, where his father runs an MOT garage. A typical dad-and-lad racing adventure began in go-karts when Adam was eight and from first steps in a car park behind Blackpool airport he rose through the junior ranks, sacrificing the usual teenage social life to dedicate everything to motor sport. Success at British and European level was all well and good, but without a "massive financial background" how was he ever going to progress into car racing?
"It wasn't until I was 15 that I saw Ginetta's junior scholarship, so I applied," says Smalley. "There were 60 applicants and they narrowed it down to 30 over two days. It was my first time driving a car. When I made it through to the final I was just happy to have another day in the car." Into the final three and the scholarship was his. "That paid for my first full season in car racing." Last year he conquered the Ginetta GT4 Supercup, another key platform for rising UK talent, then pitched for the Porsche Junior shootout. It was a similarly intense story: 80 applicants whittled down to 12; nerve-wracking interviews; one of four to be thrown into a Porsche 911 GT3 Cup racer at Silverstone, when all he'd known was front-engined Ginettas – then the "life-changing" news he'd won. The prize was £85,000 and plenty of behind-the-scenes support for a crack at the BTCC-supporting Carrera Cup GB.
The pressure rises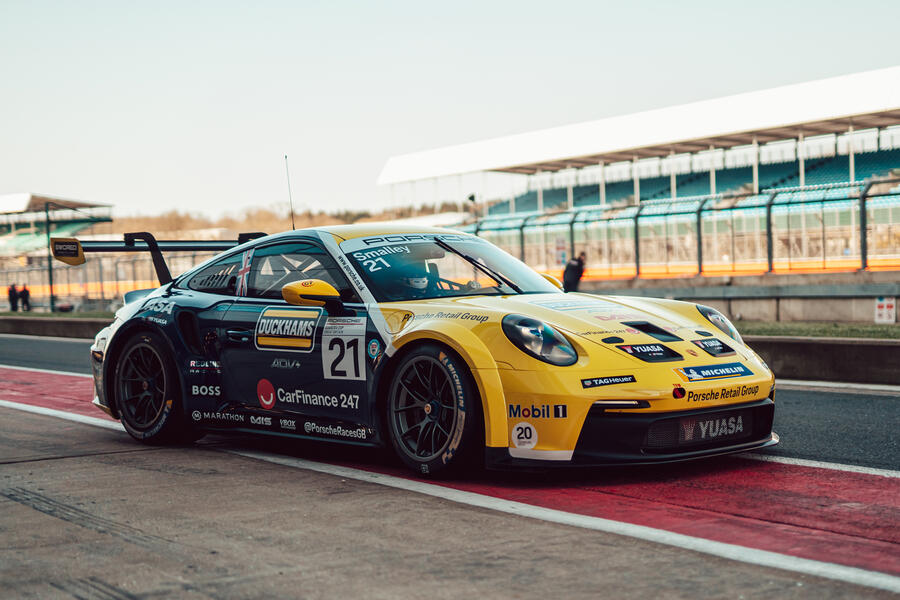 "I've always been a cheeky person in life: if you don't ask, you don't get," says Smalley, who shamelessly pitched himself at teams and sponsors, then found himself "in the right place at the right time" to succeed 2021 Carrera Cup champion Dan Cammish, who has returned to the BTCC this year in a NAPA-backed Ford Focus. That left Duckhams, a fine old British oil brand with a cult history on the British racing scene, needing a new muse for 2022. Up stepped Smalley, proudly wearing the familiar blue and yellow colours so many others – including Mark Webber – wore on their way up. Might that be a good omen?
The introduction of the new-generation 911 GT3 Cup car has been a leveller and Smalley delivered first time out at Donington Park for Duckhams Yuasa Racing with Redline. Since then he's made his Supercup debut on the British GP weekend at Silverstone (finishing a respectable 12th), after a flying visit (literally) at the Festival of Speed when he took off past Goodwood House during his spectacular Sunday shootout run. Next up is the Carrera Cup round at Knockhill on July 30/31. Smalley is third in the standings, in a top four separated by just five points. Competition doesn't get much tighter.
"If you look at the previous Juniors, there's no pressure – but they've all gone on to win the championship!" Smalley says with a smile. "So that has to be the goal. Then we are looking to the Supercup to progress up the Porsche pyramid. Everyone wants to be Lewis Hamilton, whoever tells you otherwise is lying. But F1 is such a niche and it's so expensive to get there. There's more opportunities in GTs and working with Porsche is something I'm dreaming about. There are not many Porsche Juniors, only one in this country – me! It's a massive privilege. I want to reach Le Mans with Porsche as a works driver."
Jaminet and Campbell have managed it at 27. Just six years to go, then, Adam.
https://www.autocar.co.uk/opinion/motors...-mans-seat