10-02-2021, 10:48 PM
Racing lines: Remembering Stirling Moss and #722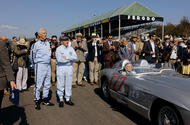 Mercedes has retired Stirling's greatest car after final run at the Goodwood Revival
Elliot Moss looks a size or two larger than his famously trim old man, but the resemblance to Sir Stirling was uncanny as he stood arm-in-arm with Sir Jackie Stewart and Damon Hill on the grid at Goodwood. They were gathered earlier this month in front of a stunning and large collection of Moss-related cars to pay an emotional tribute to Stirling at the first Revival to take place since his death aged 90 last year – although he was surely there in spirit.
Ahead of them all sat the glorious Mercedes-Benz 300 SLR, its number 722 bold in red across its nose confirming that here for one last time was the most important (and surely most valuable) historic racing car in the world. For it was in #722 that Moss and his navigator – short, bearded, bespectacled journalist Denis Jenkinson – conquered the 1955 Mille Miglia in a little over 10 hours, at an average speed just a shade under 100mph. Counting up the landmark Moss performances in Formula 1, sports cars and beyond would be the work of many pages, but for many people (this writer included), that win, captured so colourfully by Jenks' famous report for Motor Sport, is the beacon for his status as the greatest.
Silent in retirement
There had been talk that Sir Lewis Hamilton would be on hand to drive #722 at Goodwood, and as wonderful as that would have been, it was better that the seven-time Mercedes-powered World Champion stayed away. Hamilton's star power would likely have taken some of the shine away from the car, and instead it was far more fitting that mechanic Gert Straub took the wheel.
He may not be a household name, but Straub has served Mercedes for 47 years and for most of them has carefully tended to this most famous of racing cars. At Goodwood he drove it one last time with Stirling's beloved wife, Lady Susie, sat beside him for a tear-stained goodbye to a wonderful car and an even more wonderful man. The next day, Straub too entered the world of retirement.
But what a shame that Mercedes is choosing to mothball #722 in its Stuttgart museum for now and forever after. Its rasping straight eight will be silent and never tingle another eardrum, because the car has been judged too valuable to be risked as a moving museum piece. Yes, it's very special – but that's exactly why it needs to be preserved as a living specimen, rather than a fossil, so that new generations can fully understand why it matters so much and why Moss making the best of it over 1000 miles around Italy all those years ago was so magical. It won't be anywhere near as potent sitting silent in a museum forever after.
A ray of sunbeam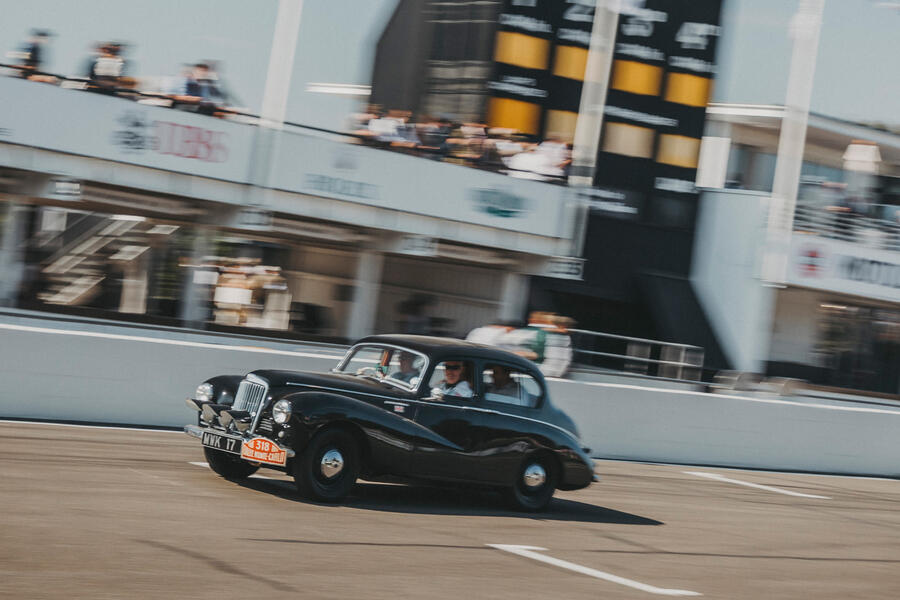 Propping up the back of the Moss parade was a humble saloon that at first glance might have been overlooked among such spectacular company. But for those who knew (and there were plenty of them at Goodwood), the Sunbeam Talbot 90 2A absolutely held its own as a delightful representation of Stirling's wonderfully diverse driving career.
In this little Sunbeam, registered late in 1952, Moss returned to the Monte-Carlo Rally in January 1953 for a second consecutive crack at what was then one of the 'majors' of the motorsport season. He had finished a remarkable second in a similar car in 1952 and this time managed sixth, joined once again by Desmond Scannell from the British Racing Drivers' Club and journalist John Cooper from The Autocar. And it's that tenuous link through the decades that led me to be invited to drive the very same Sunbeam in the Moss parade this month. It was a privilege and an honour that words struggle to express.
The reminder of Moss's Monte exploits highlights why he stands out and always will. Not only did he take on such challenges but he also gave them his full attention and therefore tended to achieve wonders. Beyond the Monte, he also took on the Alpine Rally three times in succession between 1952 and 1954, across 31 of Europe's highest peaks, each time over six gruelling days. Given that this was a summer event, run in July, it must have been fantastic preparation for racing in the British Grand Prix. What do you reckon, Lewis...?
Each time on the Alpine, Moss finished clean (without penalty) and he became only the second driver to earn a Coupe des Alpes – a little gold cup that stood for a great deal more than its humble appearance. On his last Alpine, the conditions were appalling, despite the time of year, and so was the strain on the frazzled driver. According to his diaries, over one final section, Moss "collapsed from nervous strain and couldn't stop shaking", having driven for "24 hours solid". In later years, he even admitted that he had burst into tears. Not even the Mille Miglia or his famous wins at the Nürburgring and Monaco made him cry (heaven forfend). But as he always did when he slid behind a steering wheel, Moss had given his all – and earned what is perhaps his least heralded major achievement. They don't make them like 'Mr Motor Racing' any more – largely because it's impossible.
Spot the slide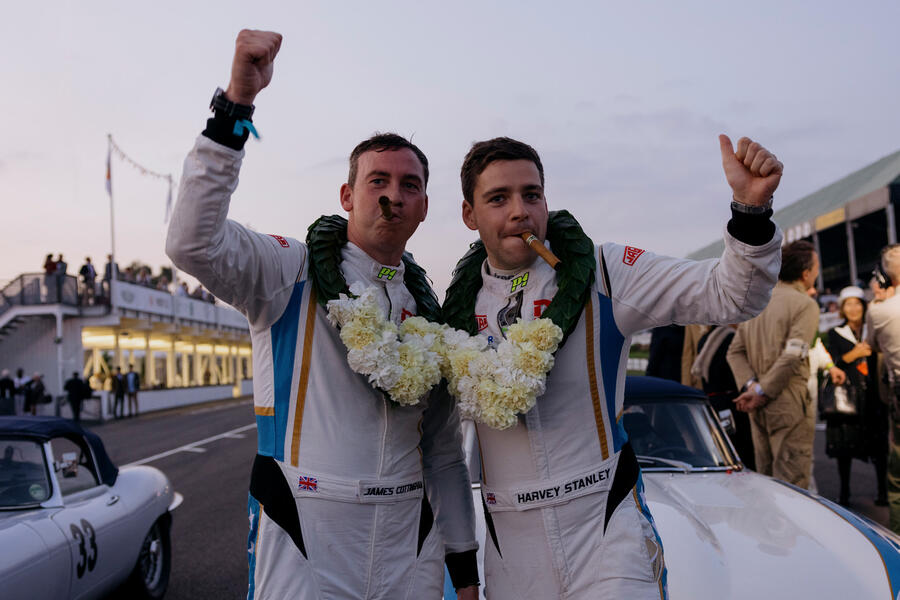 One last thought from the Revival: there's nowhere better to watch the art of tail-out driving than Madgwick corner during the St Mary's Trophy saloon races or at the chicane during the Sussex Trophy 1950s-sports-racer bash that closed Saturday's action. James Cottingham in the Tojeiro Jaguar and Sam Hancock in the Ferrari 246S Dino, take a bow.
As for Michael Dunlop and his antics on a 1967 MV Agusta 500cc in the Barry Sheene Memorial Trophy, let's just say it's remarkable that he can even swing a leg over a motorcycle, given the apparent size of his, um, commitment. Nineteen Isle of Man TT wins and counting? No wonder.
https://www.autocar.co.uk/car-news/motor...ss-and-722