06-12-2021, 09:22 AM
Racing lines: Why we can bank on rallycross for quick-fire racing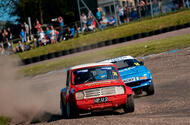 Incredibly diverse Retro classes were fantastic to watch
Weekend action came thick and fast from BRX at Lydden Hill
Motor racing on a sunny May bank holiday Monday? It's good for the soul, especially when spectators starved of action are allowed to flock back to the tracks in high numbers.
I chose the Lydden Hill speed bowl, scooped out of a hearty slice of Kent countryside, for my bank holiday fix, as the Five Nations British Rallycross Championship (BRX) begun its 2021 season by welcoming back grateful enthusiasts and their families, who baked in the sunshine we had all been waiting for throughout those grim months of lockdown.
Better in the metal
For a motorsport that was literally made for TV, rallycross offers one of the best bang-for-buck in-themetal racing spectacles out there. Created at Lydden in 1967 by ITV World of Sport producer Robert Reed to add something fresh and exciting to winter Saturday afternoon schedules, it has long outlasted cult presenter Dickie Davies and those old-school general sports shows, which are now consigned to nostalgia-tinged distant memory (and YouTube).
The British scene has been through its yumps and bumps since those halcyon days of the 1970s and 1980s, but it's now thriving once again under the patronage of Pat Doran, a hardened veteran from the old days and a four-time BRX champion.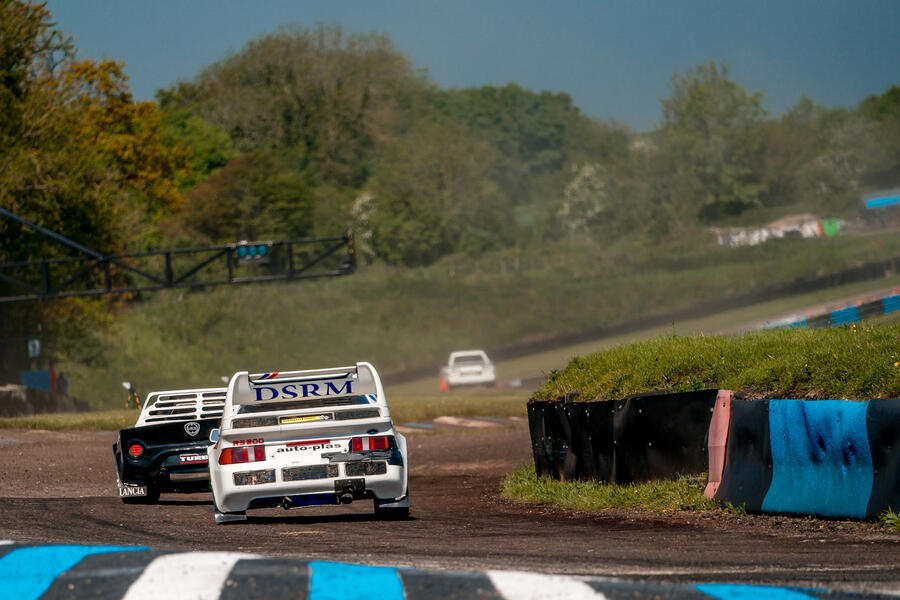 Watching the incessant stream of quick-fire races a day after a sensational Indianapolis 500, it occurred to me that Doran is the slightly less refined and more earthy Roger Penske of British rallycross (after all, his main business is stone processing for the construction industry). Like Penske, Doran runs his series and owns its main venue, so he's ideally placed to impose his vision on a sport that deserves a higher profile.
Its short races, run over courses that mix asphalt and rough off-road with added joker laps through a slower detour, are perfect for the Instagram generation.
Crash, bang, wallop
The RX Supercar class tops the bill and is the Group B equivalent from the glory days. At Lydden, Irishman Derek Tohill's Ford Fiesta WRX conquered a hard-fought final as Ollie O'Donovan's Fiesta and Andy Scott's Peugeot 206 scrapped over second in a manner that on occasion appeared to cross the line of 'hard but fair'. It's serious and at times scary stuff at this level, especially with so much power under the drivers' right feet.
In the Supernational class, one step down from the RX Supercars, Poland's Slawomir Woloch slung his lairy BMW M3 (painted in cheeky works colours) around Lydden with admirable gusto. He appeared to lose out on the penultimate lap to Jason Bleasdale's Vauxhall VX220, which made a late dive down the inside at the North Bend hairpin, only for the pretty little two-seater to lose time on the grass as its driver put the power down on the way out. Woloch then chased down the leader over the last time around, now well clear of Bleasdale, but could do nothing about Paige Bellerby's beautifully driven Lotus Exige in what was the best race of the day.
Retro motors steal the show
Although the 'moderns' claim top billing, by far the most numerically dominant class is the crowd-pleasing Retro category, which is split into three. As you would expect, there are all sorts racing herein, but the prime cut in Super Retro is the surprisingly pristine black, white and gold Lancia Stratos of John Cross, who found better traction out of the slow corners to best Barry Stewart's Porsche 911, sporting colours that echoed the classic Rothmans tobacco livery from the days when such things weren't only allowed but accepted in racing without much question. It almost seems unreal now, given how much attitudes have changed.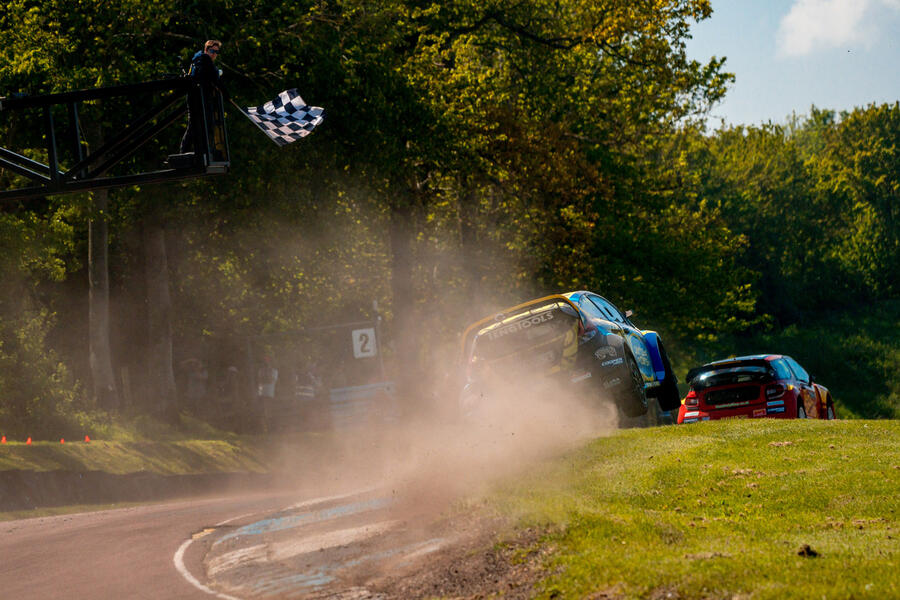 Steve Harris looked great in a mega-wing Ford RS200 (a rallycross meet wouldn't be complete without one of those), but his chase of Andy Grant's younger Ford Focus was in vain for 4WD/GPB honours. A better dice was that between Tony Lynch's Toyota MR2 Mk1 and Terry Moore's rapid Swiftune Mini in their final (it really was properly diverse!), the latter pulling a sweet move at the hairpin to win.
Oh, and BRX has no joker laps for the older cars. They didn't have such gimmicks back in the day, so they don't bother with them now.
The action was incessant during a day of rallycross, as the RX150 buggies buzzed around the 1300-metre circuit and one-make series for Suzuki Swifts and Minis offered further thrills – not to mention the odd spill.
BRX even has an Electro class for EVs, made up at this stage by a small Fiat 500 posse. It's the future, apparently… But while the drivers gave it everything (to a soundtrack of total silence), it tended to be a good time to grab a coffee or answer a call of nature. At this level, electric motorsport has some way to go if it's to become a properly engaging spectacle.
What's next for the five nations?
The compromise that Doran's dedicated team of event organisers had to accept last year (three guesses why) was a series of just three rounds, all held at Lydden. But this season they're hoping to deliver the full five-nation flavour. Ireland's Mondello Park (another rallycross staple) will host the circus in July, then it's on to Pembrey in Wales for the August bank holiday weekend. Knockhill will welcome the rallycross clans to Scotland in September, before a return to Lydden in November and an alluring climax at Spa-Francorchamps, of all places, in early December.
The course in Belgium is the same as that used by the World Rallycross Championship, taking in Eau Rouge and Raidillon. The action should be spectacular, but don't expect sunburn from that one.
READ MORE
Racing lines: Finally, we have an F1 title fight 
Racing lines: Verstappen tussle breathes fresh life into Hamilton 
https://www.autocar.co.uk/opinion/motors...ire-racing