10-11-2023, 06:05 AM
Radical new Lexus concept to preview long-range EV for 2026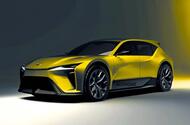 Imagined here by Autocar, the 'next-generation' model promises to represent an all-out revolution
Lexus will give a dramatic first look at its next-generation electric cars in Tokyo next month
Lexus will introduce a radical electric flagship in 2026 that pioneers a bold new approach to design, construction and powertrain technology. 
To be previewed by a concept at this month's Tokyo motor show – and imagined here by Autocar – the 'next-generation' model promises to represent an all-out revolution in the way the Japanese marque engineers its cars. 
It will be the first of a new family of electric cars conceived to do battle with new-age EVs from BMW, Mercedes and Audi. 
The unnamed concept car being revealed at the end of October will encompass a raft of revolutionary new ideas that will lie at the heart of this new line of EVs. 
These models are set to bear almost no relation to the firm's current EVs: the UX crossover and RZ SUV. 
In this sense, Lexus's new concept serves a similar role to the recently revealed BMW Neue Klasse and Mercedes CLA concepts – giving strong clues to the brand's priorities as it moves forward while directly previewing a car that will go on sale in the coming years. 
Lexus parent company Toyota has also announced that it will launch the first of its next-generation electric cars in 2026. 
These will bring to fruition a suite of dramatic upgrades in battery and powertrain technology, while embracing new design conventions and targeting ambitious price reductions compared with the firm's current EVs. 
Lexus is expected to leverage these technological advances to reinvent its own line-up in a similar way, as it progresses towards a goal of achieving 100% battery-electric car sales by 2035.
Revolutionary structure 
Said to "revolutionise the modular structure of the vehicle body, drastically change the production method and completely revamp the software platform", the concept will be based on a new platform that, say Lexus bosses, will be a "key contributor to bringing costs down".
It is expected to weigh much less than today's structures while boosting rigidity and benefiting from the integration of propulsion, suspension and steering systems into space- and cost-efficient module units.
Dynamics tuned to engage keen drivers
New Lexus boss Takashi Watanabe – previously chief engineer – said his brief as CEO is "to create cars that make customers smile". To that end, future EVs are being engineered to enhance the 'Lexus driving taste', using Direct4 four-wheel torque-vectoring technology for sharper turn-in, and steer-by-wire functionality with a "linear" feel for added engagement.
Roomier, eco-focused cabin
Watanabe said sustainability is a prevailing focus for Lexus as it approaches its new era, confirming that recycled and artificial materials including Ultrasuede will form part of the "high-quality" interiors of its upcoming EVs. In addition, the introduction of slimmer new battery packs and smaller motors means the car's occupants can sit closer to the ground and benefit from roomier cabins. The concept will also give a first look at Lexus's all-new software platform, which will no doubt offer significant improvements in usability, connectivity and functionality.
LFA-inspired rakish design
A preview image released by Lexus suggests the concept will take the form of a rakish, low-slung EV, possibly derived from the IS-sized saloon concept Lexus showed in late 2021. The dramatic new front end is defined by aggressive arrow-shaped LED headlights and a muscular, sculpted bonnet that bears a notable resemblance to that of the legendary LFA supercar, while rear-view cameras replace conventional wing mirrors in an early indication that future Lexus EVs will lean heavily on both aero optimisation and digital functionality.
Next-gen battery tech for a 750-mile range
New Lexus EVs are expected to use radical next-gen lithium ion battery technology that promises up to 497 miles of range per charge while costing 40% less than the packs used today and measuring as little as 100mm thick in dedicated, ground-hugging performance models. Parent company Toyota has confirmed that a 621-mile lithium ion battery will be productionised between 2027 and 2028, followed by long-awaited solid-state units, touting a whopping 750-mile range, in 2028.
https://www.autocar.co.uk/car-news/new-c...cept-tokyo