05-08-2023, 05:15 AM
Range Rover plug-in hybrid 2023 long-term test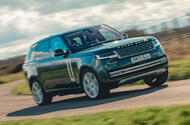 Our new arrival is generating more buzz than the coronation, as befits road royalty
Why we're running it:  To see if the new Range Rover is all the car you will ever need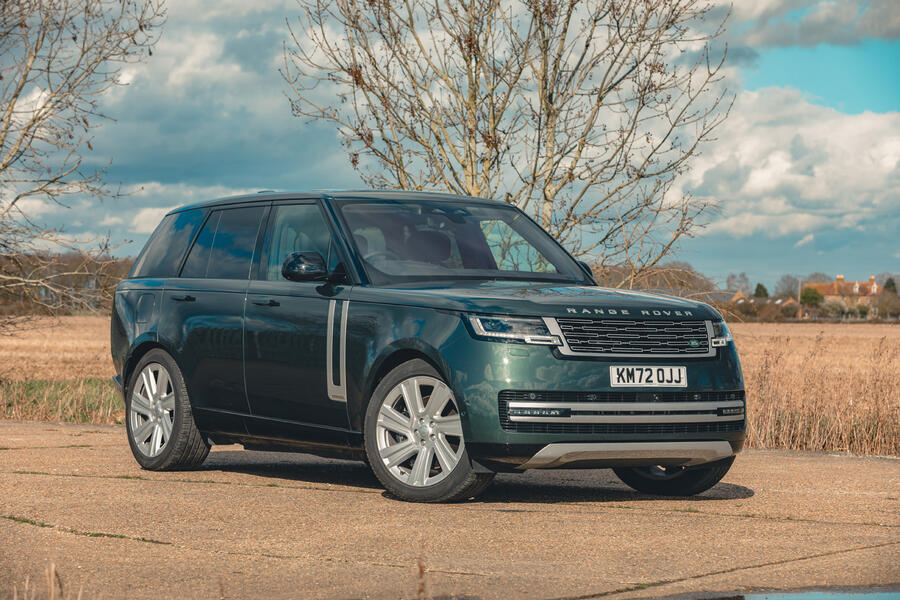 Life with a Range Rover: Month 1
Welcoming the Range Rover to the fleet - 3 May 2023
"Oh, Piers – I'm in love." Having not seen or heard from my wife for several hours, I'm gripped by a sudden paranoia as the greeting filters down the phone.
Fortunately, reassurance comes swiftly from my children in the background, as they shout out happily that "this is the greatest car ever". Ah yes, the new Range Rover long-termer that was helping out on the school run. Phew, marital bliss duly restored.
It's fair to say I've never had a car that has elicited such enthusiasm/ intrigue from all and sundry. We've been bombarded in the street and school car park with people asking about how much it is, whether we can get them a deal – one person even said they loved it because it matched the colour of their wellies. Yes, this is a rural school…
Maybe this is just the consequence of the 'country set' of our location, because there are few cars out there that have such a long and glorious history in this part of the world as the Range Rover. Even if most people haven't owned one – and most haven't these days, that mantle instead taken up by Teslas and Defenders around us – there is still this familial link to Land Rover's 'big one'. People have a sense of commonality with it, so much so that it's a reassuring presence on the roads.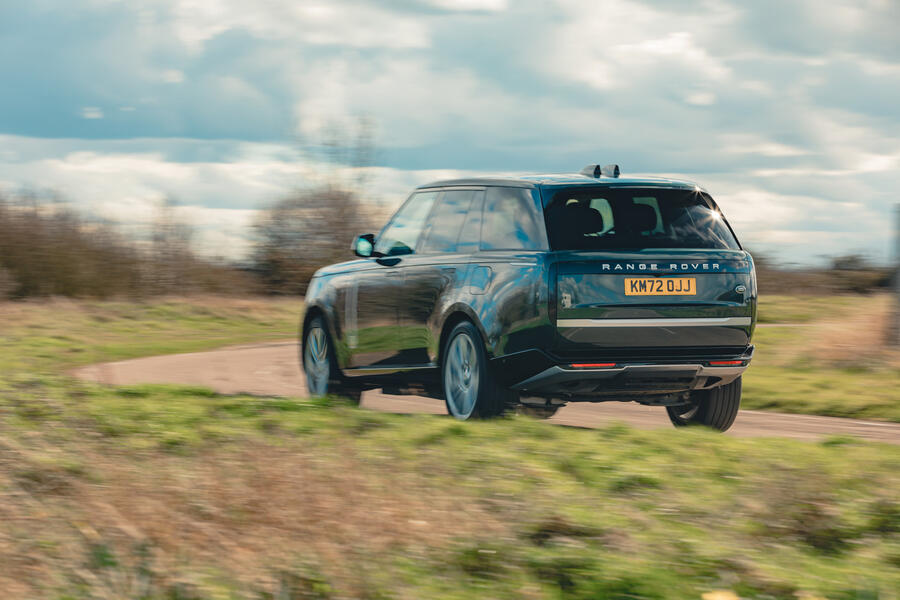 It's also a huge presence. Our car is the standard-wheelbase P440e Autobiography, and at 5052mm long, 2209mm wide and 1870mm high, it dwarfs even cars as vast as a BMW X5. Not for the faint-hearted is parking in our local town.
To the rest of the details. The 'e' means a plug-in hybrid, with a theoretical electric-only range of 69 miles thanks to its 38.2kWh battery. In reality, it's nearer to 55 miles, but that's still an impressive figure and the reason our Range Rover sits in the 8% business-in-kind tax bracket. For people who run a car through their company (and let's face it, at a list price of £135k, that's going to be a chunky proportion of customers), that's going to make a significant difference.
The engine is an Ingenium 3.0-litre straight-six petrol, capable of taking the car from 0-62mph in 6.0sec. Initial feedback is that the pace is more serene than whip-crack, but when would you want to be hounding hot hatches in a near- 2.8-tonne SUV? The electric motor provides 141bhp while total power 
is 434bhp, with 457lb ft of torque. There is a P510e model with even more poke, but my experience so far suggests it wouldn't be worth it.
The Autobiography sits towards the top of the Range Rover tree these days (the SV tops it, with SE and HSE below) so it comes with a healthy amount of kit. The front is dominated by the 13.1in Pivi Pro touchscreen that's simple to use, for a touchscreen, and within easy reach even for a titch like me.
Understated is the name of the game in here. Seats are an Ultrafabrics/Kvadrat mix (a fake leather/wool mix), in black, while the wood is a matt-finish natural brown walnut with a modern twist inlay. It's all beautifully done and feels special – Mr/Ms Company Director can start to justify the cost with the quality nature of it all.
The rear seats are classified as 'Executive Class', which seems somewhat wasted on my five- and seven-year-old, but the electric centre armrest, complete with touchscreen to control the various functions back there, keeps them entertained. Almost too much, to the point where we've had to ban them from fiddling with it to stop the arguments. Four-zone climate control brings the stress levels back down.
It's the little touches that are marking it out so far – things like the armrests up front and the soft-close doors, and the tactile feel of the wool seat sides. One initial gripe is the electric motors that pull the flush door handles back in are quite loud and a bit un-Range Rovery.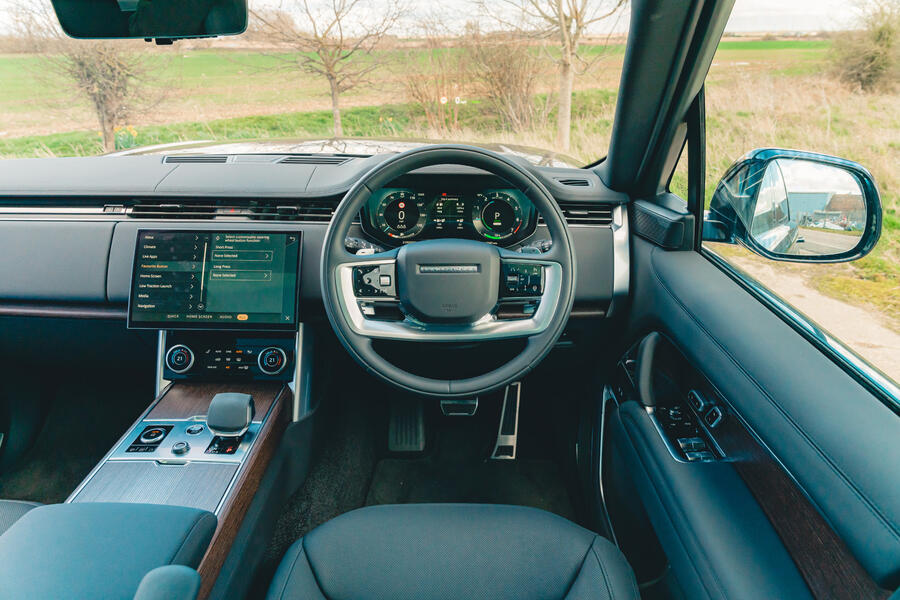 Happily, as my friend with the wellies has pointed out, green is now back as an available colour and the standard Belgravia Green does suit the car. The only options on our Rangie are a fridge in the centre console, a domestic plug socket, a tracker and a towbar. Hopefully we'll need only three of those.
Interestingly, the 22in, diamond-turned wheels are standard fit. The car can drop down to 20s (handy for off-roading, as we will see in a future report), but the bigger alloys are no-cost options. If nothing else indicates the sheer size of the car, it's that the 22s look pretty normal in the wheel arches.
I'm writing this on the day that we ran our story about order books opening for the electric Range Rover towards the end of the year. It's clear that JLR is going through one of its oft-repeated resets at the moment, but if it can still produce cars like this Range Rover, there's some welcome continuity with the world. It's going to be interesting to see if it lives up to its early promise.
Second Opinion
There's no denying this is a special vehicle – one that makes everything else seem a touch unrefined and lacklustre in one way or another. But while Piers will enjoy blending into the foliage of Middle England with our understated example, I'd spec a more colourful cabin and snazzier wheels if I was spending £140k.
Felix Page
#Back">Back to the top
Range Rover P440E Autobiography specification
Specs: Price New £134,865 Price as tested £136,300 Options
Test Data: Engine 3.0-litre 6-cylinder turbocharged petrol engine, plus 38.2kWh battery Power 433bhp at 5500rpm Torque 457lb ft at 5500 Kerb weight 2660kg Top speed 140mph 0-62mph 5.6sec Fuel economy 323.3mpg CO2 19g/km Faults None Expenses None
#Back">Back to the top
https://www.autocar.co.uk/car-review/lan...-term-test