07-30-2023, 04:01 AM
Range Rover plug-in hybrid 2023 long-term test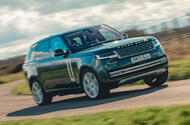 Our new arrival is generating more buzz than the coronation, as befits road royalty
Why we're running it:  To see if the new Range Rover is all the car you will ever need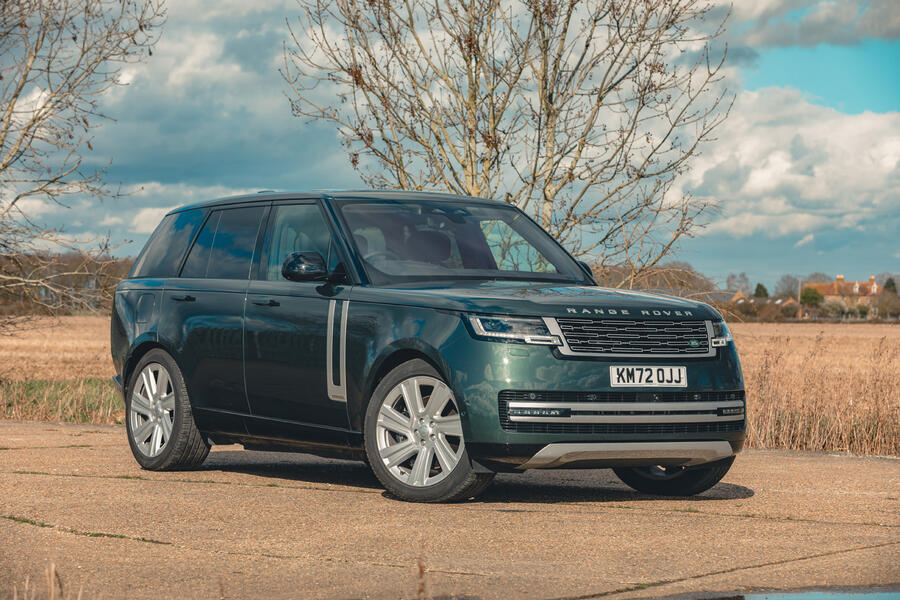 Life with a Range Rover: Month 3
The Range Rover is a fine match for the Goodwood car park- 25 July
The Range Rover's previous keeper, whom I won't name as he's no longer of this parish, fitted it with off-road tyres in his last week at Autocar. Annoying for me, because I mostly drive on motorways, but I said a silent thanks last week when crossing an especially treacherous grass car park at Goodwood. Still, I reckon we'd have managed on smoother rubber... Felix Page
Mileage: 11,460
#Back">Back to the top
Punctures galore... - 7 July
I seem to be attracting slow punctures at an appalling rate. A few weeks ago it was our Audi E-tron GT, now it's the Range Rover. It was laid low by a small screw, despite the fact it was wearing chunky all-season tyres. Pretty unlucky. I felt sorry for the Kwik Fit man doing the repair, because the wheel and tyre package must weigh close to 40kg.
Mileage: 8244 
#Back">Back to the top
Life with a Range Rover: Month 2
Fancy driving someone else's 5m-long, 2.2m-wide, £137k SUV in busy London? - 21 June
I've previously moaned in these pages about the disproportionately large footprint and needlessly lazy turning circle of my Ora Funky Cat (see right), but for all its flaws, it remains a much more sensible urban proposition than some of the towering tanks I see hurtling around London. Big cars just make no sense in a tight, busy city centre.
So when the keys to the Range Rover PHEV landed in my lap one Friday evening, I had harrowing visions of scraped alloys, warped bumpers and scuffed trim. At more than five metres long, at 2.2 metres wide and with a wheel base in which you could comfortably park a Smart Fortwo, this surely wasn't designed to be threaded between double-deckers and down high-kerbed one-way residential streets
But I needed something comfy, capacious and ICE-powered for a succession of long drives, so I did some spacial awareness exercises, checked a map of my commute for previously unnoticed width restrictions and took a deep breath.
Job one: get the Range Rover down from the seventh floor of Autocar's notoriously tight multi-storey. This was actually really easy: I just persuaded Steve Cropley to take it for a quick spin "to see what you think", so he did the job for me. 
It wasn't that hard, though, as he explained when I met him later at Aston Martin's Gaydon HQ and alerted him to my ruse. Its 7.3deg of rear steering makes for a turning circle roughly on par with your average Volkswagen Golf, and the trick off-road-camera interface doubles up as a handy kerb detector and proximity aid. 
Now, though, it was finally time to face my fears, and after accidentally driving onto a roadside flowerbed in front of some politely smiling but clearly confused Aston Martin staff, I nervously merged onto the M40. 
Within two miles, though, I had all but forgotten about the SUV's bulk. As quick and quiet at a cruise as any estate car and no harder to position within its lane, it's no doubt an imposing presence for other road users but not a car that exhausts you through constant demands on your concentration at speed.
Visibility is absolutely excellent and the various driver aids, of the type that are often lambasted, work well. Back inside the boundaries of the M25 and armed with a new-found confidence in my lorry-piloting abilities, I barely broke a sweat as I confronted a Lidl car park teeming with erratic rush-hour shoppers (probably not an environment that many Range Rover owners will find themselves in) and the smugly manoeuvred into my parking space at home in one deft movement. 
By mid-morning the next day with a couple hundred more miles under my belt, I felt almost as if the Range Rover was wrapped around me, having become totally desensitised to its outsized proportions.
Of course, it pays to maintain awareness of such things (particularly when you're steaming along at 70mph in control of three tonnes of leather and aluminium) but the Range Rover manages to make this an exercise in adjusting your driving habits rather than resetting your points of reference. 
Even when forced off the M25 by a diversion onto intimidatingly narrow and uncharacteristically busy country tracks, I remained unfazed.
The Range Rover is among the widest cars on sale, but it has the advantage of being able to scale muddy banks and traverse gloopy roadside ditches, so squeezing out of the way of an oncoming bus, for example, was barely more hair-raising than it would have been in a Ford Focus. 
Wing mirrors in, deep breath, watch for sharp-looking branches and press on.
Am I really trying to paint one of the biggest cars that Britain has ever produced as the perfect urban runaround? Not quite, but you would be wrong to write off the Range Roer as your city-clicking luxobarge on the basis of its heft and stature. It does everything in its power to help you forget about it. 
With all of that said, though, I wonder if the long-wheelbase car would make for such an easy ride. 
Like it
Easy access
Putting the suspension in its lowest setting meant my 4ft 10in partner could access and load the Rangie as easily as a normal hatchback. 
Loathe it
Dead weight
If you can't charge it, this is a six-cylinder, three-tonne petrol SUV, of which I was reminded when I saw I had got 22mpg over 1000 miles.
Mileage: 7783
#Back">Back to the top
Our Range Rover isn't quite as spacious as others - 7 June
A recent race weekend in a TVR Grantura meant the Range Rover was pressed into action to shift kit around the paddock. Comfort levels are slightly up on the historic TVR, as is the boot space. But the clever, electrically retracting parcel shelf in the Rangie is a pain when you're shifting loads of stuff, because it eats into the available volume.
Mileage: 7023
#Back">Back to the top
Life with a Range Rover: Month 1
When you collect your new Range Rover, this really is the way to do it - 24 May
At north of £130,000, this Range Rover is in pretty rarefied territory, even in these days of £50k hot hatches. So how does Land Rover inject a bit of 'value added' into that purchase? By offering a complimentary trip to the factory where it's built.
This, of course, means a trip to the wonders of Solihull. Leaving aside the slightly awkward fact that this can't quite match the glamour of Maranello or the sheer industrial scale of Wolfsburg, it does mean that Land Rover can reinforce the Brit-built angle of the Rangie.
It starts with a chauffeur pick-up from your home that whisks you off to the Solihull plant. Once buzzed through the security gate, the VIP handover centre is immediately on the left after security, and even at this early stage it's already an impressive experience.
The building is one of those typical modern glass boxes, but it looks smart, and because you're right next to the factory entrance, you get a sense of how busy the site is. It's a hive of activity of people, cars and lorries, which gives a warm feeling of nostalgia for the glory days of British industry. Revamped at a cost of £10 million, the building you walk into has muted tones and clean lines inside.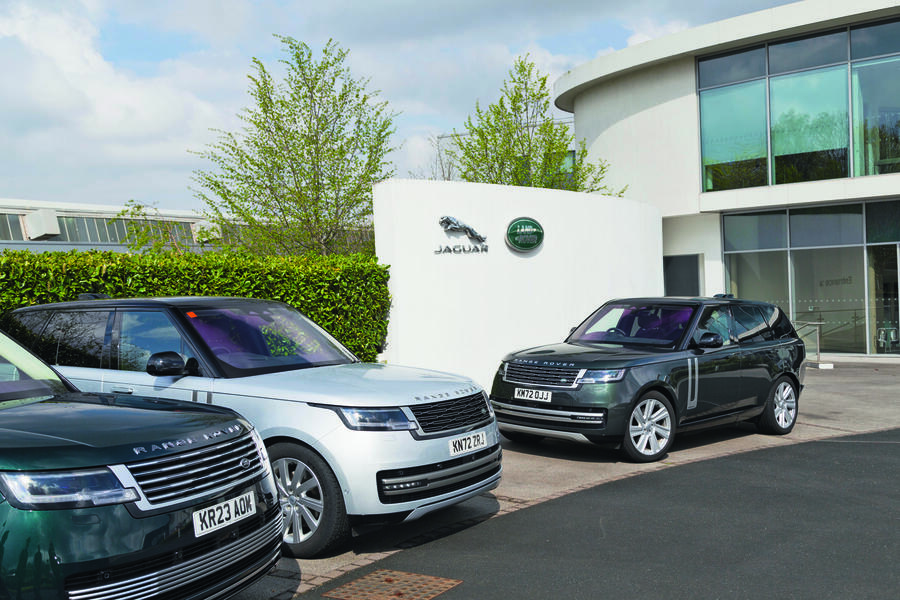 A Range Rover is in the foyer and photographer Luc Lacey and 1 are led upstairs, where a decent spread of food is laid on. This is all free to anyone who has bought an Autobiography or above, but SE and HSE customers can also option the experience, at a cost of £1200.  It's at this point that Range Rover Studio deputy manager Adam Mercer, all suited and booted, comes to talk to us. We chat amiably for a few minutes and then he invites me downstairs.
Now it's time for the pièce de résistance. Ushering Lacey and me inside an extremely dark room, Mercer directs me to a point on the floor. The room is so pitch black that I can't make out any details, save for a vague idea there's a car-shaped object in front of me.
Mercer works his iPad and we're suddenly treated to a fascinating light show, starting with design highlights of the Range Rover, moving through more technical aspects of the car (like the X-ray vision of its body-in-white), then on to the car driving down forest tracks and beautiful roads.
Using lasers playing over the surface of a Range Rover that has been wrapped is a reflective cloth, the car is the carvas for this art display. It probably lasts for only a minute before the room is plunged into darkness again, at which point you can hear Mercer moving forward and removing the cloth.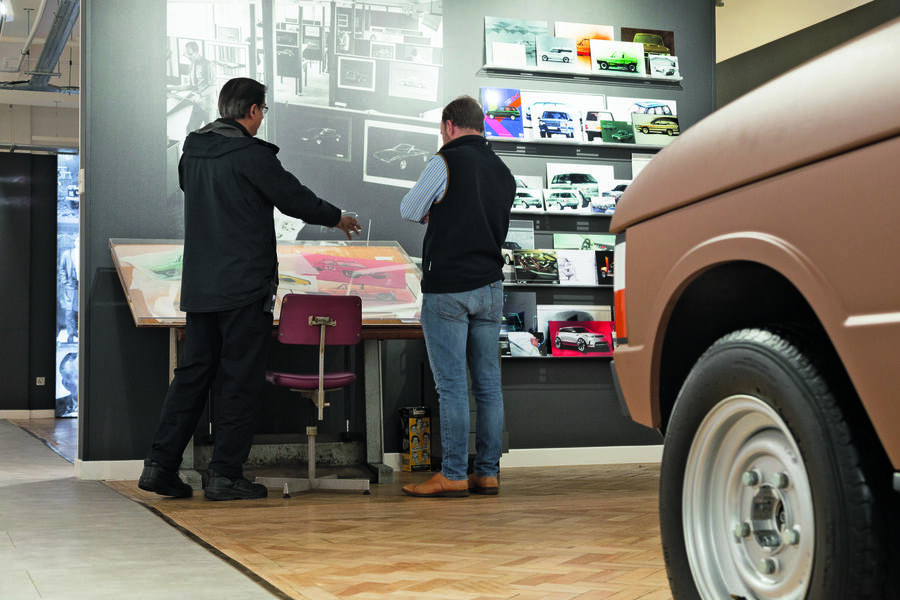 The lights go up and, if you were a customer, you would see your brand-new car in front of you - the actual one you're here to collect. It's a bit of surprise and delight that, says Mercer, gets plenty of appreciation from customers. More brand deep-dive awaits after this, as a guide then takes customers to Block 1, the old 1939 factory where the original Range Rover was conceived.
There, some rooms have been turned into the 'Kingmakers Exhibition', a historic glance through the Range Rover story. It's a cracking little museum and really well curated, with enough information and exhibits to be interesting without swamping you.
Then it's back over to the glass box to collect the car and drive home. Despite Land Rover selling nearly 20,000 Rangies a year, it manages to feel tailored. I reckon it would be a decent way to start your Range Rover life.
Like
The reversing camera
Very handy in a tight, multi-storey car park.
Loathe
Folding the electric rear seats
Manual ones would be much quicker. 
Mileage: 7023
#Back">Back to the top
Best car in the world? Try roaming podcast studio... - 17 May
As if to prove that it really is the most useful car in the world, the Range Rover ably doubled up as a podcast recording studio recently. Autocar's resident podders, Steve Cropley and Matt Prior, had plenty of room in the rear to channel their inner Smashie and Nicey, and the three-pin plug back there was handy to keep Prior's decrepit laptop battery running. 
Mileage: 4418
#Back">Back to the top
Welcoming the Range Rover to the fleet - 3 May 2023
"Oh, Piers – I'm in love." Having not seen or heard from my wife for several hours, I'm gripped by a sudden paranoia as the greeting filters down the phone.
Fortunately, reassurance comes swiftly from my children in the background, as they shout out happily that "this is the greatest car ever". Ah yes, the new Range Rover long-termer that was helping out on the school run. Phew, marital bliss duly restored.
It's fair to say I've never had a car that has elicited such enthusiasm/ intrigue from all and sundry. We've been bombarded in the street and school car park with people asking about how much it is, whether we can get them a deal – one person even said they loved it because it matched the colour of their wellies. Yes, this is a rural school…
Maybe this is just the consequence of the 'country set' of our location, because there are few cars out there that have such a long and glorious history in this part of the world as the Range Rover. Even if most people haven't owned one – and most haven't these days, that mantle instead taken up by Teslas and Defenders around us – there is still this familial link to Land Rover's 'big one'. People have a sense of commonality with it, so much so that it's a reassuring presence on the roads.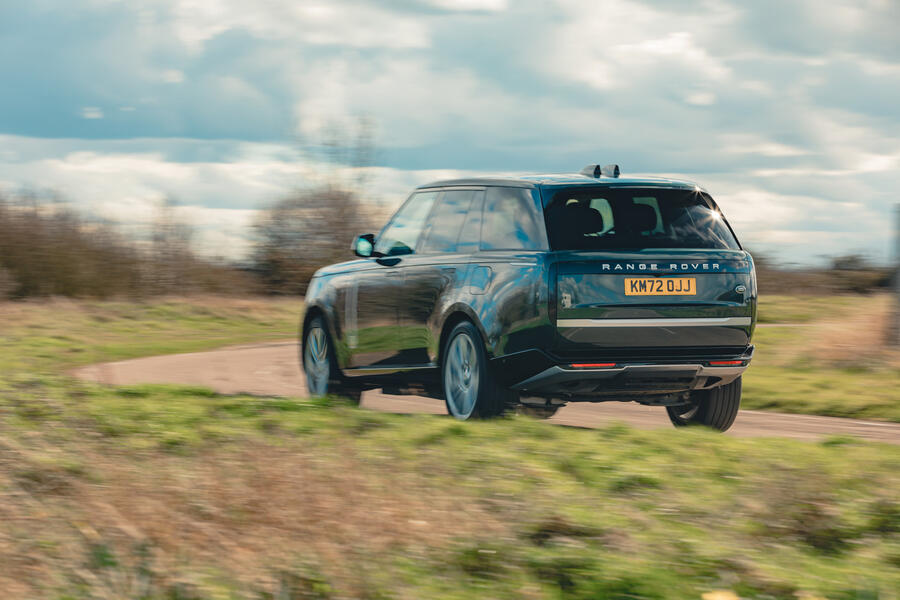 It's also a huge presence. Our car is the standard-wheelbase P440e Autobiography, and at 5052mm long, 2209mm wide and 1870mm high, it dwarfs even cars as vast as a BMW X5. Not for the faint-hearted is parking in our local town.
To the rest of the details. The 'e' means a plug-in hybrid, with a theoretical electric-only range of 69 miles thanks to its 38.2kWh battery. In reality, it's nearer to 55 miles, but that's still an impressive figure and the reason our Range Rover sits in the 8% business-in-kind tax bracket. For people who run a car through their company (and let's face it, at a list price of £135k, that's going to be a chunky proportion of customers), that's going to make a significant difference.
The engine is an Ingenium 3.0-litre straight-six petrol, capable of taking the car from 0-62mph in 6.0sec. Initial feedback is that the pace is more serene than whip-crack, but when would you want to be hounding hot hatches in a near- 2.8-tonne SUV? The electric motor provides 141bhp while total power 
is 434bhp, with 457lb ft of torque. There is a P510e model with even more poke, but my experience so far suggests it wouldn't be worth it.
The Autobiography sits towards the top of the Range Rover tree these days (the SV tops it, with SE and HSE below) so it comes with a healthy amount of kit. The front is dominated by the 13.1in Pivi Pro touchscreen that's simple to use, for a touchscreen, and within easy reach even for a titch like me.
Understated is the name of the game in here. Seats are an Ultrafabrics/Kvadrat mix (a fake leather/wool mix), in black, while the wood is a matt-finish natural brown walnut with a modern twist inlay. It's all beautifully done and feels special – Mr/Ms Company Director can start to justify the cost with the quality nature of it all.
The rear seats are classified as 'Executive Class', which seems somewhat wasted on my five- and seven-year-old, but the electric centre armrest, complete with touchscreen to control the various functions back there, keeps them entertained. Almost too much, to the point where we've had to ban them from fiddling with it to stop the arguments. Four-zone climate control brings the stress levels back down.
It's the little touches that are marking it out so far – things like the armrests up front and the soft-close doors, and the tactile feel of the wool seat sides. One initial gripe is the electric motors that pull the flush door handles back in are quite loud and a bit un-Range Rovery.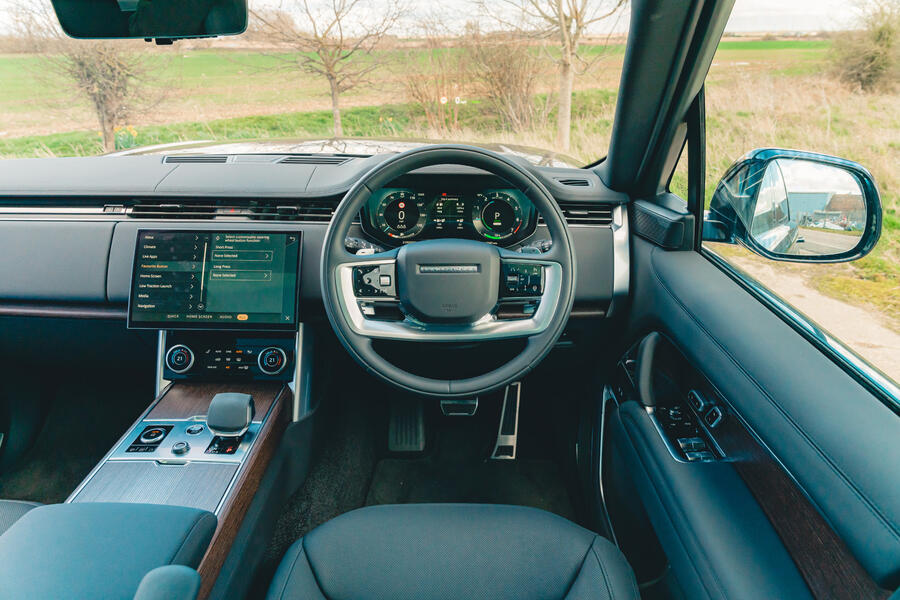 Happily, as my friend with the wellies has pointed out, green is now back as an available colour and the standard Belgravia Green does suit the car. The only options on our Rangie are a fridge in the centre console, a domestic plug socket, a tracker and a towbar. Hopefully we'll need only three of those.
Interestingly, the 22in, diamond-turned wheels are standard fit. The car can drop down to 20s (handy for off-roading, as we will see in a future report), but the bigger alloys are no-cost options. If nothing else indicates the sheer size of the car, it's that the 22s look pretty normal in the wheel arches.
I'm writing this on the day that we ran our story about order books opening for the electric Range Rover towards the end of the year. It's clear that JLR is going through one of its oft-repeated resets at the moment, but if it can still produce cars like this Range Rover, there's some welcome continuity with the world. It's going to be interesting to see if it lives up to its early promise.
Second Opinion
There's no denying this is a special vehicle – one that makes everything else seem a touch unrefined and lacklustre in one way or another. But while Piers will enjoy blending into the foliage of Middle England with our understated example, I'd spec a more colourful cabin and snazzier wheels if I was spending £140k.
Felix Page
#Back">Back to the top
Range Rover P440E Autobiography specification
Specs: Price New £134,865 Price as tested £136,300 Options
Test Data: Engine 3.0-litre 6-cylinder turbocharged petrol engine, plus 38.2kWh battery Power 433bhp at 5500rpm Torque 457lb ft at 5500 Kerb weight 2660kg Top speed 140mph 0-62mph 5.6sec Fuel economy 323.3mpg CO2 19g/km Faults None Expenses None
#Back">Back to the top
https://www.autocar.co.uk/car-review/lan...-term-test