10-09-2023, 08:56 AM
Reborn electric Mini Cooper priced from £31,945 in the UK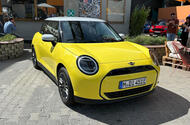 No chrome for reborn electric Mini Cooper
New-look electric Mini gains bold cabin design and two powertrain options – and we've driven it
The reinvention of Mini has accelerated with the launch of the new Mini Cooper electric hatchback, which will arrive this year with a price tag starting from £31,945 in the UK. 
Launching together with the new Mini Countryman, the new Mini Cooper marks the start of a wide-reaching revamp and expansion of the British marque's line-up as it pushes to become an EV-only brand. 
Available in three specifications – Classic, Exclusive and Sport – the new Mini comes with a choice of two powertrains. UK deliveries will start early next year.
The Cooper E has a 181bhp front-mounted motor and a 40.7kWh battery, giving it a claimed range of 190 miles – substantially up on the old Electric. The Cooper SE gets 215bhp, which is enough for a 0-62mph time of 6.7sec, and a 54.2kWh battery, giving it a range of 250 miles. Charging speed is pegged at 95kW, which is down on many of the Mini's rivals.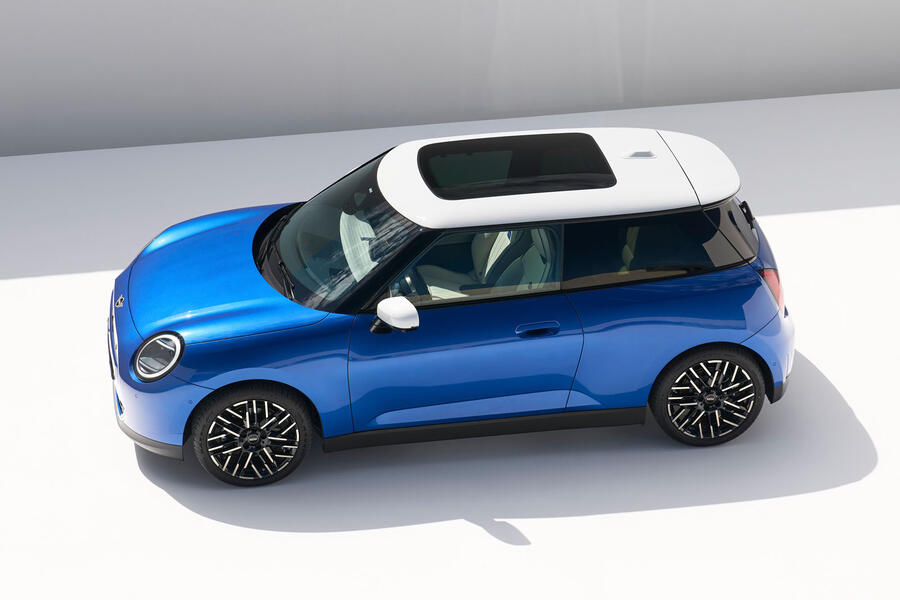 Entry-level Mini Cooper Classic models are fitted with a 9.4in OLED infotainment touchscreen, which Mini claims is the first circular screen fitted to a production car. Plus, automatic LED headlights, a reversing camera, a heated steering wheel, ambient lighting and cruise control are included as standard. 
The mid-range Exclusive trim starts from £32,145 and gains bespoke design features over the entry-level car. This includes a silver grille design and a unique interior headlining, plus extra storage bins and a blue decorative dashboard strap. 
At the top of the range, the Mini Cooper Sport gets black and red interior trim, plus black and red dashboard upholstery inspired by the firm's performance John Cooper Works model range. Sport cars are also equipped with 18in two-tone alloy wheels. Prices start from £33,445 for the 40.7kWh battery, rising to £37,945 for the larger 54.2kWh unit and more powerful 215bhp electric motor. 
Unlike the old Mini Electric, the new three-door electric hatchback – which takes the fabled Cooper name – sits on a bespoke EV platform. This has been developed by Spotlight Automotive, a China-based joint venture between Mini parent firm BMW and Great Wall Motor.
The new Cooper and the Countryman both showcase Mini's new Characteristic Simplicity design language, which creative chief Oliver Heilmer said is focused "on the essentials of the brand". The already extensively seen Cooper builds on Mini's trademark design themes with circular headlights and a new octagonal front grille.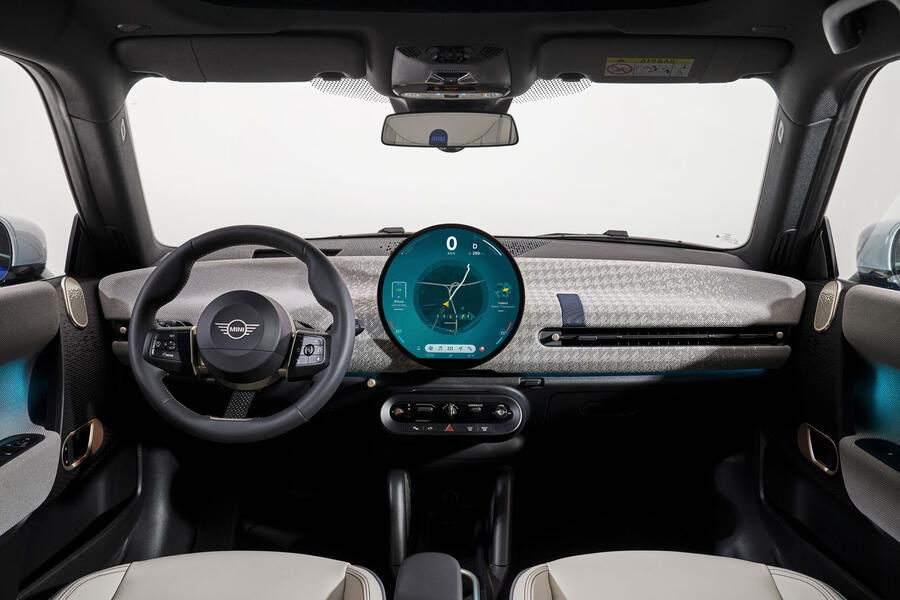 The exterior is free of chrome, the wheel-arch trims have been removed and the door handles now sit flush. The minimalist interior design echoes that of the original BMC Mini of 1959, featuring a round instrument cluster above a bar of toggles.
The curved dashboard has a knitted textile surface and a 9.4in OLED infotainment touchscreen, claimed to be the first circular one fitted to a production car. The software is Mini's latest Android-based operating system.
Both cars will offer various Mini Experience modes that bring their own displays and powertrain characteristics, including a new Go-Kart Mode. The various driving modes are also complemented by new digital driving sounds.
They will exist alongside a new petrol-engined Cooper hatchback that will be visually identical but based on the current combustion Mini platform and produced in Oxford.
First drive review: 2024 Mini Cooper E
The Mini Electric wasn't the first hatchback EV and it certainly isn't the best, but it was the first car to show that EVs don't need to be 600bhp dragsters to have a sense of fun.
Despite being a bit of an afterthought (effectively an ICE Mini Hatch with batteries taking the place of the engine, fuel tank and exhaust), it managed to combine instant electric punch and a pointy chassis into something quite compelling.
Of course, its short range is a big handicap, and newer cars like the Fiat 500, MG 4 and Cupra Born have since eclipsed it as our favourite affordable driver's EVs, but the Electric still serves as strong proof of concept for the battery-powered hot hatch, and it has been a bit of a commercial success for Mini, making up a fifth of all the brand's sales these days.
For the second generation, Mini is doing things properly. This time, the car is based on a dedicated EV platform, which was developed as part of the Spotlight Automotive joint venture with China's Great Wall Motors. Yes, of Ora Funky Cat infamy.
Thankfully, the new car – now called Mini Cooper E, or Cooper SE for the more powerful and longer-range version – doesn't share anything with the Cat, as they were separate developments.
The new platform gives it the range that it was so sorely lacking before. The Cooper E has 180bhp and a 40kWh battery for a theoretical range of about 185 miles, while the Cooper SE gets 215bhp and a 54kWh battery, which results in a projected range of about 240 miles. For comparison, today's Electric gets 143 miles from a measly 32.6kWh.
Further down the line, there will also be a John Cooper Works, or JCW – effectively a Cooper S with more power and less range.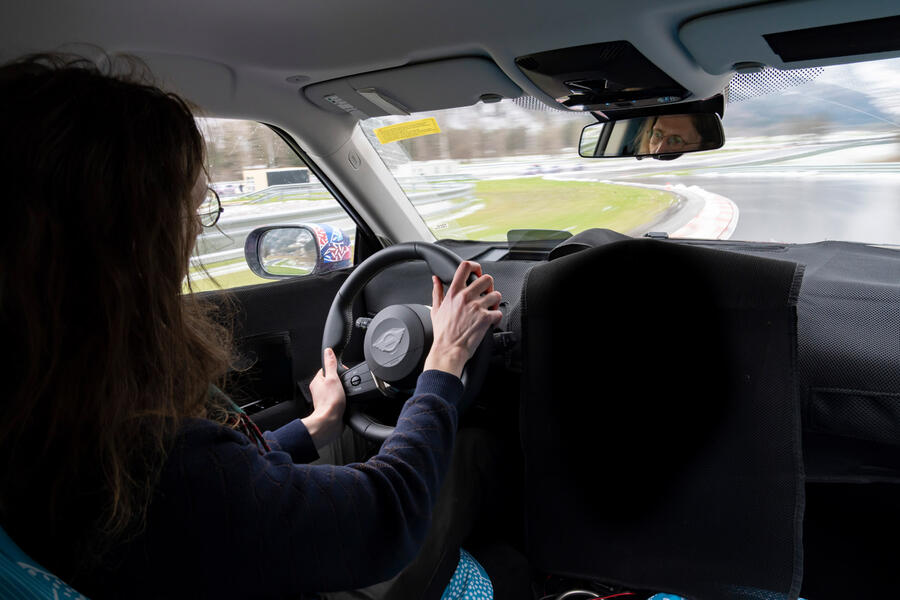 Despite the new platform, the Cooper E is about the same size as the Electric. It's slightly wider and has a longer wheelbase, but it's a tad shorter, too, with less of a rear overhang. It also retains the multi-link rear axle that's very unusual for a car this small.
As much as I like chunky old-school controls, I must admit that the circular OLED touchscreen looks quite cool and seemingly works okay, even running very buggy prototype software. Like in a Tesla, you quickly get used to looking slightly right for the speed, plus a head-up display is optional.
With no buttons and the gear selector relocated to a toggle under the screen, the centre console is left free for storage, while the dashboard's round air vents have been ditched in favour of slimmer items, but some character has been added in with colourful woven materials on some trims.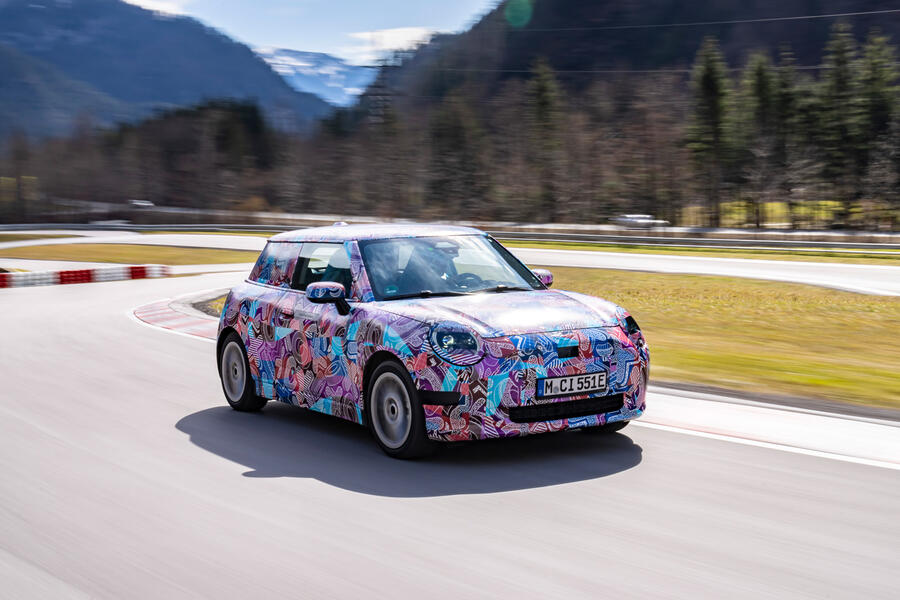 What hasn't changed is that, despite the battery pack being under the passenger compartment, the driving position is pleasingly low. The seats no longer have an adjustable thigh bolster but are still very comfortable and supportive, and unsurprisingly the rear seat is still not exactly suitable for adults.
Despite the modernisation of the interior (for better or for worse), you start and stop the new Mini with something that looks quite like an ignition key, adding a bit of control and theatre.
We first headed out on a short road loop, followed by some time on a technical little test track. A conclusive verdict and a star rating will follow once we've driven a finished car, but first impressions are very positive indeed.
The steering is transformed. The engineers say they're still working on dialling in some on-centre feel, but it already felt pretty good to me. The leaden feel and limp turn-in that characterises many versions of the current Mini has been banished completely. It's now actually quite light, even in Sport driving mode, feeling natural and delicately letting you know what's going on. And the hint of torque steer when you accelerate hard out of corners is all part of the hot hatch experience.
With just 2.2 turns lock to lock, the rack is pretty direct, and it's a fixed ratio, so while it takes a moment of acclimatisation, you always know how much turn-in you're going to get.
The chassis backs up the fast steering with grip and response, even on winter tyres in cold and wet conditions. The nose darts into corners in a way that the old car's never did. You can easily load up the front end and then bring the rear out to play at will.
If that isn't your bag and you prefer the steadier balance that Minis have tended towards, you haven't been forgotten about. The engineers have put a lot of work into the traction and stability control systems, and it shows. Leave everything on and the systems will carefully mete out power to maintain traction while smoothly intervening to maintain the agile handling while keeping the rear axle firmly in line.
DSC Sport mode is possibly even more impressive, because it maintains the traction and nips at the individual brakes to subtly rotate the car into corners. It lets you play with the balance of the car and even encourages it, while still keeping an eye out to make sure that things don't get out of hand. DSC Off will still rein in the worst of the wheelspin but will let you throw shapes on track to your heart's content.
The one dynamic question concerns the ride. Even on Austria's uber-smooth roads, the new Mini is obviously quite a firmly suspended car. We wouldn't expect anything else from a sporty small hatchback, and to its credit our 17in-wheeled example dispatched both the mean compressions on the test track and any drainage cover I could run over on the road with poise, rounding off sharp edges in the way that high-quality dampers tend to do. How it will deal with a bumpy B-road remains to be seen, however.
While I'm speculating, it's impossible to say anything conclusive about range yet, but the Mini Electric is very efficient in the real world, so there's a good chance that this quality has been carried over. In any case, you will be buying the Cooper SE for the longer range rather than the extra performance.
Both versions are pleasantly nippy in that EV way, and the difference is slight at best. Typically for a BMW Group EV, the level of regenerative braking is set in a menu and there's no coasting mode, but there are adaptive and one-pedal modes.
It's way too early for prices, but it's safe to assume that they will all start with a three. Between that, the final infotainment system, the range and the ride, there are still quite a few unknowns about the Cooper E. At the same time, there's little evidence to suggest that any of those things is likely to be problematic, and I've been impressed so far with the style, character and driving experience. If the Mini Electric floated the idea of a hot hatch EV, this new one has a good shot at making it real.
Illya Verpraet
Technical specifications: Mini Cooper SE
Price: tbc, Motors: 1x AC synchronous, electrically excited, Power: 215bhp, Torque: tbc, Gearbox: single-speed, front-wheel drive, Kerbweight: 1500kg (est), 0-62mph: 7.0sec (est), Top speed: 100mph (est), Battery: lithium-ion, 54kWh, Range: 240 miles (WLTP target), DC rapid charging rate: tbc.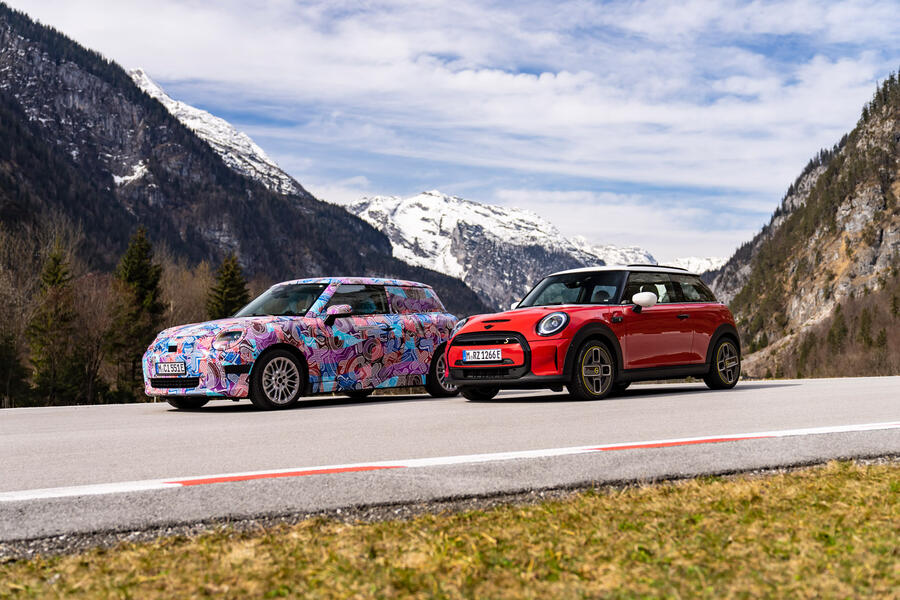 https://www.autocar.co.uk/car-news/new-cars/mini-cooper