03-12-2023, 04:59 AM
Renault Megane E-Tech Electric 2023 long-term test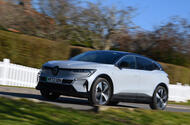 We welcome the forgotten family hatch reinvented as a 'sensual tech' crossover EV
Why we're running it: Has going electric broadened the appeal of Renault's family hatchback?

Life with a Renault Megane E-Tech: Month 1
Welcoming the Megane to the fleet - 8 March 2023
That the fifth generation of Renault's once big-selling family car bears almost no resemblance to its predecessor should really come as no surprise because the Mégane is a model that has a history of being reinvented.
The shift from the rather traditional (and, dare we say it, rather dull) Mk1 to the legendarily big-bottomed Mk2 was night and day, then it somehow managed to turn itself into a benchmark hot hatchback before drifting back into obscurity with the slightly unmemorable Mk4.
There's little chance of this latest Mégane (or Mégane E-Tech Electric, to deploy its full title) fading from memory any time soon, because it's a very distinctive-looking machine. A very handsome one, too: Renault calls its design ethos 'sensual tech', but to me, it's swoopily futuristic from the front, pert and neat from the rear and cleverly treading the line between hatchback and SUV with proportions that bring to mind the Range Rover Evoque at a glance.
That upmarket association should please Renault's designers, but it does lead to a bit of over-promising and under-delivering because if you're expecting compact SUV spaciousness, you will be disappointed. Inside, this is resolutely a hatchback, and a relatively tight one as well, particularly in the rear compartment if the driver is tall. Add in the high window sill line and low roofline that combine to make the car look so good and it results in a very enclosed and oppressive feel, along with severely restricted vision to the rear.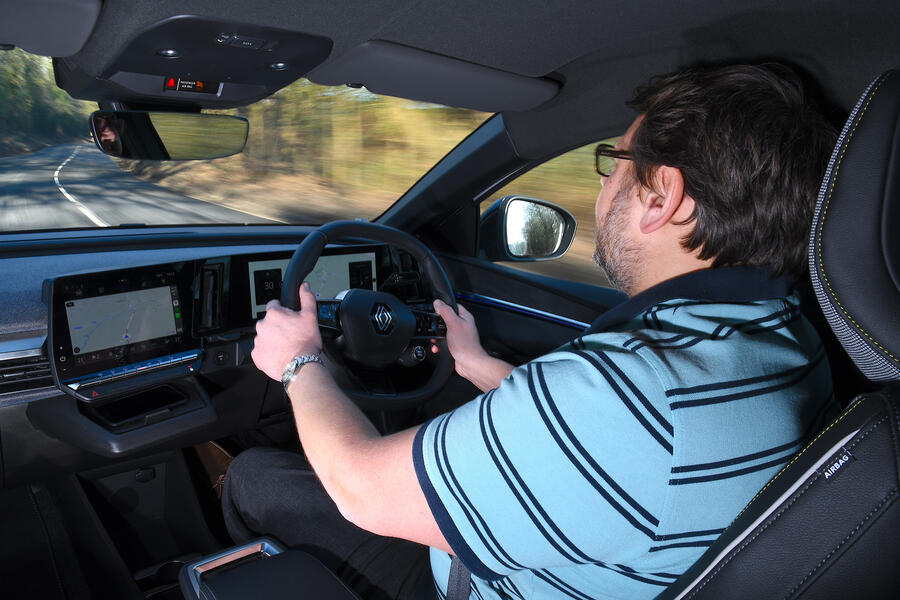 This is particularly disappointing when Renault has cited improving interior accommodation as part of the reason for its decision not to switch the Mégane from front-to rear-wheel drive.
That does at least mean a very generous boot, although more in terms of depth than length, due to a stubby rump. (Honourable mention here for the decent-size underfloor cubby for your charging cables, so they aren't left to slide around in the boot.)
I'm well aware that I'm not the most sylphlike of drivers, but I do find myself feeling a bit like an ogre in the Mégane, bashing my hip on the way in and knocking my knees and elbows against the hard plastics of the door, dashboard and armrest once ensconced.
Still, once in and settled it's a nice place to be: the seats are comfortable, the cloth-covered dash is attractive (although it will be interesting to see if its pale colour causes any reflection problems when summer rolls around) and the equipment is generous in this mid-range Techno spec, which also brings the 20in diamond-cut alloy wheels that further contribute to the car's good looks.
One area where there's no choice is in powertrain: the new Mégane comes only with a single motor up front and a 60kWh battery pack.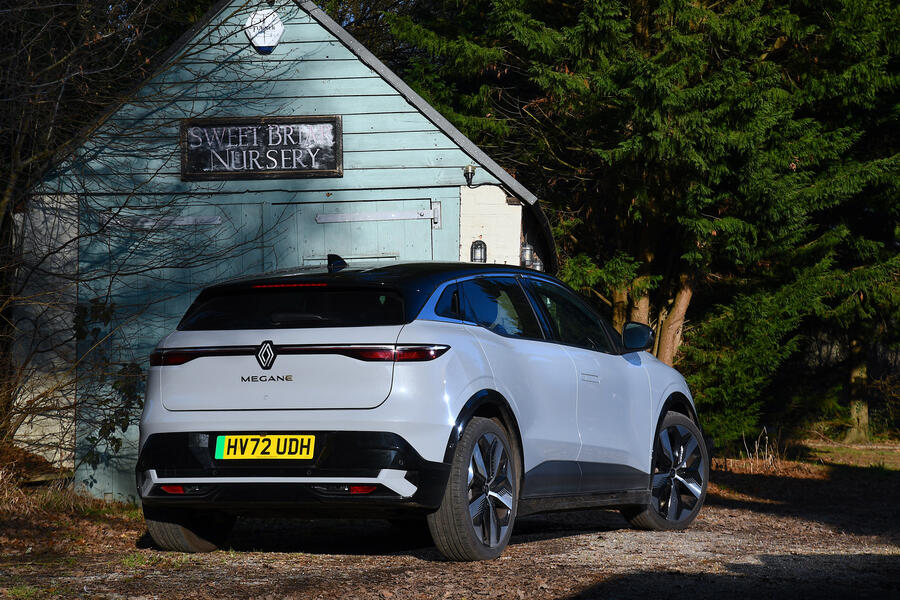 Our road testers posted 6.9sec to 60mph, and it certainly feels that brisk, although presumably they had to modulate the throttle quite carefully, because a major drawback of that decision to keep front-wheel drive without the heft of a combustion engine sitting over the driven axle is a fairly serious lack of traction.
The CMF-EV platform on which the Mégane sits does allow for four-wheel drive via a second motor at the rear, though, which bodes well for sharper getaways in any potential future RS versions.
Apart from the challenges of deploying the power, the Mégane feels sporty enough, thanks to the sharp steering. This has divided opinion, but I quite enjoy it, as it makes the car feel agile without marring its greatest strength: superb refinement, courtesy of a quiet, well-damped ride and remarkable isolation from the outside world for a car in this class.
Now from a big green tick to a large red cross, and it surrounds that ever-present EV preoccupation: range. Renault says this car will do 280 miles on a charge, but my time with it so far has been largely in chilly or downright freezing conditions, which has brutalised those figures. It hasn't been helped by mainly being used for shuttling local runs and cross-town commutes, but still 150-160 miles on a charge has been the norm, around 200 the best and 137 the worst.
It makes me wonder how the 40kWh version available on the continent does, and it's no surprise to see that Renault has announced a new range-topping Iconic spec that includes an all-important heat pump, which should boost the range by up to 9% in cooler weather as well as capturing and reusing wasted heat for the cabin.
So my early impressions are a mixed bag. There are elements that I really love about the Mégane and others that really frustrate and are already driving me a bit mad. It will be interesting to see which way the balance tips over the coming months.
Second Opinion
Based on several hundred miles of experience, the Mégane is great in every way bar possibly the most important one: range. In cold weather, I saw just 138 miles indicated from a full charge. Let's hope that was a calculation error.
Jim Holder
#Back">Back to the top
Renault Megane E-Tech Electric Techno EV60 specification
Specs: Price New £38,495 Price as tested £39,445 Options
Test Data: Engine Single electric motor with 60kWh battery Power 214bhp Torque 221lb ft Kerb weight 1636kg Top speed 99mph 0-62mph 7.5sec Fuel economy 3.8mpkWh (WLTP) CO2 xxxg/km Faults None Expenses None
#Back">Back to the top
https://www.autocar.co.uk/car-review/ren...-2023-long