10-26-2023, 10:07 AM
Report: 10,000 Jaguar Land Rover cars stuck waiting for parts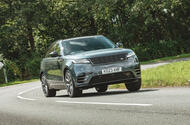 Workshops are at a "breaking point" due to a parts shortage, with firm running out of company cars
JLR workshops are at a "breaking point" due to a global parts shortage and the firm has exhausted its fleet of courtesy cars, according to a report by Car Dealer Magazine. 
According to the trade publication, around 10,000 customer cars across the UK are waiting for parts. Around 5000 are off the road at dealerships. 
The news came from UK client care director Andrew Woolliscroft, who was speaking to dealerships at the British Motor Museum during a network summit earlier this month.
It's believed the Range Rover Velar is one of the affected models, as is the Land Rover Discovery. The problems originated at the firm's newest parts facility, Mercia Park. 
"Mercia is a bottleneck and we have a backlog of orders," Woolliscroft told the summit. "We have a backlog in inbound. As of today, we have 80 lorries waiting to unload. We have a backlog in packing, as those parts are unboxed and packed into the warehouse."
In a statement sent to Autocar, JLR said: "As we deliver our commitment to become carbon-net-zero across our supply chain, products and operations by 2039, we're streamlining parts distribution from multiple locations to one global super centre.
"This transition has unfortunately caused some temporary delays to the delivery of parts to our retailers. We're working closely with our distribution partner, Unipart, to quickly resolve the issue and ensure the service returns to normal as soon as possible for our clients."
Wooliscroft labeled the situation as "unacceptable" and said that it had "nearly stopped workshops from being able to operate".
JLR anticipates that it will be another six weeks before the problems will begin to ease. 
"We've run out of cars to put clients into and we've run out of space to park the cars waiting on parts," Wooliscroft said. 
Some franchise leaders and dealerships also raised concerns at the network summit, saying the issues had been going on for months and that many customers were "unhappy" with the situation. 
Woolliscroft went on to tell the summit that JLR was "throwing everything" at resolving the problem, with the UK market said to be the "number-one priority".
It isn't clear at this stage if other international markets are similarly affected. 
https://www.autocar.co.uk/car-news/new-c...ting-parts