03-23-2022, 04:00 PM
Setting a Brands Hatch lap record on an electric scooter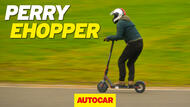 We join our colleagues at Move Electric along with a host of other vehicles to set six lap records
Have you ever wondered how long it would take to lap Brands Hatch on an e-scooter?
Well, our colleagues at Move Electric did, as well as wanting to set six other electric vehicles lap records, from a bicycle to a scooter (more details over at their website and YouTube channel).
They identified Autocar's Matt Prior as the perfect man to help them out.
With a quarter of a century of testing cars they decided he'd be the perfect bloke to take the helm of... a Perry EHopper P4 e-scooter. Please excuse the resultant swearing.
https://www.autocar.co.uk/car-video/sett...ic-scooter