05-04-2023, 05:40 AM
Shelby goes electric with Ford Mustang Mach-E GT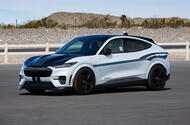 Shelby upgrade package adds a Borla sound system mimicking a V8 burble
Europe-exclusive package reduces ride height and adds exhaust-mimicking sound system
Shelby has entered the electric era with a limited-edition upgrade package for the Ford Mustang Mach-E GT, exclusive to Europe.
The package gives the Mach-E GT a more aggressive appearance, dropping its ride height by an inch (25.4mm) and adding a bonnet, a front splitter and mirror caps of carbonfibre.
It also adds a new sound system produced by Borla that mimics the noise produced by a combustion engine. It mirrors the electric motor's RPM and power and torque outputs, running them through a bespoke algorithm to produce what's claimed to be a "hyper-realistic" sound.
"Without the real-time feedback of motor and vehicle dynamics through sound waves and vibration, much of that experience is missing," said David Borla, chief marketing officer of the exhaust firm.
"It's like an audio tachometer that provides drivers with that real-time feedback, and it's also like a musical instrument that plays an exciting soundtrack that enhances the driving experience, giving the vehicle personality and a sense of soul."
Now, here is some thing that is guaranteed to get your attention! Congrats to everyone at @BorlaExhaust for winning the BEST NEW ELECTRIC VEHICLE PRODUCT for their new Active Performance Sound at the @SEMASHOW #borla #borlaexhaust #sema #semashow #ev #electriccar #exhaust pic.twitter.com/cMNgYsla5f

— Matt Field (@MattField777) November 4, 2022
<script async="" src="https://platform.twitter.com/widgets.js" charset="utf-8"></script>
A similar system is used on the Abarth 500e and the Dodge Charger Daytona SRT Concept.
The Mach-E GT's running gear is otherwise unchanged, with its dual motors producing 480bhp and 634lb ft.
Shelby has yet to detail how significantly the carbonfibre parts reduce the SUV's 2198kg kerb weight, but it's not expected to reduce by a significant margin.
The Shelby package, limited to 100 examples, costs €24,900 (£22,100).
Aaron Shelby, grandson of company founder Carroll Shelby and board member, said: "We elected to initially offer the Shelby Mustang Mach-E GT only in Europe because sales of EVs are growing much more rapidly there than in the USA. And from 2016 to 2021, the number of public EV charging stations increased by 431% across Europe. It just makes good business sense for Shelby American."
https://www.autocar.co.uk/car-news/new-c...-mach-e-gt