06-06-2023, 11:26 PM
Skoda Enyaq Coupe vRS 2023 long-term test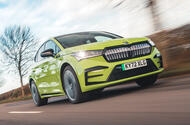 Will our latest arrival give us what we expect from a driver's car, an EV and a Skoda?
Why we're running it: To see if a vRS badge can make an electric car exciting and if the Skoda Enyaq vRS is a case-in-point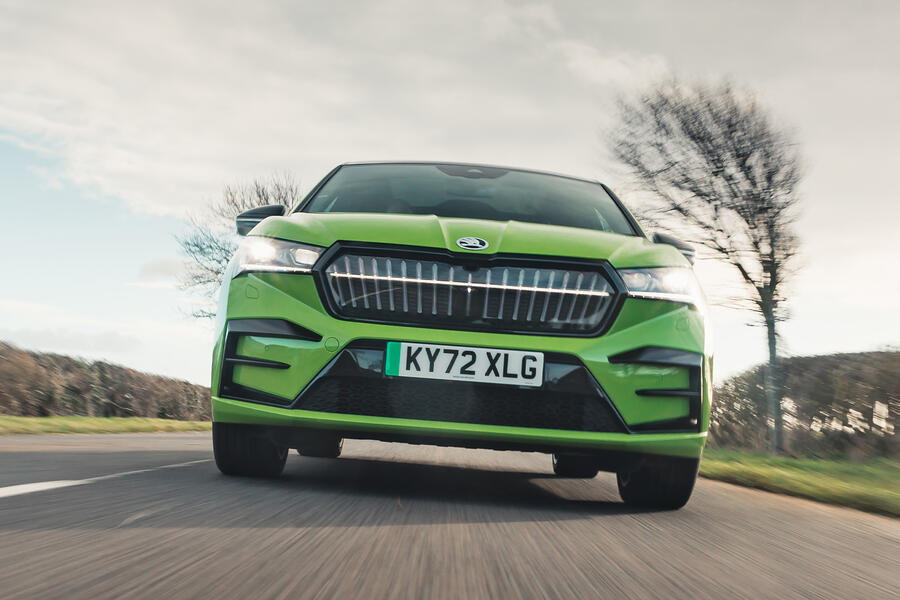 Life with a Skoda Enyaq vRS: Month 4
Coloured cables help avoid accidents - 24 May
I'm not sure if Skoda colour-matched the charging cable provided with our EV's ludicrously bright hue, but it both makes a change from a black cable and is quite useful. When using lamp-post chargers on the street, I always try to tuck the cable under my car for pedestrians' safety, but a virtually glowing cable is an extra welcome warning of the potential trip hazard 
Mileage: 9017
#Back">Back to the top
We test all-paw Skoda's dog accessories on a trip to Crufts - 17 May
Don't worry: you haven't stumbled across a well-thumbed edition of Dogs Monthly in the dentist's waiting room. This is still Autocar.
Only this week we're mostly modelling dogs, specifically my two. That's Tatty on the left and Himba on the right (a West Highland terrier and Miniature Schnauzer respectively), and part of the reason I'm parked outside a freezing-cold NEC is to visit Crufts and get the two mutts assessed by one of the esteemed judges.
There is a car link, I promise. In one of those slightly off-the-wall brand tie-ups, Skoda has embraced the world of dogs and launched a range of products that help keep your precious cargo safe in the back of the car. There's even a playlist for anxious dogs, I kid you not. Barkin' Bops – ye gods!
Wander around Crufts during the build-up to the show and you can understand why Skoda sponsors it: dogs are big business in the UK. Over the course of the event, the Crufts judges will assess 20,000 dogs, whittling that number down to 220 best of breeds and then into the final that's across seven categories. The logistics of that process alone blows the mind. How on earth do you choose one black Lab from another?
In the back of our Skoda Enyaq iV Coupé, I've gone for the harness-and-hammock combo. The former is to keep things legal: not only is it incredibly dangerous to have a hound loose in the cabin with you, it will also get you in trouble with the police. They cost £62.32 each, so not cheap but still vital.
I also used the hammock – basically a piece of non-slip canvas strung across the rear seats to keep the car clean and the dogs comfy. This is available from £117.24 but is Skoda-branded and padded, so cheaper, thinner options are out there.
Both are relatively easy to fit, even if I do manage to thread Tatty's head and leg through the same gap on the harness at one point. The hammock also took a bit of assessing, as you need to get the straps in the right spot (these help secure it, via the headrest stays), but it has a nifty Velcro 'door' so it's easier to post the dogs into the car. It also comes with slits in the base so you can poke the harness through to attach it to the seatbelt. It's a remarkably well-thought-out set-up that keeps all the muck well contained.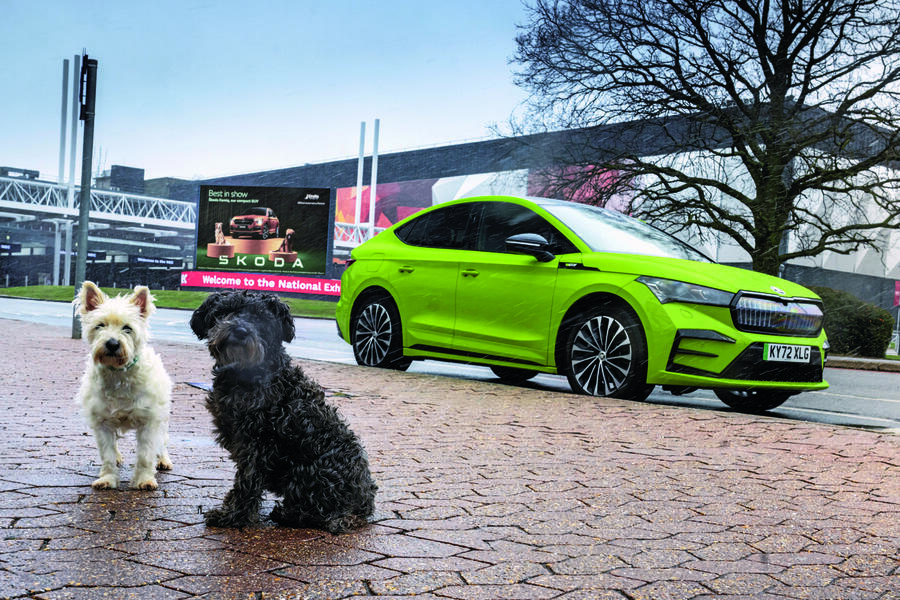 You can also buy dog guards for the rear if you would prefer to keep your pets in the boot, and a mat for back there with a handy flap that protects the rear bumper when they jump in and out. It makes the journey to the NEC effortless and the dogs settled in well.
How did they get on with the judging? Well, as you can see, it was only a mock-up (Crufts is way too busy to let my two reprobates in on a proper day), but judge Bill Lambert thought both performed well, even going so far as to say that Himba was "well balanced". That gave me visions of her front camber being set-up just so, but, apparently, it actually means she has good proportions.
If only she was as easy to clean as the Enyaq.
Love it
Longer legs
The warmer weather is working wonders for the Enyaq's range.
Fly in the ointment
There are more insects around at this time of year, and they all love the Enyaq's lurid paint.
Mileage: 8984
#Back">Back to the top
Reversing camera makes parking a simple task - 10 May
My home town of Clevedon hit local headlines recently, as angled bays were replaced by parallel parking on the seafront. This also presented me with a challenge, given the always surprising length and limited rear visibility of our Enyaq. The excellent rear-view camera helps a lot, even if the sensor is occasionally somewhat too cautious in judging distance. 
Mileage: 6984
#Back">Back to the top
Life with a Skoda Enyaq vRS: Month 3
Lost boot space? Not a problem... - 22 April
Coupé normally equals less boot. And in the case of the Enyaq iV vRS, that still holds true: the full-fat SUV shape manages an extra 15 litres. But to be honest, the boot in the 'coop' (570 litres) is so vast that it doesn't matter. We took our kit away for a week's skiing and it swallowed it all remarkably easily. We even managed to keep the parcel shelf in place. 
Mileage: 7483
#Back">Back to the top
It's high time we had smarter info to help us find an empty, working charger - 12 April
Such is the way with the UK's charging infrastructure that I've had two vastly different experiences recently, one at Hopwood Park services just south of Birmingham and the other at Rugby services on the M6. The former is old infrastructure, the latter is new.
At Hopwood, there's a vast bank of Tesla Superchargers, naturally, but only two 50kW Gridserve units: one with two CCS charge cables, the other with one CCS and one Chademo. The thing I never realised, in my ignorance, is that the current is split at some of these older charger stations, so if you have two cars plugged in, you'll only get 25kW of juice. So even once you've queued up for an hour (and I did), you're then staring down the barrel of a two-hour-plus charge to get going again.
Rugby was a ray of sunshine in comparison – loads of chargers and only a single cable per unit so you get the full whack of input. Although, weirdly, the Enyaq maxed out at 50kW, which is a long way short of its maximum of 135kW. Our sibling title What Car? has another Enyaq on test and it has absorbed electricity at a faster rate, so maybe our battery wasn't pre-conditioned.
Some of the blame for this could be laid at my door, because I hadn't properly planned my journey so I simply pulled in when I knew I'd need to top up. But the counter-argument is that I was using the Skoda navigation, so it should have known I was going to stop. After all, it pings when you hit 20% and gives you a few choices of where to head to for a top-up.
If only this information was smart. The car gives you options of possible chargers but doesn't tell you how busy they are or how many are working. So I ended up driving around a few locations, wasting more time, trying to find chargers in vast car parks and then realising they weren't working.
This criticism could be levelled at most EVs. But that doesn't make it any less valid. Work needs to be done by charging companies and car manufacturers. The data is out there. It just needs to be synched.
Love it 
The speakers work well. Good clarity and healthy bass make easy listening for any sort of music or podcasts.
Loathe it 
The wrong noises
I'm starting to hear an occasional rattle from the rear. Hopefully it won't become a permanent one 
Mileage: 6984
#Back">Back to the top
Skoda's built-in umbrellas are a charging game changer - 5 April 2023
If you've spent time with a Skoda, you will have come to love the umbrellas hidden in the front doors. They sound gimmicky but are brilliantly useful – and a stop for a quick charge in the Enyaq during a heavy downpour has given me a whole new appreciation for them. Until charging firms can agree to add canopies to every charger, all EVs should come with their own umbrellas. 
Mileage: 6793
#Back">Back to the top
Life with a Skoda Enyaq vRS: Month 2
We're not convinced our EV deserves its vRS badges. Does a top engineer agree? - 22 March
It's easy being a critic. Not for us the blood, sweat and tears of engineering a car from the ground up. We just sit back, wait for it to be launched and then either praise or condemn as we honestly judge the situation to be.
Of course, I'm being slightly flippant, but a recent conversation with automotive engineer David Pook reminded me that there's no such thing as a truly bad car any more. There are compromises and shortcuts, but fundamentally most characteristics of a car will be like they are because a team of engineers chose for them to be so.
Take our Skoda Enyaq iV vRS. I queried in its first report as to how sporty it was going to be, and after a few thousand miles of driving, I'm still not sure. Here at Autocar, we love the standard Enyaq (it's one of our favourite electric family cars), but the vRS hasn't lit my fire in the way I had hoped. It feels like a badging exercise dreamed up by marketing, rather than something with a rock-solid engineering base.
But that's the critic in me talking. As Pook pointed out when we met up to have a drive in the Enyaq iV vRS, to give the car the benefit of the doubt, it could have been engineered like this for a reason.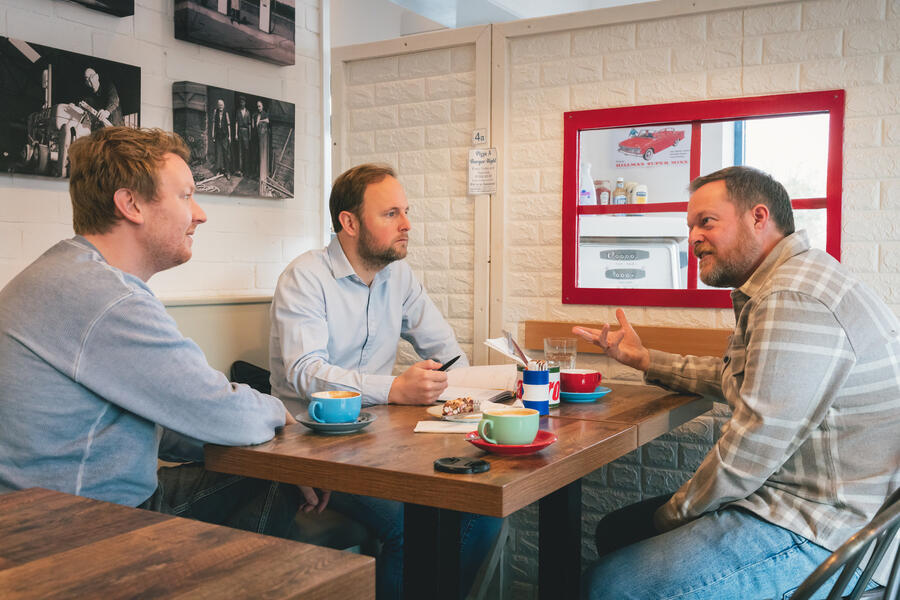 If you haven't heard of Pook before, he's an ex-Jaguar Land Rover engineer who now runs his own engineering firm called Life110, taking the brilliant Alpine A110 and tweaking it with high-quality parts. If that still doesn't ring any bells, head for Google now: it's one heck of a statement as to what's possible with cars when know-how and determination combine.
I was interested to see what he thought of the Enyaq, coming from his position of knowing how difficult it can be to build any car correctly, let alone a new EV. 
"Fundamentally, you need to look at it in three ways: brand, type of car and class of car." All of them are vital to Pook, because with the combination of Skoda, electric SUV and sporty vRS badging, you should know before you approach this Enyaq how it's going to drive.
Or at least you should if it's done correctly. As Pook points out: "It's hard to build a perception of a brand but really easy to make a mess of it."
With that in mind, we set off up the road from our meeting point at the Gilks' Garage Café, tea-infused and ready to go. Incidentally, if you have en't been there and are in the Warwick area, you really should visit: it's a great little spot.
I start as the driver and Pook is immediately aware of the ride quality. Not in a bad way, just something that he can sense.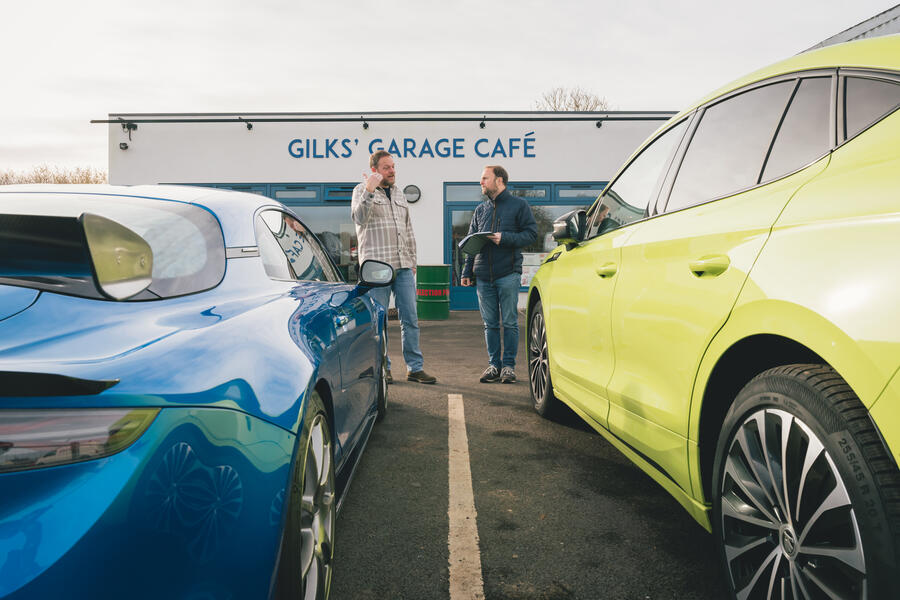 "It has a firm handshake, if you like, saying 'I'm a sporty car with sporty pretensions'," he says. "So you start to build up a mental picture of what you're going to get back from that. Does the firm ride mean responsive and precise steering? Or handling and agility?
What am I going to get as a result of that firmness in the ride?"
Pook, as you would expect, has hit the nail on the head straight away. Maybe it's the way my brain is wired, but the ride quality always hits me first in a car, followed by other elements like the steering response and handling. In other words, the ride is what sets it all up for me.
That stiffness has always sat uneasily with me, because it's not backed up elsewhere. The car doesn't respond in a holistic way. The brakes are my biggest issue, and Pook also flags them the first time he gets on the pedal, with a certain degree of surprise: "Oh, it's not slowing down. I've had to push the brake pedal quite hard to get around that corner. 
There isn't consistent feedback across the range of pedal travel, with a dead spot at the top that doesn't inspire confidence. I quite often find that I use the paddles behind the steering wheel to control the regenerative braking, which to be fair is a three-stage process and effective, but I would still like a brake pedal to feel like it should in a vRS.
What's annoying about all this is that day to day, the Enyaq is starting to grow on me. I've got used to the range and charging infrastructure and the car is starting to mould itself to my life and commute.
But still, it's not getting under my skin like a vRS should. From reading the promotional material for the Enyaq, it's clear that Skoda was going for the design heritage of the badge first, followed by the power and handling ancestry second. In that it's definitely succeeded, because the car collects compliments wherever we go. But I worry that the brand doesn't have long before vRS no longer stands for what it always has – and that would be a shame.
Love it
The colour isn't popular in the school car park and there's certainly no hiding from it, but it cheers up a dull day. 
Loathe it 
The lane-keeping assistance seems to have taken a line from the film Anchorman to heart: 60% of the time, it works every time.
Mileage: 3555 
#Back">Back to the top
A 220-mile commute in a car with a 323-mile range. Easy, right? - 8 March
To a certain extent, we try not to pigeonhole a particular type of car with a particular type of custodian on our long-term fleet. But there are some limitations – and my commute is the biggie for me, which makes the Enyaq iV vRS an intriguing electric car to run. With a theoretical claimed range of 323 miles, it should get me from Lincolnshire to London and back without having to bother a plug.
'Should' is the operative word. The car arrived during a cold snap, the readout read 220 miles with 100% charge and it's not really budged since.
Granted, my 220-mile round commute is at the extreme end of what most people do. I'm lucky, in that there are chargers at the office and, although the car park is always a bit of a bun fight, I can generally get enough juice into the Enyaq before heading home again.
My wider point here is the discrepancy between theory and reality. The Skoda is not unique, as no EV gets what is claimed, just like ICE cars seldom get the combined WLTP fuel economy figure. But a drop of 103 miles represents nearly a third…
We've also had some shockingly low-efficiency runs, dipping as far as 1.3mpkWh, translating to 100 miles of range. It was the worst possible scenario – a set of short journeys, a freezing cold day, no cabin pre-conditioning – but even so, that's a properly frightening number.
The dilemma is that, in an ideal world, batteries should be charged to 80% to maintain their performance over their lifetime. Always charging to 100% is a bit like constantly maxing the revs on a combustion engine: it's doable but not advisable. So there's a quandary between short-term range and long-term battery performance.
As far as solutions go, warming the cabin before you set off is one, to use mains electric to heat the car pre-journey, rather than chewing through the car battery's juice.
The other option is a battery heat pump, not fitted on our car. They're more efficient than traditional fan heaters but in the Enyaq, like in a lot of others, it's an add-on – a £1025 one. On a £55k car. It seems strange it isn't standard.
Range anxiety isn't what it was (except for people who live a stupidly long way from the office…) but it's still in the population's psyche. If I were a car maker, I'd do everything to reduce it.
Love it
Steady hand
The little thumb/wrist rest under the touchscreen. It's padded too.
A long stretch
My stubby arms can't quite reach the far side of the touchscreen.
Mileage: 2672
#Back">Back to the top
Life with a Skoda Enyaq vRS: Month 1
Innovative camera cleaning tech is a great feature - 22 February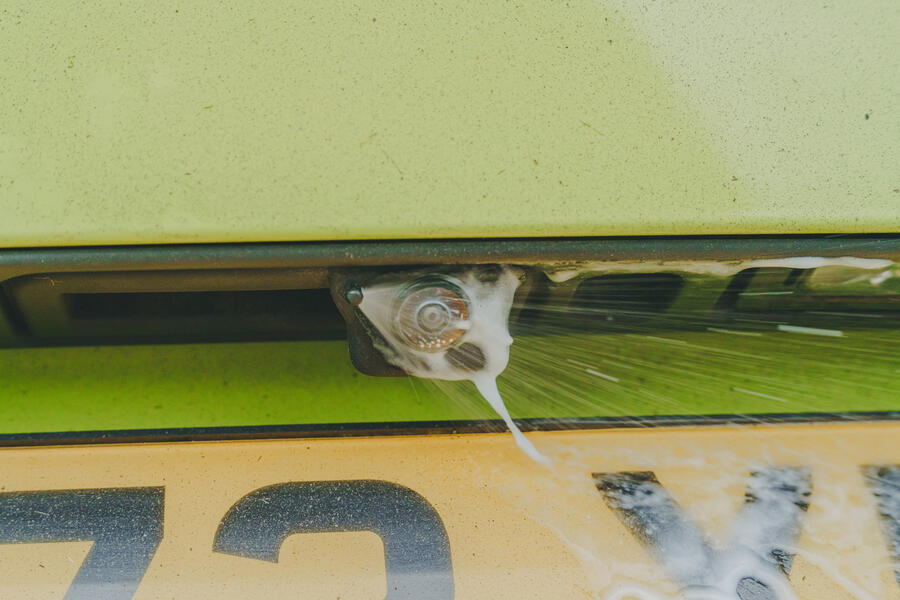 Well, isn't that simply clever? (I'm not being paid to write this, honest.) Skoda's marketing line is in action here with a jet of screenwash across the reversing camera to clean the lens. It's a truly wonderful idea that works brilliantly and means the camera remains useful even on winter's salt-encrusted roads 
Mileage: 1543
#Back">Back to the top
Winter weather obscures the Enyaq's bright green colour - 15 February
A bright green Skoda – no hiding from view when we're late on the school run. Only this season, it has been mostly wearing a more earthy colour, due to the local roads around me being caked in mud from building sites and farm traffic. Cue plenty of rear numberplate wiping to keep things legal.
Mileage: 925
#Back">Back to the top
Welcoming the Enyaq vRS to the fleet - 1 Feburary 2023
Sometimes you get a subliminal sense of where a car is aimed at by reading the press bumf that comes with the launch. It's like a politician's speech: if he or she mentions 'change' 25 times in 30 minutes, you know there's a transformation coming. Well, that's what they would like you to think, at any rate…
With the Skoda Enyaq iV vRS, it's not quite so clear-cut. Sure, there's a healthy dose of "sporty" and "athletic", but more where the design is concerned rather than the chassis or suspension. The power gets a look-in, but not with any headline claims; instead, we're treated to a short intro on it being its maker's first all-electric car and how sustainable it is.
So what actually is it? In summary, it's Skoda's first EV but with the wick turned up. At 295bhp, it's the most powerful car Skoda has yet built, offering a 0-62mph time of 6.5sec thanks to its four-wheel-drive set-up (twin permanent magnet synchronous motors) and a battery with a 77kWh usable capacity.
That battery, mounted skateboard-style as a result of the Enyaq running on the Volkswagen Group's MEB platform (pub ammo: it's the first MEB car to be built outside of Germany), is good for a claimed range of 323 miles.
We've done only a few hundred miles in the car so far but, unsurprising spoiler alert, it's not getting anywhere near that so far. It joined us in freezing conditions and stubbornly refused to move above 220 miles, even with pre-conditioning in the morning. When the temperature climbed to high single figures, it still failed to creep above 224 miles on 100% charge. My commute is 120 miles each way, so it's going to be interesting to see how I get on with that.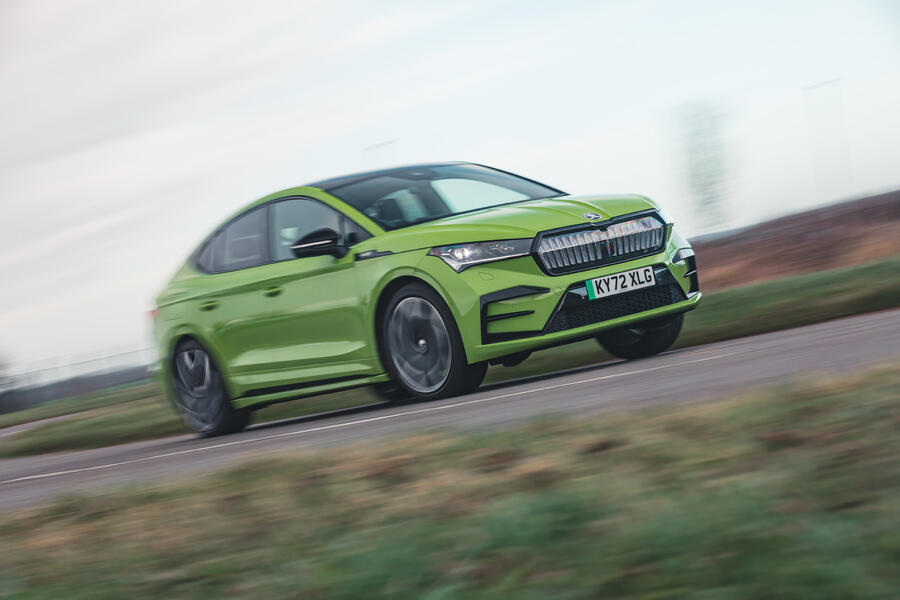 The car has a claimed maximum charging rate of 135kW, so hopefully that will help out. Time will tell. Get further into the promo material and Skoda does start to talk more about the "dynamic" Enyaq. This is encouraging. The Czechs, with the vRS brand, have built a solid reputation for offering decent driver's cars that don't sacrifice comfort and usability at the altar of sports car handling. Hopefully the Enyaq will follow in that tradition.
To the specifics of our car. It's largely free of options: only the 21in alloy wheels, with aero spats, are an extra. And even they're not especially pricey, at £690. I would say that this demonstrates Skoda hasn't lost its value edge, but in total the car costs £54,990, so not quite Dacia levels of value.
It's interesting to see people's reactions to that price. Because of the eye-searing Hyper Green paint (a no-cost option), the car certainly gets a lot of attention with plenty asking what it is. Tell them it's a Skoda and they're still intrigued. Tell them it costs £55k and there's a lot of teeth-sucking. These EV prices are going to be bitter pills for a lot of the population to swallow.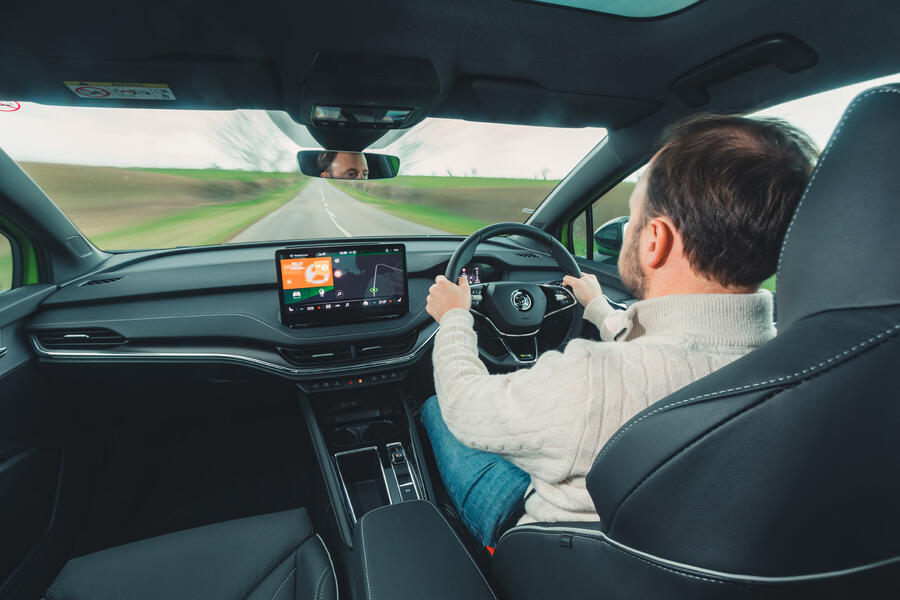 All the vRS design addenda like deeper sills and bumpers come as standard, including the jazzy Crystal Face that performs a light show à la Audi when you unlock the thing. I think it's a tidy-looking car, but let's be honest, it could perform the hula and you wouldn't see beyond the paint colour.
The interior is a bit more subdued, but I like the way some elements of the exterior are carried through, such as the green strip lighting across the dashboard and doors and elements of the door frames peeping through. It gives a sense that care has been taken.
The car does have the dominating touchscreen and tiny dash screen of other electric VW Group cars. Let's just be positive and say I'm prepared to keep an open mind at this stage…
One early bonus of life with the Enyaq – and a coupé, remember – is that the boot is plenty big enough. I've already had kids' bikes in it, dogs and luggage for a weekend away, and so far it has swallowed everything easily. It does mean having to take the parcel shelf out (I'm already missing the Honda Civic's neat solution – see p64), but at 570 litres it's only 15 litres down on the Enyaq SUV. Our vRS also houses the cable storage under the boot floor, which is a neat solution.
It's going to be an interesting few months. I'm intrigued to find out if the lack of fanfare around the handling is a deliberate trick, a way to test people's reactions to the car before going all in and declaring an electric vRS a driving hero. Certainly, the information around the Octavia vRS majors on chassis prowess much more prominently. Stay tuned to find out.
Second Opinion
I like the Enyaq iV vRS, because the Enyaq in general is a great electric SUV, and in my experience the vRS is simply a slightly faster, more dynamic Enyaq. Sometimes it can be that simple, but perhaps there are hidden depths to be discovered over a longer term.
Piers Ward
#Back">Back to the top
Skoda Enyaq Coupe vRS specification
Specs: Price New £54,370 Price as tested £54,990 Options 21in Vision anthracite metallic wheels,£620 
Test Data: Engine twin permanent magnet synchronous motors, 77kWh battery Power 295bhp Torque 339lb ft Kerb weight 2183kg Top speed 111mph 0-62mph 6.5sec Range 323 miles Economy 3.7mpkWh (WLTP) Faults None Expenses Screenwash £5.99
#Back">Back to the top
 We test all-paw Skoda's dog accessories on a trip to Crufts 
https://www.autocar.co.uk/car-review/sko...-term-test