12-18-2022, 10:24 PM
Skoda Fabia Monte Carlo 2022 long-term test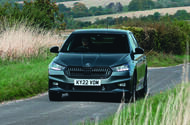 Sporty and attainable? That's the name of our new Monte Carlo model's game
Why we're running it: To discover whether the Skoda Fabia Monte Carlo proves you can still get a great all-rounder for less than £25k 

Life with a Skoda Fabia: Month 2
Glossy trim is a tad too reflective - 30 November
It was far too early for Guy Fawkes Night, so why was a series of little orange rockets shooting skyward before my eyes? After a few more nights doubting my sanity, I realised that these annoying 'rockets' were the street lights reflecting off the gloss plastic sides of the steering wheel housing. Did nobody at Skoda think to test this Fabia at night?
Mileage: 3632
#Back">Back to the top
Wiper software issue rears its head once again - 9 November
In driving rain recently, the Fabia's wipers froze up and the dial screen showed an error message. Fortunately, I was in a queue so could restart the car and therefore the wipers. I suspected this would work because I used to get the same problem (surely software-related?) in 2018 on my Seat Arona. Really not impressed that the Volkswagen Group still hasn't fixed it
Mileage: 2979
#Back">Back to the top
It's a great antidote to a luxury SUV, but seems more Milton Keynes than Monte Carlo - 2 November
Context really is the key to understanding anything. It's impossible to judge things fairly in isolation, and when taken out of context or put into unusual contexts, they can be cast in a very different light.
Such was the case when I first picked up our Skoda Fabia, having spent the previous week evaluating a Land Rover Discovery. The Discovery has exactly double the power and, quite horrifyingly, more than double the kerb weight; is 831mm longer, 246mm wider (mirrors included) and 427mm taller; and could hardly be more different in its reasons for being, or the audience it plays to.
So it was that the Fabia seemed impossibly tiny as I guided it almost unconsciously out of Autocar's tight multi-storey (which had forced me to clamber over and out the back of the Landie), through rush-hour London congestion and home.
It was an instant reminder of how much I love small cars, whether they be alluring coupés or sensible hatchbacks. First, because they're inherently more suitable and less stressful in an overpopulated country whose roads were laid out hundreds of years before the advent of motorised vehicles; and second, because they're more enjoyable to drive, thanks to their combination of lightness and low centre of gravity.
I always tell non-car people when they're confused by my excitement about a Ford Fiesta or such like: "It's way more fun to drive a slow car fast than to drive a fast car slow." However, now I no longer have a needlessly large, heavy, tall and expensive car for company, the real context of the Fabia has started to come into clearer view.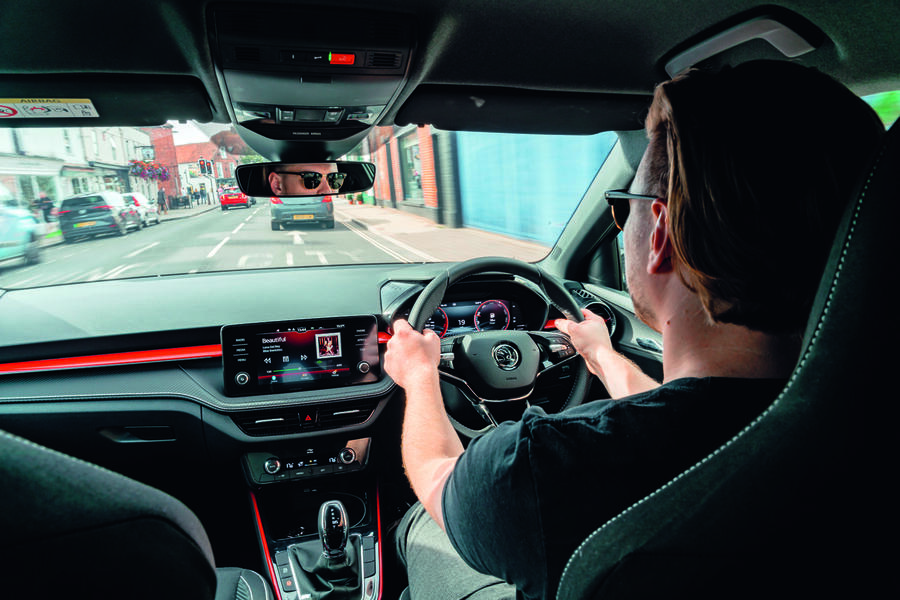 Is it fun to drive? Well, I must say that I had a great time getting it photographed on the South Downs, where it felt agile enough and pretty quick, thanks to the larger (1.5-litre) turbo petrol engine option, but I do wonder to what extent it justifies its chequered-flag Monte Carlo badging.
While it's more fun than a regular Fabia and several rivals – among them the Dacia Sandero and the Peugeot 208 – it doesn't have that 'raring to go' attitude of the Fiesta, imbued by its meaty steering, incisive chassis and super Ecoboost/manual drivetrain. And that car actually costs two grand less in sporty ST-Line form. Hmm...
Maybe a manual gearbox would help the Monte Carlo, but that's not an option anyway, and it wouldn't do anything for my confidence in the steering or handling. This might be something that builds gradually with familiarity, but for now this Fabia seems to me simply a 'faster' supermini, rather than a 'warm' one.
Actually, it brings to mind the Volkswagen Polo GTI, which served as a poor introduction to the GTI sub-brand for me, being limited to an automatic gearbox and never really indicating that it fancied making a go of a country road. Which is hardly a shocker when the new Fabia is based on the same platform.
Nevertheless, I'm very pleased to be back in a humble supermini, not just for the aforementioned reasons of suitability and pleasantness but also, very importantly to me, because it feels much more responsible than the Discovery or indeed any SUV. 
Love it
Right sizing
I love how I can breeze down tight streets and through gaps in traffic without having to think constantly about not hitting anything. 
Loathe it 
Wrong wiring
My iPhone says "accessory not supported" if I plug my USB cable into the USB-C adaptor, so I have to buy a new wire to use Apple CarPlay. 
Mileage: 2534
#Back">Back to the top
Life with a Skoda Fabia Monte Carlo: Month 1
The Fabia's ticket holder is more innovative than first thought - 19 October
I always used to see the little ticket holder that Skoda fits over its cars' windscreens as superfluous. Why wouldn't you just put tickets on the dashboard? But now I'm having to park at home under the evil eye of parking officers, who have already tried to fine me twice, the holder is proving an ideal failsafe for my occasional forgetfulness.
Mileage: 1881
#Back">Back to the top
Welcoming the Fabia to the fleet - 12 October 2022
Just like the Formula 1 race around the tight streets of Monte Carlo with which it shares a name, the sporty version of the Skoda Fabia has been handed a multi-year extension. Even as an F1 fan, I am much happier about the little Czech hatchback's news.
Whereas that grand prix is a tedious procession offering very little excitement, its Skoda namesake offers the enticing pairing of compact dimensions and over-endowment in the powertrain department; and in contrast to the grotesque display of wealth seen trackside, here's a car for everyday people, costing from £21,125, or £209 per month on a PCP. 
You might consider that costly, but if so you need to get with the times – because that's precisely half the UK average for a new car. The Fabia in its most basic form is actually £17,990, which may be more palatable, but our car is the most expensive it can get, at £23,925, or £232 per month on a PCP.
Why? Because we've chucked out the 1.0-litre three-cylinder turbo petrol engine that you get in any old Fabia for the 1.5-litre turbo four from the Volkswagen Golf, taking power up from 108bhp to 148bhp. The only downside is that in so doing you're forced to lose a manual gearbox for a seven-speed DSG. Does that diminish the fun of a warmed-up supermini? I would say so, but here's hoping the Fabia proves me wrong.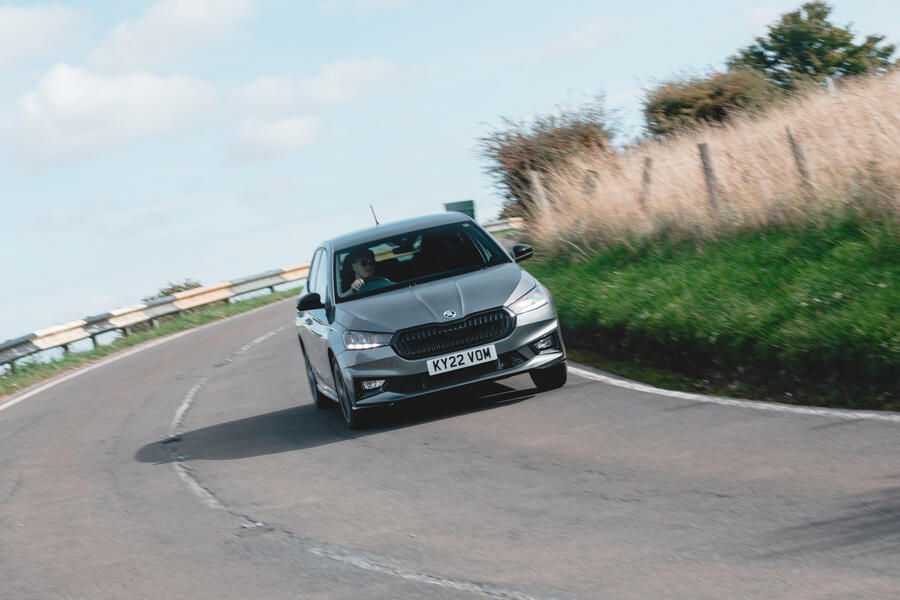 What else does Monte Carlo trim bring to the Fabia? More than I was expecting, actually – certainly on the outside. The grille surround is black rather than chrome, sporty black skirts are added to the bumpers and sides (giving the impression of a diffuser at the rear) and the wheels grow from 15in or 16in to 17in or 18in. Our car has kept the smaller Procyon diamond-cut alloys, which should bode better for the ride comfort.
In fact, our Fabia – which I've nicknamed the Vom, not because it looks vomit-inducing but because of its unfortunate registration – is fitted with no options at all. Even the rather fetching Graphite Grey metallic paint (it sparkles in the sun) is a free option.
The interior is therefore just like in the brochure. Bucket-type sports seats in black fabric with nifty grey-and-red racing stripes running their length are complemented by a full-width red plastic trim piece, red grab handles on the front doors and faux carbon fibre on the dashboard and doors (although it has stitching on it, so I guess Skoda has no experience with the real stuff). 
The Virtual Cockpit is also standard, this a digital display where you would usually find dials, along with a 10.25in touchscreen, which fills the frame atop the dash much more aesthetically pleasingly than the lesser 9.2in and 6.5in items.
Would I add any options if I were buying this car? Definitely. Just £55 to make the Apple CarPlay and Android Auto wireless is a no-brainer, and then there's the Winter Pack, at £600. A lot, yes, but as the gloom of autumn descends, I would really appreciate heated front seats, heated washer nozzles and a heated windscreen (although at least Skoda gives everyone an ice scraper, neatly packaged inside the fuel filler).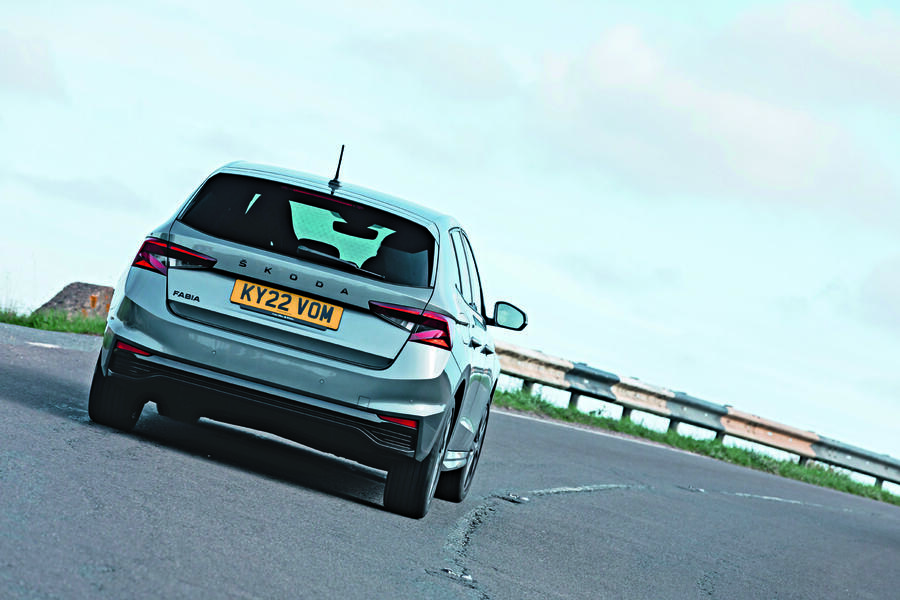 Instead, I must keep warm via the dual-zone climate control – which has already caused frustration. It's immensely annoying, not to mention a safety risk, when manufacturers put climate controls on a screen, but Skoda has been especially egregious here.
There is a dedicated panel of dials and buttons, yet to change the direction of the air or the speed of the blower, you must press the button marked menu, wait a second for the software to react and then fiddle about with tiny icons on the screen. I guess I will just continue screaming into an unresponsive void.
Going back to the Winter Pack, it also adds cruise control. Quite how this can be seasonal is beyond me – as is why it isn't standard. Instead, I must set the speed limiter to 70mph and hold down the accelerator pedal – no tragedy but needless extra effort.
Let's return to the positives, though, because I already have a lot of time for the Vom. I ran a Fabia back in 2018, and the differences – all of them, in fact, advances – between generations three and four are plain to see.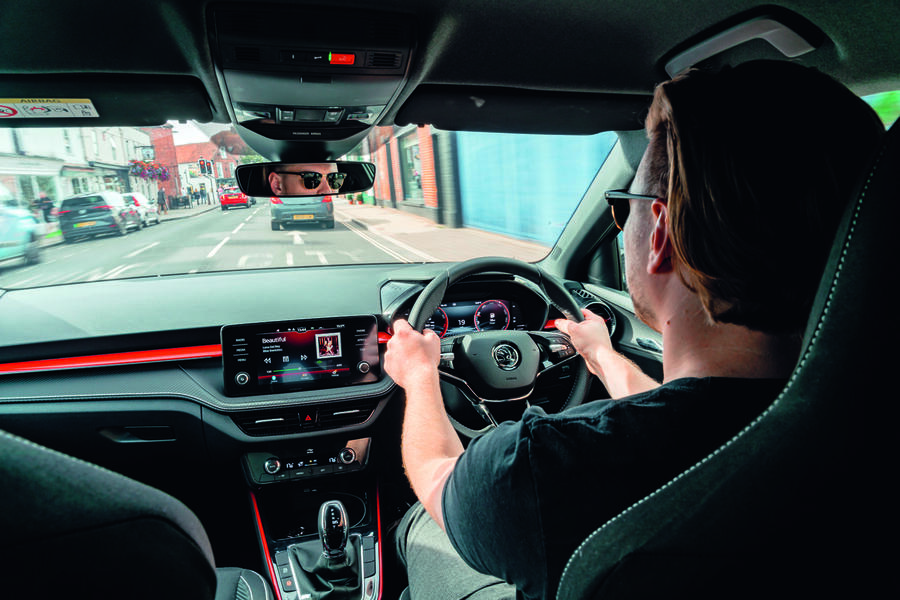 For starters, the belated move onto the platform used by the incumbent Seat Ibiza and Volkswagen Polo has made the Fabia bigger and therefore significantly more spacious. In fact, it feels very similar indeed to the Scala, which is meant to be the next step up in the Skoda range, and which I have also previously run.
Then there's the interior, which feels a bit nicer (if still scratchy in places) and looks more modern. And, most importantly for the likes of us, it feels keener to corner than I ever remember, already imbuing me with notably more trust.
It's also economical, officially recording 49.7mpg, which is very welcome indeed in these times of having to wear two jumpers at home. I wonder whether it might even prove more frugal than my previous long-termer, a Honda HR-V, which while bigger and a bluff crossover had a hybrid powertrain.
Incidentally, MPG is boosted on all Fabias by an active-aero flap. Perhaps it's not quite so far removed from the future of F1 as I had first thought. 
Second Opinion
Next to my dad's £350, 15-year-old Fabia, this feels like a Rolls-Royce, but I do wonder if the blanked buttons and scratchy plastics call into question the range-topper's price. It also uses the Volkswagen Group's previous-generation infotainment – but I think Kris will be glad of that, given how hard the new tech is to live with.
Felix Page
#Back">Back to the top
Skoda Fabia 1.5 TSI Monte Carlo DSG specification
Specs: Price New £23,925 Price as tested £23,925 Options
Test Data: Engine 1.5-litre petrol Power 148bhp Torque 184lb ft Kerb weight 1151kg Top speed 137mph 0-62mph 8.0sec Fuel economy 51.1mpg CO2 125g/km Faults None Expenses None
#Back">Back to the top
https://www.autocar.co.uk/car-review/sko...-term-test