05-15-2022, 03:52 PM
Skoda Kodiaq 4x4 2022 long-term review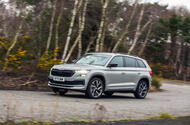 After more than 600,000 sales, this seven-seat SUV has been treated to an update
Why we're running it: To keep tabs on the career of Skoda's popular seven-seat SUV offering
When I entered automotive journalism six years ago, the Volkswagen Group was in the ascendancy.
It had the budget and mainstream markets wrapped up with its Seat, Skoda and Volkswagen brands, while Audi and Porsche were going from strength to strength at the high end.
This seemed an impossible position to fall from. It had, as far as we were concerned, almost perfected the creation of everyday cars.
And then there was a sudden fall from grace into a mire of problems that it's yet to escape, as it struggled in making technology the central point of cars, rather than driving or practicality. Seat Leon, Skoda Fabia, Skoda Octavia, Volkswagen Golf, Volkswagen Polo, Audi A3… All stayed the same to drive while becoming harder to use.
rive while becoming harder to use. However, one Volkswagen Group car that arrived at about the same time as me has avoided that fate so far, its recent update a facelift rather than a full renewal: the Skoda Kodiaq. Not only does that mean it still has fine ergonomics and strong driving attributes but also that it has yet to receive any electrification.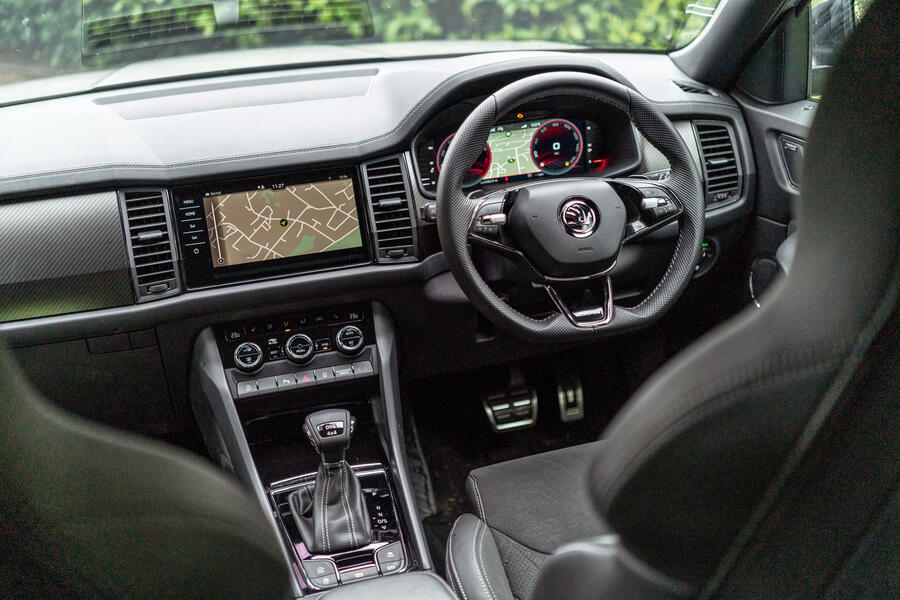 Our road testers said on first impression that "some facelifts are a tacit admission that there was something wrong with the original car; the Kodiaq is quite the opposite", and I wholeheartedly agree.
Only a dedicated enthusiast could pick out a facelifted Kodiaq by the more upright front grille, new LED headlights and reshaped front and rear bumpers; other than that, there's very little to give the game away.
Inside, it's even subtler; not even the infotainment touchscreen has grown any larger (dramatic gasp!), although its software is updated.
We've gone for third-of-four Sportline trim, which brings (as well as flat-grey paint that will fool some into thinking you've shelled out for the hot Skoda Kodiaq vRS) adaptive matrix headlights; an extended roof spoiler; gloss-black exterior trim pieces; a rear-view camera; sports seats; and faux-Alcantara 'microsuede' upholstery with grey stitching. This all makes an affordable seven-seat family SUV feel just a tad racy.
The Virtual Cockpit digital screen is a worthy option at £405, allowing you to configure the dials in various ways (the sat-nav map between them is especially good) and surely helping it come resale time. Although having said that, putting a lap-timer in the display is surely pushing the sporty impression to the point of parody…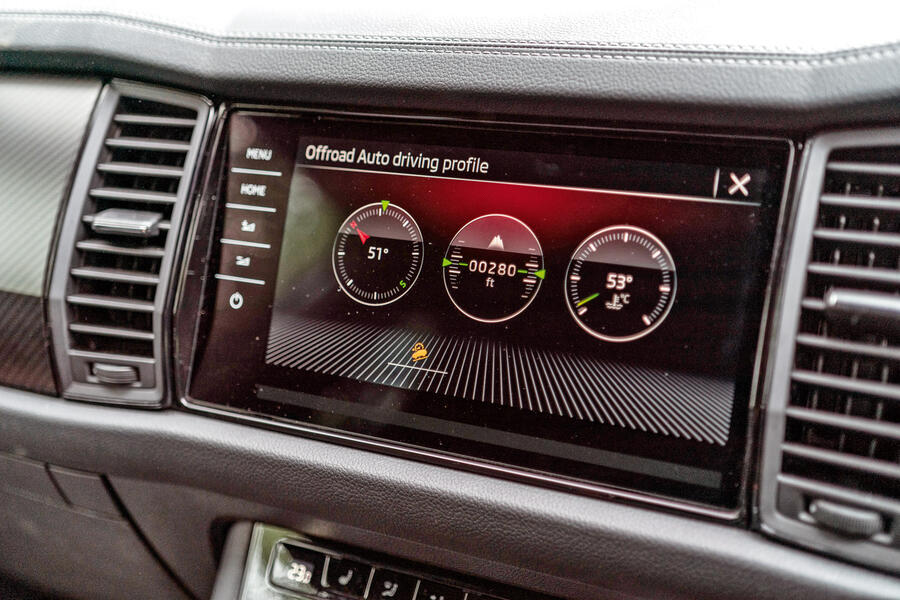 The powertrain certainly isn't a parody, thankfully. We've chosen the more powerful petrol Sportline, with a 187bhp 2.0-litre four-cylinder turbo petrol engine rather than a 148bhp 1.5-litre four-cylinder turbo petrol. There's also a 2.0-litre four-cylinder diesel making 148bhp or 197bhp if you're so inclined. The more powerful versions of both the petrol and diesel engines also add a driveshaft to the rear to enhance the sure-footedness.
My first impressions are very positive: this feels just like those previous-generation Volkswagen Group cars that I so enjoyed, and that's even despite the fact that it's a fully fledged SUV. For although it's undoubtedly a big car, it's certainly not as big, either literally or visually, as rivals like the Kia Sorento.
It has more than enough power to minimise stress on the motorway, while it doesn't float or roll around like you might expect, riding quite firmly in order that it can serve up some semblance of sporty handling (furthered by steering that gains weight progressively as you turn). It is indeed only a semblance, but I see that as for the better, because it means the car still feels laid-back rather than always raring to go like proper sports SUVs, for instance our Ford Puma ST. (You could also add Dynamic Chassis Control for £1105 if you wanted to.)
It also feels eminently practical, right to the brief, with loads of space for passengers and luggage, convenient little features, a big boot with a third row that's easy to erect and then fold away again and all the gear you could reasonably expect.
As such, in addition to the Virtual Cockpit, the only options fitted to our car are a USB-C port by the rear-view mirror (for further facilitation of our surveillance state), the Virtual Pedal (so you can make the boot open by swiping your foot beneath the rear bumper) and a Canton stereo, which has passed the 'does it trying to do justice to drum-and-bass make me cringe?' test but disappointingly for some reason isn't possible to order in the UK at present.
I was delighted to avoid all the 'active safety' nonsense, although I would have added rear side airbags and Crew Protection Assist (£545) .
Now, I must admit that my first week with the Kodiaq was far from smooth. At least the car itself could be absolved of almost all the blame. For now I will just say the one bright side was the effectiveness of the standard tyre-pressure monitoring system… More detail next week.
That debacle now thankfully consigned to memory, I've gone back to thoroughly enjoying the sizeable Skoda, visiting friends both far-flung and local to test its touring and practical capabilities.
It has come as no surprise whatsoever that I've already had borrowing requests from colleagues.
Factfile: Skoda Kodiaq 2.0 TSI 190 4x4 Sportline DSG
Price new £41,035 Price as tested £41,710 Options Virtual Cockpit £405, Virtual Pedal £215, USB-C port by mirror £55, Canton sound system £na, Faults None Expenses None Economy 34.5mpg (WLTP)
https://www.autocar.co.uk/car-review/sko...erm-review