05-19-2022, 08:23 PM
Smit Oletha review: the BMW Z4 that thinks it's a Z8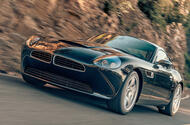 We drive the Smit Vehicle Engineering Oletha, a BMW Z4-based restomod with a stonking V8 engine and a body to die for.
Restomods don't get much more glamorous than the Smit Vehicle Engineering Oletha. Developed by two engineer brothers, Kaess and Willem Smit, the Oletha is a BMW Z4 underneath, with an impossibly beautiful carbon fibre body that looks like the Z8 coupe that BMW never made.
Under the bonnet is something just as special - a 4.4-litre BMW V8, very similar to the M3 GTS, making 448bhp at some 8200rpm.
This car is a prototype but Smit would like to build a few dozen Olethas, priced around £365,000.
Join our editor-at-large Matt Prior as he tests the Oletha prototype. Take in the sights but, as importantly, the sounds, too.
https://www.autocar.co.uk/car-video/smit...nks-its-z8