10-20-2021, 12:11 PM
So far, so good: 500 miles in a Bentley Bentayga Hybrid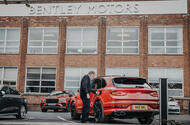 Bentley is a couple of years into its electric journey – but another awaits our man: crossing England in a Bentayga Hybrid without refuelling. Is it achievable?
Chew on this problem for a moment. How do you go about highlighting the special virtues of a vehicle that brings a new level of fuel efficiency and climate-friendliness to the super-luxury SUV class (a sector not known for such priorities) when its creators' main aim is to make it drive exactly like its conventional brethren?
This is the difficulty we faced with Bentley's first plug-in model, the Bentayga Hybrid. Despite being packed from stem to stern with new equipment – a relatively small (3.0-litre) V6 petrol engine, a 126bhp electric motor sandwiched between engine and gearbox, a lithium ion battery under the boot floor with 13.3kWh of usable power and 25 miles of EV range, plus lots of mysterious black-box gadgetry connected under the skin by thick, brightly coloured high-voltage cables – this electrified edition of the world's most successful super-luxury SUV had been configured to feel just like all the rest.
The official fuel economy and CO2 figures were no help, either, serving only to advertise the inadequacy of lab figures. A conventional Bentayga V8 returns 21.7mpg on the combined test cycle and pumps out 294g/km of CO2. Corresponding figures for the Hybrid are 81mpg and 79g/km, stats so hopelessly unlike real life that Bentley doesn't even bother to quote them in its otherwise comprehensive technical presentation on the Hybrid. I mean, nobody's really going to get 81mpg out of a Bentley hybrid, are they?
The one and only worthwhile comparator is that the electrified Bentayga concedes 0.8sec on 0-62mph acceleration to its V8 sibling, hardly a disaster when the PHEV's test-track journey takes only 5.2sec. But what about the other stuff? If not 81mpg, what fuel mileage can Bentley hybrid owners expect in real life? How far will their fuel tank truly take them? Critically, will the hybrid deliver the same magic carpet progress as conventional models after you've spent hours behind the wheel? There was only one way to find out: take the Bentayga PHEV to the road on a very long day's drive, including (safe levels of) journey fatigue in the equation to punctuate the mere statistics.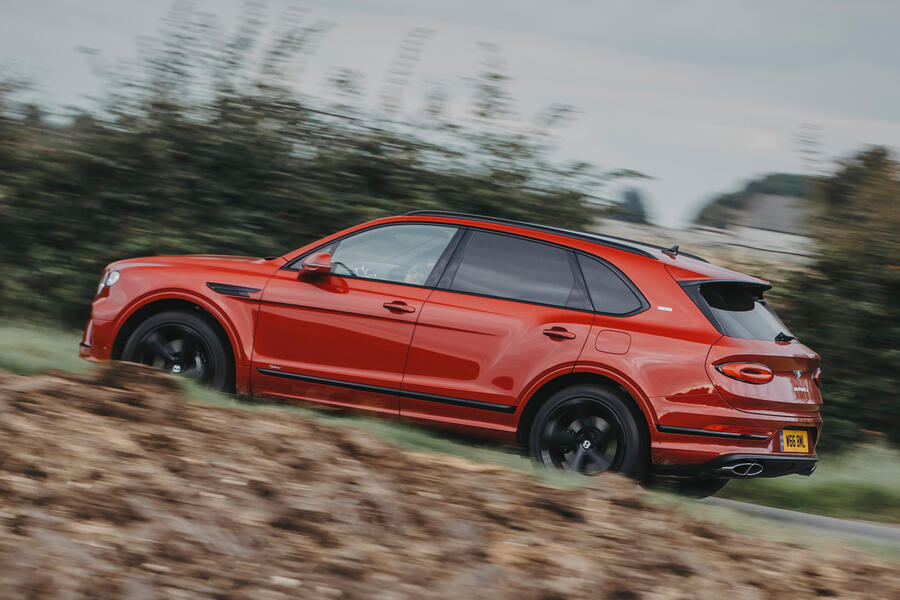 Where to go? A logical first step was to drive the 129 miles from my Cotswolds base to Bentley's HQ in Crewe to take a technical refresher course. That way I'd be able to ask questions that had arisen in the first three hours of driving. Over the phone, Bentley's technical comms chief, Jon Smedley, signified that he was ready and willing, and would bring a clever colleague. Crewe would also be a good place to link up with our photographer, Max Edleston, who has family connections in the area.
As we searched for a second destination, the idea of a trip to the welcoming but thoroughly extraordinary emporium of P&A Wood, near Dunmow in Essex, popped obligingly into my head. Started in 1967 by brothers Paul and Andy Wood on the proceeds of an Austin Seven they had been given, this company is the embodiment of its founders' love of Bentley and Rolls-Royce cars, especially the old ones. They'll sell you a new Rolls too, but the soul of the business will always be 'heritage' models.
From previous visits, I knew that the automotive scenery at P&A is always changing, and was confident we would be able to make a strong link between our second-generation 2021 Bentayga Hybrid and some great cars on the premises that belonged much further back along the Bentley timeline.
It also happens that P&A is exactly 190 miles from Crewe if you take main roads across the beltline of England. Adding my 129 miles from the Cotswolds to a return trip from Crewe to Essex made just over 500 miles, a journey my intuition reckoned the big Bentley could handle with one electric charge en route and a full tank of fuel. That was at least 100 miles beyond the capability of even the most frugally driven standard V8 and would point to one PHEV advantage. I rang P&A managing director Georgina Wood, daughter of Andy. Though in the middle of preparing for the Goodwood Revival, she was as welcoming as P&A people always are. It's the culture they've created over 54 years. Come and have a cup of tea, said Georgina, and see our cars.
I love dawn driving so left home at 5.30am, which meant that even after a longish stop for coffee on the M6 (even motorway services are welcoming at that time of the morning), I arrived at Bentley's CW1 House – the showroom outside the factory gates on the western end of Pyms Lane – about 20 minutes before the appointed 9am. Even so, Smedley was waiting, ready to brief me on the subtleties of the hybrid system.
We were soon joined by Jo Duraj, Bentley's first specialist high-voltage apprentice to become a fully fledged engineer. Her career had followed our car's gestation. Duraj was proud but very modest, but I soon got the message that completing this four-year course is no small achievement, requiring deep knowledge and confidence if you're going to have a career handling machines that pack 313 volts like this Bentayga PHEV, and maybe more.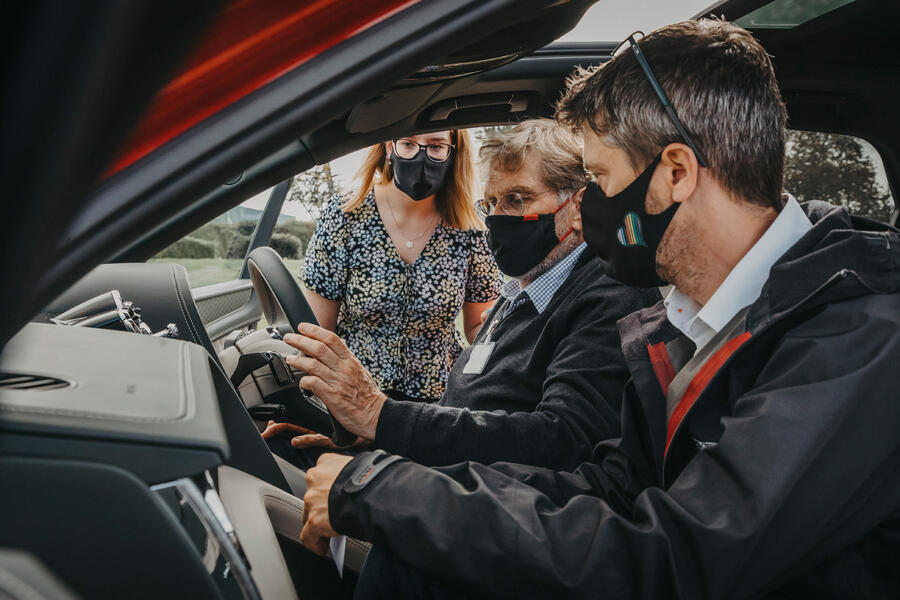 Over coffee, we delved into the efficiency potential of the hybrid powertrain (expect a cool 50% fuel economy improvement over a V8). Then we got into the minutiae of the Bentayga's screen-based gadgetry, such as the way the smart navigation system deploys battery power as economically as possible across a plotted route, instead of just gobbling it at the start. Also, that a Bentayga hybrid concedes just five litres (of 479 litres) of boot space despite all the extra paraphernalia behind its elegant trim.
The bit I liked best was how the nav system helps you feel the road, tapping the sole of your accelerator foot if it suspects you're about to bust a speed limit or get your braking wrong. Having been a mite irritated on the way up to Crewe, I soon got to like this gizmo, once I understood it was trying to look after me (and that you could turn it off). We investigated all the powertrain modes (Hybrid makes the best compromise) and the more familiar driving modes (just leave it in 'Bentley'). In an hour, I was confident about the car. Also, that with people like these on the case, Bentley is well prepared to meet its twin targets – a first EV model by 2026 and all of its cars to be electric by 2030.
By 10.30am, Edleston and I were on the road, gliding out of the Bentley forecourt on a trip many might reckon more notable for length than beauty or challenge. But in a luxurious car, with good company, sun and the puffy clouds of England in September, there was very little not to like. I must confess I'd started out thinking this mission to criss-cross the country to see how far one full battery and a tank of fuel would take us might turn into a bit of a chore, but it wasn't. Not at all.
Maybe it was the day, or the weather, or the fact that the school holidays had just ended, but we cruised across England with consummate ease. Of course, the effortlessness of the Bentayga was a dominant factor. There was no difficulty getting to the dependably deserted M6 toll road (a better £6.90 than many I've spent) and that flowed easily onto the A14 that took us to within a shout of Cambridge. Then we rolled down the M11 a few miles before forking left to P&A Wood, between Thaxted and Dunmow.
Out of the gates on the M6 toll road, we decided we could dedicate enough fuel to one decent acceleration run – just to investigate thrust and engine note – discovering along the way that the big car pulls very strongly, gearchanges occur at a mathematically perfect 6200rpm, and the powertrain is always quiet, smooth and potent when given its head. The throttle response is obedient rather than breakneck-quick, but your impression is always that there's plenty of performance, with abundant electric torque to fill in any petrol-engine gaps. Almost the best fun of all is gliding silently about in town at 20-30mph, deploying the saved energy that continues to be available at low speed even when instruments say the battery is empty.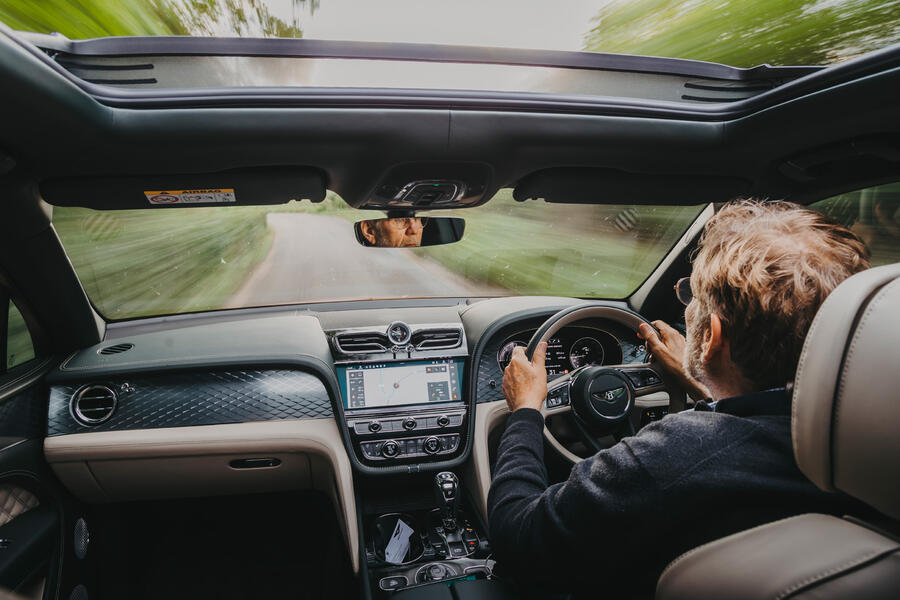 We had asked to meet Georgina Wood at 2.30pm, and arrived with 10 minutes' grace, now with the odometer showing 319 miles and a fuel calculation of just under 34mpg, the EV part of the range long exhausted (it shows 300mpg at first). The cup of tea was instantly offered – and drunk.
Wood was relaxed and friendly. You'd never have known that the following day she and her team would be sending 14 concours-level cars to the Revival – five to be used for VIPs, seven to be offered for sale on a stand next to Bonhams' auction site. "I love seeing our cars drive around the event," she said. "We've been doing it since 2012. This year, we'll have a team of 10 people, which takes a lot to plan - the travel, the hotel, the meals. But we're pretty good at it. It comes from my dad. He believes the more organised you are, the better things go..."
There's a selection of workshops at P&A Wood these days. And a choice of showrooms, too, but Wood guided our new Bentayga across the roads so it could be parked with a line of 1950s Bentley R-Type Continentals, one awaiting collection, one in bare metal having just been painstakingly rebuilt, one being assessed for corrective work because "someone else" had restored it. The R-Type coupé is a phenomenon even among heritage Bentleys for its beauty and rarity. We had a bit of a moment, imagining how amazing it must have looked among all the Standard 10s and Hillman Minxes of its era.
Mind you, the Continental turns out to be a bit of a bargain at present, if you're in the bracket. Wood calls current values "realistic": you might well find a decent one between £600,000 and £700,000, which makes it good buying. Not so long ago, they were being snapped up at a million. I liked the concept (and would certainly buy mine from P&A, where they practically know every Conti by name) but had to keep my hands in my pockets.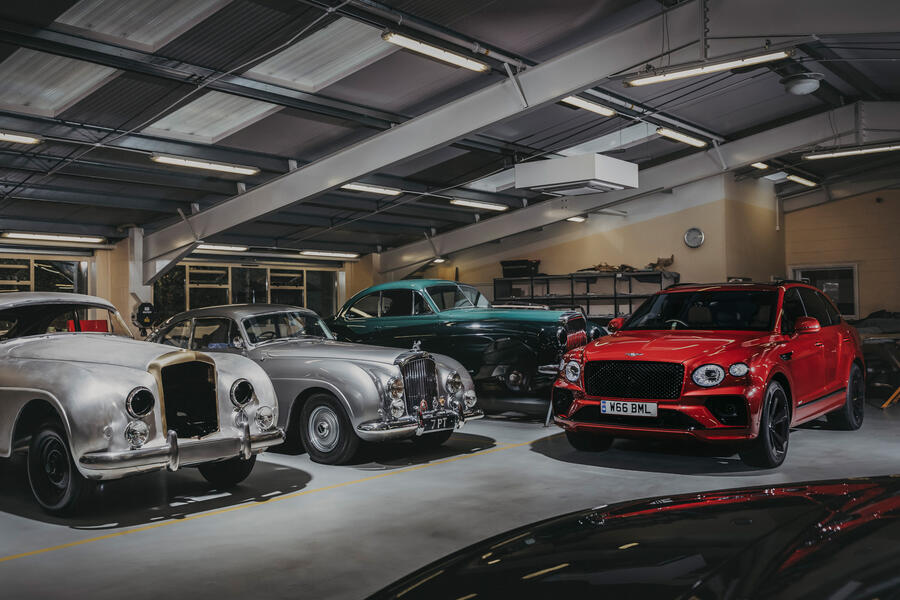 It's never much fun to leave this place (one compensation was I knew I'd be seeing some of these people and cars a couple of days later at the Revival), but we were back on the road to Crewe by around 4pm.
In a Volkswagen, Toyota or Renault, this leg might have been a bit of a bind. In the Bentayga, I can simply label it a continuing joy. Against all logic, as the 'miles to go' counted down to 150, then 100, and then into dozens, I started to regret that this journey would soon be over. The distance-gathering capability of the car seemed as special as ever; from the PHEV powertrain there was nothing but a kind of creamy, high-geared murmur. It occurred to me that to truly appreciate owning one of these, you'd need to do your share of trips in lesser cars, just to get the sophistication of this performance.
With 490 miles accumulated on the trip meter, 21 miles yet to run, 47 miles of range still offered on the trip computer and 7.45pm approaching, we filled the Bentayga at a convenient station. It had to be like that: Edleston had an early job the following day in another part of the country.
My plan, after the 5.30am start, two destinations, three hours of talk and 511 miles already covered at an average of 31.6mpg (just 0.1mpg below what the super-accurate trip computer calculated), was to find a Premier Inn and get some sleep. But I still felt fresh, there was football on the radio and the Bentayga was continuing to send out its undimmed waves of driver appeal. So I pointed it south, enjoyed the 129 miles home and had my head on the pillow by 11.15pm. It was a long day, for sure, but one of the best. 
https://www.autocar.co.uk/car-news/featu...yga-hybrid