05-30-2021, 05:53 AM
Spy shots: What James Bond's future cars could look like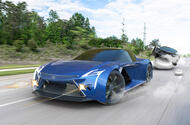 We challenged up-and-coming automotive designers to create a Bond car for 2030. Did they pay attention?
Most film-goers will tell you that James Bond drives an Aston Martin, and he usually does. Over the years, the various owners of the quintessentially British GT marque have been prepared to invest enough in product placement to ensure that the situation has been maintained.
However, the harsh truth is that 007's first car was a 1931 Blower Bentley (vividly described during a high-speed chase in the 1951 novel Casino Royale), and if you take the trouble to search all the books and films, you will find that Bond has driven no fewer than two dozen different vehicles, from Lotuses, Fords and BMWs to a yellow Citroën 2CV and, back in the day, a 1960s Sunbeam Alpine.
All of which makes it legitimate to search widely for inspiration about what the secret agent will be driving in a decade's time – when electrification, autonomy and even an ability to fly will be important in the new age of car manufacture, along with an ongoing desire to utilise new materials and technology and to control pollution. Just one familiar theme must always remain: Bond's car must continue to be extremely quick, hugely versatile and very, very cool.
Understandably, there's no emerging answer as yet to the burning 2030 question from Eon Productions, which makes the Bond films, so we thought we would tackle the question on their behalf. Such exercises need minds unfettered by the conventions of the past, so we invited a group of postgraduate students from Coventry University's renowned automotive and transport design course to take part in an Autocar competition, the best results of which we've published here.
As course director Aysar Ghassan explains, over the years, Coventry has been vital to the careers of dozens of the automotive world's best car designers – which makes it likely that some of the proposals you see here will be the work of people who design our production cars of tomorrow. We hope so.
Getting started on the next Bond car wasn't easy. Many of Coventry's 40 postgrad transport design students are from outside the UK, and while the creative process was running, many were locked down at home. We elected to run a competition for all 40, beginning with several remote meetings and leading to a final judging at which we chose a winner, two runners-up and three whose work won commendations. Here's how it went.
Commended: Lexus SF (Superfast)
Designer - Francis John: Francis John proposes a plot into which his new-era Lexus supercar fits perfectly. Bond is in Japan chasing down Hideaki Heger, an international criminal intent on infiltrating MI6 with a strain of humanoid robots.
Using "futurised" Lexus design cues, this special Superfast coupé is specially built and provided for Bond by a regional ally, Shiro Nagawe. It's powered by a permanent-magnet electric motor whose 1200bhp is matched by 1200lb ft of torque. The car's performance is immense – possibly a mite too great for Kyoto, the ancient Japanese city in which the designer suggests much of the action should take place.
Spectacular though it all may sound, John's best on-paper achievement is to power the car with an ultra-rapid-charging, 1360kWh solid-state battery that he reckons can yield a 600-mile range.
Naturally, the armaments and defences smack of the future: a sentinel-protected, sealed and isolated cabin shields occupants against everything from old-fashioned bullets to biochemical exposure.
The Lexus's primary assault weapon is a pair of laser-guided cannons, but the car can also drop novel pneumatic air canisters the size of cricket balls from a rear compartment. They instantly expand to many times their original size either to create roadblocks for pursuers or to explode under chasing cars and throw them off the road.
Commended: Aston Martin Concept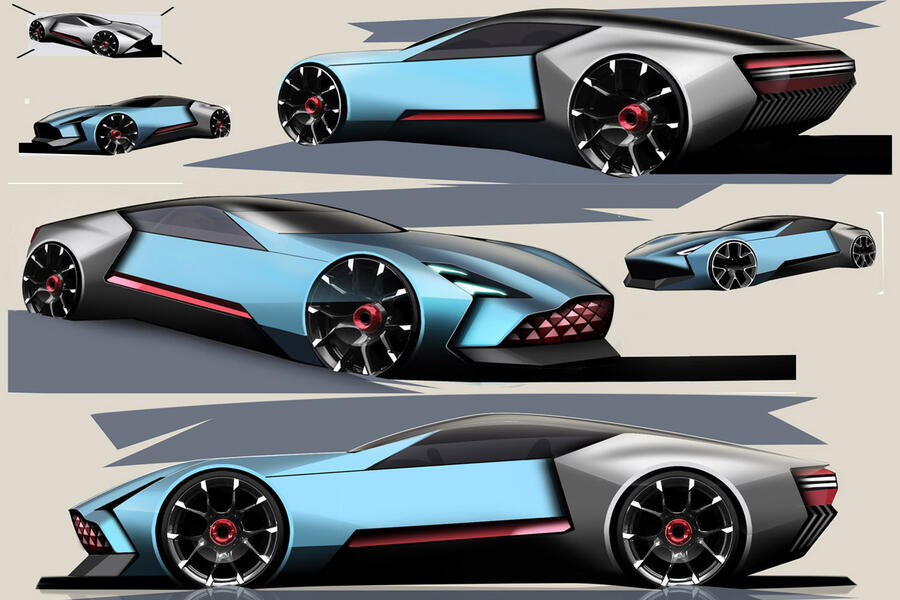 Designer - Tonglian Xia: Here's a designer deliberately making life hard for himself by bidding to out-design Aston Martin – by far the most frequent provider of Bond cars. But he succeeds admirably.
Tonglian Xia presents several alternatives here, the most arresting of which is a blue-sided design with a superb-looking flat-plane surface below the windows that effortlessly assumes a curvature as it runs forward to the front wheel arch. It's quite different from current Astons, yet the provenance is unmistakable. There's also a massive, muscular haunch over the rear wheel – an obvious Aston reference but a copy of nothing.
"The side surfacing of the body is deliberately flat ahead of the door shutline," explains Xia. "To me, it's inspired by the suits James Bond wears. He's an English gentleman, so the car needs to be very clean and elegant, too."
One spectacular feature is the confident, egg-crate design of Aston's grille, whose design takes inspiration from origami, the Japanese art of paper-folding. Again, the Aston reference is fresh but unmistakable.
What about armaments? It has plenty, but its details are secret, and the designer has decided not to reveal exactly how Bond will defend himself in 2030. "He's a gentleman," says Xia. "He's not the type to show off his weaponry."
Commended: Maserati Bond Concept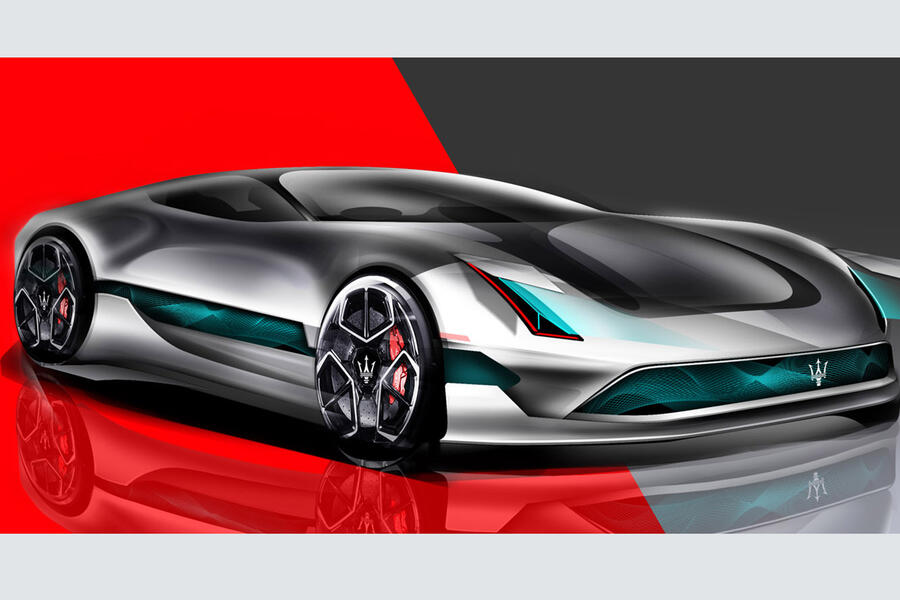 Designer - Tianyu Zhang: Now we move to Italy, because designer Tianyu Zhang believes that its capital, Rome, provides some of the world's most spectacular opportunities for a plot comprising both romantic locations and all-out action.
Zhang likes the juxtaposition of Bond's ultra-modern supercar escaping his enemies with the Colosseum in the background. He bases his design on the atmosphere created in the Fast and Furious productions, with a helping of Transformers thrown in, because this car has active body components that can configure it radically for extreme stability at high speed.
Maserati is the marque that Zhang has chosen for Bond (the first time Britain's greatest secret agent has taken the wheel of such a car), because the designer believes it has the right components of style and cool. The body is ultra low, for spectacularly good stability and aerodynamics, and also to present a small target to pursuers.
The Bond Concept's main form of motive power is battery-electric motors on all wheels, but also there's a bank of nitrogen-powered rocket boosters in reserve at the rear for when 007 strikes trouble and needs a really rapid getaway
Runner-up: Aston Martin Off-Roader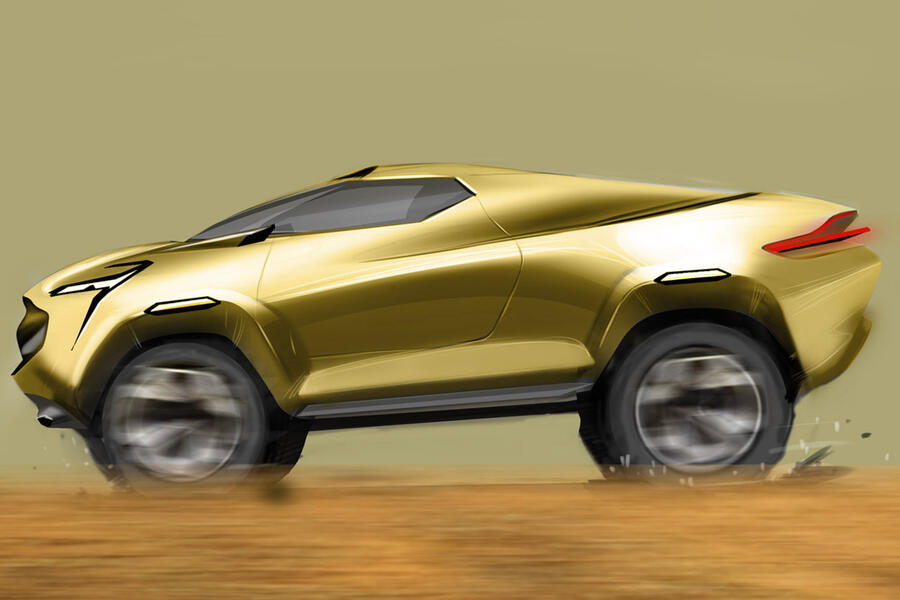 Designer - Yuteng Ha: Reckon the new DBX is all the offroader Aston Martin needs? Try this all-terrain assault vehicle for 2030 from designer Yuteng Ma, designed to help 007 beat his enemies whatever the road conditions.
"Villains always seem to chase James Bond over complex terrain in Land Rovers or other familiar off-roaders," says Ma. "That inspired me to create a much more dramatic Aston off-roader that can cope with any surface and leap over any obstacle, from the deserts of the Middle East to the grasslands of Africa."
The Off-Roader is electrically powered, with hydrogen fuel cells on board. There's a forwardfacing driver's seat and a rearward-facing seat for operating the car's variety of weapons. Among them, missiles are hidden in the front bumper, while smoke canisters can be released from the rear to disguise the Off-Roader's departure route.
The armaments seat has a selection of good old-fashioned hand weapons (machine gun, sniper rifle), because when he's in escape mode and on his own, 007 can simply stick the car in autonomous drive, swap seats to where the weapons are and set about defending himself. We're keen to see this one in the movies…
Runner-up: Genesis X 007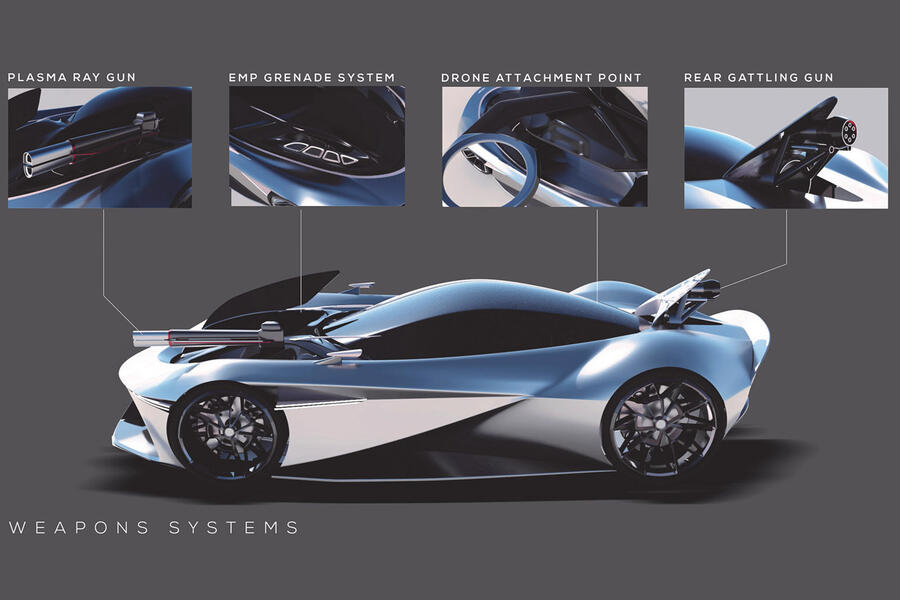 Designer - Tanay Handanwar: Basing his design on James Bond's own character ("unpredictable, classy, stealthy"), designer Tanay Nandanwar introduces the 007 franchise to Genesis, a marque new to the UK car market as well.
Nandanwar reckons the next Bond movie is likely to be based in South-East Asia, which is his reason for choosing a brand from that region. He believes the class and cost of the cars, especially, match Bond's persona very well.
The proportions of the X 007 also reflect the power and dominance of Bond's character, says the designer. The car is sleek, but its compact proportions imply agility, while the innovative intersecting lines and surfaces on the sides inject a satisfactory helping of complexity and style.
In contrast to some other proposals, this one is proposed as capable of autonomous driving (perhaps freeing Bond to engage in other life-preserving activities on the move). The defence-cum-assault weapons are plasma cannons accompanied by electromagnetic-pulse grenade-launchers.
However, this design's most spectacular feature is a drone-like escape pod carried on exploding mountings that provide occupants with an abrupt means of departure from the bulk of its surface-borne mother vehicle if it were to get into trouble and need to evacuate the scene.
Winner: Polestar 007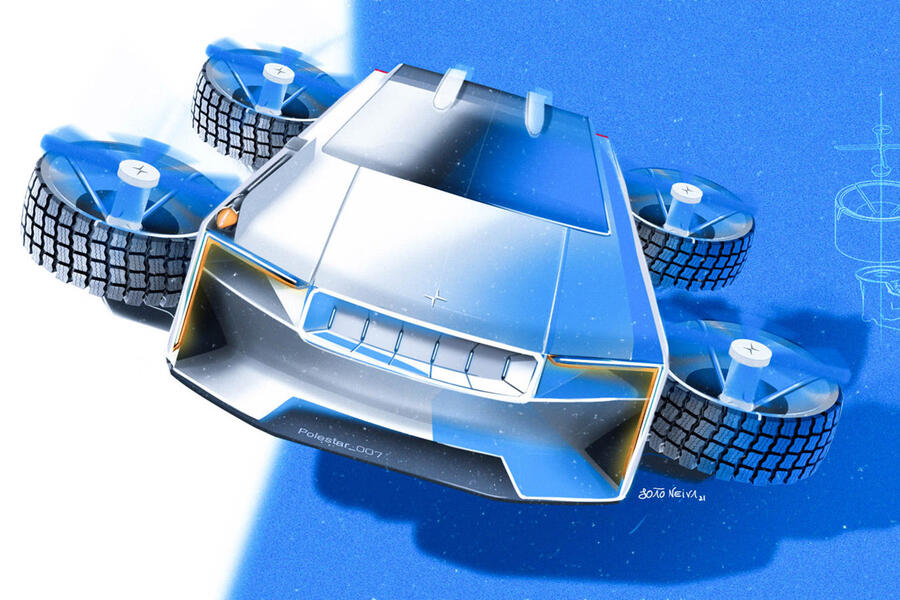 Designer - Joao Neiva: For proposed 2030 movie action in a snowy region near Sweden's Kebnekaise mountain, Bond naturally drives a Polestar 007. At least that's how João Neiva, our winning student designer, sees it.
He proposes a coupé that makes good use of Polestar's distinctive design cues while adding even more geometric surfaces: flat shoulders at the sides plus big front air intakes covered by aggressive-looking, long, straight headlights.
The effect is cool and powerful. The name is a bit obvious, but Neiva reckons it matches Polestar's own basic nomenclature. This isn't the most powerful Bond car going (it has one 107bhp electric motor per wheel), but it can definitely fight back, with forward-facing rocket launchers and dual rear-facing "fully integrated" machine guns. The Polestar 007's game-changer is that it can fly: the individually electrically powered wheels (whose spokes become impeller blades) can be configured horizontally to provide drone-like lift and stability, despite the weight of its ultra-rapid-charged 320kWh solid-state battery.
Neiva, whose excellent draughtsmanship and bold proposal make the scenario he proposes almost believable, shrewdly reckons the newly launched Polestar brand definitely needs the exposure his Bond concept can bring to it – and that his actual vehicle perfectly suits the Swedish location where the major action takes place.
Is it tough to be a designer?
There's a powerful argument that says car designers will be in strong future demand, because world car production continues to grow rapidly (80 million per year now; 100 million tipped). It's also well known that as electrification arrives, democratising performance and making cars sound much the same whether expensive or cheap, designers will have to redouble their ingenuity to maintain brand strength, especially of badges like Porsche, Ferrari and Alfa Romeo.
But it's not that simple. As Coventry University's Aysar Ghassan explains, competition is extremely keen for new design jobs. And Coventry, on a level with half a dozen distinguished institutions around the world, currently has 400 people on its undergraduate course, and 40 chasing postgrad qualifications, like the budding designers whose work you see here. So as befits one of the best jobs in the world, it's tough to enter. You need lots of talent, a strong work ethic and probably a sprinkle of good luck. Which is fine for future car buyers, because it promises us some wonderful products.
READ MORE
How to buy a James Bond car on the cheap 
Aston Martin DB5 Goldfinger: deliveries of 007-themed special begin 
https://www.autocar.co.uk/car-news/featu...could-look