06-03-2023, 10:37 AM
Ssangyong Korando E-Motion 2023 long-term test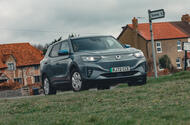 Is going electric the best way to rehabilitate the Korean SUV specialist? Let's find out
Why we're running it:  To see if Ssangyong's first EV can stand out among a slew of reputable rivals – and show that the firm has a future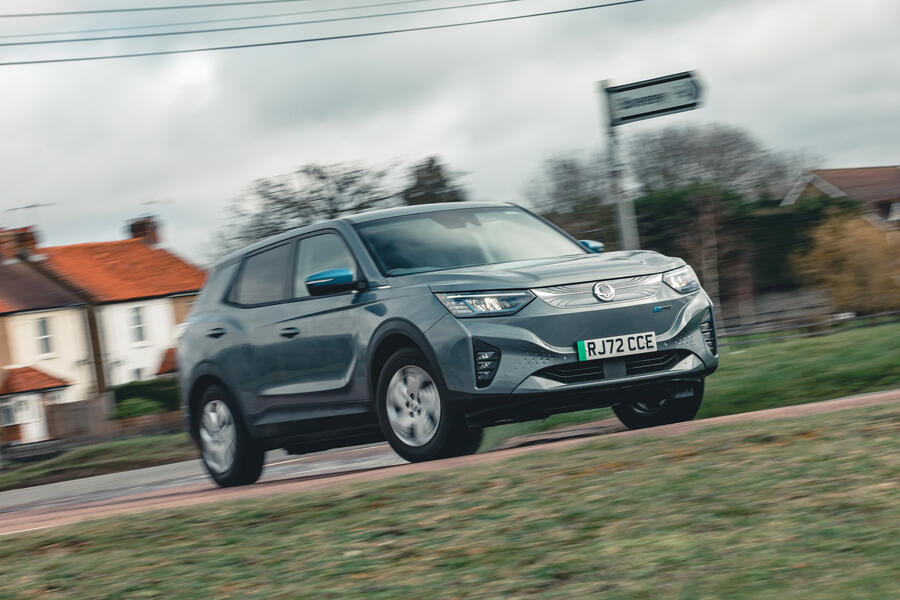 Life with a Ssangyong Korando E-Motion: Month 2
A plush interior is let down by lacklustre ergonomics - 17 May
Our E-Motion's interior is generally solid and nicely put together, but the gear selector can be frustrating. Sometimes it won't register an input at all, meaning I have to yank it down multiple times to go from reverse to drive. I do, however, like how large it is, compared with Stellantis's tiny selectors or the strange twisting thing in VW and Cupra EVs
Mileage: 4663
#Back">Back to the top
Charging pad is a bit of a dud - 10 May 
The Korando E-Motion's wireless phone charging pad, which is part of Ultimate specification, is proving problematic. Charging seems to cut out after a few minutes no matter how full my phone's battery is, so I don't bother using it any more. It's much better to plug it in directly so that I can access Apple CarPlay anyway. 
Mileage: 3543
#Back">Back to the top
Charging network could do better – as could those who use it - 3 May 
My experience of charging the Ssangyong Korando E-Motion has been a mixed bag so far.
There's an Ultracharge device on the street outside my London apartment complex that, at 50kW, is extremely useful for a quick hour's worth of charging. However, sometimes it cuts out midway through a charge, due to a machine failure, otherwise it will proceed without issue. I've also walked past several times to see that it has switched off or is displaying an error screen. On another occasion, it wouldn't release my cable, so I had to use the emergency stop switch.
But that's where my complaints about the chargers themselves end and where those about the people who use them begin.
I've learned to be patient when I charge, particularly having spent almost seven hours in an Ikea car park last month, stemming from an issue with the Korando. But many drivers appear to be in rather more of a rush. In fact, most times I've charged the car, I've encountered some sort of conflict or frustration.
One example involved a driver hammering the horn of his Nissan Leaf at a woman who had simply returned to her plugged-in Kia e-Niro to pack away her shopping. Another saw a taxi driver tapping on my window asking me to move out of the way, even though I was clearly parked and charging. And exactly half of my public charging trips (yes, I've been keeping count) have involved drivers standing by my car staring in to see how much charge is remaining or fiddling with the machine to see how long is left until they can have it for themselves.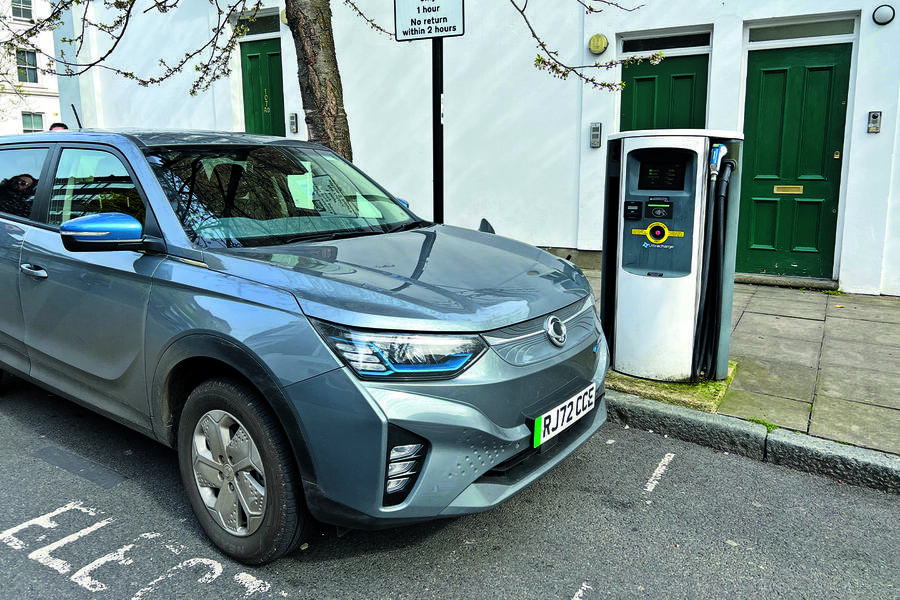 I get there are shortcomings with the infrastructure, but intimidating other drivers won't help overcome them. We're all dealing with the same number of faulty, slow and congested chargers, after all, and we all have places we would rather be than sitting at the side of the road charging or waiting to do so.
The stress of having some nosey stranger invading my personal space has made me really miss having my own charger at home. But it has also made me appreciate the calming atmosphere of the Korando. It may not be an exciting car to drive, but I always get in and am thankful for the soft leather seats, heated steering wheel and other comforting equipment.
It's an easygoing car, this Ssangyong. The average 177 miles of range that I'm getting at present is more than enough for me, so my range anxiety has abated. I can reliably shove all of my stuff in the boot and there's enough rear space for three adult passengers.
One thing I'm not sold on is the styling. It's far more handsome than the previous Korando, granted, but it's still hardly a looker. If I were in the market for a similarly priced electric SUV, a Kia Niro EV or a Hyundai Kona would catch my eye first. Looks alone might not be a deal-breaker but they're more important on a car whose badge many will not recognise.
Like it
Buttoned up 
It's refreshing to be able to control the heated seats and lane-keeping assistance with the tap of a button.
Loathe it 
Is it the 1970s?
A bit of chrome trim has started to rust, which doesn't bode well after fewer than 3000 miles.
Mileage: 2847
#Back">Back to the top
Life with a Ssangyong Korando E-Motion: Month 1
We got far more than we expected on a trip to Ikea - 19 April 
My first week of living in London has been full of ups and downs. Quite literally, in fact, as I've moved to one of the capital's most hilly areas, which is testing for my Korando E-Motion in several ways.
I find the Ssangyong EV really rather pleasant to drive in the city. The ride isn't the plushest in the class, but it's quiet, driving at slow speeds is an effortless task and, despite its size, it never feels too big to squeeze past an oncoming bus or during a quick parallel park.
The most comfortable method of driving the Korando is switching it into Eco mode (or Eco Plus, if I'm feeling extra stingy), which improves efficiency and places a soft limit on the crossover's top speed of 55mph, and engaging level-two regenerative braking.
It's not quite a one-pedal-driving situation, but it's definitely handy for saving a bit of energy in stop-start traffic.
So, most things seem positive. Well, then let me tell you about a recent trip to Ikea Wembley, where our honeymoon period came to an abrupt end.
With three empty Gridserve chargers at my disposal, all with an output of 50kW, I had the pick of the lot. I smugly plugged in and went on my way, hoping the dismal 11kW charging rate displayed on the screen would improve as the Korando's battery warmed up.
An hour or so later (perhaps a record for rounding that shop), I came back to find that the battery had gained only around 30 miles' worth of energy. And when I then unplugged it, I was presented with an error message on the dashboard stating there was an issue with the power supply and it was unable to shift into drive or reverse.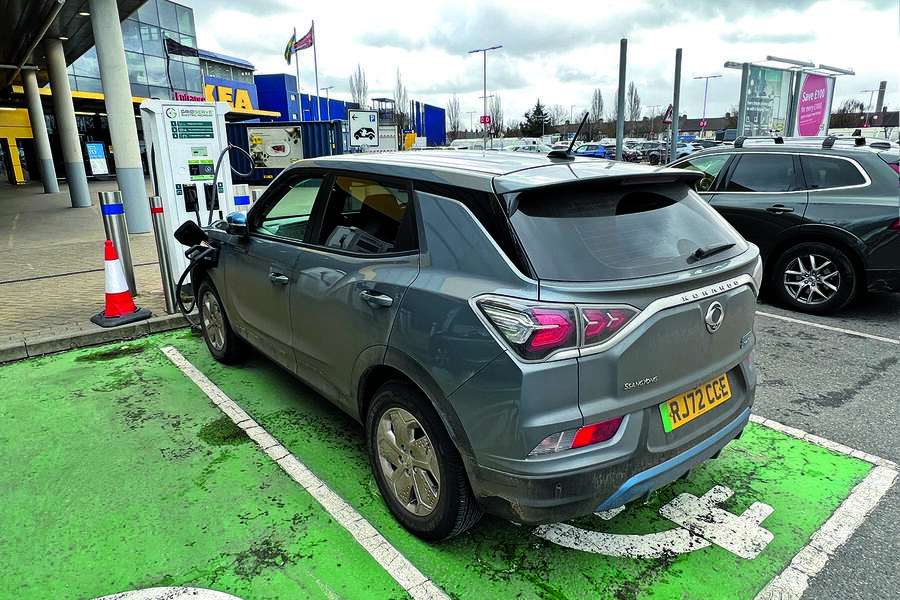 I had seen this message before, but a restart solved the problem. Not today. After five minutes of deliberating, a grumpy van driver tapped on my window, saying he had been waiting an hour for a charger and asking me to leave.
Luckily, I was able to shift into neutral, and I pushed the Korando out of the way so he could charge his Maxus eDeliver 3 and get out of the way of other miffed EV drivers.
After a call with Ssangyong, who asked me to disconnect the battery (which I was unable to do because I had no tools with me), I called for assistance. The RAC didn't arrive for another three hours after this debacle, meaning I sat in the Ikea car park for six hours in total.
It turned out it was an issue with the charging flap, according to my saviour dressed in orange, which was fixed after some fiddling around under the bonnet.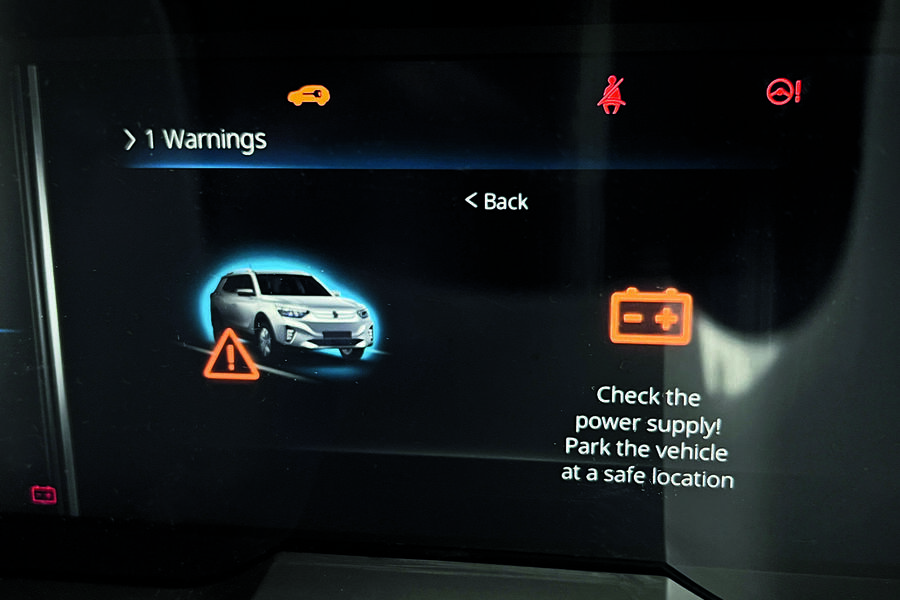 The flap now doesn't quite close properly, so I will have to keep an eye on it and hope the problem doesn't occur again.
I haven't had any troubles since, but it was a huge inconvenience to myself and to my fellow EV drivers. Not only that but I was also charged £9.43 for the privilege – and for a measly 14kWh top-up.
But hey, at least I'm stocked up on rugs, curtains and Djungelskogs.
Like it 
Hot and cold
The front seats are both heated and ventilated, meaning I can warm up on a chilly evening or cool down after a game of football.
Loathe it 
Absolute pain
The radio has a mind of its own, changing between stations almost at random without any driver input.
Mileage: 2244
#Back">Back to the top
Moving day for our Ssangyong owner - 12 April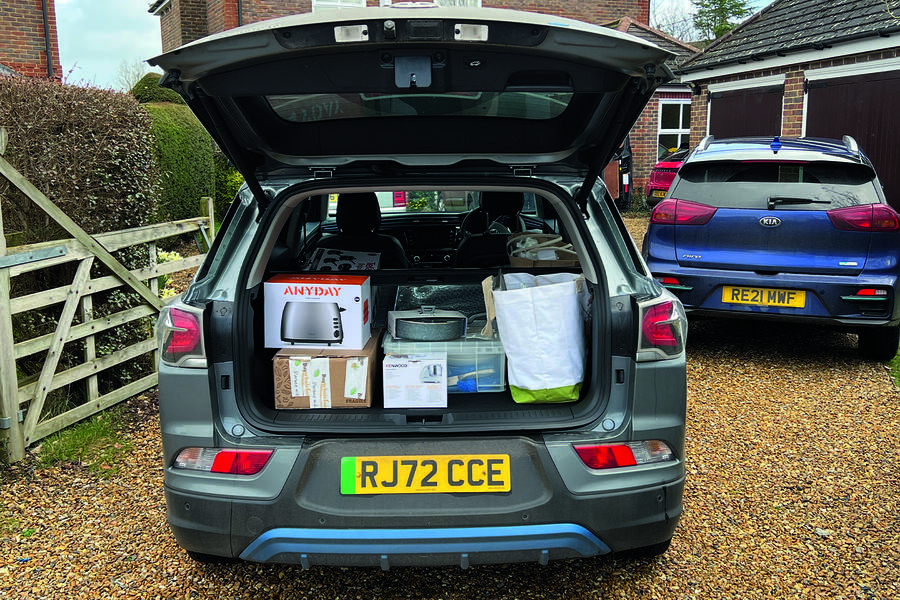 The Korando has been packed with everything I own, and the big move to London is upon me. There is more than 1200 litres of cargo space in play with the rear seats lowered. However, they don't fold flat and a few gaps appear between the seats and the boot space itself, so I had to double-check for any lost items.
#Back">Back to the top
Welcoming the Korando to the fleet - 5 April 2023
Where to start with Ssangyong? After several name changes, near-death experiences and financial takeovers during its 68-year existence, the Korean SUV specialist has yet another new owner. Will the KG Group succeed where Daewoo, SAIC and Mahindra failed? Well, it's already ringing in major changes, chief among them the brand name, which new boss Kwak Jae-sun says is connected to a "painful image".
So everyone will have to call Ssangyong 'KG Mobility' in future. We will stick with 'Ssangyong' over the next three months with its new Korando E-motion, though. 
What exactly is the Korando E-motion, then? It's an electric mid-size SUV, but also a key component of Ssangyong's future. The Korando name was initially used from 1983 to 2006, then brought back in 2010, and it has come to adorn the firm's second-best-selling car, behind the smaller Tivoli. The current shape was introduced in 2019 but gained the E-motion variant only last year.
Ssangyong's first EV, the Korando E-motion is powered by a decent-size battery, at 61.5kWh (55.3kWh of that usable), which officially gives it up to 212 miles of range. A single front-mounted motor produces 187bhp and 265lb ft for a 0-62mph time of 8.5sec. Not the fastest EV around, then, but quick enough for daily driving. And it gives a surprising amount of wheelspin – something that I can't imagine has been the case with many Ssangyongs before.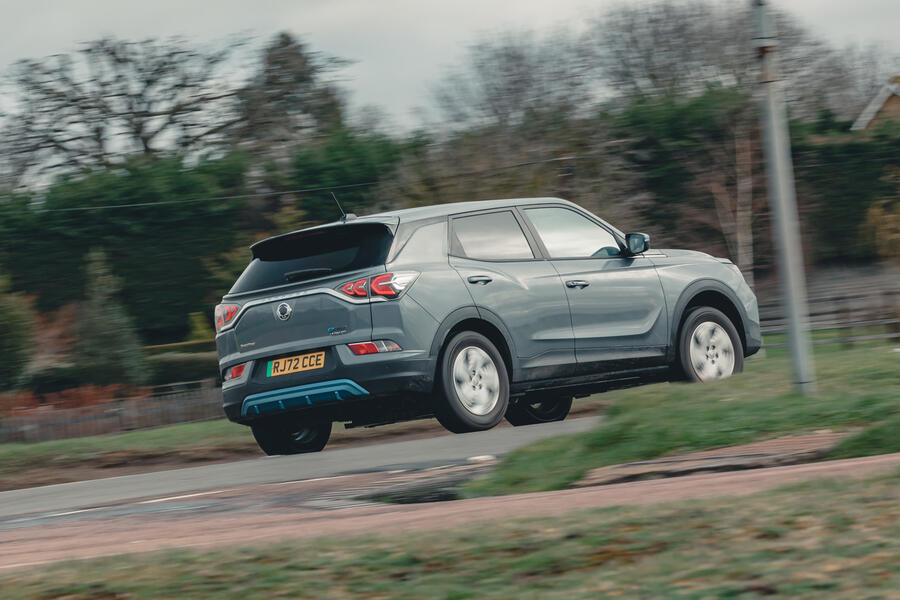 This means I will from now on avoid the most aggressive of the four driving modes, which are named Eco, Eco Plus, Comfort and Sport.
Charging capabilities aren't spectacular: the Korando E-motion can accept rates of up to 100kW, which should get it from 0-80% in around 33 minutes, and on a 7kW home charger expect an 11-hour charge time from empty to 100%.
Pricing is fairly attractive, starting at £32,695 for VLX trim. That puts the Korando E-motion a smidge above the Mazda MX-30 (from £31,250 but with a dismally short range of 125 miles), although it's eclipsed by the trio of big-selling affordable electric cars from MG, most troublingly the similarly sized ZS EV crossover.
Equipment is where the Korando excels, though. Even the entry-level car is fitted with automatic wipers, a 12.3in digital instrument display, a reversing camera, dual-zone climate control and cruise control, while mid-range Ventura trim adds LED headlights, heated front seats, a 9.0in touchscreen infotainment system and sat-nav.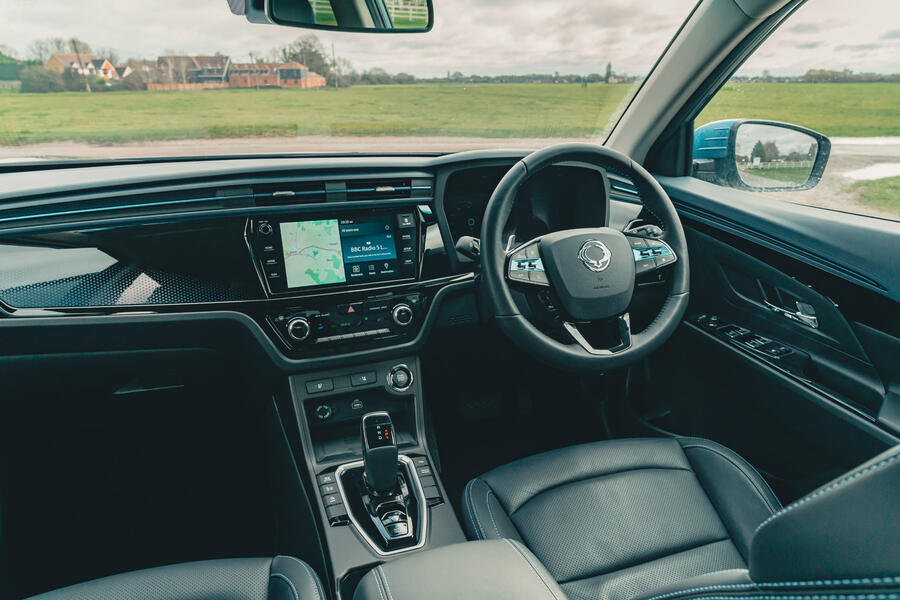 Our car is a range-topping Ultimate, which is priced almost the same as the Volkswagen ID 4 in its most basic form, at £38,695. Yikes: suddenly this Ssangyong doesn't seem so cheap, after all.
Still, it gets even more standard equipment thrown in, including heated and ventilated front and rear seats with electric adjustment, a powered tailgate, wireless smartphone charging, front and rear parking sensors, privacy glass, a heated steering wheel and a heat pump for improved efficiency.
You might have some concerns about material quality, going by Ssangyong's value shtick, but everything about this car as far as the interior is concerned right now strikes me as quite impressive.
The driver's seat, while firm, is endlessly adjustable, while the leather steering wheel feels plush. Soft-touch materials dominate the cabin, with little gloss plastic to be seen. And the dial display is very clear and offers several customisable presentations
What's more, there isn't a single touchpad to be found – a relief for this former Volkswagen EV custodian. Instead, everything is controllable via buttons, either on the centre console or on the steering wheel. These even extend to features like the lane-keeping assistance, which can be switched off with one press of a button just to the right behind the wheel, instead of after a trawl through endless menus. The second row is also good enough, with room for three people to sit comfortably. Boot space stands at 551 litres, which roundly beats that of the ZS EV (470) and ID 4 (543).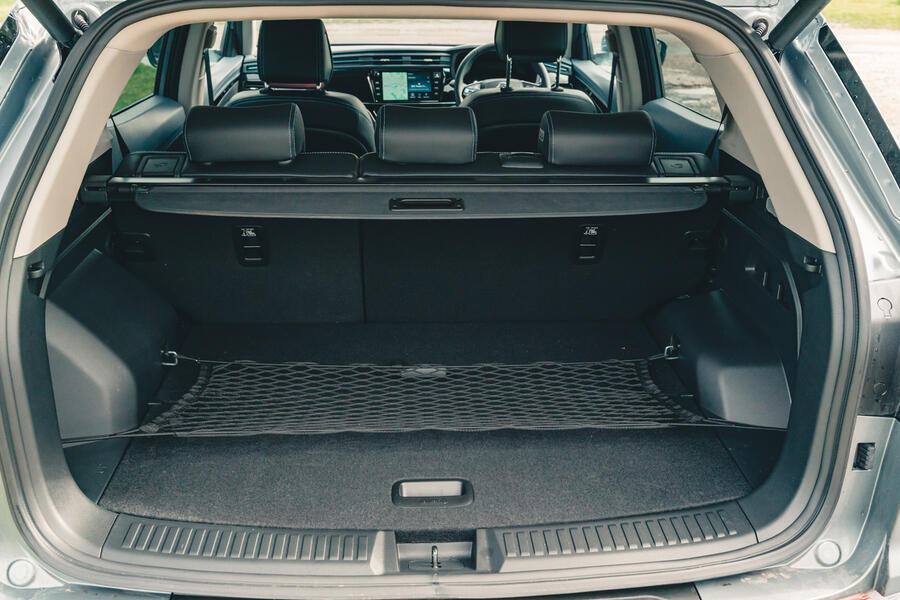 First driving impressions are that the ride is soft and comfortable and that the motor delivers power smoothly enough. It's not the most dynamic in the corners, but wouldn't you know the sky is blue? What could prove more of an issue when travelling at higher speeds is the Korando's drag coefficient of 0.36, rather higher than key EV rivals and something that could harm our chances of getting close to that 212-mile range.
It just so happens that I'm moving from leafy Berkshire to London imminently, so commuting through the suburbs rather than down the M3 might play right into its hands.
Second Opinion
Jack is about to move to the Big Smoke, so it will be interesting to see how he gets on with the Korando in tight city streets. On the one hand, the bonnet's raised edges and the rear's square back mean it's easy to place in a parking spot, but then it's also a pretty big car and its rear-view camera gets dirty quickly. Carefully does it now…
Piers Ward
#Back">Back to the top
Ssangyong Korando E-Motion Ultimate specification
Specs: Price New £38,695 Price as tested £38,695 Options None
Test Data: Engine Front-mounted permanent magnet synchronous motor Power 187bhp Torque 265lb ft Kerb weight 2250kg Top speed 97mph 0-62mph 8.5sec Range 210 miles (WLTP) Economy 3.7mp/kW (claimed) Faults None Expenses None
#Back">Back to the top
https://www.autocar.co.uk/car-review/ssa...-long-term