05-12-2022, 02:55 PM
Stellantis UK boss Alison Jones on sustaining seven brands
Autocar Awards 2022: Alison Jones steered Stellantis' recent merger through the most turbulent of waters
"When I started in February 2019, we thought the biggest topic was Brexit," says Stellantis UK group managing director Alison Jones.
"It was to be a massive change not just for us but for everybody in our industry." Except Brexit was just the first in a series of huge changes that would rock the whole car industry.
Next came Covid, then the accelerated shift to electric cars and the semiconductor chip shortage that continues to cripple new car supply. All that would be more than enough for any car company boss to navigate, but Jones was also in the process of setting up a new car group following the merger of PSA and FCA. Jones had moved from being in charge of the Volkswagen brand in the UK to leading PSA's UK group operations for Peugeot, Citroën and DS.
Now, from her office in Coventry, she has added Fiat, Alfa Romeo, Abarth, Jeep and Fiat Professional vans to her ever-growing list of responsibilities. She has also just started a 24-month presidency of the SMMT, a hugely influential role in the UK car industry.
The merger of PSA and FCA and thus the creation of Stellantis early last year has happened at breakneck speed, and it's Jones's brilliant leadership in so seamlessly creating such a large car company in the UK while also steering it through the most challenging and unpredictable times in living memory that, coupled with her SMMT role, earns her our Editor's Award, given to the person who has made the biggest impact on the success of their company over the past 12 months.
"I think our industry is good at crisis management," says Jones, reflecting on her time so far at PSA and then Stellantis. "You're forced to act at speed in crisis management.
"The difference with a merger is that you can choose the speed at which you do it. We wanted to try and provide certainty for colleagues, certainty for our customers and for our shareholders in terms of what we were doing. We wanted to get it done as fast as we possibly could."
Jones speaks with a calm authority when describing how she navigated the two companies through the merger. While providing plenty of future opportunities, the task also came with a huge degree of uncertainty for those working in the existing structures.
"I'm very transparent in the way I operate as a leader," says Jones. "If I can't say something, I'll say I can't discuss that. If I can, I will. I do employee calls regularly, and I have a Q&A session at the end. It's designed so anybody can ask any question."
With the merger ongoing, there were the small matters of dealing with Brexit, Covid and the chip shortage, all of which has taught Jones to learn to live with unpredictability.
"What's different is the sustained amount of unpredictability," says Jones. "Within all that, we've also had a powertrain change. That's all part of living within the industry, but the amount of change is what some colleagues have found hard. This is the fourth year of change, and they're all things that you would not have foreseen.
"What becomes easier is that you have a way to adapt, you have techniques, tools, ways of working with crisis management groups. That becomes easier, because of what didn't work last time. What becomes harder is sustaining it."
The current challenge is dealing with the chip crisis, which has throttled new car supply. Depending on the brand, Stellantis lead times are between three and 12 months, and Jones expects supply shortages to "continue for some time". The chip shortage has changed so much of the UK car market as we know it, from the models dominating the sales charts to dealers no longer pre-registering models at the end of the month when chasing volume.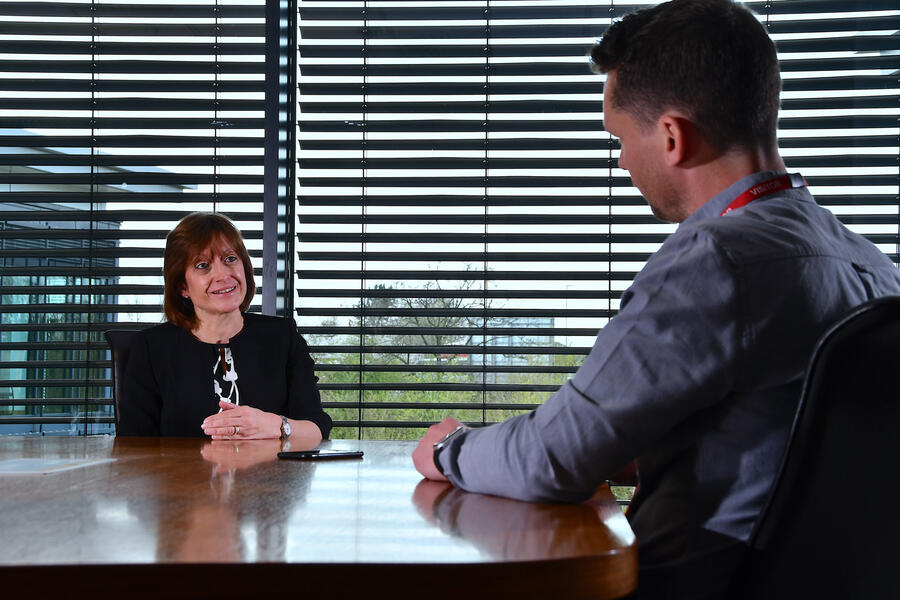 "Because there are such order banks and such long lead times, registrations are not a good proxy for who's doing well," says Jones. She says sales charts are instead more a reflection of manufacturers' need to reduce CO 2 emissions and prioritise the sale of lower-CO 2 models while balancing profit.
"The strength of what we're going through is you don't see vehicles stacked up in fields," she continues. "I don't think as an industry we'd go back to having that amount of cash tied up in vehicles.
"We will move more to make to order, but it could be a bit freer now for customers. I think it will find some middle ground when we get through this."
If car makers aren't to be judged on registrations, then how is Stellantis UK and Jones's work judged by Stellantis global boss Carlos Tavares?
"The same way he judges all of our businesses," says Jones. "There are five objectives, in no particular order: profit, customer satisfaction, market share, CO 2 and cash flow. Alongside that, how do you drive transformation? Did you create value by growing?"
A bold goal of Tavares is for Stellantis to be electric-only in Europe in just four years. But while the company has strong-selling electric cars such as the Peugeot e-208 and e-2008 and the new Fiat 500, like many other car makers the brand is frustrated by slow roll-out of a charger network to support them. Jones notes that it "could be better" here in the UK and says the recently published government strategy on charging infrastructure is "the right words going the right way, but the implementation plan is vague, as is the speed of it".
She is also clear that government and energy companies should be responsible for the infrastructure: "You get better results by doing it through the energy companies and through government and government policy rather than individual OEMs trying to do it."
Being involved in and leading discussions on national charging infrastructure is one example of Jones's role as SMMT president.
She believes the organisation "has success in terms of talking to government about what needs to be done, and the strength it has is that it can take one industry voice". The main goal for her presidency, which runs to the end of next year, is to show that the SMMT is relevant, modern and suitable for the industry.
"With all the changes and all of the challenges, it could be a very different landscape in 24 months," she adds. What next, then, for the fast-rising and talented executive?
"I am quietly ambitious," she says. "So I push on and look for the next opportunity, and the next one. But to get here is amazing. I like jobs that are really interesting. I like driving change, positive change through large groups of people, so I like operational and strategic roles. And there aren't that many roles that give you the ability to blend those things. But I haven't looked too far ahead of this one."
https://www.autocar.co.uk/car-news/autoc...ven-brands