07-30-2021, 05:09 AM
Stock take: Stellantis thinks big on used cars
Huge Spoticar brand to run group's approved used activity and tap online potential
Stellantis is aiming to put its stamp on the second-hand car market with the launch of what is said to be the UK's biggest single manufacturer approved used scheme.
Known as Spoticar, it sees Stellantis – formed by the merger of the PSA Group and Fiat Chrysler Automobiles (FCA) in January – create a solitary programme for the majority of its brands, along with a website to market its cars and services.
Spoticar, which kicked off in France in 2019 and is established in eight other countries, was launched in the UK in June with around 13,000 used cars advertised on its site. It is due to completely replace the Citroën, Peugeot and Vauxhall approved used schemes and their online used car search facilities before the end of the year, including Vauxhall's Network Q – the UK's oldest approved used car scheme, founded in 1990 and widely regarded as the pioneer of the format. The ex-FCA brands will follow in the first quarter of 2022, although DS and Alfa Romeo will retain their own approved used programmes to delineate them as premium brands.
To receive the latest industry news, please click here to sign up to the Autocar Business newsletter
Used cars from all the Stellantis brands – including DS and Alfa Romeo – will be advertised on the Spoticar website, along with dealer part-exchange models from other manufacturers, and the company hopes to capitalise on the amalgamation of marques for sale on a single website.
"Some customers search for a used vehicle by brand but some search generically," Stellantis director of used vehicle operations Nick Richards told Autocar. "If a customer is looking to purchase a used SUV, at the moment we're sending them to three different [ex-PSA] platforms instead of having them together on one – and, as a consequence, we're dispersing our marketing budget. We have been trying to promote three different platforms and three different programmes, rather than getting the scale that comes from one."
The company expects to sell close to 125,000 vehicles through Spoticar this year and is aiming for around 150,000 in 2022. The site also includes a part-exchange valuation tool and a finance quote calculator, which operate instantaneously (so users don't have to fill out finance forms that are sent to dealers and await a response), and a vehicle reservation function will be added later this year, followed by an online-only sales option in 2022.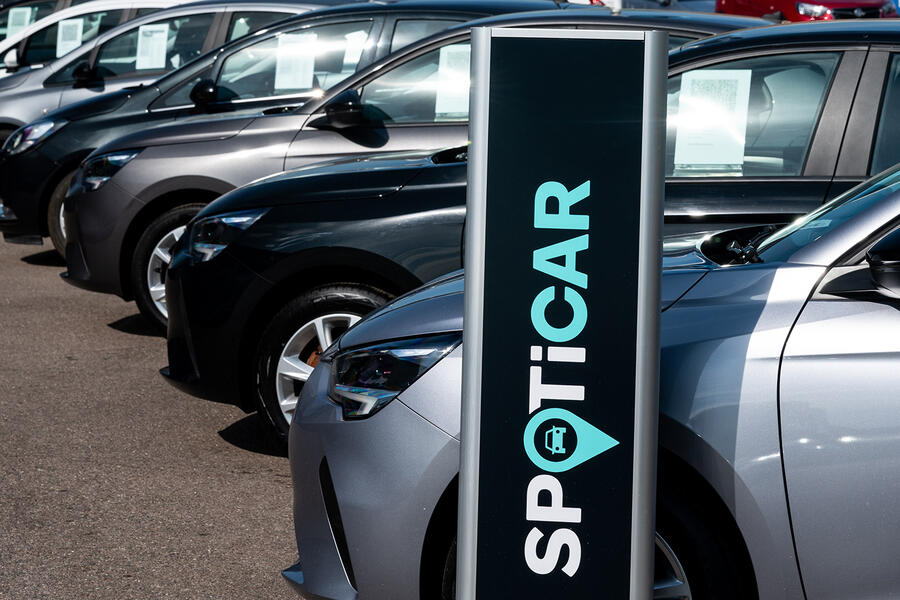 Buyers who plump for a car under the scheme get a minimum of a year's warranty, a vehicle history and mileage check, a multi-point inspection and PDI, 30-day exchange and 12 months' roadside assistance. That is very much the industry standard for an approved used scheme, as most manufacturers offer similar levels of cover via their franchised dealers.
Volkswagen broke the mould last year when it ditched the long-standing Daswelt Auto name, changed it simply to Approved Used and hiked the warranty and roadside cover to two years apiece. Ford does the same, but only if you buy a car under its Ford Direct programme, where cars are supplied to dealers directly from the manufacturer. Anything bearing the Ford Approved banner has been sourced elsewhere and is demoted to a year's cover.
Porsche and Ferrari also throw in two years' warranty and roadside cover, but Kia is the most generous of all, at least for nearly new models: cars up to 20 months old with less than 20,000 miles effectively have the clock reset on the manufacturer's seven-year/100,000-mile new car warranty, although roadside cover is a standard 12 months.
Richards said the reason for a conventional programme is "because we were bringing more than one approved scheme together [so] we've made sure it's pretty much business as usual".
However, he said Stellantis plans to add a "no-maintenance guarantee for the customer for a certain mileage or age after they've purchased the vehicle", which is expected by the end of quarter three this year.
Citroën, Peugeot and Vauxhall dealers – of which there are around 500 – will now have to rebrand the used car areas of their forecourts to coincide with a widespread media campaign. Richards said Stellantis had discounted its soft point-of-sale materials – flags, banners, price displays and so on – by more than 50%. Dealers with fixed physical branding, such as Network Q signs on the side of showrooms, will have to replace it with a Spoticar equivalent, but Richards claimed that it will be "pretty low cost" for retailers and that a single-brand programme will ultimately reduce overheads.
"At the moment, we ask them [dealers] to dress certain parts of their used car display with Peugeot Approved/Citroën Select material, for example," said Richards. "Many of our dealers are multi-franchise and what we're doing is building in simplification for them. They have one used vehicle display with the same customer standards expected… which will avoid them making any mistakes when they're dealing with a consumer."
Based on observations from setting up Spoticar on the Continent, Richards claimed dealers can expect "somewhere between a 30% and a 50% increase in web traffic and enquiries" from the new website. "We would expect to see that transition into bottom-line sales," he added.
He also suggested that marketing part-ex cars via the website could increase sales for dealers with a significant amount of non-franchised stock, which he described as "more 'car supermarket' in their approach". Regarding the forthcoming online-only sales, he promised that final transactions will still be conducted via dealers – including Stellantis's own direct-to-retail cars, which it plans to advertise on the platform.
Richards denied that the original motivation behind Spoticar was to create yet another used car sales website, the likes of which have mushroomed in recent years – some more successfully than others – and are all competing for the UK's currently diminishing but highly valuable second-hand car stock. He reasserted that simplification and leveraging the group's brands were the main incentives but conceded that establishing a platform with several thousand cars in the burgeoning online retail sector won't do the company any harm.
"We don't foresee ourselves being Auto Trader but, of course, the digital marketplace has changed," he said. "People like Cazoo and Cinch are here to stay. That's quite clear when you read about the funds they are raising. We have to make sure that we are operating effectively in that marketplace and adapting to changes… and this is a change that needed to happen."
READ MORE
Health check: Demand for used cars is soaring. Here's why
Analysis: why used car prices are set to rise further
https://www.autocar.co.uk/car-news/indus...-used-cars