01-15-2022, 02:11 AM
Stock take: the tech revealed at CES 2022, from BMW, Sony and more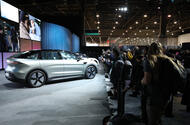 As Renault, Stellantis and Volvo announce tie-ups with tech firms like Amazon, here's what it means for the industry
Car makers rarely acknowledge their suppliers. Credit for the car and the technology on board usually goes to the brand, not the hundreds of suppliers that make it possible.
That thinking, however, goes out of the window at the annual Consumer Electronics Show (CES) in Las Vegas, and this year's partly physical, mostly online event reinforced that to a greater degree than previous years as car brands announced new partnerships with tech companies.
Car shows may be on the wane, but car brands have stuck with CES as they showcase technology in their bid to become less about horsepower and more about computer power.
For Autocar Business webinars and podcasts, visit Autocar Business Insight
Partnerships announced or reinforced this year included Stellantis and Amazon, Renault and Volvo with chip designer Qualcomm, Volvo and lidar company Luminar and BMW with Faurecia's app store, dubbed Aptoide.
New metal also forms a small part of the event, and concept cars launched this year included the slippery Mercedes-Benz EQXX 621-mile electric concept and the Chrysler Airflow, signalling a new EV future for Stellantis's US brand. Sony also hinted again it was getting into the car-making game by revealing an SUV to go with the saloon that it showed in 2020.
But mostly the automotive companies used the event to focus on the technology that powers the innovations of the future. And that becomes a lot more impactful if you're partnering with a big tech name who, let's face it, is also probably valued far higher by the stock market.
Stellantis, for example, majored on its new partnership with Amazon, which will help deliver software for the previously announced STLA Smart Cockpit, due to roll out in 2024. The system will come with built-in Alexa voice control and better versions of voice control, in-vehicle apps and payment services.
Amazon will also become Stellantis's preferred cloud provider for its platforms. The plan is that much of the car's software in future is held in the cloud and delivered to the car via ever more reliable and quicker data transfer, rather than being embedded into the car's brain.
"Our partnership is focused on delivering as many experiences as possible, cloud-first, so you don't have to do traditional over-the-air updates," said Ned Curic, Stellantis chief technology officer (and former head of Alexa Automotive at Amazon). "We're leapfrogging the way people think about cabin experience and software."
Renault was also extolling the virtues of a cloud-based software during its announcement of an R&D partnership with US-based Qualcomm, which made its name in smartphone chips but is now making waves in the automotive world powering ever more complex dashboard screens and other in-car tech.
Replacing the current network of ECUs with two powerful chips will help cut the development of digital services from three years to three-to-six months, according to Thierry Cammal, the head of Renault Group's Software Factory.
The reason being that services are developed in the cloud and beamed into the car where Qualcomm's system-on-chip (SoC) software/hardware combination, dubbed the digital chassis, will relay it to the screen or the ADAS controller or wherever.
Renault reckons this upgradeability will "drastically" increase revenue from the services offered, as well improving residual values of used cars, as they will theoretically always come with the latest tech.
The odd thing here is that Qualcomm isn't even a so-called tier-one supplier, it's a tier-two, which means it will supply chips to a tier-one like Bosch, Continental or Harman, which will then supply Renault.
Renault going direct to Qualcomm is part of the new world order in the automotive industry, claimed Enrico Salvatori, head of Qualcomm Europe. "The traditional tier-one and tier-two go-to-market model has been evolved," he said. "The level of innovation that we're introducing in the car is forcing the auto maker to go directly to the SoC supplier."
Autonomous driving remains another big element of CES, and this year Volvo was talking up its partnership with lidar provider Luminar. Volvo is looking to add the resulting Ride Pilot system, including 'Iris' lidar, to its cars. It will start with its new electric SUV, due this year, following testing in California.
Silicon Valley-based Luminar was also behind an eye-catching demonstration at CES, showing how its lidar-equipped vehicles spotted and stopped for a dummy child running out in the dark, versus a non-Lidar equipped Tesla Model Y, which rather gruesomely ran over the dummy in one video captured by showgoer and tech analyst Patrick Moorhead.
"I infinitely respect Elon Musk, but lidar cost has decreased tenfold since his proclaimed hatred for it, and vision and radar systems haven't met the bar yet," Moorhead tweeted.
BMW meanwhile announced that it had signed a deal with French supplier Faurecia to use its app store Aptoide, which currently offers more than one million apps. However, the German car maker kept suppliers names away from its most eye-catching display, the 'E Ink' that changed the colour of the paint on a concept iX electric SUV dubbed the iX Flow.
"The iX Flow is a great example of the forward thinking that BMW is known for," said Adrian van Hooydonk, head of BMW Group design.
Sometimes you need the world to know you're the gamechanger, not some hot-shoe Silicon Valley start-up.
CES buzzwords
"Unsupervised autonomous driving"
The new Level 3 to Level 5, according to Volvo, which declined to put an SAE level on its forthcoming Ride Pilot autonomous driving suite, leaving us to guess as to its capability.
"Digital Chassis"
Qualcomm co-opts the properties of real-world modular chassis, such as the Volkswagen Group's MEB toolkit, and migrated into the digital to describe its new, adaptable system-on-chip offering to power elements such as infotainment, telematics and ADAS (semi-autonomous driving).
"Cloud-first"
Rather than update the car over the air, rework the software in the cloud then send it to the app in the car via the 4G (or ideally 5G) modem. This is what Stellantis wants to do with new partner Amazon.
"Low-cognitive load"
Requiring less brain power to understand. Used by Panasonic Automotive to describe its new augmented reality head-up display, which distributes the information where you most need it. For example, the sat-nav turn arrows follow the road.
"In-person"
Will you be there in person or online? This term's use expanded exponentially pre-show as big exhibitors such as Google pulled out over the Omicron threat, but the expected event cancellation never came.
https://www.autocar.co.uk/car-news/busin...w-sony-and