08-19-2023, 07:28 AM
Supercars will still be the bedrock of McLaren's future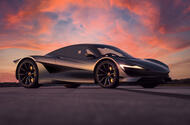 McLaren's electric successor to the P1 is being designed to match the current cars on dynamics
Firm has hinted an electric SUV is possible, but news of a possible P1 successor is reassuring
Much of the talk about McLaren's bold electrified future has centred on the prospect of a high-riding electric GT car mooted for launch around the end of the decade.
McLaren CEO Michael Leiters has form in this sphere, having had a hand in the development of the Ferrari Purosangue and Porsche Cayenne. He professes to "love SUVs", believing that "it's a really important market".
A roomier and more luxurious new model makes sense for McLaren, as evidenced by the overwhelming success of the Bentley Bentayga, Lamborghini Urus and Aston Martin DBX. But the revelation that scintillating new supercars remain on the horizon in the electric era is reassurance that the brand won't lose sight of its core values.
Even more excitingly, Leiters hints that any electric sports car flagship won't be a mere marketing exercise. His bold ambition is to ensure it's comparable with the 750S in every key respect – a tacit acknowledgement that McLaren is a performance brand and must remain as such, even when its first four-door model arrives in showrooms.
https://www.autocar.co.uk/opinion/new-ca...ens-future