09-13-2023, 01:36 PM
Suzuki Jimny Twisted review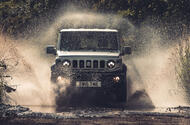 The Jimny offers bags of character in a cutesy go-anywhere package
Twisted is famed for modifying Land Rovers, but has turned its attention to the analogue but characterful Jimny
Twisted, the Thirsk-based purveyor of modified Land Rover Defenders, has turned its attention to this cutesy off-roader to create the Suzuki Jimny Twisted. This is potentially excellent news.
I like what Twisted does with Land Rovers, I like the Jimny, and on that I'm not alone. When we road tested it, we said it was "one of the most likeable cars we've tested this year" while delivering only a three-and-a-half-star verdict because of the choppy ride, cumbersome handling and limited grip. It was so bouncy that one tester found it "tough to tolerate".
I'm inclined to make large allowances for that sort of thing when a car offers bags of character. And like the old Defender, the Jimny is one of those that does. It's "an analogue, simple 4x4", says Charles Fawcett, Twisted's founder. "They just make you smile when you drive them." Agreed.
It's not difficult to see the similarities with the Defender, in many ways. The Jimny was unusual when it was launched in retaining a separate ladder-frame chassis and body when everything else of its size had long ago adopted a monocoque construction.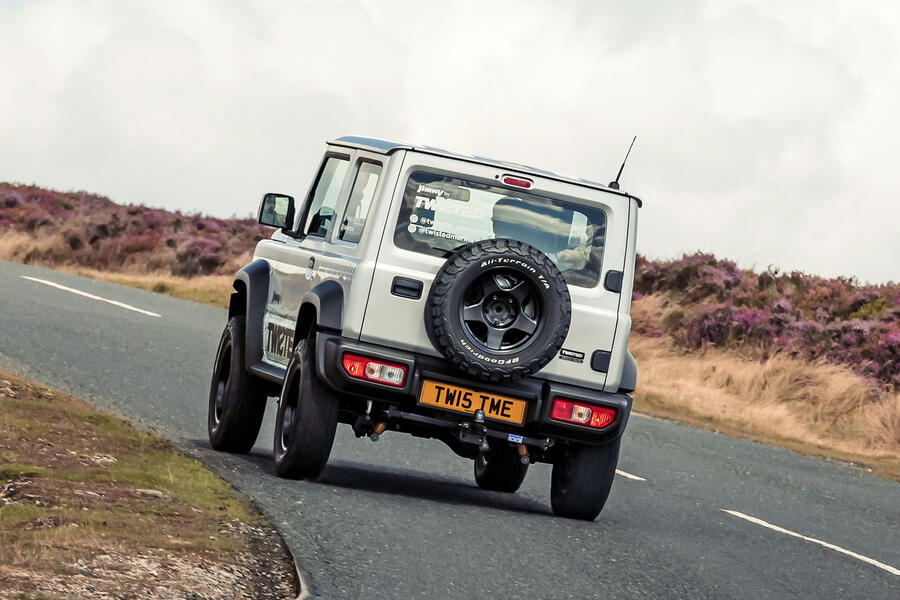 It has a longitudinal engine with beam axles front and rear and a low-range transfer case – although it can also be left in rear-wheel drive for better road-going economy. It's a proper off-roader, too. Its approach angle is nearly 40deg, its departure angle nearly 50deg and its breakover angle 28deg. The Jeep Wrangler betters only the approach angle. 
The Jimny's body width (1645mm), 9.8m turning circle, 210mm ground clearance and 1135kg kerb weight enable it to go places where many other bigger, more powerful off-roaders will not. Throw in the charm and it's easy to see why it's so likeable.
You might remember that Suzuki had to take the Jimny off sale just two years after launch, in 2020, due to the implications of its relatively high official CO2 output (178g/km), but a regulatory quirk enabled it to return in 2021 as a van. Basically, it just lost its cramped rear seats.
The Jimnys that Twisted modifies are LCV examples, for now. As with its Defenders, the differences aren't just visual but mechanical. The grumbly 100bhp 1.5-litre four-cylinder engine has been turbocharged, lifting power to 165bhp, with an endearing overrun chirrup.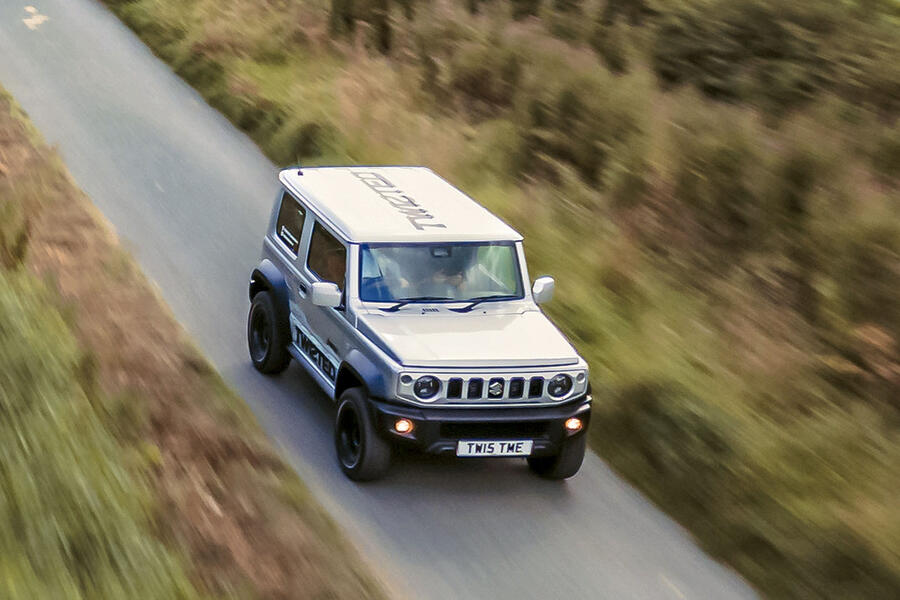 Underneath, there are new springs and dampers, and while the standard Jimny runs a front anti-roll bar only, Twisted has developed a rear one too. It then fits 16in alloy wheels with its pleasing signature five-spoke design and a different wheel offset, plus BF Goodrich all-terrain tyres.
The look is completed with body-coloured mirrors and grille bars, plus a hip stripe with Mercedes-Benz G-Class vibes.
Inside, there's quite a lot of leather going on, and I'm all for it. There's a workmanlike quality to the standard Jimny, and actually a fair degree of that is retained.
The major instruments, speedo and rev counter sit in their own little binnacles that look visibly bolted to the console, and those remain, although they are now soft-touch. And the switchgear and climate controls operate as normal, with some soft-touch surrounds.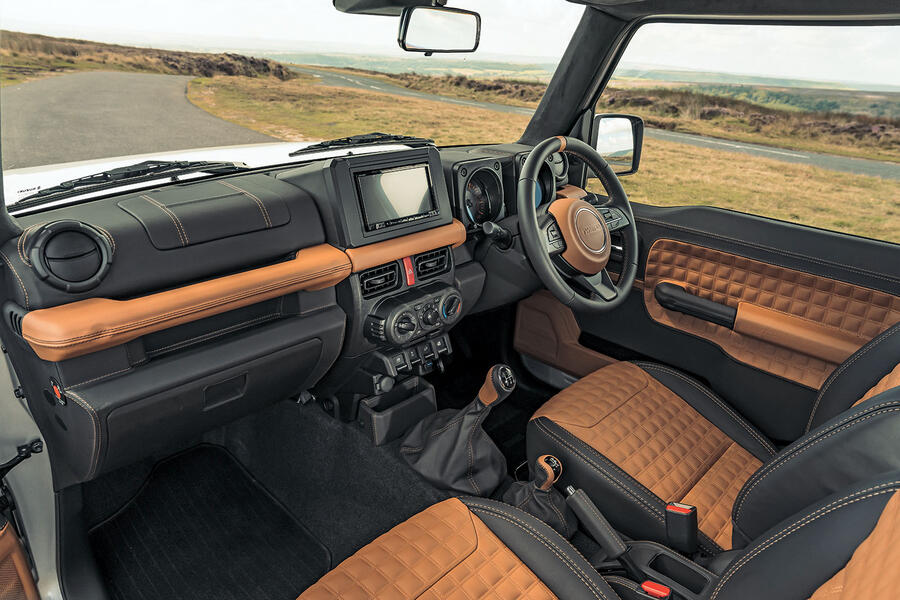 What I like most is that they weren't shoved into a touchscreen in the first place. Other touchpoints have, like the seats, been given padded leather. It's not uniformly successful, but it's a notable lift over the standard Jimny and for the most part first-rate.
The rear cabin is trimmed well and there's a new double-DIN Alpine head unit with phone mirroring. And there are additional measures to reduce noise inside. There isn't a conventional new car on sale that's bad at long journeys, but the regular Jimny is one of the worse ones, and these mods lift it a fair few positions. 
Still, chassis alterations and more soundproofing or not, you're not going to turn a rufty-tufty 4x4 into an Audi Q7. It's still a tiny off-roader.
The driving position is tall and visibility is great. It's dead easy to place the edges of the car, but given that it's only 3.6m long, it wouldn't be a disaster if you couldn't. The control weights are light, the gearbox is vague and the steering is a yawning 3.9 turns between locks, and you have to get acclimatised to all that before setting off.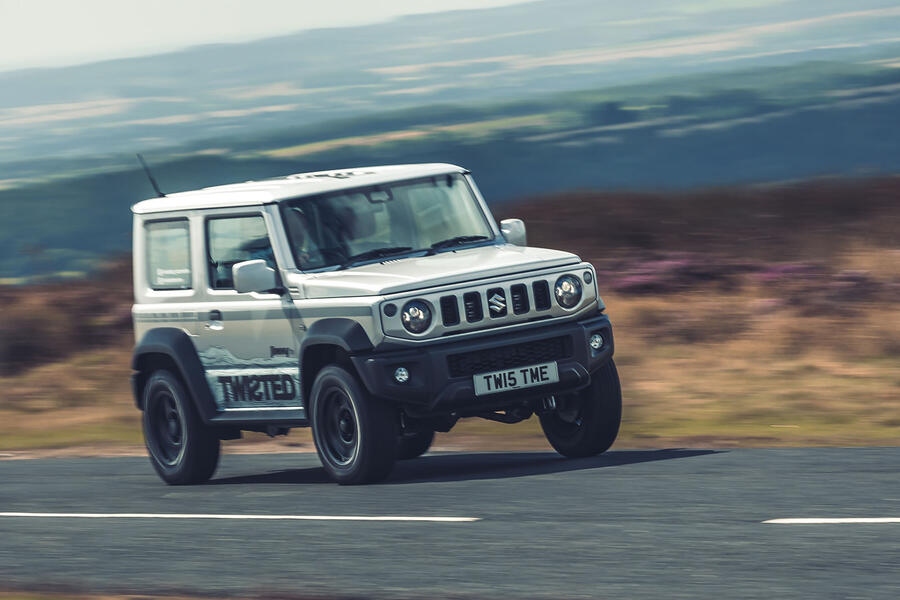 The route I take for testing and pictures is one that we have driven hundreds of times. These parts of North Yorkshire are some of the prettiest parts of the country, with some great roads too. It's not well served for green lanes (byways), but given the fragility and uniqueness of the heathland, that's to be expected. 
It's a while since I drove a standard Jimny, but on the road I can still tell the Twisted version is a more serious piece of kit. Partly that's because it's quicker. Of course these things are relative, but it has decent zip.
There are no motorways on our route, so I can't tell you about high-speed straight line stability, but you probably don't care anyway. People who choose a Twisted 4x4 are more likely choosing one for living in the sticks, as a cute town runabout or to keep at a second home. It won't be first choice for going distances.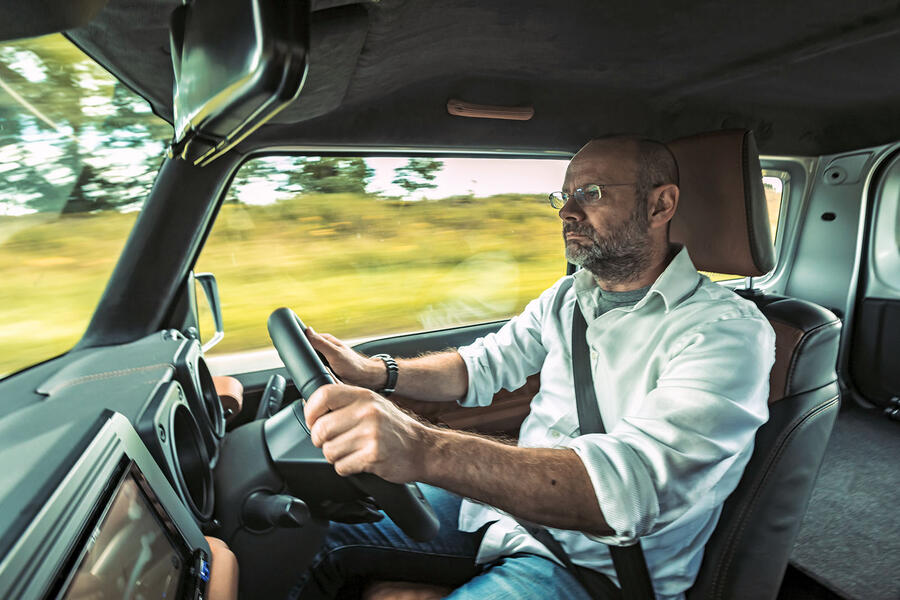 But it is fun to drive. Not in the 'Porsche Cayman at full chat across the North York Moors' sense, because the steering is still as vague as you like; I don't suppose the tyres have the profile or compound that has the engineers from Michelin's Cup 2 development team sweating at night; there are departments of government that act with more haste and precision than the steering; and hard cornering is something best left to be described in purely conceptual terms. But at normal road speeds, it's fine. 
And it's still a proper 4x4. Green lanes aren't off-road, they're public road, but I do find one with a steep incline and some looseness undertyre. It's not sufficiently rocky that I even need to take the Jimny out of 2WD, but it drives with a reassurance that floods.
Squeezing past tractors on single-track roads or heading into your neighbour's muddy field to fix the fence through which your horse bolted aren't tasks that will give the Jimny any grief.
Ultimately, Fawcett says: "Speed is irrelevant, handling isn't terribly relevant – it's about how it makes you feel." And the Jimny makes me feel pretty good about things.
Suzuki Jimny Twisted
Verdict 4 stars
Price £59,400 Engine 4 cyls in line, 1462cc, turbocharged, petrol Power 165bhp Torque na Gearbox 5-spd manual, 4WD Kerb weight 1135kg 0-62mph 7.0sec (est) Top speed 110mph (est) Economy 36.7mpg CO2, tax band 173g/km, flat rate
https://www.autocar.co.uk/car-news/featu...ted-review