04-01-2021, 03:53 AM
Tarmac to dirt: Jamie Chadwick on her Extreme E debut
Why the W Series champion is diving into the new electric off-road series
"Baptism of fire" is a justified cliché for Jamie Chadwick as she contemplates launching into the new Extreme E electric off-roader racing series this weekend in the desert of Saudi Arabia. She's a single-seater circuit racer; what on earth is she doing here?
"I really don't think my racing background is a problem," says the 2019 W Series champion with her usual ready smile.
"I had doubts whether it would really be the right championship for me with my credentials. The natural assumption would be to go for a rally driver. But after the first tests, I was pleasantly surprised how quickly I was able to get up to speed. That, combined with the amount of training I've had from my Veloce Racing team in the past few months, makes it a championship that anyone from any avenue can come into. If you can be quick in one car, you can be quick in anything."
She's going to have to be: look who she's up against… Jenson Button, Sébastien Loeb, Carlos Sainz Sr and rallycross and DTM king Mattias Ekström are the best-known drivers who have been lured into a venture that also boasts Sir Lewis Hamilton and Nico Rosberg among its team owners.
Each of the nine single-car entries include one male driver and one female as part of Extreme E's drive for gender equality, with Chadwick joined by Spanish Dakar Rally ace Cristina Gutiérrez (sharing with Loeb for Hamilton's X44 team), rally drivers Christine Giampaoli Zonca and Catie Munnings, off-road endurance biker Laia Sanz and X Games star Sara Price.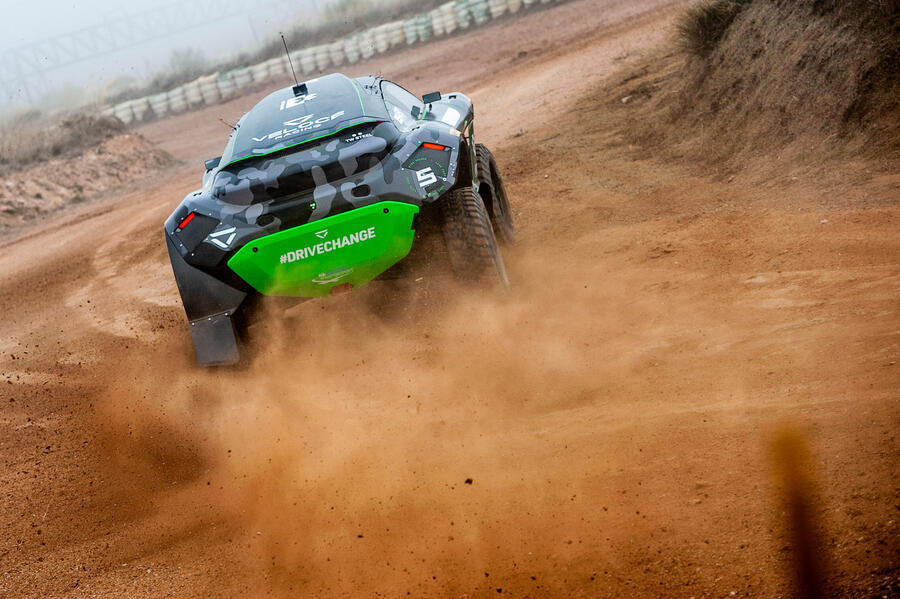 It's a diverse pool of talent, and not just in gender terms, with a great mix of old-timers pitted against youth for a format of wheel-to wheel racing that's a cross between Baja-style off-roading and quick-fire rallycross. We've never seen anything quite like this – and that literally goes for the drivers too, who won't see the course in Al-'Ula until they get there.
Every driver will arrive with minimum time logged in the bespoke (and hairy) 550bhp Spark Odyssey 21 4x4, which is at least a leveller, but Chadwick is still likely to be up against it this weekend.
Good on her for stepping so far outside of what she knows. Still, asking her why she's doing it is a bit like the old Mrs Merton question to Debbie McGee about why she married "millionaire Paul Daniels". This is the most talked-about new series since… well, Formula E, which was also an invention from the fertile mind of Spanish entrepreneur and ex-politician Alejandro Agag.
Whatever happens this weekend and at the other four events scheduled at suitably extreme venues around the world this year, Chadwick is in on something that from the start looks almost certain to be huge. "The initial appeal was very much on the racing side," insists Chadwick.
"It looks like an incredibly exciting championship from a racing driver's point of view. It screamed out at me as something I'd love to get involved with, after the first test especially. I really fell in love with the car. Then as I've got to know the championship better, the environmental angle and gender-equality aspect have played a part in my interest."
Chadwick is a natural-born racer, and it's no surprise that her first attraction was the sporting challenge. But there are wider perspectives to consider here, and one aspect that can't be ignored is Extreme E choosing to kick off in a kingdom that's not only the largest producer of oil on the planet but also, even more awkwardly, one that until relatively recently wouldn't allow women to even drive on the road. How does she square that one?
To her credit, Chadwick doesn't miss a beat. "We can use our platform and the spotlight we have shining on us to be able to go to Saudi Arabia and highlight such issues," she says. "I think it's a positive thing, and the whole messaging around Extreme E is positive. One is centred on the environment and climate change and the other is gender equality. No, it's not a question that's going to go away, but I think it's a really positive thing we're doing with Extreme E – even going to Saudi Arabia."
There are more questions than answers right now over every aspect of Extreme E – and Autocar will be in Al-'Ula to ask them. For Chadwick, the priority will be working with Veloce and her teammate, vastly experienced allrounder Stéphane Sarrazin, to get the most out of the Odyssey. "It's a step into the unknown," she says. "It's not really like turning up for a weekend at Silverstone, is it?"
So close for Mazda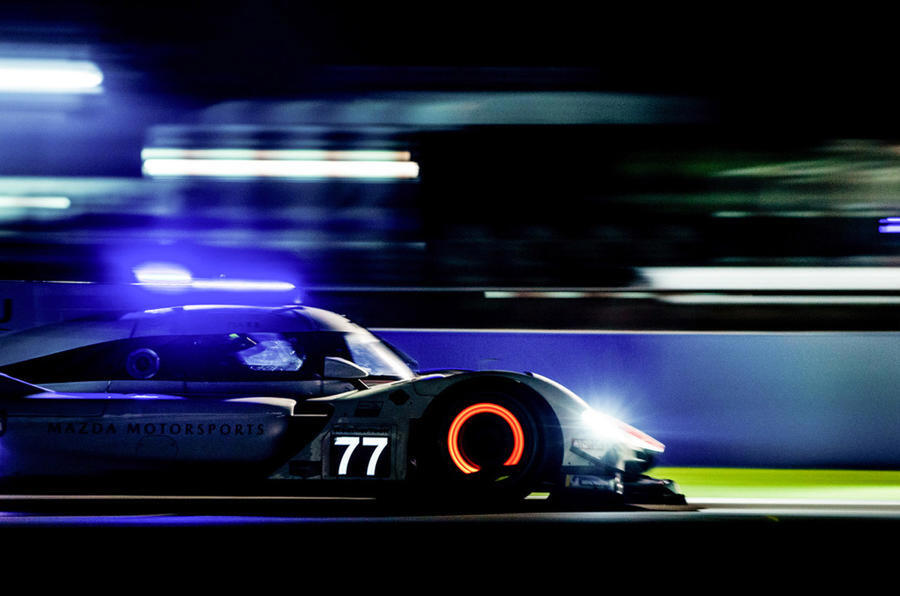 Harry Tincknell, Oliver Jarvis, Jonathan Bomarito and race engineer Leena Gade fell short by just 1.435sec in their quest to deliver Mazda a second consecutive victory at the Sebring 12 Hours.
The midnight finish to the Florida classic couldn't have been tighter as Tincknell, in the Multimatic-run DPi, charged after the evergreen Sébastien Bourdais into the final lap. But instead of attacking, Tincknell was forced onto the defensive as WEC champion Kamui Kobayashi swarmed all over him in his attempts to wrest second place.
The Japanese was actually a red herring, as his Cadillac was heavily penalised for Simon Pagenaud exceeding the time he was allowed to drive. But it was still a thrilling finish as Bourdais claimed his second Sebring win, joined by Loïc Duval and Tristan Vautier.
"We had no radio for the final two stints, which left me with some tough decisions alone," said Tincknell. "But we got through it and although we didn't have the fastest car on this occasion, we sure made the most of it."
At the flag, the top three on the road were separated by 1.6sec after half a day's racing. That's Sebring.
READ MORE
Extreme E: the off-road series trying to save the planet
Mazda endurance racers on their secrets for surviving Sebring
https://www.autocar.co.uk/opinion/motors...me-e-debut