01-11-2023, 11:26 AM
Tavares: Cost-cutting to make EVs cheaper threatens plants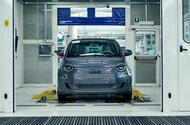 Electric cars are 40% more expensive to build than combustion-engine equivalents, said Tavares
Stellantis boss says factories will idle if car makers are unable to absorb the higher costs of electric cars
Plant shutdowns are inevitable if car makers can't absorb the higher costs of electric cars and the market shrinks as a result, Stellantis CEO Carlos Tavares has warned.
Tavares was responding to questions at the CES tech event held in Las Vegas last week about Stellantis's decision to indefinitely idle the company's Jeep Cherokee plant in Belvidere, Illinois, starting February.
Electric cars are 40% more expensive to build than combustion-engine equivalents, said Tavares. Companies most work to absorb that cost or the cars will become unaffordable for the bulk of buyers, reducing the size of the market and threatening jobs, he warned.
"Anywhere you introduce technology that is 40% more expensive than the previous one you need to work hard in improving your business model through fixed and variable costs," said Tavares. "If the average transaction price increases because of the EV sales mix increase, then you have risk that the total market shrinks." He said that situation was "very visible" in Europe.
Car makers like Stellantis have been able to increase prices to cover the higher costs of electric vehicles over the past 18 months because the semiconductor shortage reduced the number of cars they could build.
Despite selling fewer models, many companies have recorded bumper profits as they cut back on discounting and other marketing expenses. Stellantis, for example, made a net profit of €8 billion (£7 billion) in the first half of 2022, up 34% on the same period the year before, for a profit margin of 14%.
However, as car manufacturing ramps up again following the easing of the semiconductor supply crunch, car makers will have to spend more to tempt customers who now have a greater choice. That will cut profits, warned Tavares. "You lose pricing power because you rebalance supply and demand," said Tavares. "Then you need to work faster on reducing costs to protect margins."
Tavares has called Stellantis as an "all-weather" company and promised that it will still be profitable even if sales should fall to half current levels.
Since taking over as head of the newly created Stellantis in 2021, Tavares has protected factories within the company's sprawling global production network and instead focused on improving productivity.
However, the decision at Belvidere shows that there's a limit to the protection as Tavares continues to clamp down on costs. "There is no other option today other than absorbing the additional costs of electrification. That means some unpopular decisions will need to be made," said Tavares, without giving details. "If you stop working on cost in this industry you go from hero to zero in three years."
https://www.autocar.co.uk/car-news/busin...ens-plants