07-23-2023, 08:14 AM
Tesla Cybertruck finally enters production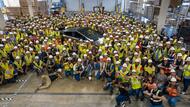 The first production Cybertruck was shown on Tesla's social media channels
Radical, straight-edged pick-up has been pictured with production workers at Texan Gigafactory after four-year delay
Production of the Tesla Cybertruck has finally begun at the American firm's Gigafactory in Texas, with the first example rolling off the production line nearly four years after it was first unveiled.
The first production Cybertruck was today pictured on Tesla's social media channels surrounded by factory workers at the EV maker's Texan headquarters.
It now appears likely that Tesla will achieve its revised target of beginning customer deliveries of the pick-up by the end of September – a two-year delay from the 2021 date mooted at the Cybertruck's 2019 launch.
The Ford F-150 Lightning rival is the same length (5.87m) as traditional competitors but features a vastly different look both inside and out. For starters, it sports a radical wedge-shape design, no front grille, angular window frames and bodywork featuring almost no curvature.
Its body is said to be made of "ultra-hard 30X cold-rolled stainless steel" and is claimed to be bulletproof against 9mm bullets.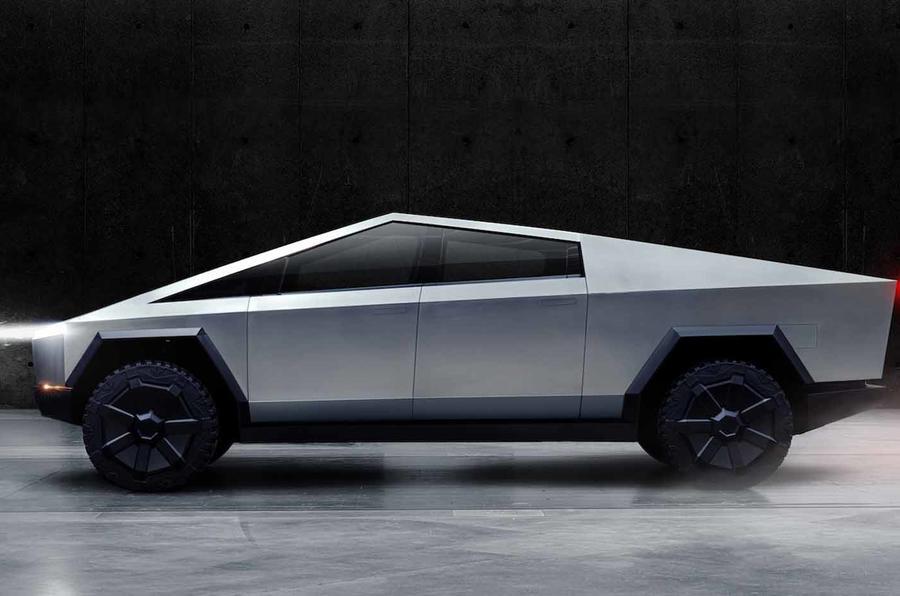 Three powertrain options will be offered, with one, two or three electric motors. The single-motor, rear-wheel-drive version will do 0-60mph in 6.5sec and has a claimed range of 250 miles. 
It can tow 3400kg, has a 1360kg payload and is expected to be priced from $39,900 (around £30,600) before any government incentives, based on Tesla's launch details. Like all variants, it is claimed to be capable of the same 1MW (1000kW) charging speed as the Tesla Semi.
The mid-range dual-motor variant provides all-wheel drive, a claimed 0-60mph time of 4.5sec and the ability to tow more than 4500kg. Tesla has previously said the model will be priced from $49,900 (£38,300) before incentives. 
The top-rung car will use Tesla's latest tri-motor Plaid EV powertrain, as used on the Tesla Model S Plaid. Priced from $69,900 (£53,700), its specs include a claimed 500-mile range, 0-60mph in 2.9sec and the ability to complete the quarter mile in just over 10sec. The towing capacity is 6350kg, Tesla boss Elon Musk said.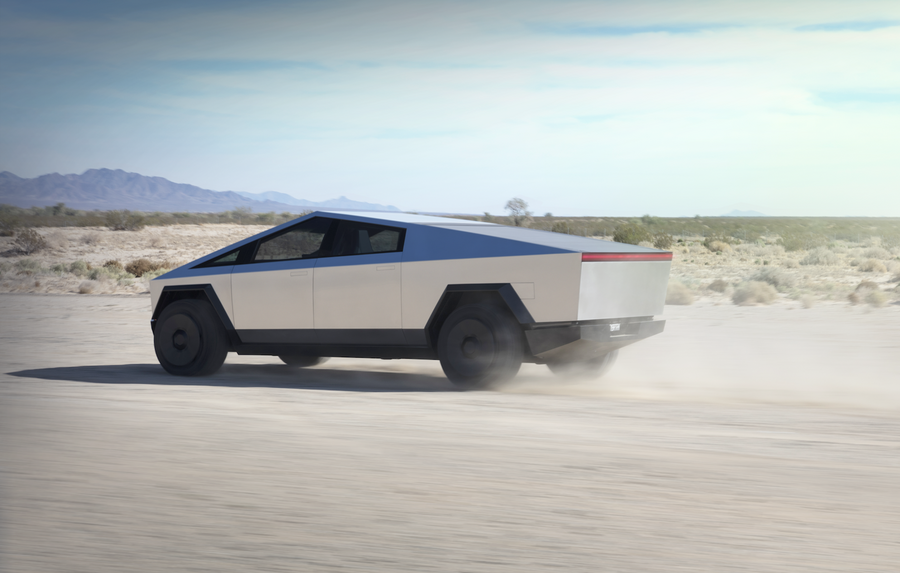 Underneath, it gets adaptive air suspension with an adjustable ride height. Musk has claimed the maximum height will be 16in, with the ability to be adjusted up and down by 4in. 
The load bay is a Ford F-150-rivalling 6.5ft long and features a raisable cover. Tesla claims over 2800 litres of lockable storage space including the covered load bay (dubbed the 'vault'), as well as space in the 'frunk' and sail pillars. 
The Cybertruck can seat up to six adults inside. Its minimalist interior features a dashboard dominated by a 17in tablet-style touchscreen.
However, precise specifications have yet to be officially confirmed, as have the prospects for sales in mainland European and the UK. 
The Cybertruck is available to reserve for US customers for a $100 (£77) fully refundable deposit – with no guarantee that these reservations are converted into sales. Musk claimed shortly after the pick-up's unveiling that 200,000 people had placed a deposit.
https://www.autocar.co.uk/car-news/new-c...production