11-13-2023, 02:09 PM
Tesla hits one million European sales ahead of new Model 3 launch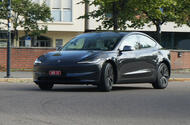 Heavily updated Model 3 arrives in UK in January priced from £39,990
Tesla has announced it has sold one million cars in Europe, as it prepares for deliveries of the new Tesla Model 3 in January next year. 
The American EV maker first launched in Europe in 2009 with limited deliveries of the Tesla Roadster (produced 2008-2012) before the arrival of the Tesla Model S in 2012 and the Tesla Model X in 2015. 
It went on to launch the Tesla Model 3 in 2016 and the Tesla Model Y in 2020. According to industry analyst Jato, the four cars in Tesla's S, X, 3 and Y line-up achieved 232,066 sales in 2022. Of that figure, 137,052 were Model Ys and 91,475 Model 3s.  
The new Model 3 went on sale in the UK earlier this month, offering a significant price saving over the outgoing car.
Now available to configure on Tesla's website ahead of January 2024 deliveries, the new-look Model 3 is priced from £39,990 - £3000 less than the cheapest version of the outgoing car, which was itself subject to a drastic £8000 price reduction earlier this year.
That buys the single-motor, rear-wheel-drive version, which has a claimed range of up to 344 miles (318 miles on the larger, 19in optional wheels) and can be charged at speeds of up to 170kW. 
The twin-motor Long Range car increases the price to £49,990, the maximum range to 421 miles and the peak charging speed to 250kW. 
https://www.autocar.co.uk/car-news/new-c...la-model-3