05-25-2023, 04:37 AM
Tesla previews entry-level 'Model 2' electric car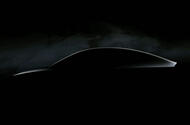 Tesla showed the silhouette of its next model at its 2023 annual shareholder meeting
First image of new entry-level model's silhouette shown at US firm's annual shareholder meeting
Tesla has released a preview image of its next electric car, which is expected to be the entry-level 'Model 2' hatchback that's set to rival the upcoming Renault 5 and Volkswagen ID 2.
Speaking at the US firm's 2023 shareholder meeting, CEO Elon Musk confirmed it is developing "two new products", tipped to be the new hatchback and the rumoured Tesla Model 3 refresh.
The two new cars "will probably make in excess of five million units a year" of combined production volume, said Musk, indicating a strategic pivot to become a high-volume EV manufacturer.
It comes shortly after Tesla cancelled right-hand-drive versions of the high-end Model S and Model X, citing the mechanical and logistical complexity added by the conversion. The company has yet to scale production or sales of the two cars as it has for the mainstream Model 3 and Model Y. Last year, the firm built 1,298,434 Model 3s and Ys, compared with just 71,177 examples of the S and X.
At March's Investor Day, Tesla bosses detailed how new production processes and technical innovations will help it to massively boost the efficiency of both its factories and its vehicles.
Taking to the stage at the Texas gigafactory before Tesla stakeholders, fans and car owners, Musk was expected primarily to outline a long-mooted new EV architecture that's tipped to underpin an 'affordable' entry-level car sitting beneath the big-selling Tesla Model 3.
Musk instead outlined his vision for a cleaner global economy in the post-ICE age, saying: "There is a clear path to a fully sustainable Earth, with abundance," adding that this can be achieved without "austerity" and predicting that "an electrified economy will require less mining than the current economy".
The all-out switch to electric road vehicles will cut fossil fuel usage by 21%, Tesla said. Furthermore, according to Musk: "All cars will go fully electric and autonomous. Driving a non-autonomous gasoline car is going to be an allegory for riding a horse and using a flip phone."
Musk spoke of the need for a massive ramp-up in battery production and storage capacity - the latter of which he estimates Tesla will ultimately need 240TWh. "This is a lot of batteries but a very achievable amount," he said, explaining that the tally included batteries both in and out of electric cars, at a ratio of around 1:8.
His battery ambitions are in line with a conviction that "as we improve the energy density of batteries, you will see all transportation go fully electric". He was condemnatory about the potential for other fuel types to transform the mobility industry, saying: "Hydrogen will not be meaningfully used in transport."
It had also been expected that the presentation would shed light on the long-delayed Cybertruck and Roadster EVs and future production facilities, but this time Tesla was less focused on showcasing future products than in recent years. 
The Cybertruck, Roadster, Robotaxi and Semi have yet to reach volume production (or any production) several years after they were announced.
Investors didn't take kindly to the dearth of product announcements, with Tesla's value dipping 5% overnight following the presentation.
Global reports had also suggested that Musk could give new details of Tesla's long-mooted 'affordable' EV, which would be smaller and cheaper than the hugely popular Model 3. Sketches of that car had been circulating on social media, with speculation that it could have a price of around £20,000 and a range of around 250 miles.
Tesla's 'unboxed' production process
Tesla engineering boss Lars Moravy said the Model 3 "landed us in production hell" with various delays and obstacles throughout the construction process hampering the crucial saloon's roll-out.
But now new methods of vehicle production – first explored during development of the angular, unpainted Cybertruck – are touted as allowing a 40% reduction in factory footprint, cost savings of up to 50% and a drastic reduction in risk of delays at each stage of the production line.
Fundamentally, Tesla will look to minimise the amount of work needed at each stage of the process. For example, the seats will be mounted directly to the underfloor battery pack, with the entire unit then raised up into a bodyshell that has been painted in sections to avoid the need for door removal and reinstallation.
The new process is essentially centred on "only doing things that are necessary", which is to say avoiding any unnecessary movement or disassembly of the car or its components during its journey down the production line.
All in, Tesla estimates that its new platform will reduce construction cost per vehicle by around $1000 (£830). 
Moravy explained that today's established mass-production processes are based on those pioneered by Henry Ford. "It's hard to change the car production process after 100 years," he explained.
Tesla's new platform for cheaper EVs
Details of the next Tesla car have been kept largely under wraps, with engineering boss Lars Moravy going so far only as to confirm that "it would not be a Model Y" that benefits from the outlined production advances, as was depicted in an illustration that showed the innovations on Investor Day.
Tesla design boss Franz von Holzhausen said details of the firm's next car would come "at a later date". It's likely to be the first Tesla produced at a new factory in Monterrey, Mexico.
Tesla estimated that its new platform will reduce construction cost per vehicle by around $1000 (£830), which should translate into a tangibly lower price point for the consumer.
Notably, Tesla will face fierce global competition from the likes of Volkswagen, Renault, MG and various other Chinese manufacturers that have confirmed plans to launch EVs priced more in line with today's more affordable ICE cars.
At a vehicle level, upgrades to battery and motor technology have resulted in a 75% reduction in silicon carbide, and mean the firm's next platform will be able to accept batteries of any chemistry. Powertrain boss Colin Campbell added that the next-generation Tesla EV motor will not use any rare earth metals in its construction.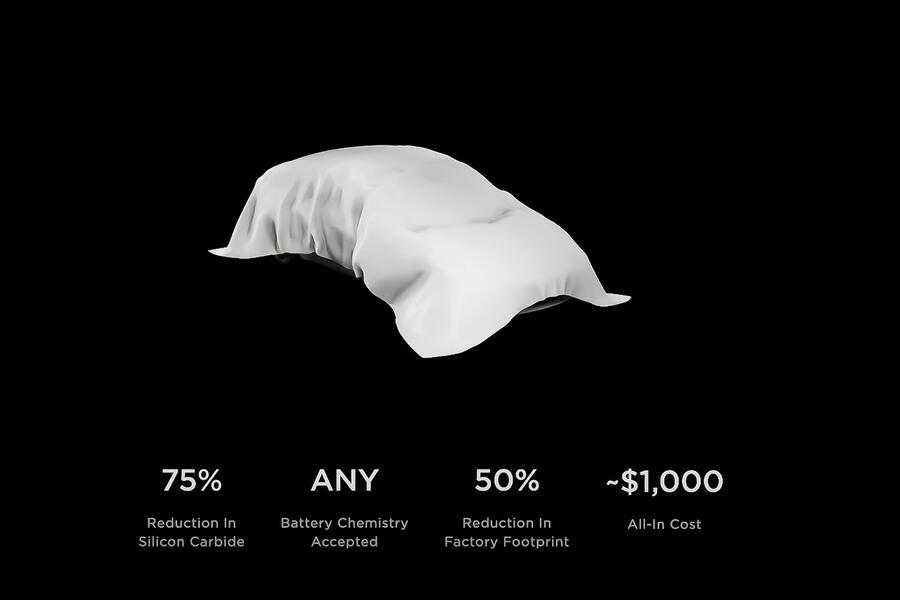 What else did we learn at Tesla's Investor Day?
Cybertruck confirmed - finally
The long-delayed Cybertruck pick-up will enter production later this year, having been shown in production form at Investor Day more than three years after its headline-baiting reveal.
It was originally due to be launched in 2021, and Tesla claimed to have received 200,000 orders as early as November 2019.
Roadster delayed - again
Conspicuously absent from a Tesla product plan was the long-promised successor to the firm's debut model, the Roadster.
A concept was shown in 2017 and Musk much later confirmed plans for a launch in 2023. But there were only two products under sheets in the new Tesla preview: one clearly the affordable 'Model 2' and the other a more upright and much larger shuttle-style vehicle, likely the Robotaxi.
At the shareholder meeting, Musk said: "We expect to complete the engineering and design of the next-gen Tesla Roadster this year and hopefully start production – [and] this is not a commitment but – hopefully start production next year."
New motors boost efficiency - cleanly
Upgrades to motor technology have resulted in a 75% reduction in silicon carbide. Powertrain boss Colin Campbell added that Tesla's next-generation motor won't use any rare earth metals at all.
Additional reporting by Charlie Martin
https://www.autocar.co.uk/car-news/new-c...ectric-car