05-08-2021, 05:51 AM
The cream of the crop? Bentley Flying Spur vs Mercedes S-Class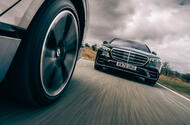 "For almost all of its long life, the S-Class has been Stuttgart's special halo model"
But is the car of choice for chauffeur-driven owners still the best in the world? We aim to find out
It would take a road tester with many more miles on the clock than yours truly to tell you when it was first claimed that the Mercedes S-Class might just be the best car in the world. Well, now there's a new one, and it's emerging into a rapidly and radically changing car market. So, might that assertion still be the case?
What is meant by that claim is that this big Benz might be the most technologically advanced and roundly accomplished new car of any currently in production. Sadly, it's not so good as to have been bewitched by Ronald Weasley's dad: better value than a Fiesta, faster than a Porsche, brilliant off road, never needs petrol, capable of low-level flight etc… If Mercedes did autonomous driving a bit more like Harry Potter's flying Ford Anglia did it, this car might be a little easier to warm to.
The point is, as it has heralded so many world-first technologies over the years, the S-Class has remained so utterly word perfect at its particular job – of being the world's defining limousine – that little else has come close to challenging it for stature. But, for almost all of its long life, the S-Class has also been Stuttgart's 'special' halo model. It has occupied an apparently unassailable place in the company's model hierarchy that made it subordinate to nothing. And yet, for the new version, that position would appear to have been assailed – and not just once.
There are now several ways to spend more money on a new Mercedes than on an S-Class. You might well do so on a fully loaded AMG performance saloon, estate, GT or sports car, for example. There are Mercedes' Maybach-badged super-luxury options to consider, too.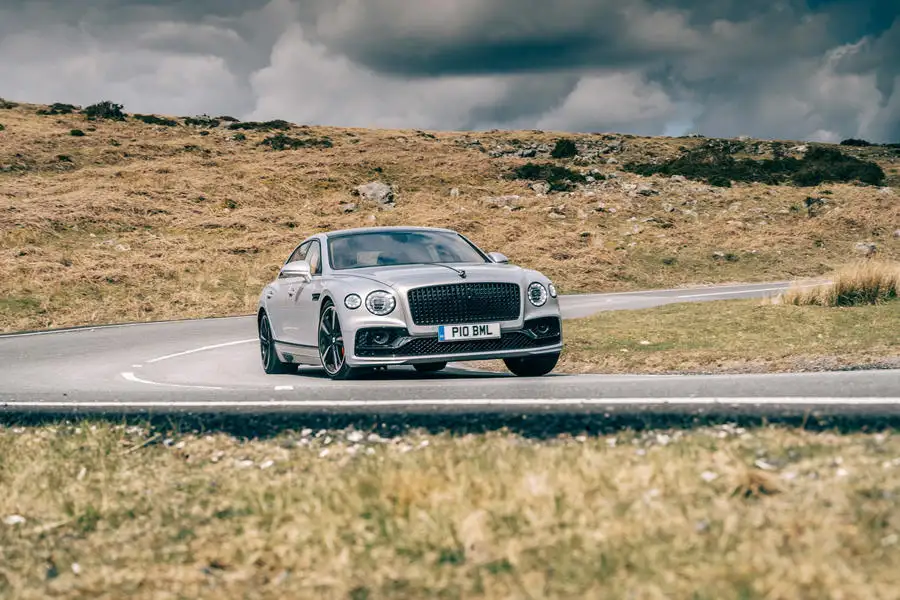 And there will soon be yet another high-end, in-house rival for the S-Class's long-held showroom primacy: the car company insiders are already describing as the 'new flagship'. Unlike the new S-Class, the all-electric EQS, due later this year, does have an all-new model platform, as well as the lure of zero-emission running and that incredible-looking, full-width, all-digital dashboard you'll have probably already seen in pictures. Cars like that inevitably hoover up research and development resource that might otherwise have been directed at other expensive projects. They just have to.
Exactly where that leaves the regular S-Class is what the next few pages should help to establish. It's a car that's been built on heavily revised mechanicals, and infused with a lot of new digital cabin technology. Its design has been handled with deliberate conservatism as it always is, because this car has to be easily recognisable in the airport departures taxi queue: "Shall we go straight to the casino? Oh look, there's an S-Class – we're winning already."
But classic and conservative or not, this is also a car from which you just expect giant-slaying potential when you depart on a long convoy drive, as we just have, with a suitable superluxury rival in tow. Our test started in inner-city Birmingham, ended up in the Brecon Beacons and sought out every type of urban and out-of-town road we could find in between.
To play Goliath, we picked a 626bhp 12-cylinder Bentley Flying Spur, a car whose performance and driver appeal surprised and delighted us when we road tested it last year. But we also thought it might just be vulnerable to the Mercedes in other ways.
David would be played by the incarnation of S-Class that is perhaps most likely to end up easing its way along UK motorways and waiting outside office front doors (the plug-in hybrid version might have something to say about that, but it's not part of the range yet). The upper-level, fourwheel-drive, long-wheelbase S400d came with little more than half of the Bentley's power and costs less than half as much at after-options prices – but would it be half as good?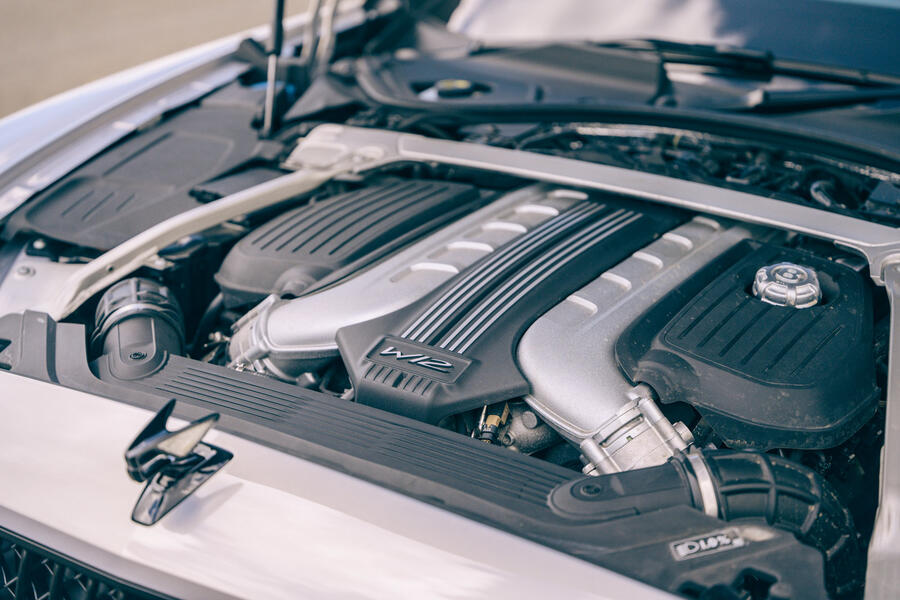 Precedent would definitely suggest not. I've refereed group tests in recent years in which S-Classes of previous generations have dismissed the challenges of their equivalents from Audi and BMW with disdainful ease. I remember being struck dumb by the way one of them once swept away a line-up of luxury icons that included a Bentley Mulsanne, a high-end Range Rover and even a second-hand Rolls-Royce Phantom. Transcendent greatness is just what you expect of this car.
And with this new one? Well, perhaps we shouldn't expect quite so much. That's not to suggest that it isn't a very competitive large executive saloon. There's a dedication to comfort, refinement and no-nonsense classic Teutonic luxury evident here that would probably still make the S-Class favourite against a BMW 7 Series or an Audi A8. If it retains its default-choice status for the globe's chauffeuring fraternity, it'll be for the right reasons, which we'll come to. But whether you judge it as a car to drive or to be driven in – as a limousine, a luxury product or simply a car – the honest truth is that, in this tester's view, the S-Class doesn't quite have what it takes to level with the likes of a Flying Spur any more. Somewhere along the line, a bit of the 'special' has worn off.
The clearest difference between these cars could be seen on the roof of Birmingham's Snow Hill Station multi-storey car park before our journey had begun. The Flying Spur looks every inch like a £170,000 car. It has aristocratic visual presence to spare and powerful design allure, having departed the drawing board as much super-luxury GT car as classic limo. And, Lordy, doesn't that make a difference. The Flying Spur has really muscular sculpture and proportion, and definition in all the right places. It's a little bit of a brute, actually – but such a handsome one.
Does the S-Class look like a car worth £104,465? Just about, but even though that's a lower bar than the Bentley's, it's cleared with less room to spare. The Mercedes' styling might be a little too anonymous even for an S-Class, with a grille and major features bordering on the generic.
This needs many sensors to facilitate the semi-autonomous driving that Mercedes seems convinced that buyers want, so it also has that plasticky, clumsy-looking panel right on its prow, behind which so many cameras and transceivers are hidden. There's no easy way to integrate these things without some sort of cost, but I'm not a fan of this way.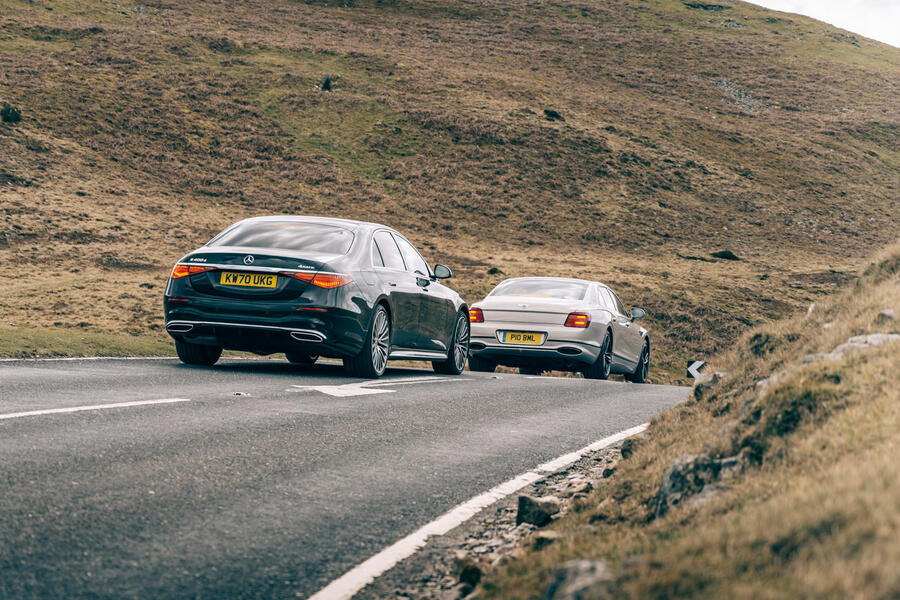 You can also tell that the Mercedes has been painted and finished to a slightly lesser standard than the Bentley. Our S-Class had just a suggestion of an 'orange peel' finish to its Obsidian Black paintwork; the Bentley's Extreme Silver paint was utterly flawless, its panel fit a shade more consistent and its brightwork was, well, just brighter (even though some of it was gloss black).
On the inside, though, the Mercedes has plenty of material richness and acres of space, and it has taken on a conspicuous amount of digital display technology intended to win back customers who've had their head turned by Tesla over the past 10 years. It's a touch roomier and airier-feeling than the Bentley, and has better visibility and a bigger boot.
On some level this is a working car, whereas the Bentley is much more of an indulgence. You can tell the difference. There's an honesty and a bit less imposing grandeur about the Mercedes; you wouldn't feel quite as much need to put on a jacket and tie to drive it – although, funnily enough, I suppose a great many will.
Not all of the car's 'digital improvements' are worth their place, though, even if their adoption is somewhat inevitable in the coming luxury epoch of the over-the-air update. There's an upsized augmented reality head-up display and a set of 3D digital instruments, which between them can rather bombard and confuse your eyeballs with all kinds of information you may or may not feel you need.
The fascia is dominated by a square, 12.9in touchscreen infotainment system that seems to awkwardly displace some of the fittings around it, and which is raked just far enough from the vertical to reflect light admitted by the nearside windows directly at the driver's face. All are included for 'wow' factor, really – not, I suspect, because they make the S-Class easier to operate on any level.
Plainly, Mercedes thinks S-Class owners and drivers want more digital tech at almost any cost. To be fair, you do learn to adapt the car's settings so that you don't get bamboozled by pointing navigation arrows and holographic wizardry when at the wheel. You get used to the touchscreen controls for so many things, too; I wouldn't choose them, but I could learn to live with them.
Maybe that was why, at the end of our test, it wasn't actually all the new cabin technology that seemed to sell the S-Class short. Compared with the Flying Spur, it was actually the cabin materials. The Bentley's knurled, mirror-chrome air vents, switches and fittings just look so good; their temperature, texture and solidity all make them a rare treat to the touch, too. Its leathers are beautifully soft and add an opulent finish wherever they're used (which is almost everywhere there isn't real chrome or wood). If you don't like the 'drinks cabinet' walnut veneer, there's quite the array of alternatives. Inside and out, almost every inch of the car both looks and feels really quite lavish.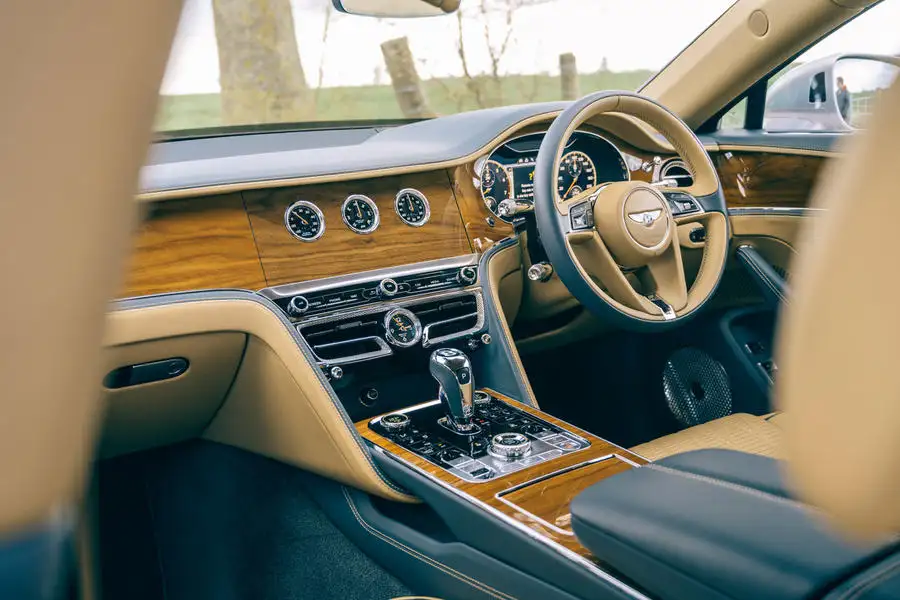 And the S-Class, though plush, doesn't quite compare. In isolation, the car's perceived quality is not something about which most passengers would complain, but its leathers are less pudgy, and are used less widely, than the Bentley's. Its 'anthracite open-pore poplar' wood veneer is supposed to be innovative, I'm sure. This is going to seem frivolous and dismissive, but it was my honest reaction: it just looks a little too much like something your sushi should come wrapped in to really belong on a dashboard.
Everywhere else, there are a lot of smudge-prone piano black panels with metallised plastic faux-chrome trim around them. It could be the same stuff you might find on an expensive A-Class; there's just more of it. None of it is really objectionable – but after the Bentley? It's a little as if Mercedes expected your tactile senses to be so numbed by constant interaction with that touchscreen that there seemed little point in making a special effort anywhere else. What a shame.
That about covers how these cars compare as static luxury objects, but cars are for driving, right? Well, maybe not a chauffeur's limo, which is what the S-Class feels like. The Flying Spur is a driver's car, at least in part. In this test, that doesn't mean one is necessarily better than the other, actually, but the really damning factor for the Merc is that, despite clearly being the more comfort-oriented, softer-riding car, it doesn't do either mechanical or rolling refinement markedly better than the heavier, more firmly sprung Bentley. Its diesel engine is a factor in that, but it's not the only one.
The S-Class still has that charismatic waft about it. It's a soft and gentle-riding car that rolls and floats quite a lot more than the Flying Spur. And yet, although it's anything but exciting, that softness doesn't really encumber the car's handling.
Higher-trim examples such as our test car come on 21in wheels with low-profile tyres that ping and thump a little more than an S-Class's wheels should when they encounter ridges and drains. They roar and fidget just a bit on coarser motorway surfaces, too. You apply a higher standard on these things to limousines than you might to any other car, because they ought to be the most refined, isolated cars on the road. Well, for slightly different reasons in each case, neither of our test cars quite hit that high standard.
The Flying Spur got closer to it, though, and considering it weighs half a tonne more than the S-Class and out-handles it, too, that pretty much seals the deal on its sense of dynamic superiority. Although the Bentley's ride feels just a little firmer over smaller inputs and is a bit noisier than some might like, it nonetheless has a wonderful sense of glide at speed and of cushioning around town. There's plenty of poise when cornering, too, to reward driver and passenger alike.
It doesn't heave or roll like the S-Class can; closer body control over crests and around sharper bends equates to greater comfort levels in that respect, and you don't have to be in a hurry to know it.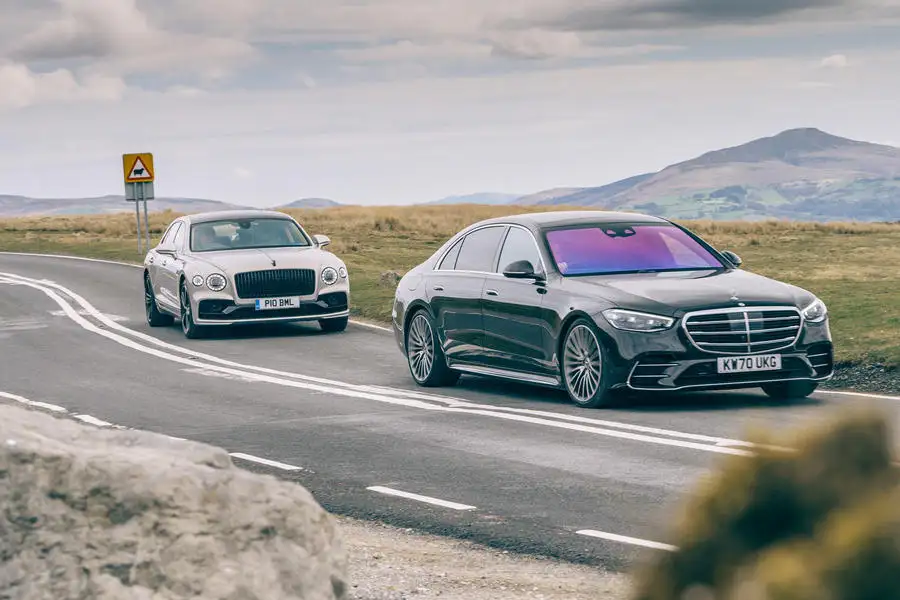 Does a 626bhp 6.0-litre W12 beat a 326bhp diesel straight six? Of course it does – but in a luxury car it's because the bigger engine just does drivability, mechanical charm and woofling, whispering refinement better, not because you need all the power. Very rarely would you use all of the Mercedes' 516lb ft, never mind the Bentley's 664lb ft. It's the greater proportion of that peak torque that the Spur makes available, so suavely and accessibly, on part throttle that makes the difference.
The S-Class is lovely to just mooch about in, until its size becomes an obstacle (Mercedes UK will offer four-wheel steering on higher-end S-Classes, but doesn't yet on the more affordable ones). But, except for the occasional moment of brusqueness from a driveline out of which Crewe is still evidently knocking the quirks, the Flying Spur is a delight.
In light of all that, I don't think we can consider Mercedes' biggest executive saloon the world's most convincing, least superfluous, most fitfor-purpose and most perfectly executed luxury car. Not any more. The market has moved some way beyond this car's capacity to dominate it like it used to. The kinds of cars made by the likes of Bentley now are much more technically advanced and widely accomplished than they ever used to be.
But the S-Class also seems to have lost some of its old technical and functional superiority, and some of its pervading sense of self-assurance. Feels like the end of an era, doesn't it? And right now, we're all very interested to find out exactly what comes next.
READ MORE
Mulling things over: What next for Bentley coachbuilding division? 
New Bentley Continental GT Speed brings 650bhp, dynamic focus 
https://www.autocar.co.uk/car-news/featu...es-s-class