05-04-2022, 12:17 PM
The epic facts and figures from BMW's biggest factory
Just what does it take to build the BMW X3? Our man dons a hard hat and talks shop
One problem with road-testers reporting from car factories is our hazy frame of reference.
If we drive Hatchback A and it steers and rides terribly, we can call it out because we've also driven Hatchback B, C, D, E and probably their forebears. But outside of dedicated industry journos (and even for them), the factories where those cars are built are visited infrequently.
In a decade of doing this job, and excluding the cottagey operations, I've been in the bowels of the car-building process on only five occasions, with Stellantis's Sochaux plant (at that time PSA's) being the largest. So I can't easily tell you if certain robots are more jazzy than others, or if one system of laser tolerance-measuring is more precise than the next.
Like anyone, I know an unusually dingy place when I see one, but honestly, when you're in a press- or paint-shop, it can be challenging to work out what's exactly happening even in basic terms and it all seems pretty miraculous anyway. And that's the brilliant thing about car factories. To us civvies they're awe-inspiring places, even the ropey ones. They're complicated, fizzing, overgrown Rube Goldberg machines that methodically create an object of ridiculous complexity.
The just-in-time and just-in-sequence elements of modern supply lines add another dimension of wonder. So in the same way your average Victorian would find even the Ford Ecosport the most mind-bendingly advanced device, even crummy old car plants capture my imagination with ease.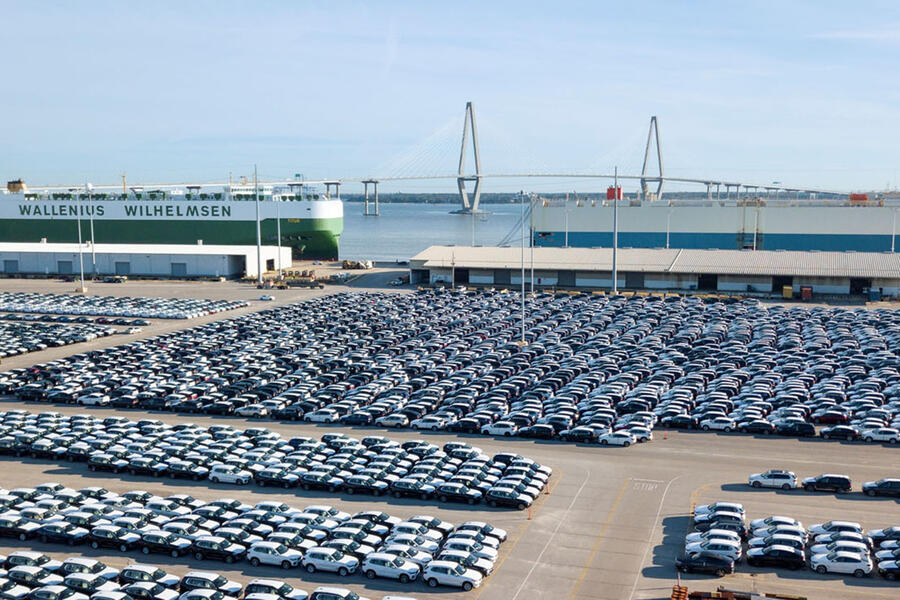 And then you get the conspicuously good ones – BMW's Plant Spartanburg in South Carolina being one such place.
We recently visited Spartanburg as part of M-division's Stateside 50th anniversary celebrations. This is where the majority of the brand's X models are built, from the BMW X3 up to the BMW X7, so it isn't especially 'M' in spiritual terms, but it's BMW's largest single manufacturing site and the scale of the operation is something else. Here's the low-down.
More than 11,000 people who work on the 7,000,000 square-foot site help turn out around 1500 cars a day, of which around 65% are exported to 120 or so countries.
Naturally, ever more of those cars are becoming electrified (initially there's the BMW X3 xDrive30e and BMW X5 xDrive 45e), though any adaptation for the facility to build pure EVs and whisk around 600kg battery packs, all under the duress of a 90sec takt time, is still on the drawing board.
From November, the new, 740bhp BMW XM plug-in hybrid über-SUV – the 'new rockstar', as company execs cringingly put it – will also be built at Spartanburg, cementing Spartanburg as most zeitgeisty of all BMW's current factories.
Cars aside, it's the supply and export chains that set Spartanburg apart. BMW moved into the area in the early 1990s, when the long-established textile industry was becoming outsourced to China. That meant skilled labour was at hand, though the unique infrastructure of the region is equally important.
Greenville airport is a 15min drive away and wasn't an international affair until BMW moved in and had the runway extended to accommodate Boeing 747s carrying parts.
One plane (maybe two) from Frankfurt still lands every day, though air-freight is so cost-intensive that the bits it carries are now VIP or emergency parts, such as semiconductor chips (for an illustration of the chaos now engulfing car-making, consider that any decision to ramp up the supply of semiconductor chips needs to be taken fully two years in advance). 
Since 2013 the factory has also had access to the Inland Port Greer, which is accessed from Spartanburg by rail and has taken tens of thousands trucks off the road, says BMW. Currently Spartanburg receives around 60 containers daily and sends away roughly 200, laden with finished cars.
The big-picture figures are mind-scrambling. A little unsightly, even. Along with the air-freight deliveries and sea containers, 1300 truck-loads arrive daily, for a combined total of around seven million parts converging on Spartanburg. And with just-in-time/sequence manufacturing, deliveries have to be correctly fed directly into the plant via one of 300 dock doors.
Around 80% of parts never see a warehouse before they go into one of Spartanburg's two assembly halls, and onto the mile-long lines (there's a line for larger X models, one for smaller models).   
Inside, the atmosphere feels surprisingly laid-back, and manifestly un-dingy, and the sense of modernity is reflected of how well-oiled the processes are. Digitisation plays an increasingly important role. At certain stations – there are 339 in total in the newer assembly hall we're touring, which builds the X3 and X4 – the trays that proffer parts waiting to be installed into the particular car by hand have colour-coded beacons.
Pick the wrong part from that tray and the light will go red. In the era of heavily customised orders, when no two cars are precisely the same, those working on the lines must be grateful for this kind of error-mitigating technology. The marriage of powertrain and chassis is also fully automated, with no requirement for human intervention even to gently line-up the bolt-points at the last second.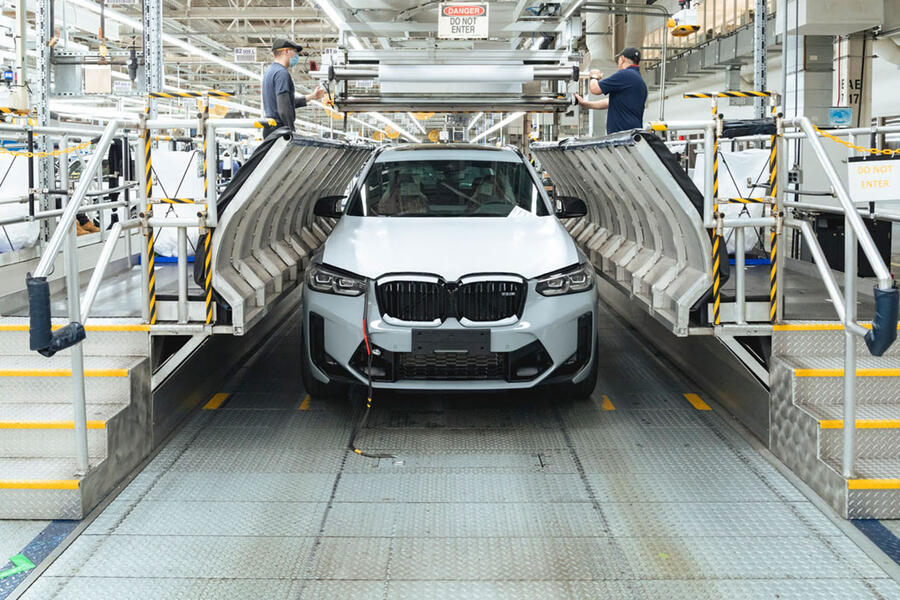 Back in 2014, Spartanburg also experimented with Google Glass, to aid quality assurance and identify and document 'potential deviations'. Touring the place today, though, it seems the idea didn't stand up to scrunity.
There are around 2500 people in the X3/4 hall but double that in the older building where the X5/6/7 and their M derivatives are made. This is one of the more interesting discoveries of the visit: just how much more intensive in terms of manpower it is to build larger cars.
The difference is not simply the larger number of parts that need fitting at each station, either. Size is problematic, too. For example, the headliner for an X3 comes in through the windscreen and takes three people to fit.
The headliner for upcoming XM will be much larger, more sculpted and Spartanburg will need to develop a new process to ensure it can be fitted safely and in a timely fashion. How many people will it take – four? Possibly five.
And yet, for all the industrial slickness and bewildering scale of the Spartanburg operation, it's impossible not to take something of a dim view on all the energy and resources expended in order to build comparatively inefficient SUVs. BMW has published some encouraging figures relating to reductions in energy consumption (down 67% per car built since 2006), water consumption (down 52%), process waste-water (51%), solvent emissions (46%) and waste for disposal (82%). All very impressive on paper, but watching an X3 come down the line, you do wonder if the energy used to make it would have been better spent gestating a nice old-fashioned and more streamlined 3 Series Touring. 
https://www.autocar.co.uk/opinion/new-ca...st-factory